While attending SNAP! we were given a complimentary ticket to visit the annual Tulip Festival that is held every year at the Thanksgiving Point Gardens. A lot of people passed up the opportunity to go; however, I couldn't resist! I absolutely LOVE tulips and its a rarity that I ever get to see them in Florida. Tulips are not a normal flower you see planted in everyones garden. Its just too stinking hot to plant tulips in Florida. I will add that I do get to see them when we go to the Flower & Garden festival at Epcot; however, not fields and fields like I got to see at the Tulip Festival in Lehi Utah. I will preface that it was very cold for this Florida girl. But the cold was not holding me back to go see Tulips!
I ate my lunch while waiting for the trolley with a few other ladies. I ended up walking around the garden with Heather from Kustom Kissers. We chatted and she patiently waited while I took tons of photos!
So without further ado… here is a little video I put together that documented my hour walk around the Tulip Festival.

Wasn't the video great? I seriously loved the "secret garden".
I found this "stream/waterfall" while walking along one of the paths. It reminded me that I'm not in Florida anymore… seriously, how beautiful is this?
Tulips of all colors!
There was one area that was really full of tulips and I decided to take a photo with them in my background. I was dreaming I was in the Netherlands!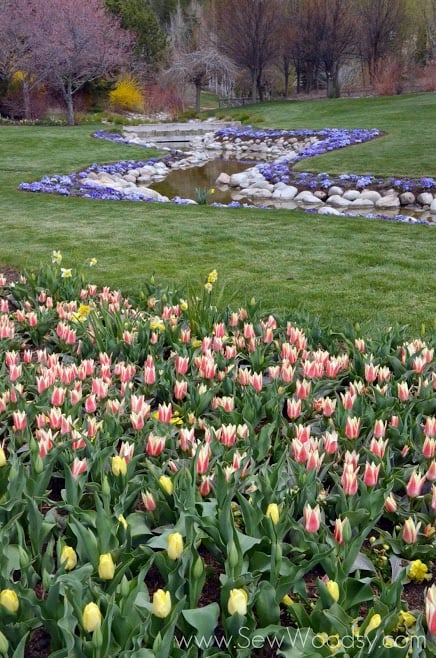 This was probably my favorite part of the festival. The beautiful stream with all the tulips. I felt like I was stepping into a Monet painting!
The field of red tulips was just breath taking and then to put it into perspective with the mountains in the background.
I loved how the daffodils were found "sprinkled" into the red tulips!
I hope you enjoyed watching my video and looking at my photos. Do you love tulips? Have you ever been to the Tulip Festival in Lehi, Utah?