Most of us have them… those ugly and boring builder's grade mirror. Very few of us actually do anything to jazz them up. We recently created a video over on the Homes.com blog: Frame a "Builder Grade" Mirror. This was a project that we had wanted to tackle for quite some time. You might remember, years ago when we first started blogging we shared our Guest Bathroom Mini-Makeover + Black Crown Molding. Instead of framing out that builder's grade mirror we decided to remove it and place a nicely framed store-bought mirror. Well, in case you aren't aware mirrors can get very pricey (I'm talking in the hundreds of dollars). Instead of spending hundreds of dollars on a new mirror we decided to spend about $50 and frame our builder's grade mirror in our master bathroom.
Watch Jon (aka Mr. Woodsy) as he explains and shares how easy it really is to Frame a Builder's Grade Mirror.

So now that you watched how to do it (easy right), let me show you a few behind the scenes photos.
First off, it all started on an early Saturday morning. Mr. Woodsy started removing the clips to the mirror that is when he noticed that the left side of the mirror (his side) was not sitting flush with the wall. Low and behold… what did we find behind our mirror???
A plug socket! I posted this collage on Instagram last month when we were working on the mirror!
That extra hidden plug socket gave us a big unexpected speed bump (we like to watch Amazing Race what can I say) that we weren't ready for. So we brainstormed for a few hours on what to do. My friend Sarah from While They Snooze happened to come over that morning to pick up a chair that Jon found on the side of the road. (You know because that is what DIY friends are for… we find chairs on the side of the road and offer to give it to one another.) We consulted with Sarah on what to do as well and the three of us agreed that the socket needed to be moved. So off to the hardware store Jon went, and by the end of the day… we had a new plug socket. After 3.5 years of living in our home we find that we really should have had a "his and hers" plug socket in our bathroom.
So after the great-plug socket move of 2013 we got to work.
We finished cutting the moulding…
…and then on to painting.
And lastly glueing the moulding pieces together to get that custom look.
And then it was time to start framing the builder's grade mirror.
Here is me behind the scenes… filming with a scared pup by my side. She's not a fan of the bright lights and she sure as heck isn't a fan of the loud noises.
And here was Jon… pushing the last piece of moulding onto the mirror!
Look at that gorgeous moulding… seriously. This framed builder's grade mirror looks like it belongs in a different bathroom. The framed mirror has been up for over a month and I'm still head over-heals in love with it… now if only we could change out our builder's grade lighting!
And well… what can we say–we now have two outlets in our bathroom. And because we like to keep it real–we still have pencil markings from when we installed the plug socket. Those will eventually get erased!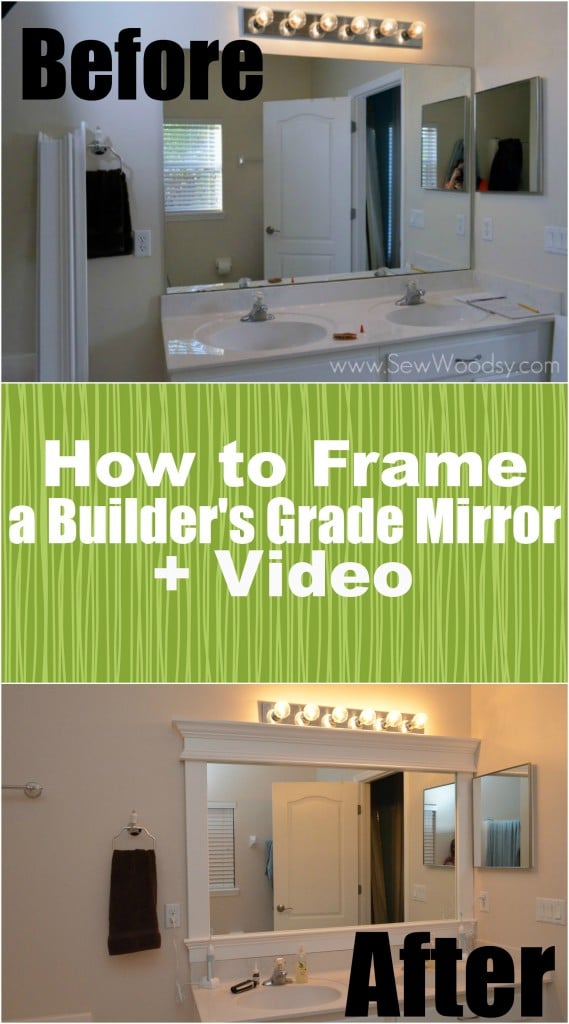 Disclosure: We have a working relationship with Homes.com and are video brand ambassadors for 2013 (thus we are compensated). As always all opinions are our own.