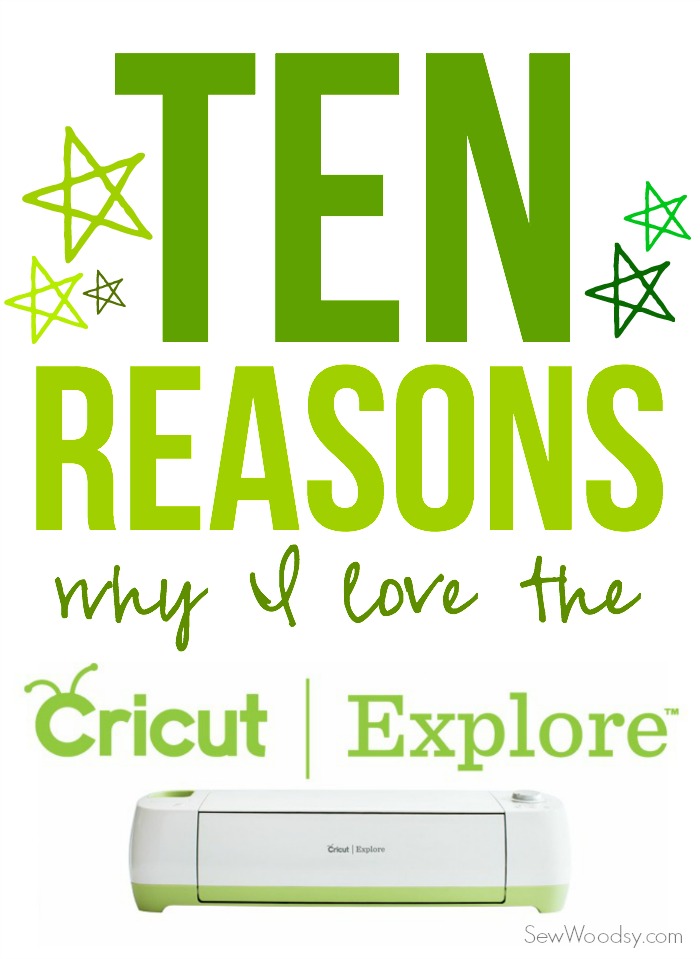 I've been on "team" Cricut since before I had a blog. I've LOVED my Cricut over the years, and last year after the team at Cricut flew me out to the grand reveal for the Cricut Explore® I fell back in love with the machine ALL OVER AGAIN. I know, I might be sounding a little mellow-dramatic, but I'm being dead honest. One question, that I receive in multiple-Cricut related post just about daily is why buy the Cricut Explore®? Today, I just want to share my top 10 reasons why the Cricut Explore® is better than the Silhouette Cameo®. Hopefully, this will help readers understand why I love the Cricut Explore® and hopefully sway you into joining team Cricut with me!
1. Cricut Explore® cuts a wide-variety of crafting materials – *In testing, the Silhouette Cameo was only able to cut 1 of 8 popular crafting materials such as leather, chipboard, aluminum, and magnet sheets. The Cricut Explore machine cut nearly 100% of the tested materials. Percept Labs took 3 Explores and 3 Cameos, and used the machines, blades, and accessories available for each and cut 8 common crafting materials. The Cricut Explore beat out the Sihouette Cameo, over and over again. The team at Cricut really took the time to figure out how to have the machine cut a wide-variety of materials. Need to know what it can cut and what mats to use? Check out this awesome list here.
2. Free access to Cricut Design Space: You can do all of your designing in one place for free! You can save your designs and log in on other computers and pick up where you left off! It's easy to use and has a variety of canvases so you can easily visualize your project. Working on a t-shirt, choose a tshirt and design right on it!
3. Cricut Image Library: For just $9.99 a month you can have access to over 25,000+ images/fonts.
4. SmartSet Dial: Need I say more? Back in the day, I had to guess at what settings to cut cardstock and vinyl. Now, I just simply turn the dial and that's it! No more guess work which cuts down on lots of wasted time and material!
5. Unlimited Fonts: Yep, you can use all your own fonts. So if you don't want to buy a $9.99 pass to the Cricut Image Library you don't have too. Instead, you can use all your own fonts. And best of all you can cut for free with any of your own fonts!
6. Unlimited uploading of JPG images! Need I say more… no need for cartridges any more. I mean you can still use them (I do), but if you have a specific look and design in mind. You can upload any JPG, PNG, or even an SVG file into Cricut Design Space! And you cut for free! 🙂
7. Wireless Cutting from your iPad! Yes, you read correctly. You can design on your iPad and cut wirelessly! All you need is the
8. Draw and Cut with Your Machine. Yep, you can not only draw on your design but you can also cut it at the same time. Well, it draws first then cuts! But you get my point. It's pretty smart!
9. New Print and Cut feature. Don't want to draw? No biggie… print it from your printer via Cricut Design Space and then place the paper on your mat and cut! Easy as that!
10. The BRAND NEW Design Space for the iPad App! Yes, finally a Cricut Design Space app launching in January! Start a project at your local coffee shop, refine it on your couch, and then cut it on the Cricut Explore in your craft room. All you need is an iPad and Wi-Fi, and you're ready to go! Cricut Design Space™ gives you access to all of your images and projects from any compatible computer or iPad®. It's cloud-based, so your projects are always synced across all your devices.
After reading my top 10 list I hope that you understand why I love my Cricut Explore so very much! Please feel free to leave a comment if you have any questions for me and I'll try to answer it for you. And make sure you check back here on Black Friday (11/28/2014) for some AMAZING deals on the Cricut Explore and more!
**Facts provided by Percept Labs. There are affiliate links in this post which means if you purchase I will receive a small percentage of the sale. As always all opinions are my own.