Being a new parent is tough enough. It can be overwhelming to sift through all the baby products you really need. I'm sharing our top 15 Newborn Essentials!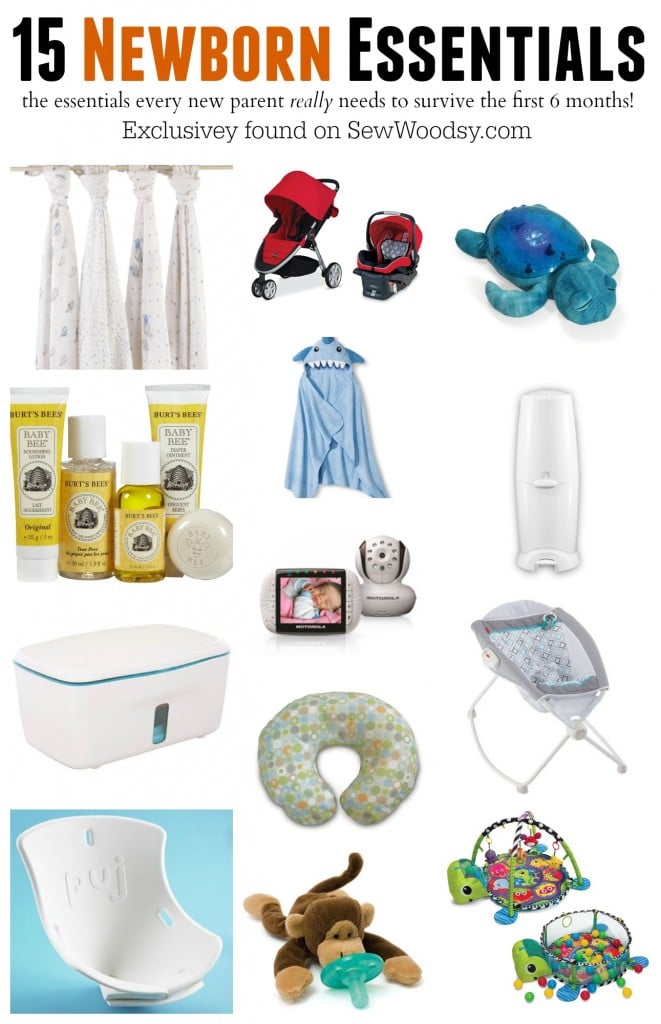 I started writing this post last year when Ryder was only a month old. Now that he is almost a year old I feel like I'm so much more knowledgeable than when I was a new mom to a 1-month old. You will receive so many gifts and most you will use and some you won't use. I wanted to share what we felt was absolutely essential for surviving life with a newborn.
1. Britax B-Agile Travel System – I workout 3 times a week with my stroller and use it just about daily. It's light weight and easy to open and close. That was my main concern. Prior to giving birth I was weak and couldn't lift anything. This stroller is a breeze to lift and get in and out of car. This photo was from our first walk during the day by myself!
2. Muslin Blankets – we live in Florida and keep our house at a cool 77 degrees Fahrenheit (to some that is sweltering hot–to Floridians who don't want a $500 power bill this is a common temperature to keep your home cool). At $35 for 4 blankets we thought it was a bit pricey, but these darn blankets are worth there weight in gold. Seriously, wish we would have registered for less flannel receiving blankets and more muslin blankets. We only ever had 4 blankets and still use them to date.
3. Motorola Video Monitor – this monitor is pricey but trust me worth it's wait in gold. I plan to use it until it no longer works. I'm sure Ryder won't notice he has a camera mounted to his ceiling when he is a teenager, right? (Only kidding–ok maybe I'm not)
4. Boppy Lounger – well I wrote a whole post on this product last year. We LOVE it and can't get enough of it. Ryder is almost a year and still sits in it (although now prefers to crawl over it). This is our go-to gift for new parents. We loved our lounger and he used it daily up until 6 months old.
5. OXO Perfect Wipe Dispenser – if you are economical like us–you will most likely buy Costco size boxes of wipes. Granted yes they come with cute little flimsy wipe containers, but we love our OXO Wipe Dispenser. Easy to open when you are working one-handed and best of all a handy weight inside to hold down the wipes. In the first few months, Jon would typically restock the changing table daily-checking all supplies to ensure we are well stocked for the next day. Now we restock every few days!
6. Puj Tub – best infant bath tub. EVER! Enough said–it's light weight and collapsible and even better you can put it in your bathroom sink. We had a petit baby and were able to use it until he was 6 months old. We brought it with us to Haven last summer. Ideal for traveling, since it lays flat. It won't take up any room on road trips!
7. Thick hooded baby towels – the cute thin little bath towels are great, but you get soaked pulling the baby out of the bath. We received a Circo hooded bath towel from friends and it's one if our favorites because we don't get soaked! I also love our fish bath towel even though it doesn't have a hood! 8. Burts Bee's Baby– we love their bath products. They don't contain alcohol which means it won't dry out babies skin! Plus it doesn't have any of the harsh chemicals that other brands contain.
9. Wubanub – soothie pacifier plus cute stuffed plush. Need I say more?
10. Boppy Nursing Pillow – if you plan to breastfeed this will become your best friend until your baby is much more manageable to hold during feedings! I used this religiously until he was about 4-5 months old. It went every where with us. Dad's also can use it too! This is how Jon fed Ryder the first few times when he was itty bitty!
11. Fisher-Price Newborn Rock 'n Play Sleeper – we used this daily for the first month. Heck, Ryder slept in this for the first 2 weeks of life. It's portable so we brought it to my inlaws house on the weekends. In hind sight I wish we would have bought this used, since it has very limited time span of being used, but at the end of the day we received it as a gift. We used the Rock and Play until he was almost 6 months old (keep in mind he is a small baby).
12. Tranquil Turtle – we learned early on that Ryder loved this turtle. When he would be up in the middle of the night or just needed to be calmed we would turn on the tranquil turtle. He would lay in his crib and enjoyed watching the waves project on the wall.
13. Ring Sling – to be honest any baby carrier will work. The ring sling was the only thing Ryder took too, so that's why I'm including it. I didn't start wearing him until he was 2 months old. Being a first time mom I had no idea about baby wearing. I wish I had a ring sling before he was born to get him use to it as soon as he got home from the hospital. By the time he was 3 months old he was also enjoying the Infantino Buckle Carrier I bought. I still use the ring sling and he's almost a year old!
14. Diaper Genie – some say this is a waste and very expensive to buy refills. I disagree. Trust me when you don't want to smell stinky diapers this will be your best friend. We still use our Diaper Genie almost a year in and we buy our refills at BJ's Wholesale Club (best price in town — especially when they have their $4 coupon off the product we stock up)!
15. Infantino Grow-with-me Activity Gym and Ball Pit
– I love 2-for-1 toys. We started out just using his playmate and graduated to just using the ball pit. He no longer has the desire to sit in it but at least it lasted us almost a full year!
Disclaimer: There are affiliate links in this post. As always all opinions are my own.