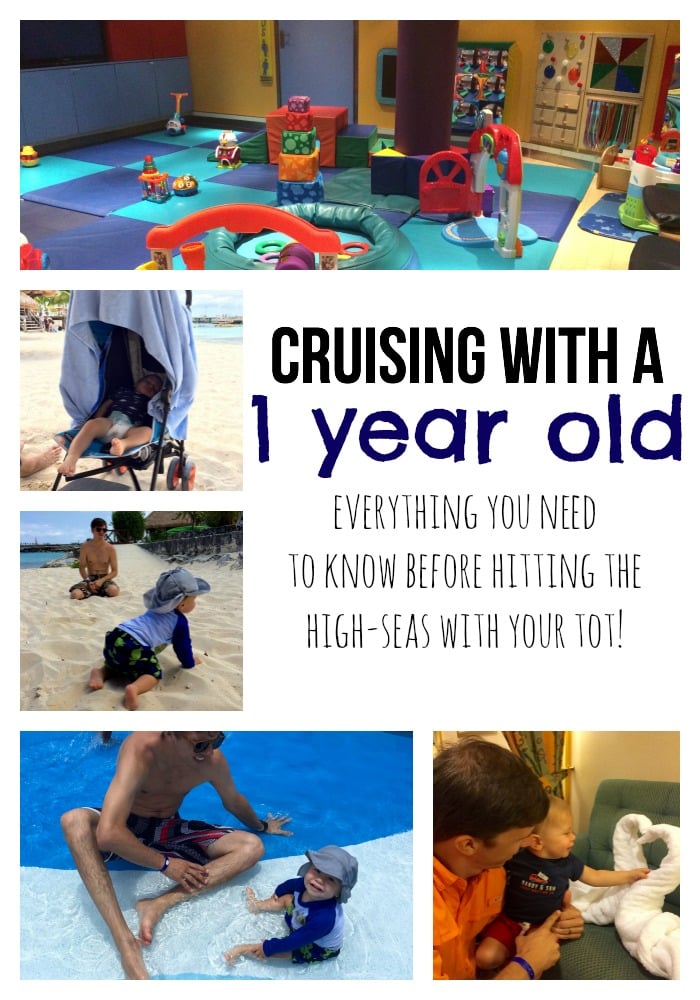 Earlier this year, I shared our experience of cruising with a 6 month old. Last month, we took a 4-day cruise to celebrate Ryder turning 1 (and us keeping a tiny human being alive). Today I'm excited to share cruising with a 1 year old. Holy smokes, there is a huge difference between the two age ranges. Especially if your 6 month old is not mobile (like ours was at the time). The other week I shared a free printable check list that you can download that will help you pack for a cruise when traveling with baby or toddler. This will definitely help you if this is the first time your cruising with baby or even first time ever cruising. The cruise ship does have diapers and some baby food but supplies are very limited. I would rather over pack than under pack and be stuck. Especially if your at sea for a few days. No place to run and grab tylenol or a thermometer. You get the point…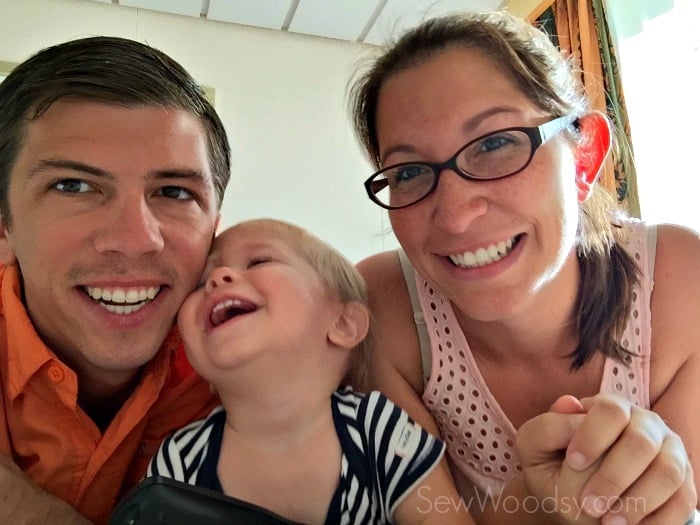 (we took a similar photo on our last cruise)
This time we cruised on Royal Caribbean Liberty of the Seas. This is a "freedom" class ship and one of the larger ships in the Royal Caribbean fleet. We loved everything about the larger ship. Let's talk about the big elephant in the room… the nursery!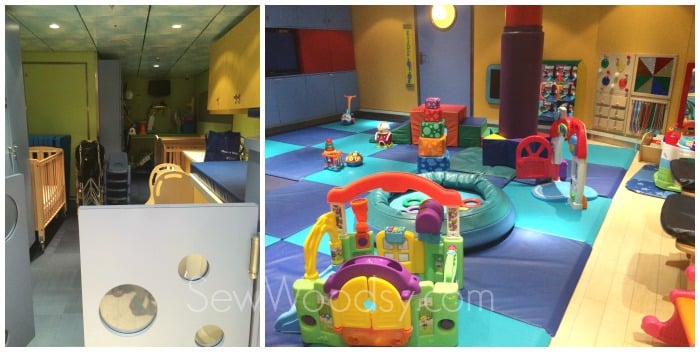 The nursery on the Liberty of the Seas is so much larger than the nursery on the Enchantment of the Seas (then again the ships are much different in size as well). I loved this nursery and didn't feel guilty one bit dropping off Ryder. And it helped that we got there a little early and he was able to play with Jon while I filled out all the paper work. Like last time, I can't stress it enough, if you plan to use the nursery you really need to make a bee-line for the nursery and reserve your time slots. You can reserve up to 15 hours on the first day. So the best thing to do is to reserve your dinner nights first. Then the next morning you can reserve some of your days. That way you are guaranteed dinner time. Of course if eating dinner with your significant other in peace and quiet without any interruptions is not high on your priority list then reserve other times. Prices are still the same. $6 per hour before 5pm and $8 per hour after 5pm.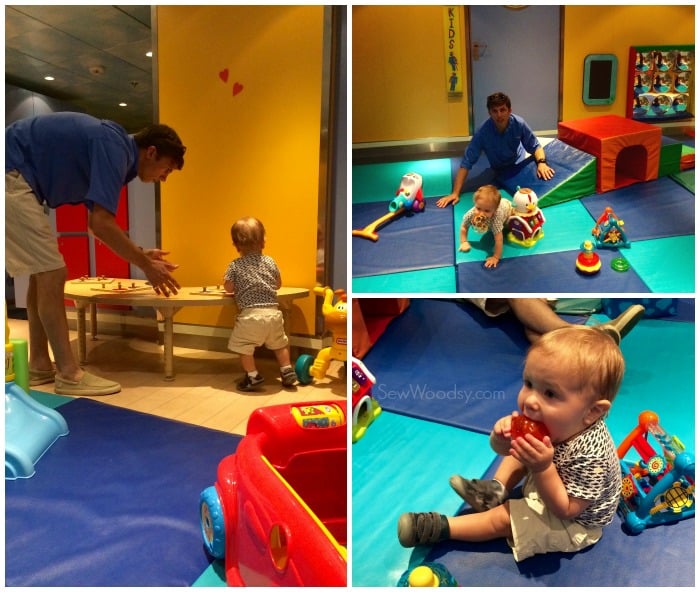 We were on a 4 day cruise to Cozumel, Mexico. We had two days at sea and one day in Mexico. The nursery hours on the first day were 7pm-12pm. The nursery hours on the days at sea were 9am-12pm, 2-5pm, and 6-11 pm. We typically put Ryder in from 9am-12pm on the days at sea and then from 6-8/9pm for the evenings. On the day in port the hours were: 9am-6pm and then 7pm-12pm. You can go on a cruise booked excursion and let your little one stay in the nursery all day. We did not choose to do that but it is an option.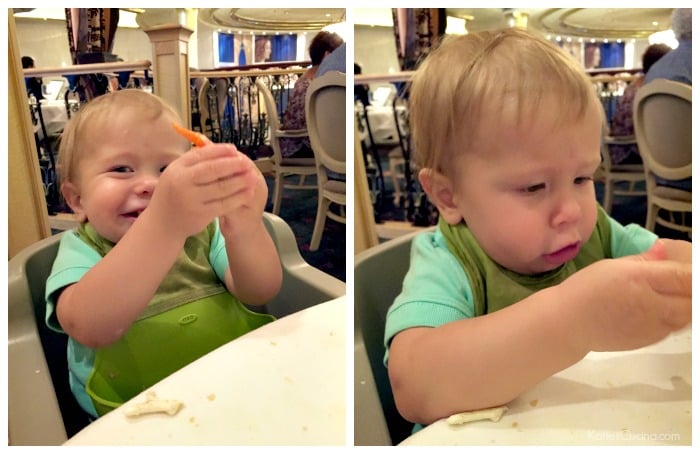 Because the nursery hours were so late on the first day we opted to take Ryder into the dining room with us. Even though he had skipped his afternoon nap he did relatively well in the dining room. And the dining room staff were beyond helpful. As soon as we sat down I requested to order some food for Ryder. I ordered him a chicken breast with mashed potatoes and I kid you not 1 minute later the food was on our table and the guest service manager even brought some broccoli and carrots. And Ryder actually ate them which really shocked me. This was also the fastest dinner we have ever ate in the dining room! It was like operation "scarf your food down so that he doesn't disrupt anyone else's dinner".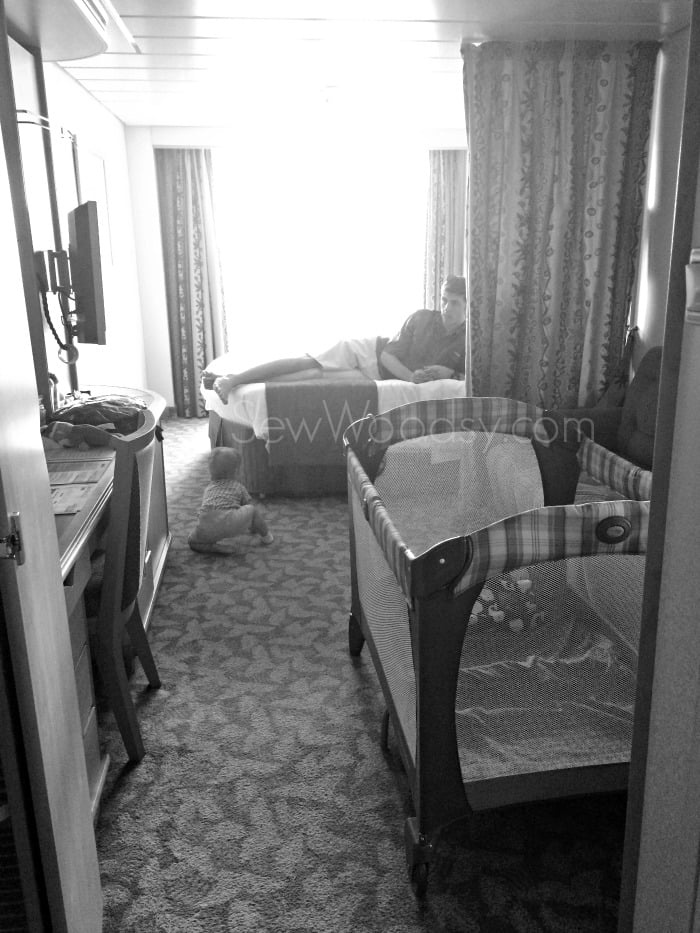 This time around we splurged and got a balcony. We realized last time that this was very much needed because Ryder goes to bed so early. Plus we got an amazing deal on the room and it would have cost us the same amount to have an outside room as it would for a balcony. So it was a no brainer. We did exactly what we planned… have a drink on our balcony after he went to bed. Most nights I would grab a dessert from the coffee shop on the 5th deck and eat my dessert and drink my glass of wine or martini on the balcony.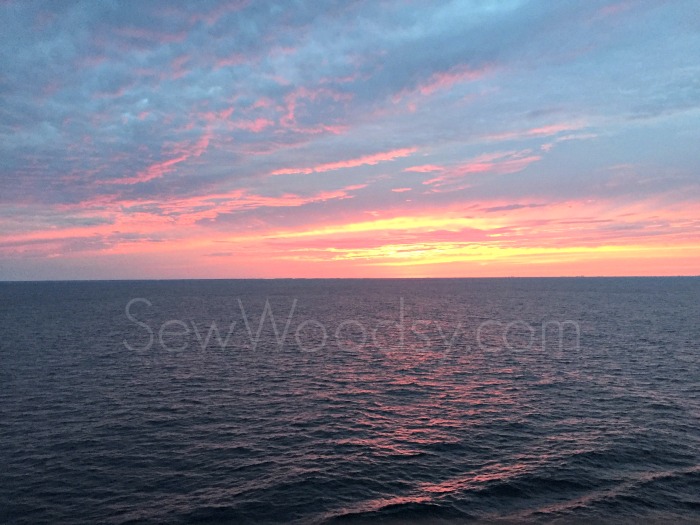 The first night at sea we had a spectacular sunset. Beautiful hues of pink and blue. Sadly, I was nursing Ryder to sleep while Jon got to enjoy it. But he did take a few pictures for me! The last night at sea we had a full moon that was just amazing. It was so incredibly bright.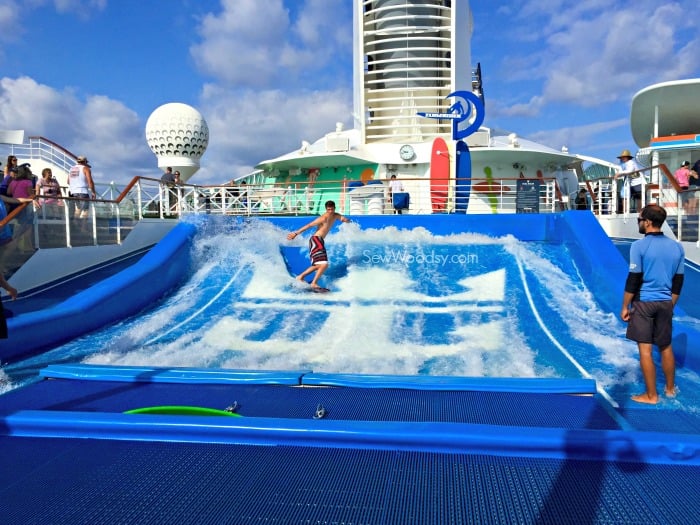 One of the features on the Liberty of the Seas is the FlowRider. Jon has been itching to get on a ship that has one. He surfs, although hasn't surfed in over a year since Ryder arrived into our lives. He loved being able to get up every morning and hitting the advanced session. Only a few guys and 1 gal showed up every morning so it was like they had it all to themselves! His only complaint was that they did not have it open in the evenings. He would have loved to done some nigh surfing.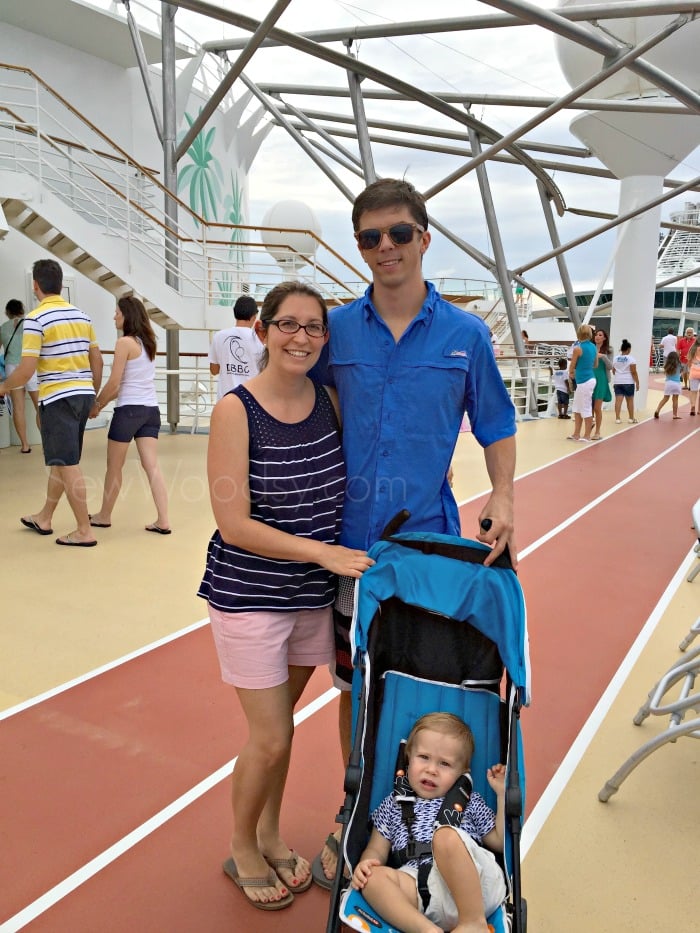 We used our stroller a few times. Mainly only used it once we were on land. It was a pain to continue to wait for elevators, so I mainly wore my Tula and carried Ryder around the ship.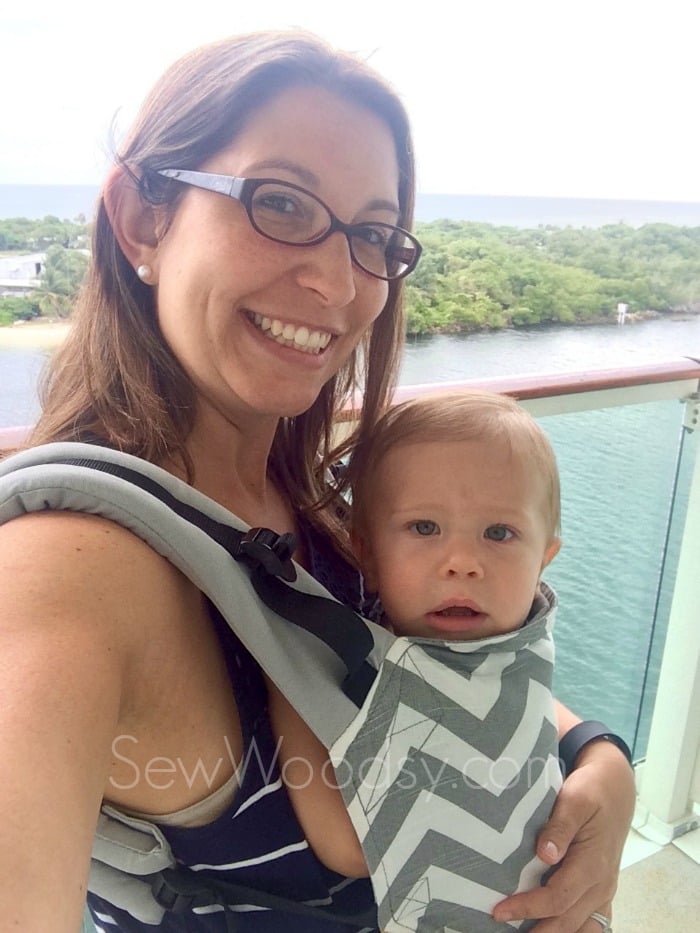 Before the cruise I purchased a Tula and I'm so happy I did. The padding, the quality, everything about it makes it so comfortable! And Ryder loves it too! Here is us on our balcony on the first day!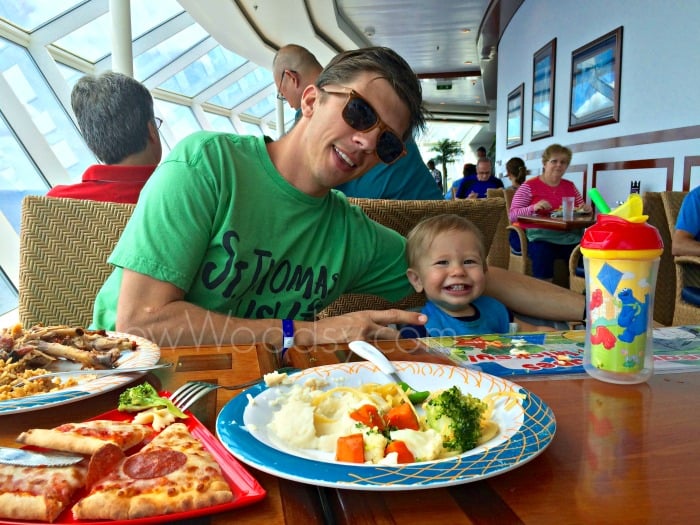 One of my favorite photos from our trip… Jon and Ryder at lunch. We typically did the buffet for lunch because they had a wide variety of food and we were always able to find something for Ryder to enjoy.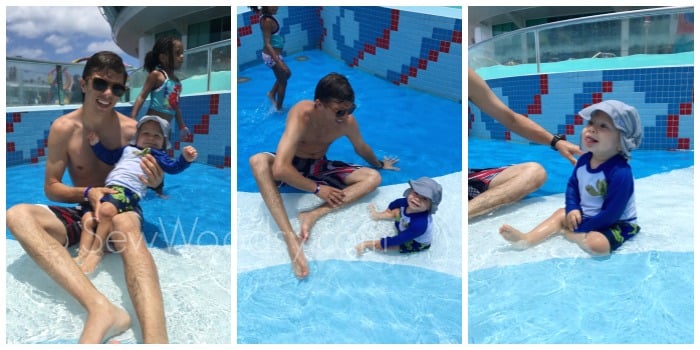 The kids area is awesome on this ship. And they have a small little "pool" for those that are not yet potty trained. It seemed though that more of the bigger kids wanted to be in the baby area than the babies and it was located next to a swimming pool where bigger kids were horsing around and throwing balls. Not once but twice were balls thrown and almost hit Ryder in the baby area. Poor placement on the designers part. But Ryder loved it. And we did carry him around to some of the other splash areas. No one said anything to us about not doing it.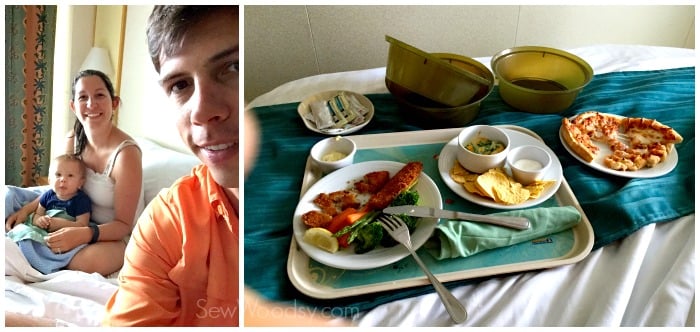 Dinner was tricky each night for Ryder. The buffet did not open until 6 and we typically dropped him off at the nursery at 6. So we either brought him down to the pizzeria or one evening we ordered room service in from our tv. He was asleep when we did this. And then as soon as we placed the order we received a phone call which then woke him up. So much for trying to be quiet and order ahead of him waking up. We ordered a pizza and fish sticks with steamed vegetables. And of course a little spinach artichoke dip for us to enjoy while we fed him. All the food came within 30 minutes and relatively warm. Since we were feeding it to a toddler we were happy with it not being piping hot!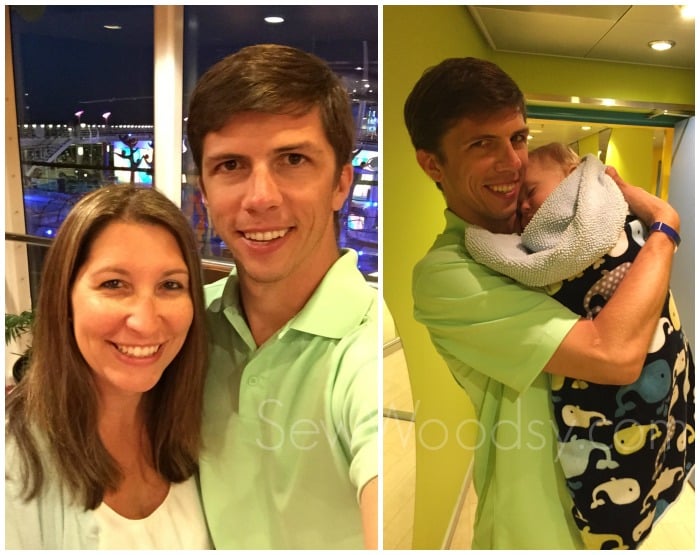 One of the nights we decided to grab Ryder a little early from the nursery only to find him sleeping. The nursery staff encouraged us to leave him and go play but we decided to grab him instead. We were both pooped. He stayed asleep in Jon's arms almost the entire time until we got to the room!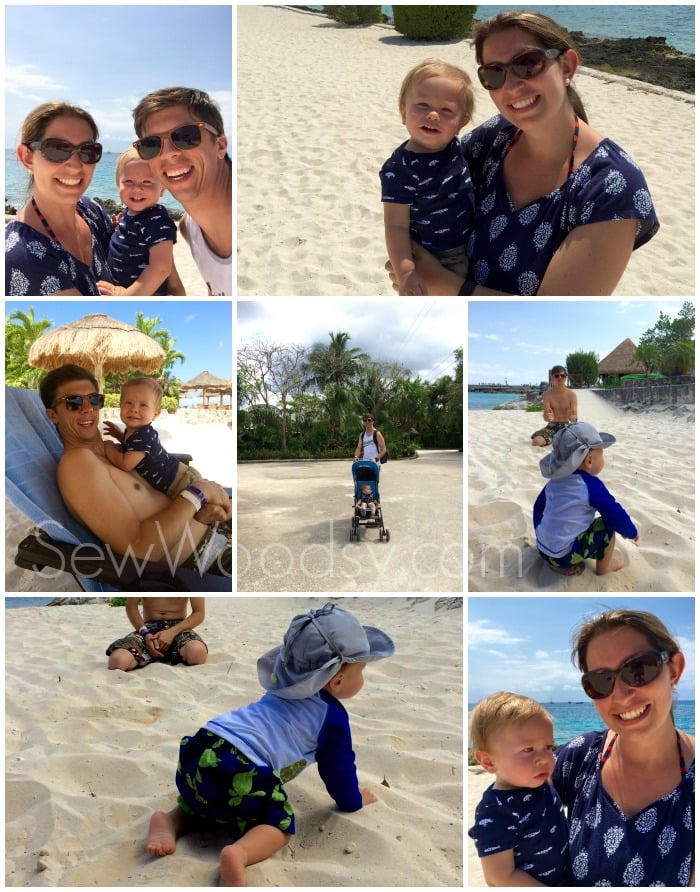 Let's talk about Mexico! We opted to do our own thing while in Mexico. A little risky I know but we've been their over a handful of times and felt confident. We took a taxi (yes, Ryder sat on our lap during the 10 minute ride) to Chankanaab Beach Adventure Park. My parents had visited the park a few times and they felt it would be a good alternative for us. We didn't get to explore too much, but we did find the perfect little bay with thatched umbrellas and a restaurant in walking distance. It was only $22 per person for Adults and kids under 3 are free! Our taxi ride each way was $12. The cruise ship wanted to charge us $90 per person!! AND $80 for Ryder!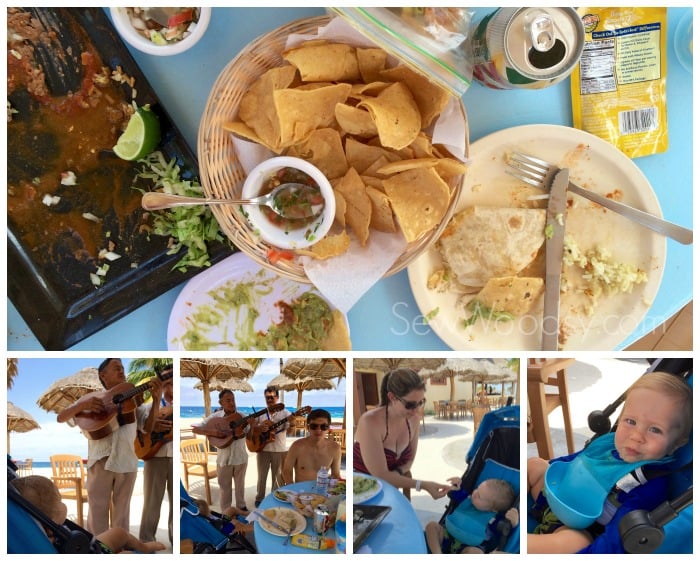 We also ate lunch while we were there. Ryder LOVES Mexican food. We ordered him a chicken quesadilla and he enjoyed some of our guacamole and chips. The restaurant mainly offered American foods. I asked if they had any Mexican food since we were in Mexico and after all I wanted to eat Mexican food while in Mexico. They brought us a special plate that wasn't on the menu. We shared the plate plus ate most of the quesadilla. Both were the delicious and of course the guacamole was to die for. I forgot to take a photo of our food before we devoured it. So instead you get a glimpse at our remnants and what lunch looks like with a 1-year old… pouch and veggie straws to complete it.

After lunch we finally got Ryder down for a nap in his stroller. *One of the reason's why we brought our stroller was for napping purposes! Ryder took a 2 hour nap on the beach and Jon and I enjoyed a few beer's and enjoyed the beautiful weather.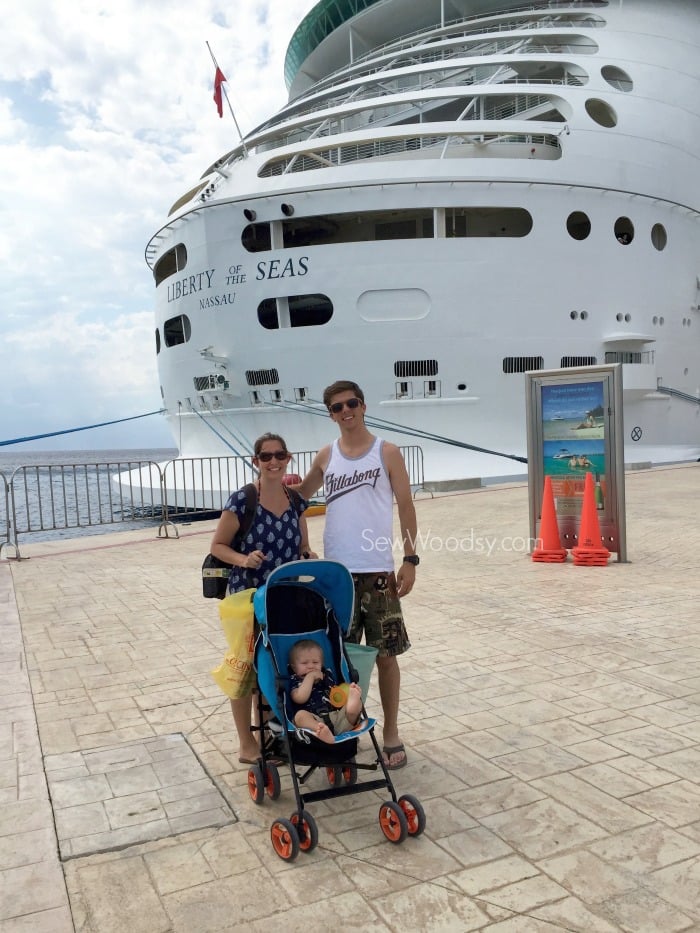 And there you have it. Just about everything you need to know about cruising with a 1 year old. Of course every person's experience may vary. But this was our experience. We are already looking into our next cruise in the fall. Going to attempt a 7 day cruise with Ryder. And then we can share how it is to cruise with a 1.5 year old. Because by then he will definitely be full on walking and cruising will once again be totally different!