Creepy Cloth can be found at your local dollar store for $1 per sheet. The sheet is roughly 30 x 72. Due to the size of my window I only needed 2 sheets of creepy cloth. I cut one sheet in half to use for both window panels and the other sheet to hang over the curtain rod.
I really like this layered look the best.
My current kitchen curtains that I made have clips that hold the fabric. This is the most ideal way to easily change out your curtains. Simply clip the creepy cloth on to your rod!
I'm not as much a fan of the "swoop", but this is an option when decorating with creepy cloth!
I love this look better!
You can also sew a few peices of creepy cloth together to make a covering for long drapes.
I used black thread and sewed a zig zag stitch across two pieces of creepy cloth. I repeated the same step on a third piece. Carefully drape it over your curtains, and voila! You've created additional depth to the mood.
Another way you can decorate is using the creepy cloth as table covers.
I cut one piece of creepy cloth in half and used it on both of my end tables in my living room.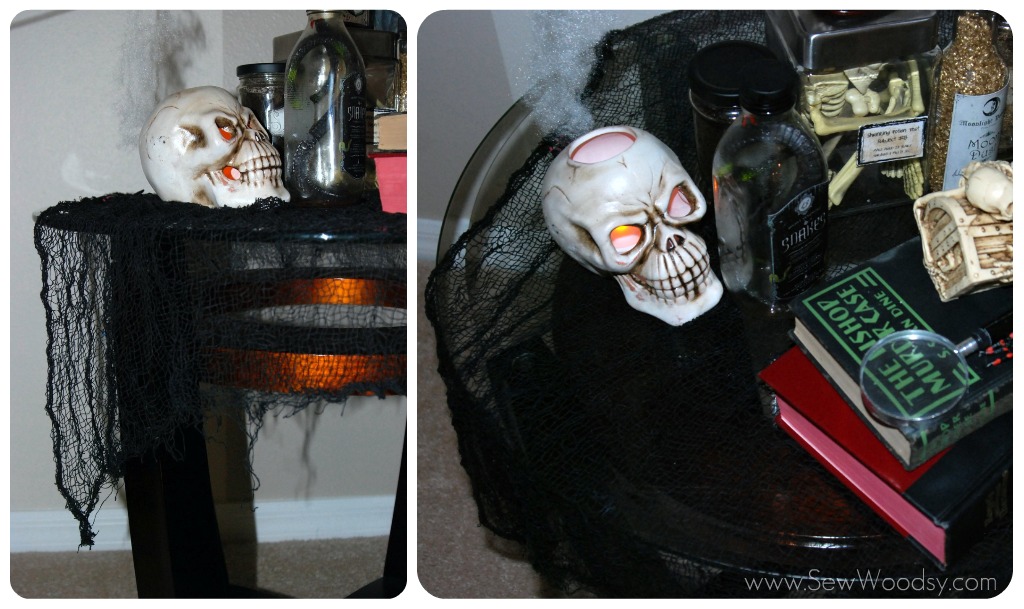 It adds additional detail that helps set the scene. I use creepy cloth to cover my end tables and coffee table each year.
Do you use creepy cloth to decorate with? If so, where?