I first got the idea to make this inexpensive Halloween decoration thanks to the all-might Pinterest. I pinned this idea a few months ago, and during one of my many trips to the Dollar Store I found Severed Hands. That's when it occurred to me that I could plant this bad boys and make my own sort of "zombie planted hands". Depending on how many Zombie Planted Hands you "plant" will depend on the cost of matierals. In my case I needed 6 hands (although 5 were only pictured at the time). That automatically brought my total up to $6 plus $1 for potting soil. I had the rest of the tools on hand. I hope you'll enjoy my very easy and inexpensive project and recreate your own!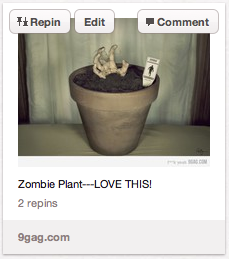 Source: Zombie Plant Photo on Flickr
First, figure out where you would like to plant your "zombie" severed hands.
I chose to plant mine in the empty pots on our front porch.
Next, gather your severed hands.
Fill the pots with dirt. I chose to fill my pots with fresh soil that way after Halloween I can just pull the severed hands out of the pots and plant fresh fall flowers (I live in the south–I can do this)!
Next, if needed add small skewer sticks to the severed hands. This will help you be able to position the hands into the pots. If you don't have skewers you can always burry the hands in the dirt.
Plant your first severed hand.
Don't be afraid to position the hands at different angles.
I love the creepy cool look. Do you think you will plant some "zombie" hands?