Learn how to make these custom DIY Mickey & Minnie Mouse Favor Bags for your childs next Birthday party using the Cricut and my free design file!

Last week, I shared my daughter's Minnie Mouse themed Birthday Party. After I started brainstorming I knew I wanted to make my own favor bags. When you look around the internet you have so many options and ways to make DIY Mickey & Minnie Mouse favor bags. I made both Mickey and Minnie because I had way more boys then girls. Plus, since I was able to customize thanks to my Cricut Maker I knew I could get very detailed in the customizations!
Thanks to the Cricut I was easily able to have a handwritten look and customize each goody-bag with the child's name using the "write" feature. Follow along as I show you how incredibly easy it is to make your own goody bags.
Supplies needed to make DIY Mickey & Minnie Mouse Favor Bags:

How to "write & cut" on the Cricut
Thanks to my Cricut Maker you can whip up these bags in no time. I use the "writing" feature to have the handwritten look. Make sure you toggle down to "write" when you start searching fonts. That way it looks hand written and it's not the "silhouette" of the font. You can attach the name to the Mickey Mouse silhouette so that the machine knows to "write then cut". After the Cricut "write's" the names then it automatically knows to cut out all the Mickey Mouse silhouettes.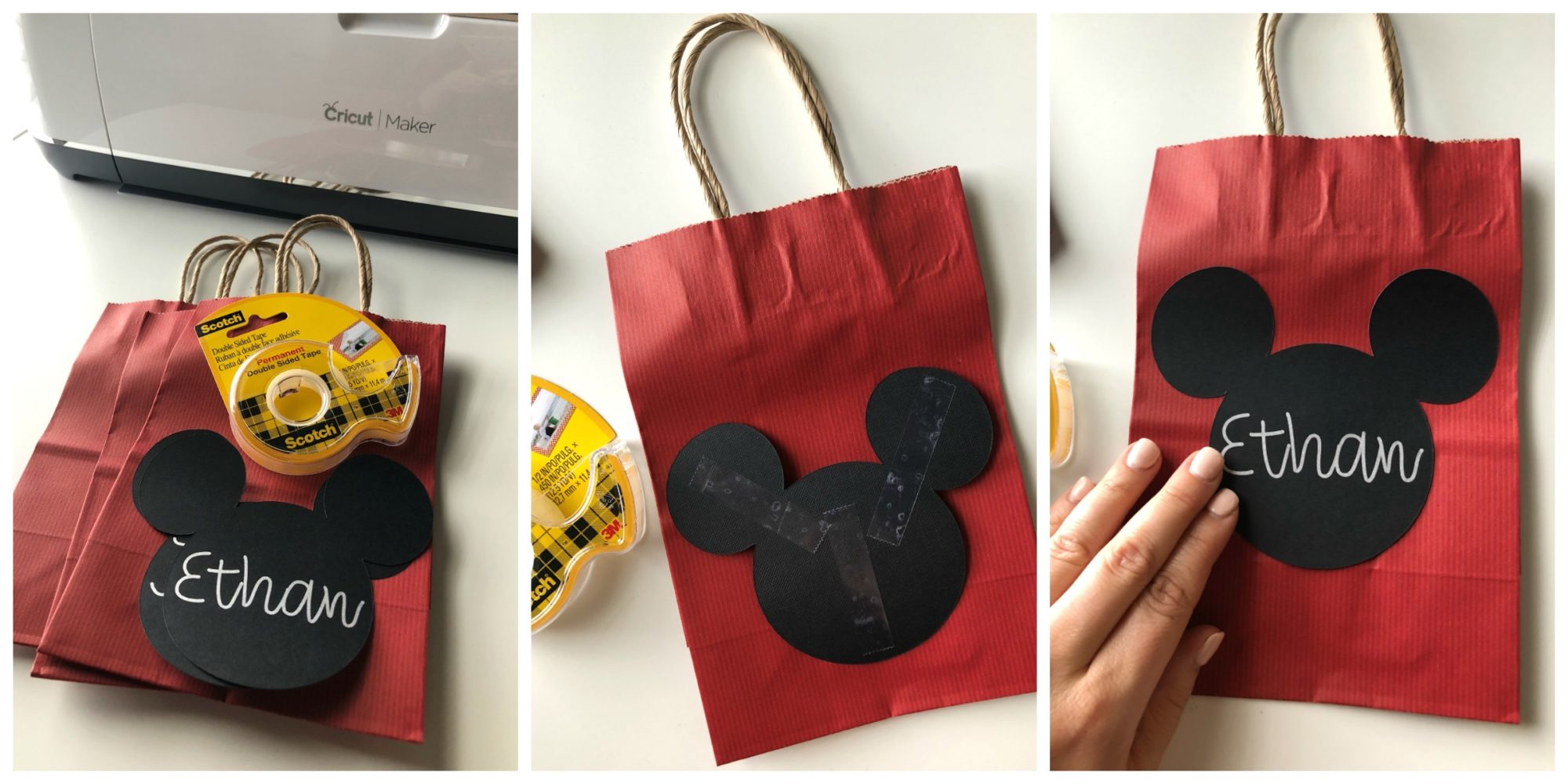 How to assemble Mickey Mouse Favor Bags
Once all of your Mickey Mouse silhouettes are written and cut out then adhere them to your Red Kraft Bags. Once again, Double-Sided Tape to the rescue! A few pieces and then stick on to the middle of the bag.

How do you make the Minnie Mouse Bows?
For the girl bags I cut Minnie Mouse style bows using Red Shimmer Paper on my Cricut. Make sure you set the paper setting to "glitter" so it cuts through the thicker paper.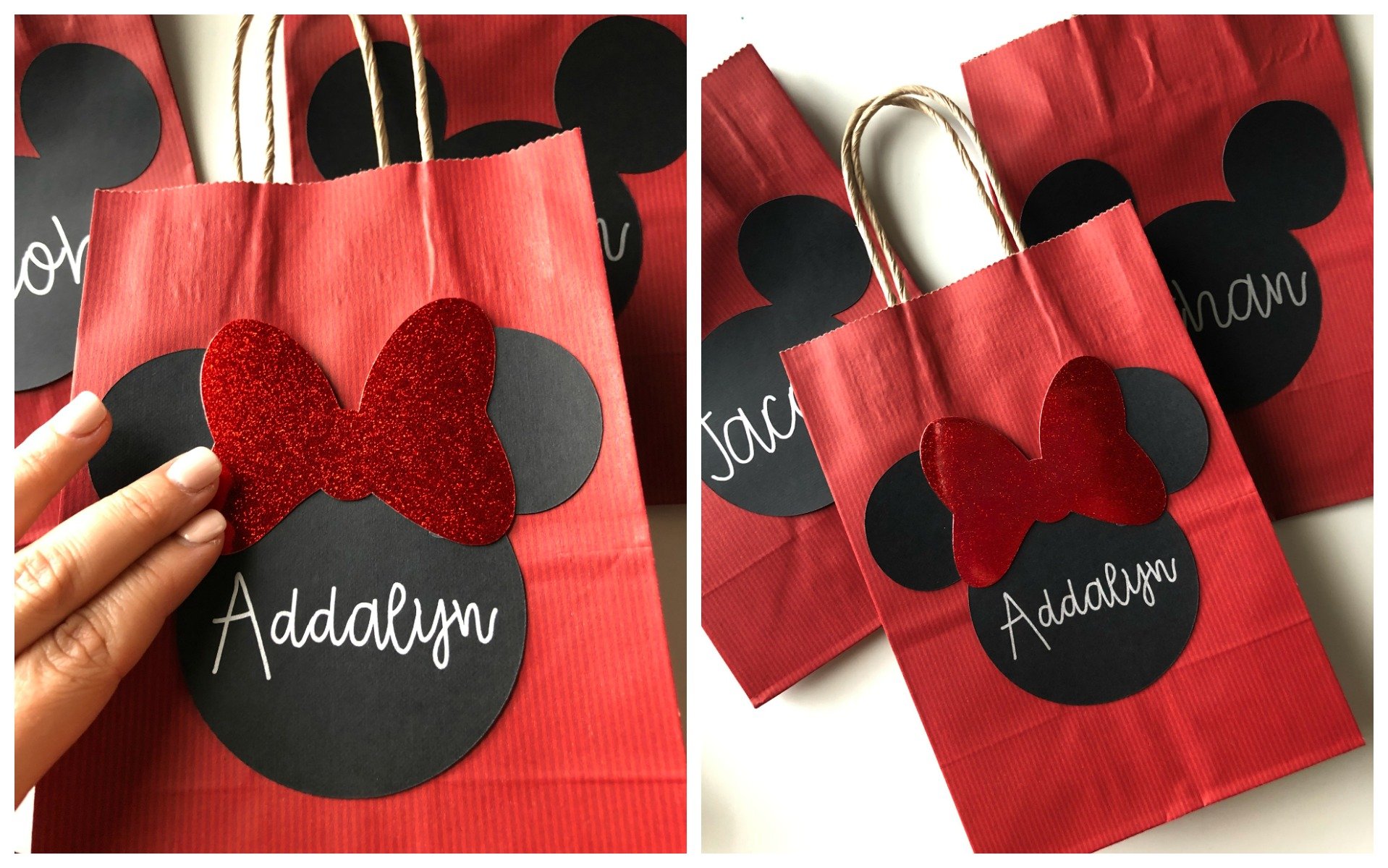 Sadly, this bow file is no longer available through Cricut. I bought it a few years back and it has since been discontinued. So if you go to my cut file you won't see it. You'll need to find a Minnie Mouse bow silhouette and upload into Cricut Design Space®.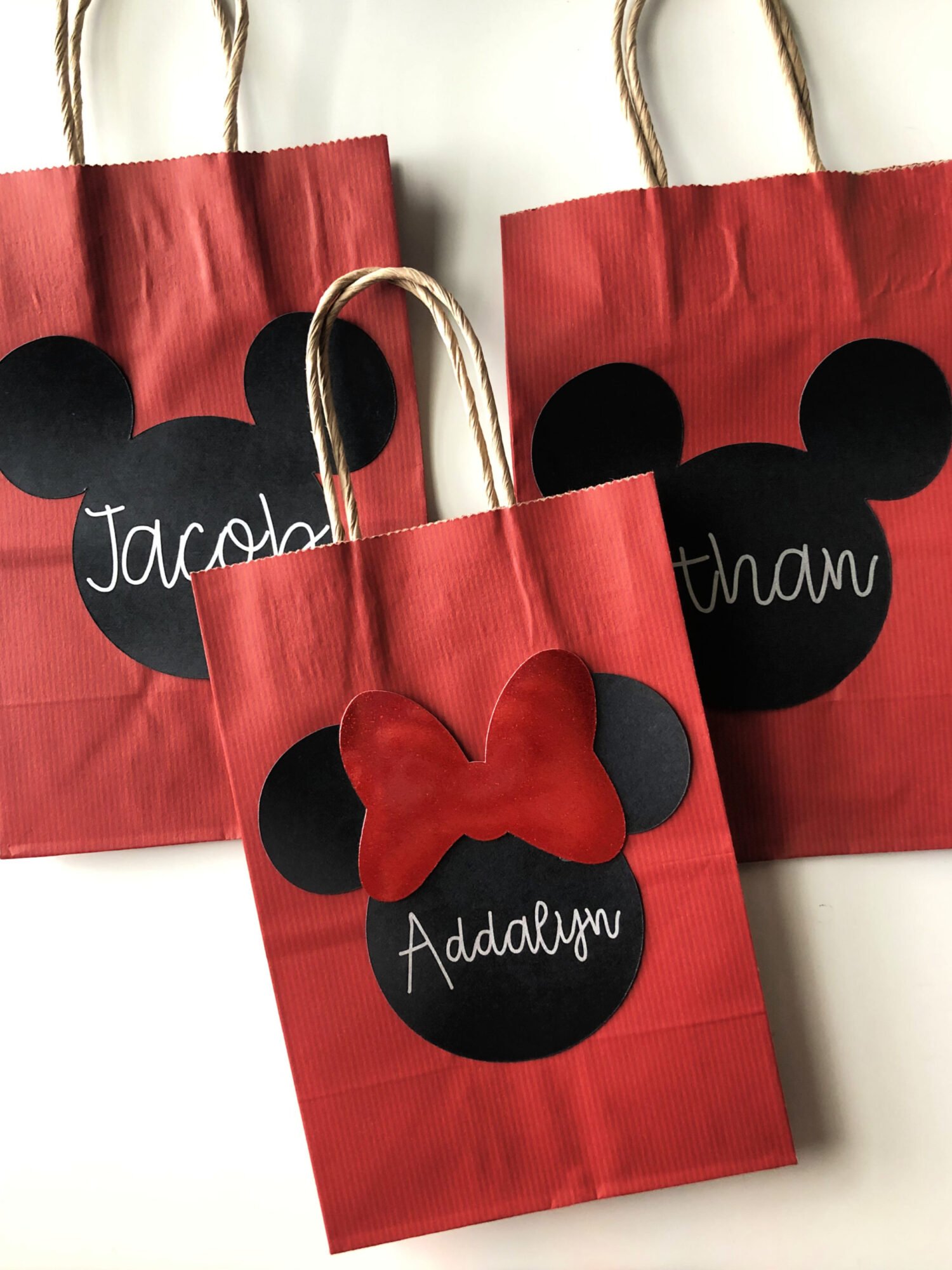 I had 24 bags to create and did them all within an hours time. The longest part was putting together the cut file and attaching all the names. Sadly, this sis the one project I forgot to photograph during the party! So you just get to see how they looked prior to being stuffed with goodies.
If you are looking to customize your own goody bags make sure you grab the Cricut Design Space file for DIY Mickey & Minnie Mouse Favor Bags here.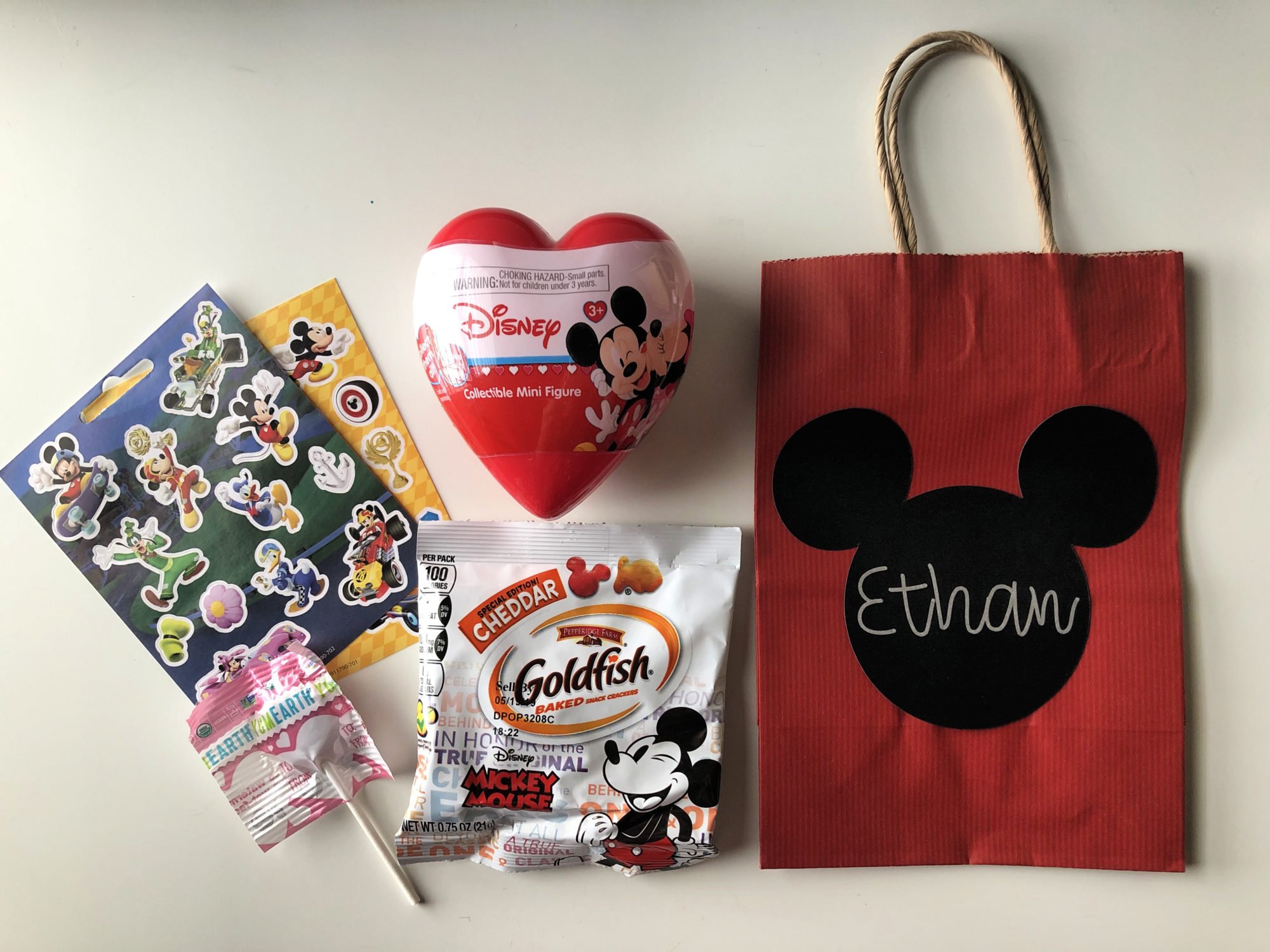 Ideas for Toddler Favor Bags
Like many parents, I feel that I struggle with putting together goody bags. I don't want to give "crap" chotsky items that will just end up in the trash the next day. I always try to focus on meaningful items that they will either enjoy right away and then 1-2 toys that they will keep to play with.
For Reagan's toddler favor bags I included the following:
Mickey Mouse Stickers
Yum Earth Organic Lollipop
Disney Mystery Surprise Figurine with Stickers
Mickey Mouse Edition Goldfish Crackers
As you can see it didn't look like much–just a few items. I remind myself though, that to the kids it's a lot and anything you give them they will love. Our party was in the morning and ended at 11am I knew a snack would be good to hold them over for the car ride home. Since my almost 5-year old is obsessed with mystery toys and a majority of the kids attending the party were around his age I opted to go that route. I had 3 one year olds whom I bought a round jingle ball for instead of the smaller toy.
*Both the mystery toy and Mickey Mouse edition of Goldfish Crackers were found before Valentine's Day. Other great items to put in a toddlers goody bag: bubbles, sidewalk chalk, pretzels, fruit gummies, raisins, etc.
I hope this gave you some good ideas on what to put in a goody bag for toddlers. If you are having a Mickey or Minnie Mouse themed party I hope you found my tutorial helpful and can whip up your own adorable custom goody bags!
Disclaimer: There are affiliate links in this blog post. That means if you click on them and purchase something we make a small percentage of the sale at no additional cost to you.