Thank you Epicurean Hotel for providing part of our spa treatments and brunch! As always all opinions are my own.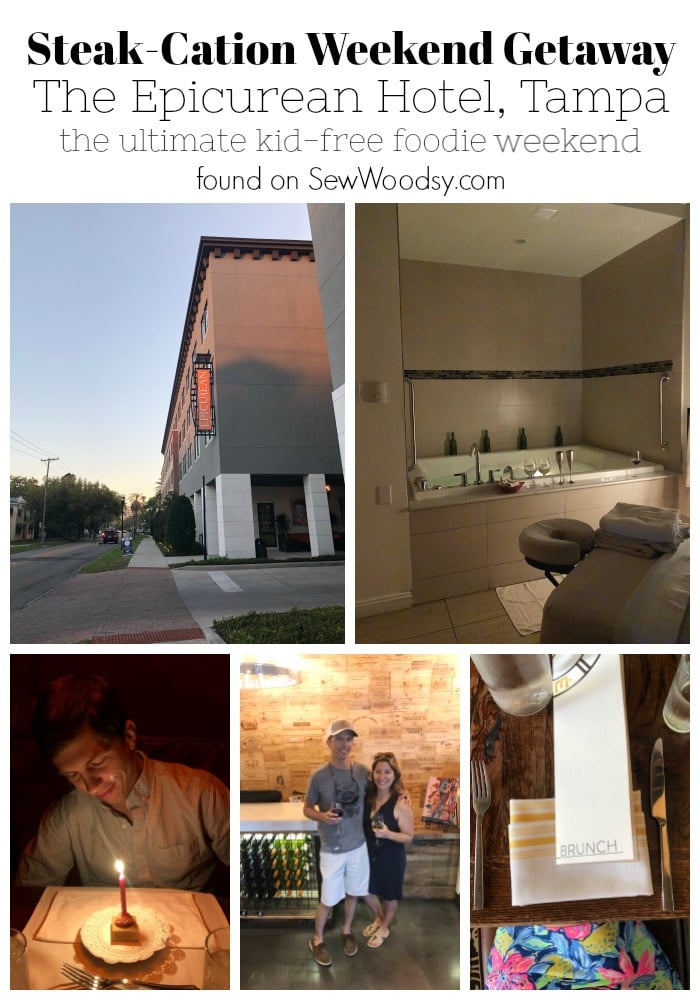 I'm sharing all about our kid-free Steak-Cation Weekend Getaway at the Epicurean Hotel, Tampa! The perfect way to reconnect and enjoy time together.
Two weekend's ago my husband, Jon, and I had a chance to escape for 24 hours kid free! I booked a Steak-Cation Package at the Epicurean Hotel in Tampa, Florida. Jon and I tend to like to enjoy experiences as gifts. Since he just had a big birthday at the end of February I thought it would be a really nice treat to enjoy a weekend together (kid-free), to reconnect, and celebrate his birthday. The last time we went away just for a weekend was back in 2015 and we stayed in Orlando. Our last big trip away kid free was last summer. We went to Jamaica for four nights and five days– definitely the ultimate bliss!
However, since we still have a few more months until our next Jamaica getaway–I knew just a quick weekend away would do us both good. As busy parents with young kids you tend to get caught up in life, work/business, kids, and sadly sometimes tend to forget about each other— the people who made those kids. It's real life and nothing to be ashamed of. Recognizing this though, definitely helps remind you to put yourselves first at times to reconnect.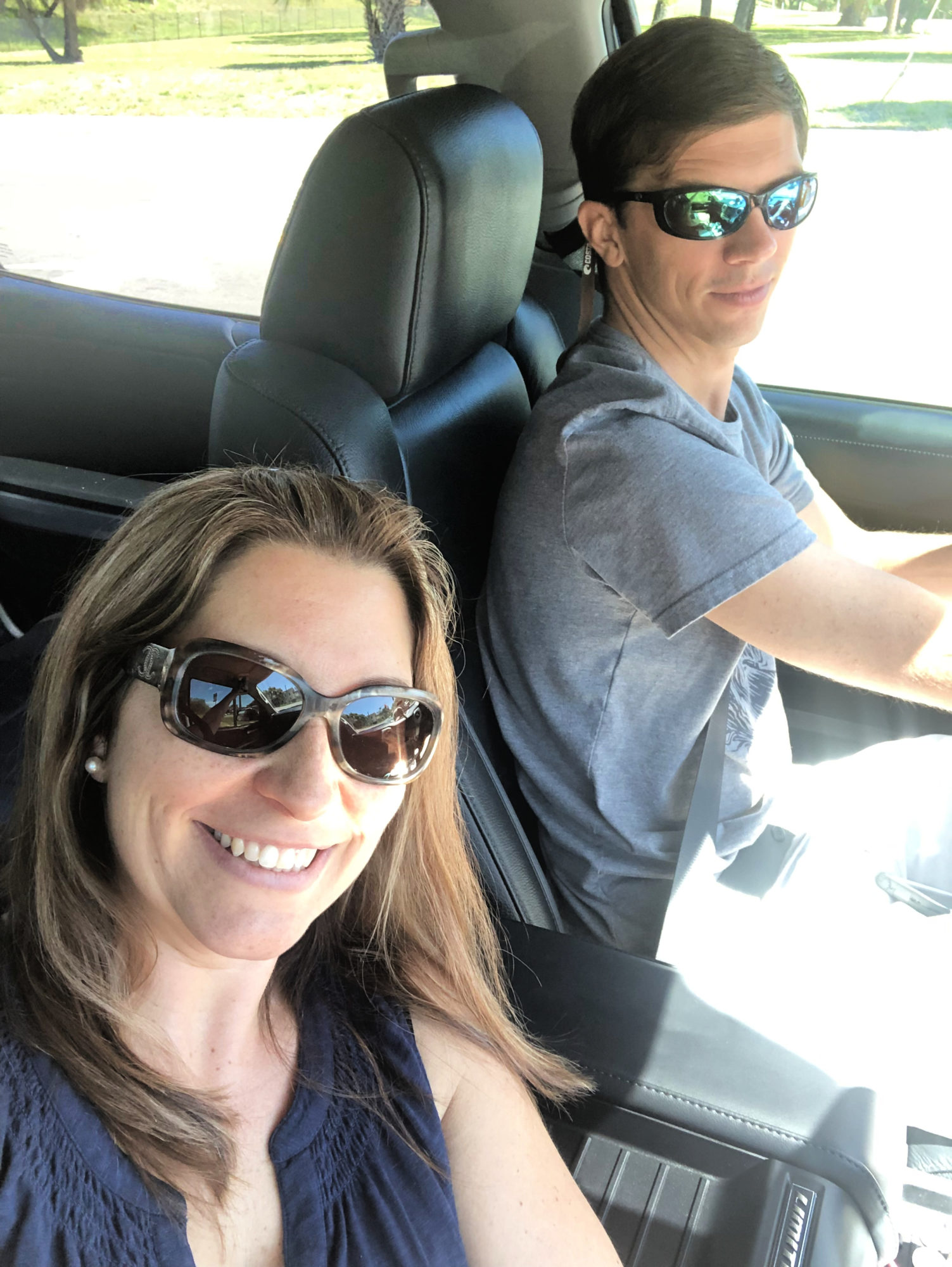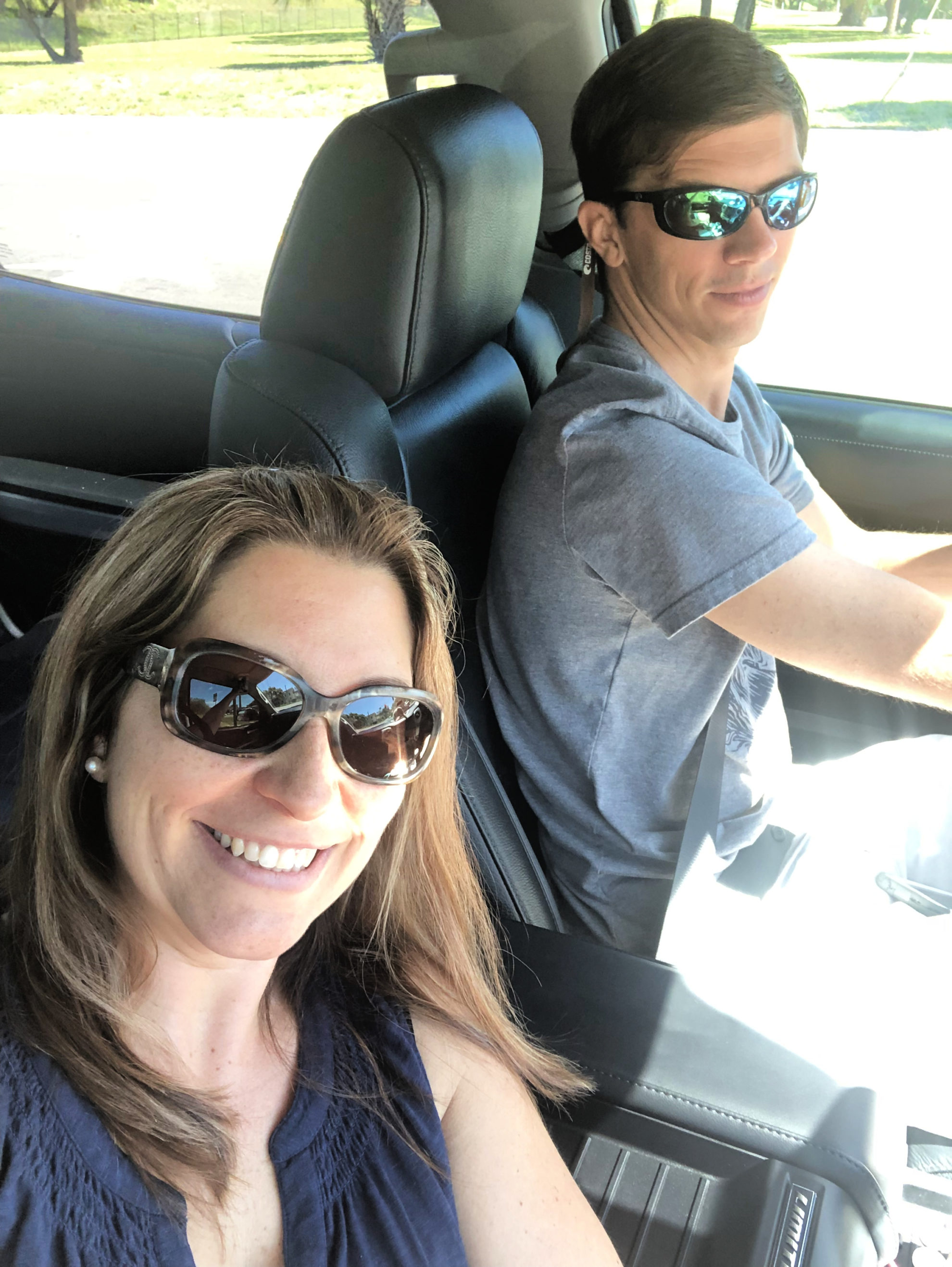 Tampa is just a short hour and a half drive from Orlando. I wanted to maximize our time away yet get to do something we normally wouldn't do! We ate at Bern's Steak House back in 2017–while I was on a dairy free diet. They were wonderful accommodating to my dietary needs; however, I knew I was missing out. I've been dreaming of the day when I got to go back and eat all the dairy!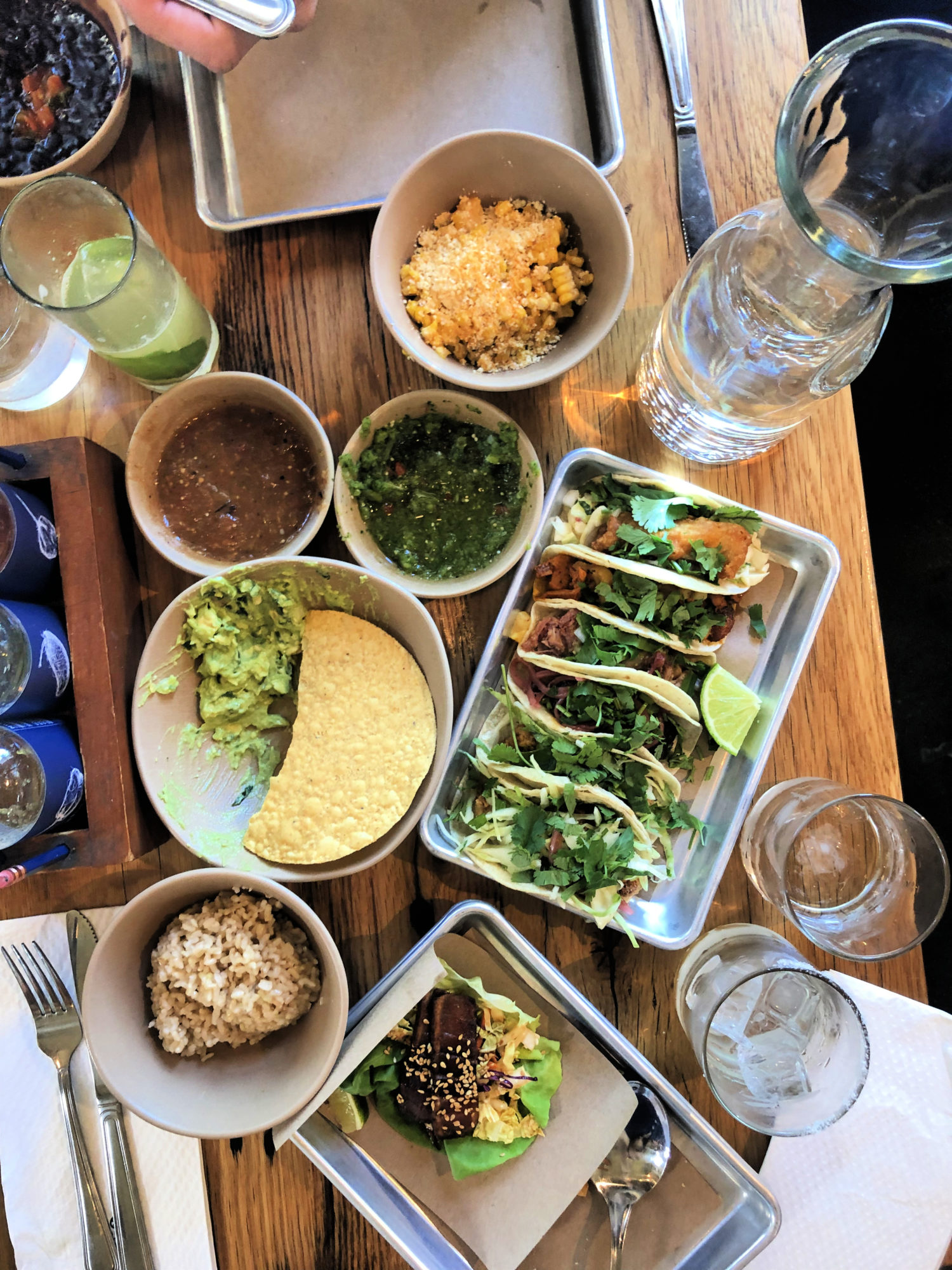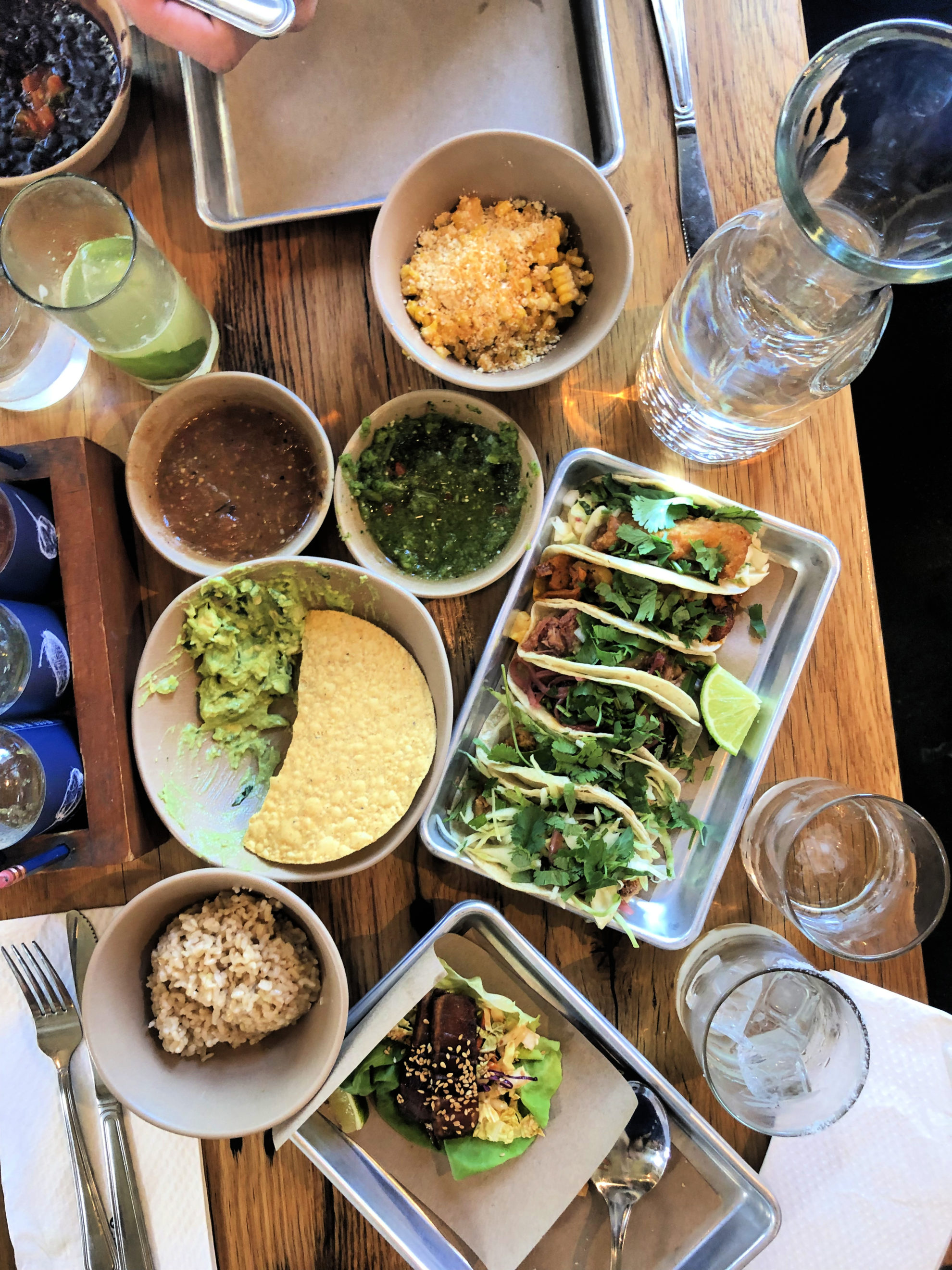 Sometimes traffic from Orlando to Tampa on the I-4 corridor can be a bear. We hit accident after accident but made the best of it. We had a 2pm spa treatment planned, so I knew we were going to be short on time for lunch. Once we arrived in Tampa we grabbed a quick bite to eat at BarTaco. I've heard a lot of great things about it, and it did not disappoint! It was such a treat to just have lunch together kid-free! Fun music and a margarita at lunch. Plus it's in the hip area of Hyde Park just a few minutes away from the Epicurean Hotel.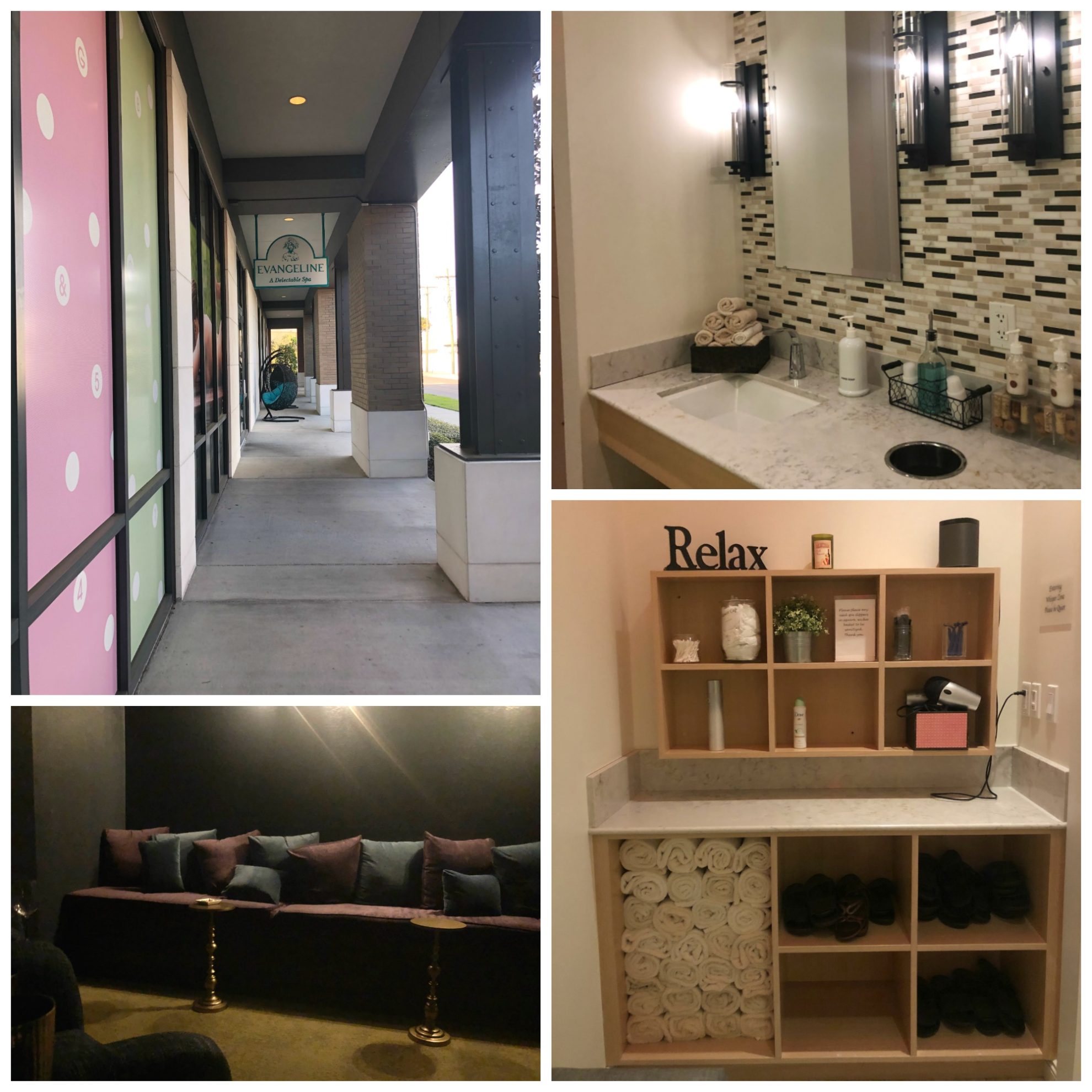 After lunch, we only had a few miles to drive to get to the Epicurean Hotel. Upon check-in to the hotel you are given (if your of age and want some) a glass of wine! I naturally went for the Chardonnay and Jon went for the Pinot Noir. Then we were escorted to Spa Evangeline; a place to relax the soul and refresh the spirit with beauty treatments infused with the flavors of Epicurean.

I had arranged for a couples Champagne Bubble Bath followed by a 50- minute couples massage. I figured what better way to start our vacation away then to pamper ourselves. The best way to unwind and relax in my opinion. We were each escorted to the locker room followed by the relaxation room.
We were then given champagne to enjoy during our bath. Once our tub turned off it was time to dry off and lay down for our massages. We had a wonderful experience and both of our massage therapist were amazing! We loved the bubble bath so much that we bought a bottle of the Farm House Fresh Whoopie®! Body Wash to enjoy at home in our big jetted tub.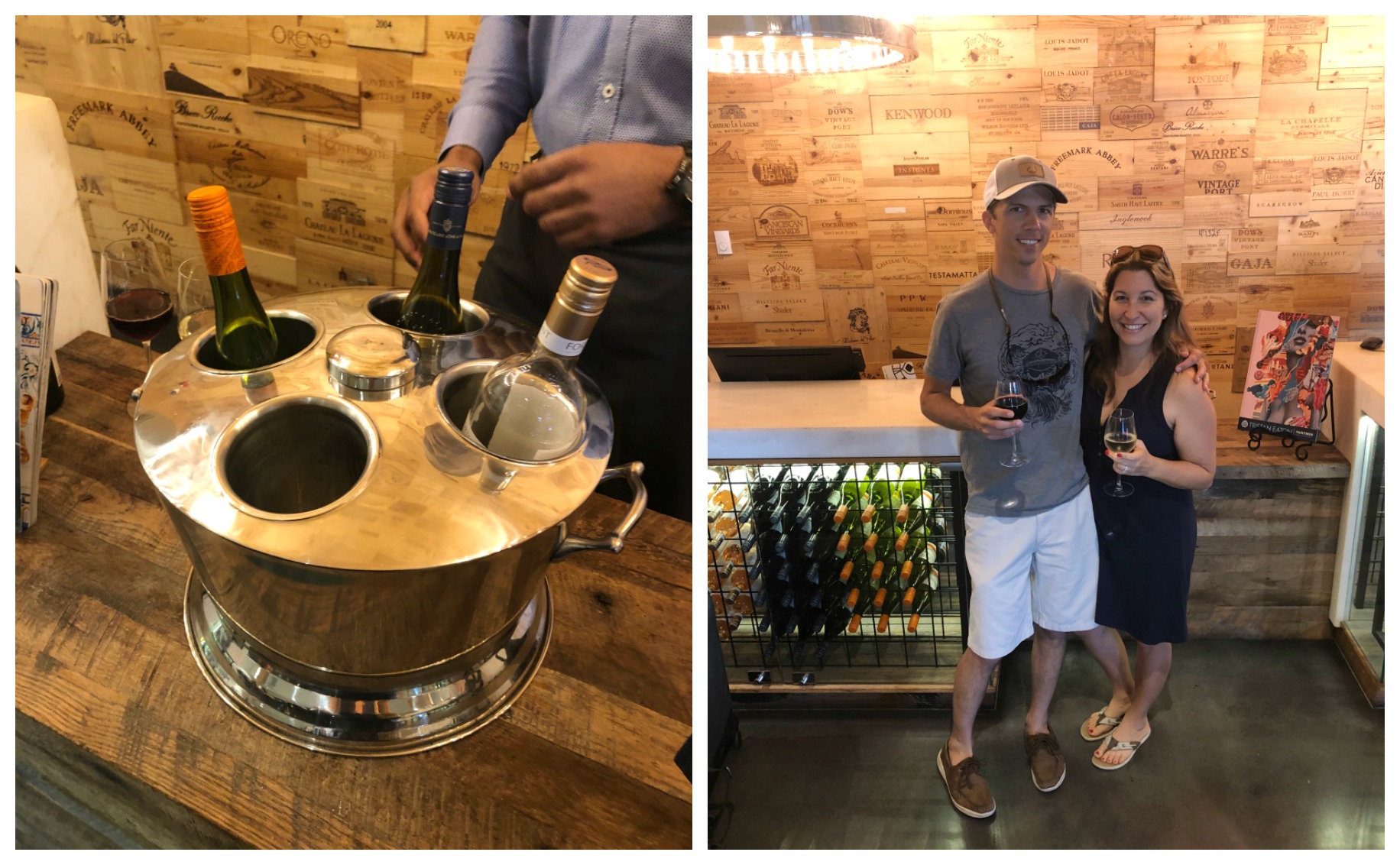 After the spa, we grabbed our room keys (and another glass of wine) and headed to our room. The Epicureran Hotel has 137 guest rooms and suites exude a luxurious blend of urban chic and comfort, each decorated to reflect the culinary heritage and unique nature of the area, with butcher-block-style cabinetry and reclaimed wood bathroom barn doors that were designed by local craftsmen. I love the barn door and being that I also have a food blog I admired the food photos on the wall!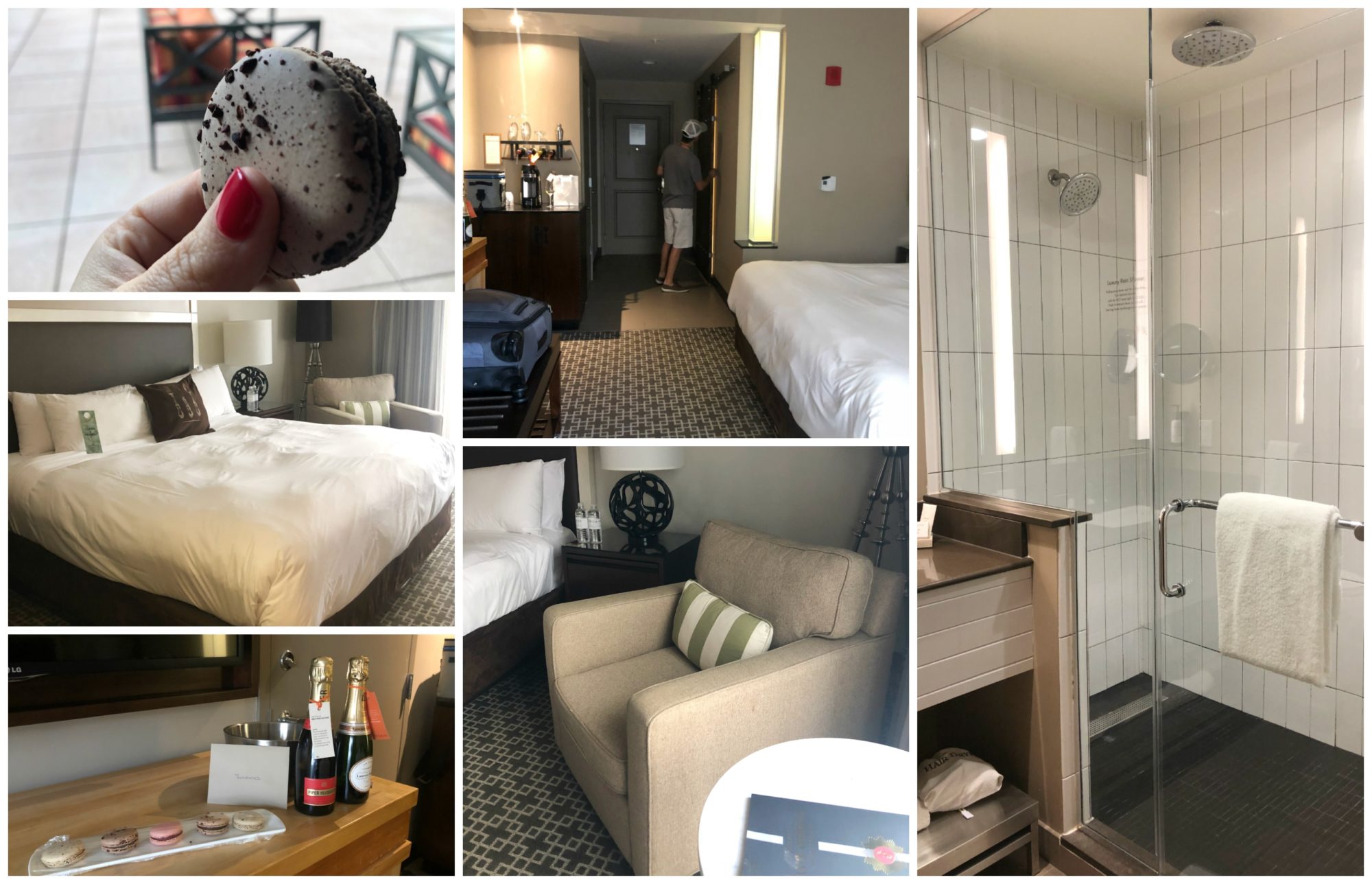 Guest room amenities include complimentary wireless Internet; flat screen HDTV; luxurious bath products; a single-serve brewing system for coffee and café-style beverages; in-room laptop safe and rain shower heads.
All rooms feature an in-room personal artisan pantry stocked with premium liquors, locally crafted beers, Perrier, a selection of San Pellegrino and a diverse selection of five, half bottle varietals with suggested pantry pairings such as, prosciutto, chocolate and sea salt caramels and chévre. The ultimate mini bar for the wine and food lover!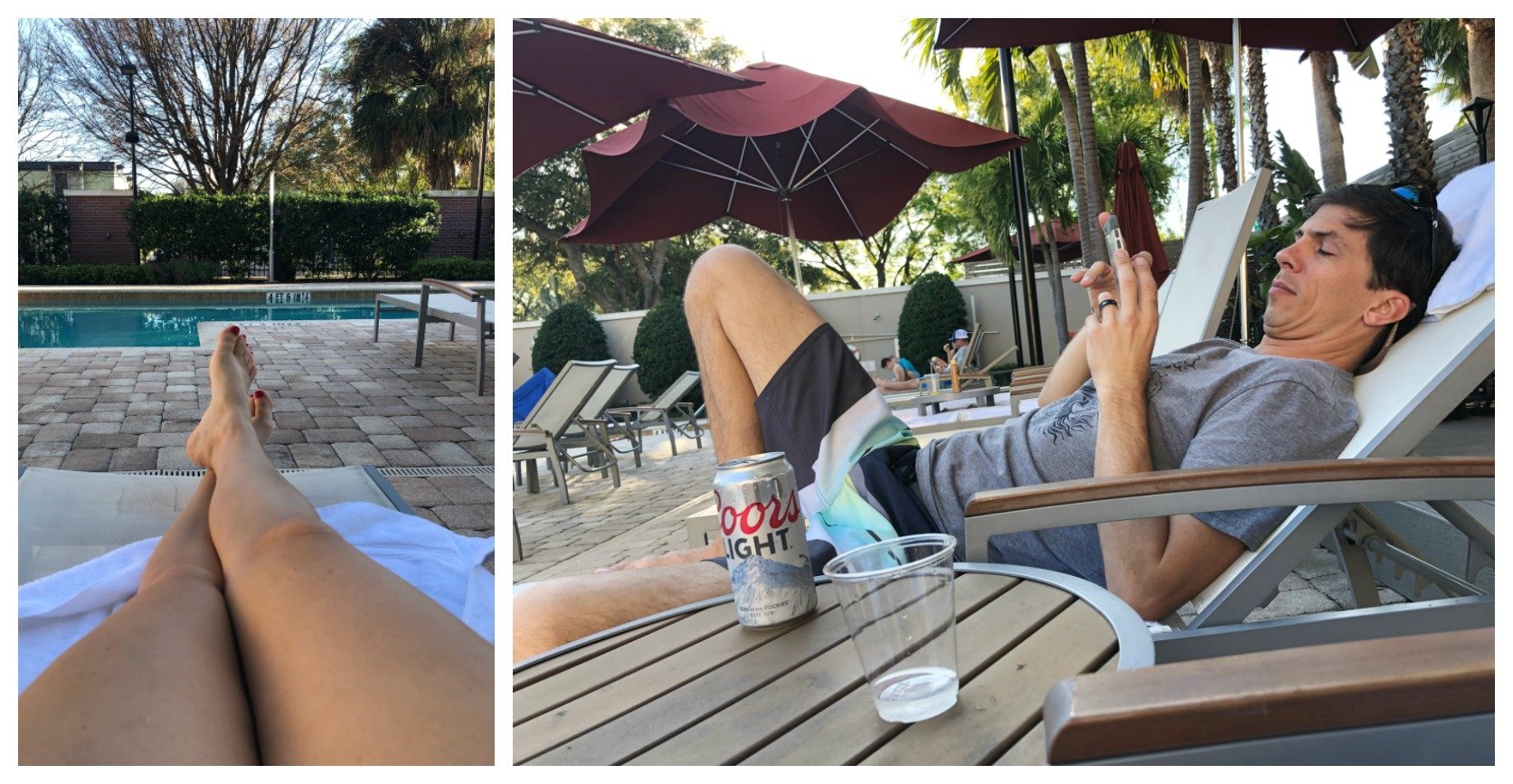 Once we unpacked, we decided to relax by the pool for an hour since the weather was so nice out. Plus, we had some time to spare before dinner. If you've ever tried to make a reservation at Bern's Steak House you'll know that they book 3 months in advance and pretty much book up immediately on the first day reservations open. The perk of booking the "Steak-Cation" package with the Epicurean Hotel is that you are guaranteed a 7 or 8pm reservation! When I went to book they only had the 8pm slot available, but that was better then the 9:30pm I was finding online.

We headed over to Haven around 6pm. It's the newest member of the Bern's family and specializes in the concept of crafted, cultured and cellared. The menu features fresh, approachable cuisine and a diverse beverage program, wine, craft beers and homemade sodas on tap. The main reason we were going is because they have more than 500 bourbons! Jon has recently really gotten into drinking bourbon so I knew this was the perfect way to start our food experience. They also have 125 cheeses, and a variety of charcuterie, as well as over 40 wines by the glass. Since we showed up at 6pm with no reservation we happily grabbed a seat at the bar where we were greeted with the nicest bartender who was very knowledgeable on bourbon.
Jon was in heaven (or should I say "Haven") and had a hard time selecting what he wanted to try. Since we arrived during Happy Hour we were able to get a chef's selection of 3 cheeses and 3 charcuterie for just $12! Plus he got to enjoy a few oysters, and I also had a delicious glass of red wine for just $5. Haven is just a block from Bern's Steak House so it's a super easy walk, and perfect way to walk off our appetizer on the way to dinner.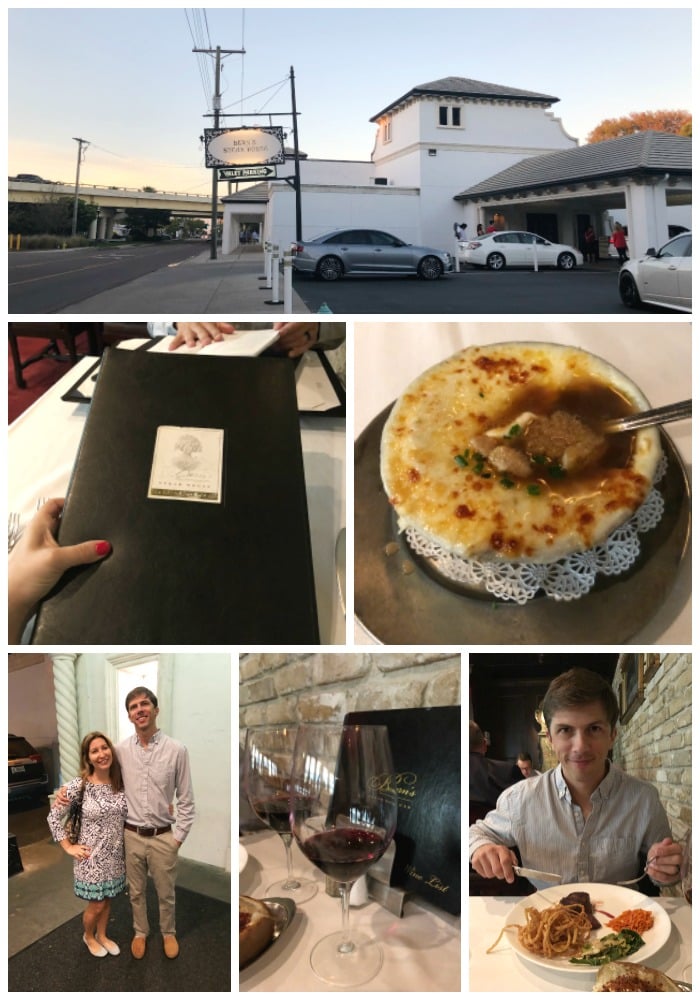 Once we arrived at Bern's we checked in and waited a few minutes for our table. We pretty much new exactly what we wanted to eat for dinner as soon as we sat down. However, we had no idea what we wanted to drink. Bern's is known for their extensive wine selection. They have the largest private collection in the world! Since we had already had quite a few drinks we knew we didn't want to buy a full bottle and opted to buy a glass of wine each. They also have a very large selection of single glass pours.
We each ordered a 6 oz. Filet Mignon. Bern's has ala carte options, but it's definitely an "old school" steak house where they actually serve side items with your steak (unlike the new aged main stream steak houses). Every meal is served with french onion soup, a salad, and your main course is served with a baked potato and vegetables of the day (grown on their farm). This entire meal (for the 6 ounce Filet) was $36 each! You can't even order a steak at the main stream steak houses for that price. Plus you get ALL that with your meal. Not to mention–this is one of the best steaks I've ever had, and I've had A LOT of steak (remember, I'm also a food blogger).
When you are seated for dinner your server asks if you plan to have dessert and automatically reserves you a table. You also have the option after dinner to take a tour of the kitchen and *if* the wine cellar is open you can tour that as well.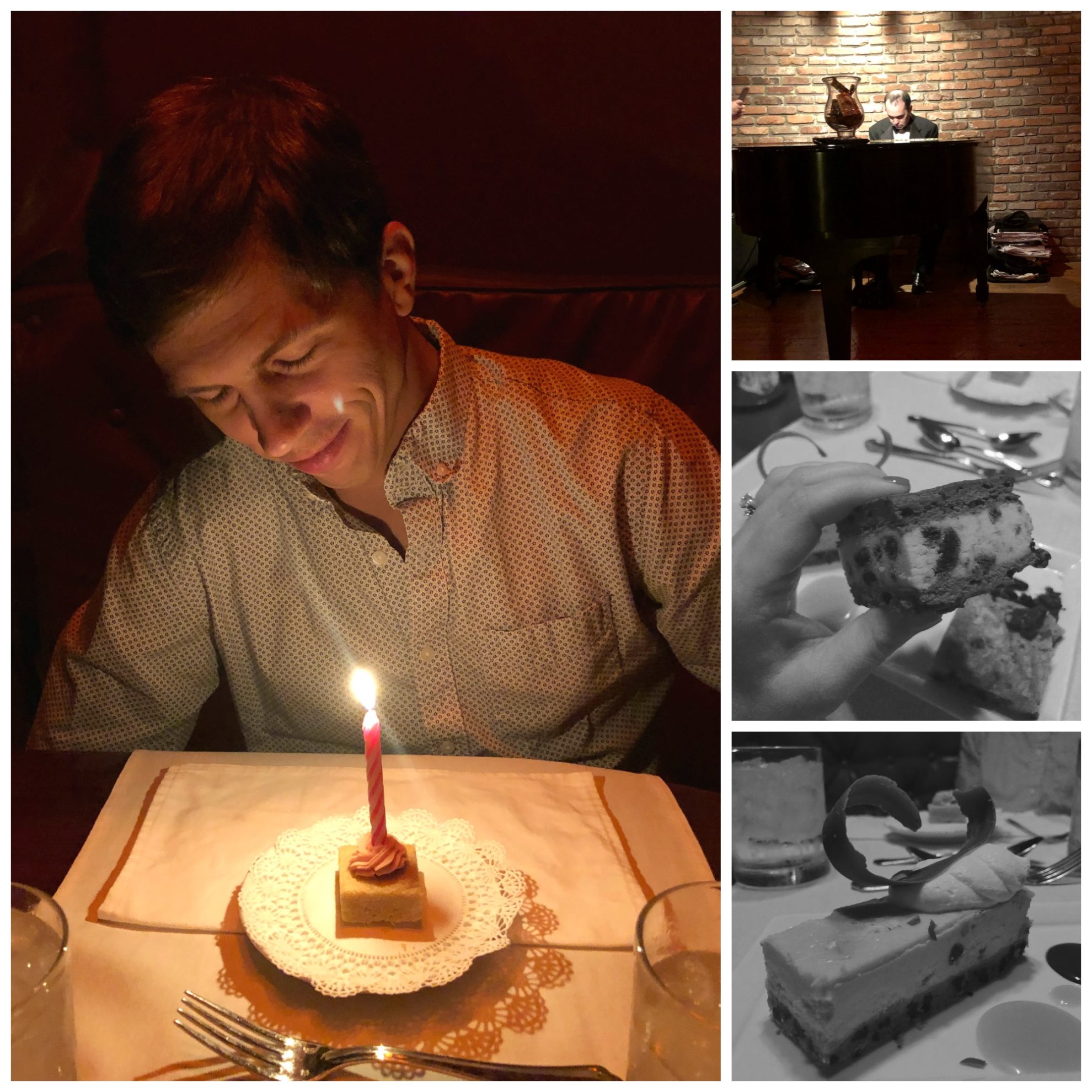 The Harry Waugh Dessert Room
Even though we were stuffed we still had to stop at the The Harry Waugh Dessert Room. We ended up indulging in the "Brown Sugar" ($11.00). It's a trio of cookie inspired treats- Chocolate chip cookie dough cheesecake, cookies & cream ice cream sandwich, & a warm brown sugar blondie. We are both cookie lovers and I remembered eyeing that dessert last time, but couldn't enjoy it.
We were sat in the piano room which was a pretty unique experience! Cozy booths that over looked the piano player. He played whatever you wanted to hear. Those that aren't seated in the piano room have phones at their table who can call to request music for him to play. You'll see him stop and answer the phone from time to time! Our waitress also surprised Jon with a little Birthday dessert, too!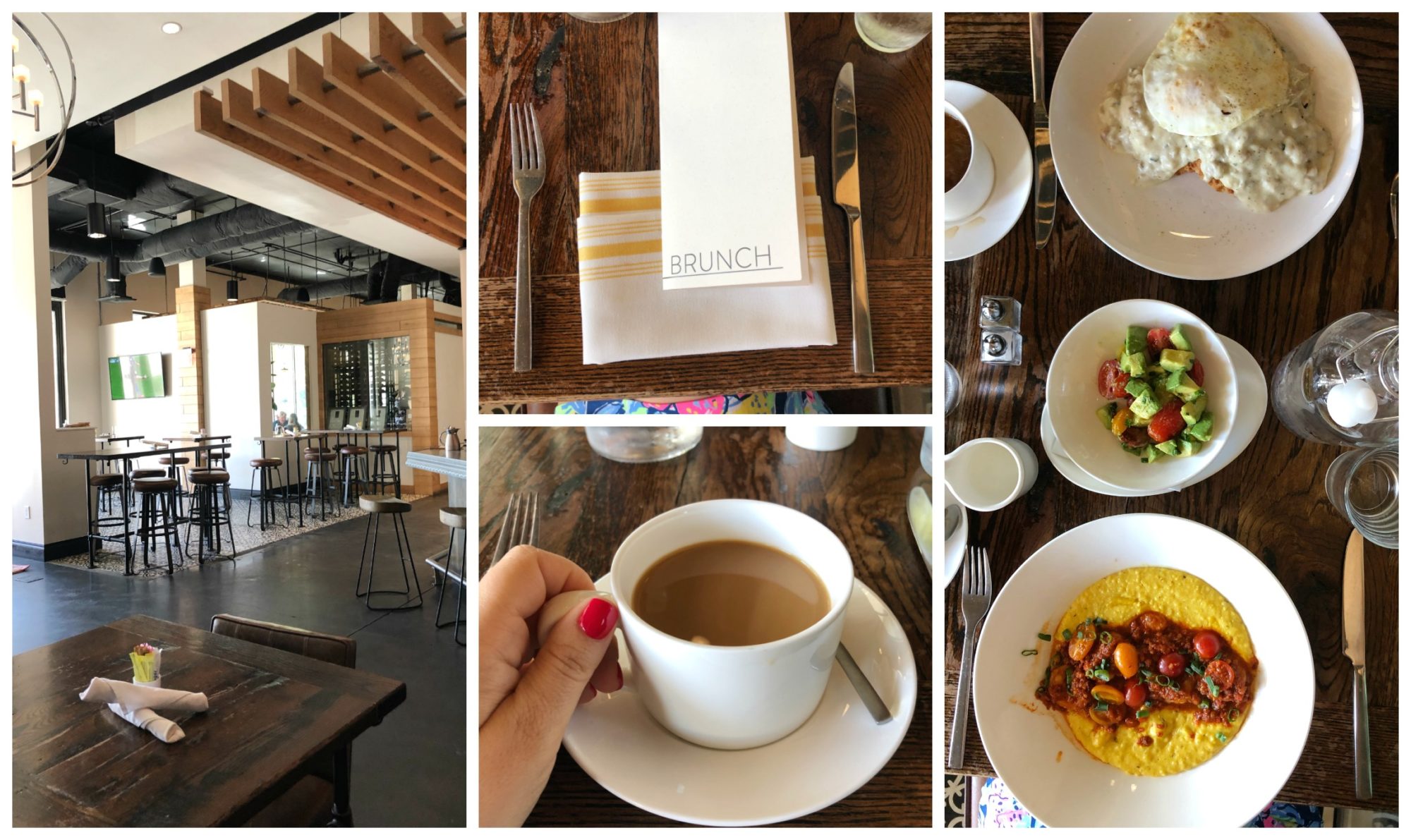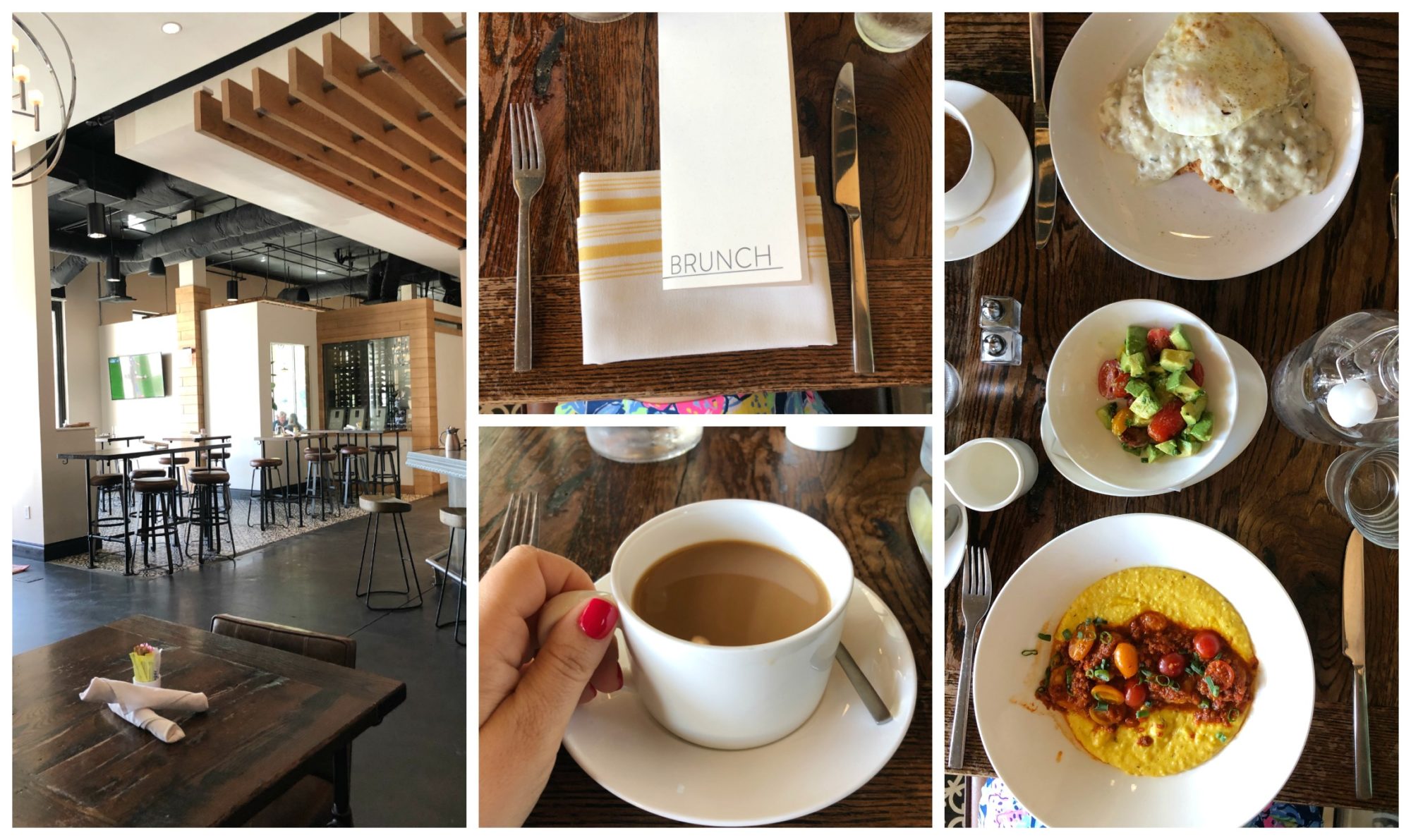 Brunch at Élevage
The next morning we slept in, packed up our stuff, and then headed to brunch at Élevage. This is The Epicurean Hotel's signature restaurant on property and presents a concise menu that is an innovative marriage between the best of Southern hospitality and French techniques. We both enjoyed coffee followed by shrimp and grits, biscuits with sausage gravy, and by the servers recommendation the tomato and avocado salad tossed in a champagne vinaigrette. I was on the fence about ordering a bloody mary, but clearly I didn't need it. Hillsborough County liquor laws don't allow alcohol service until 11am! So that solved my dilemma.
Brunch was the perfect end to our 24 hours away. In a way, we both felt like we had been gone for a lot longer then 24 hours, and much needed time to reconnect and spend time with one another. We also both agreed we need to make this an annual tradition!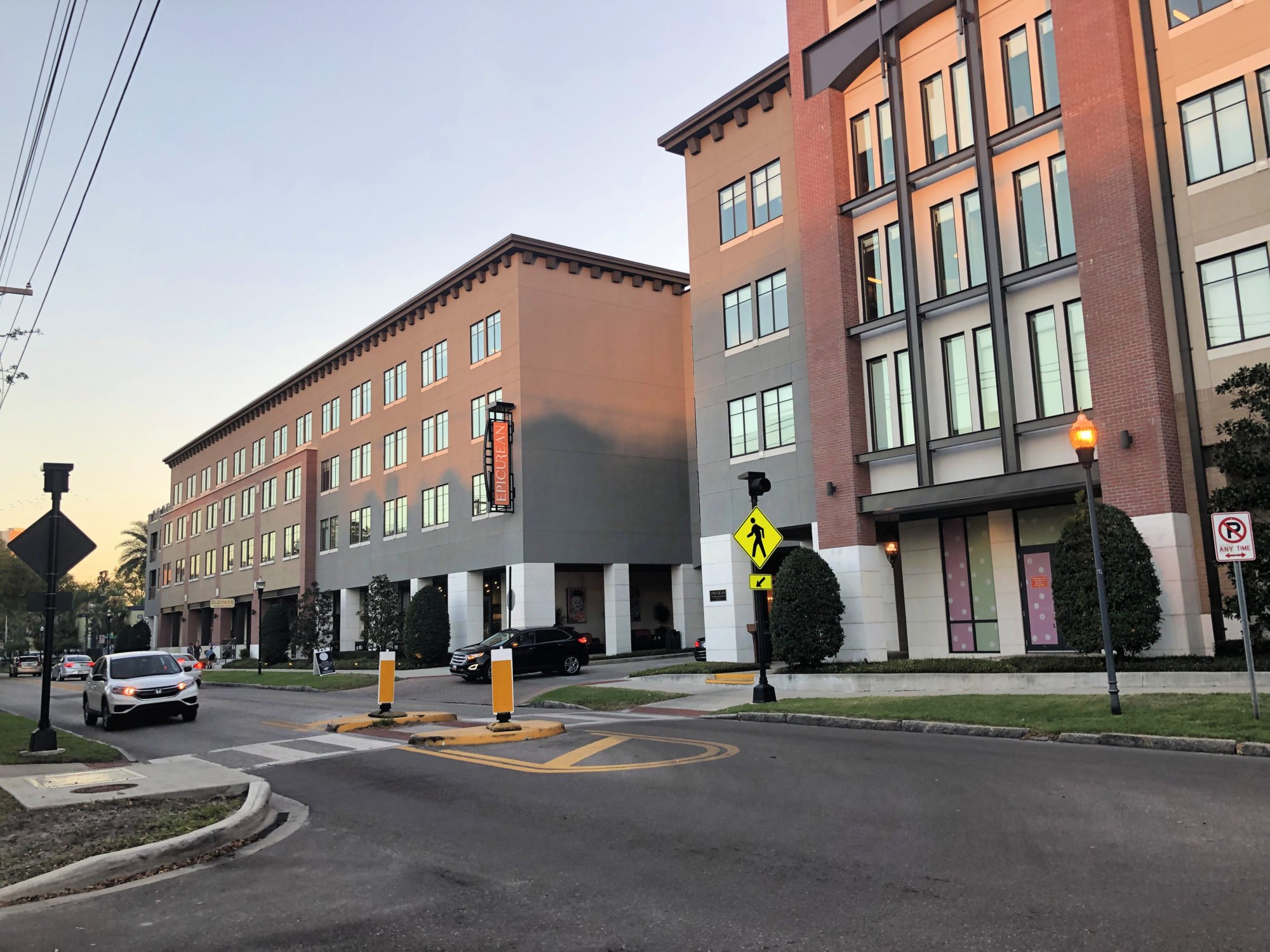 How to get to The Epicurean Hotel
Access by Car: Located off I-275 and Selmon Expressway/SR-618
Orlando 87 miles (1 ½ hours)
Naples 166 miles (2 ½ hours)
Jacksonville 200 miles (3 hours)
Miami 280 miles (4 hours)
Access by Air: The Epicurean Hotel is located just 15 minutes from Tampa International Airport (TPA), and 30 minutes from St. Petersburg-Clearwater International Airport (PIE). Private Jet access is also available.
Epicurean Hotel
1207 South Howard Avenue
Tampa, Florida 33606
(813) 999-8700
EpicureanHotel.com
Follow The Epicurean Hotel on Facebook, Twitter, or Instagram