Last weekend, Jon and I spent our first night away from our spunky little toddler. We were both a little nervous to leave him, but knew our marriage desperately needed it. It's been 16 months since it was just two of us. 16 months of our life revolving around another human being. If your a parent then you get my drift. We opted to spend our first night away in town. This was also a belated anniversary getaway for us as well.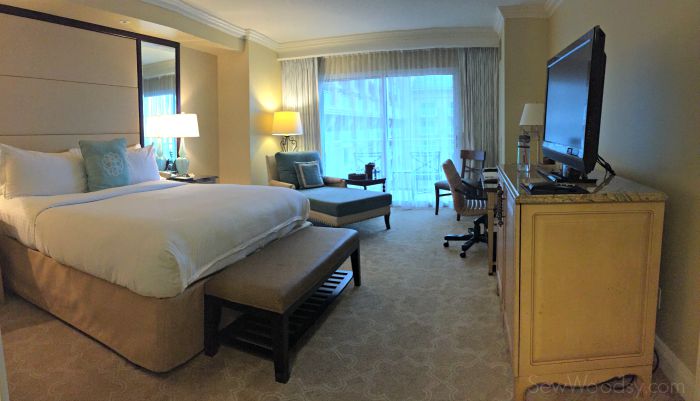 We chose The Ritz-Carlton Orlando, Grande Lakes here in Orlando, Florida. I wanted to stay close by but yet feel like I was far away. The Ritz-Carlton gave us that exact feeling we wanted and needed. After dropping off the dog and toddler we made our way to the Ritz. Jon was having work emergencies that morning so we got a later start than anticipated. We had pre-booked a couples massage for 2pm so we knew we had to get to the property by 1:30 at the latest.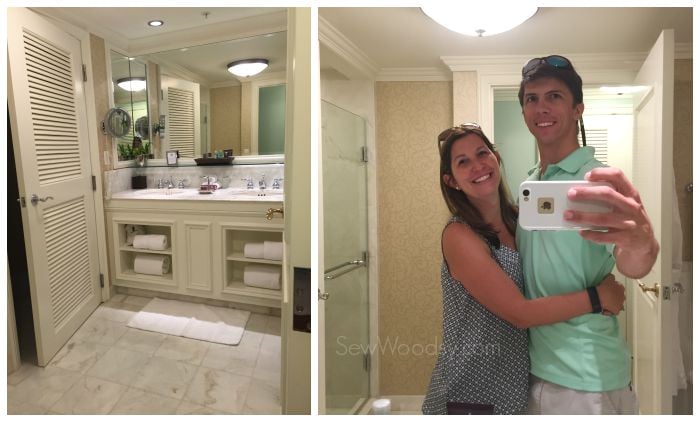 When we checked in the front desk host informed us our room was ready. We ran up stairs to drop our bag off. We loved the room and the bathroom was pretty awesome too. I always love staying at hotels because I always tend to get design ideas from the places I stay. And since we are about to renovate another home my eyes were wide opened at all the little details.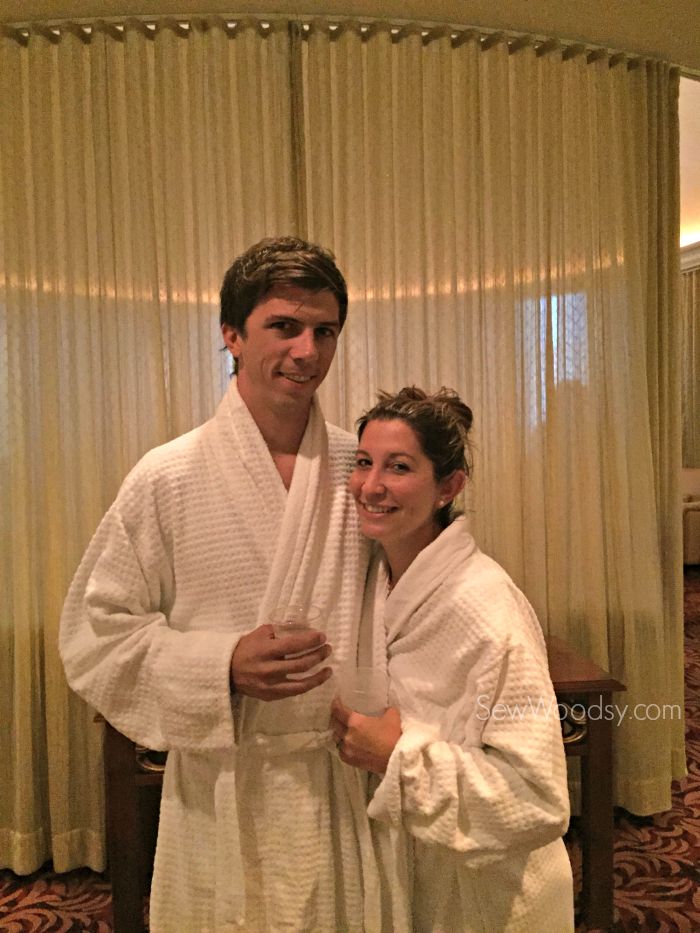 We arrived at the spa at 1:30 and were hoping to grab a quick bite to eat prior to our massage. The manager whisked us away and got us a chicken wrap within 5 minutes. We scoffed down our food (not exactly what we had in mind, but we were so grateful that the manager was able to get us in and fed within minutes of arriving) then headed back to the checkin desk where we then were escorted to the men and women's locker rooms. We met upstairs in the co-ed relaxation room where we met our masseuses. I booked a 50 minute couples massage for us. I knew that Jon would feel most comfortable if he was in the room with me. Our massages were pure bliss and I always feel like the 50 minutes goes by way too fast. However Jon felt like it was a very long hour. Funny how we both have a different take on the time. If your ever in Orlando I would highly suggest spending a day at The Spa at Ritz-Carlton. The service and amenities are by far the best. I've been to a lot of spa's and this by far is on the top of my list.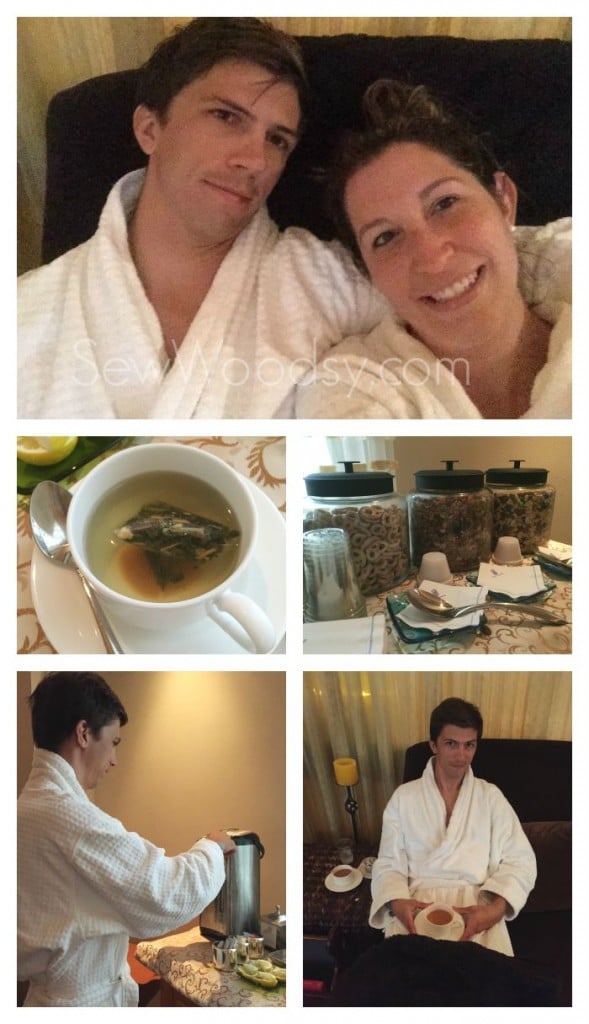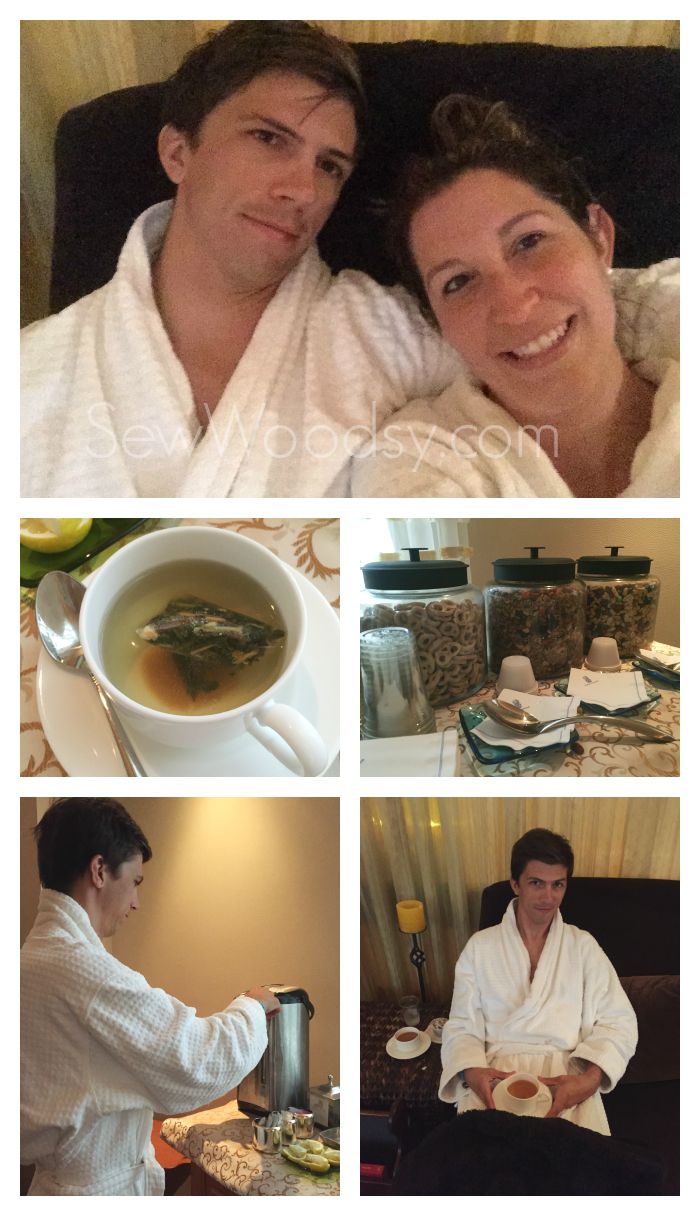 After our relaxing massages we sat in the relaxation room sipping tea, snacking on trail mix, and snuggling on a 2-person lounger, while flipping through the book Fifty Places to Dive Before You Die. We spent an hour in a quiet low lit setting just enjoying each other's company. No hustle and bustle. No schedule to follow or a tiny person to take care of. We are both scuba divers so the book was super appropriate. Fun fact I've only dived in 2 of the 50 and Jon has dived in 4 or maybe 5 of the 50. I can't remember but either way we have a ways to go with exploring new dive sites!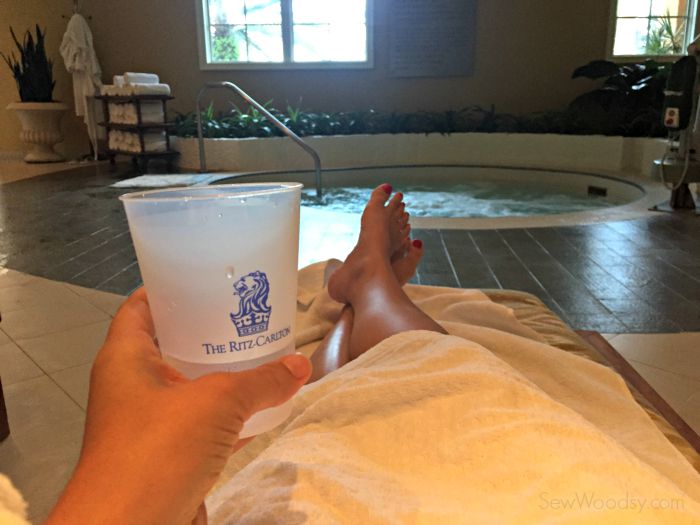 After sipping tea and enjoying the company of each other we parted ways and spent an hour enjoying the whirlpool and saunas. I would say that's the only downfall is that their is not a coed whirlpool and Sauna to enjoy with each other.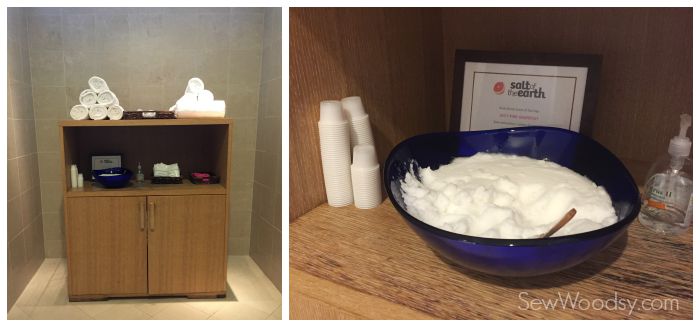 I had told Jon about the most amazing grapefruit sugar scrub. I told him to lather up in it because it will leave his skin silky smooth and that he did (so did I). I need to recreate this recipe at home because it's seriously the most amazing sugar scrub I've used! And I've made a lot of my own sugar scrubs.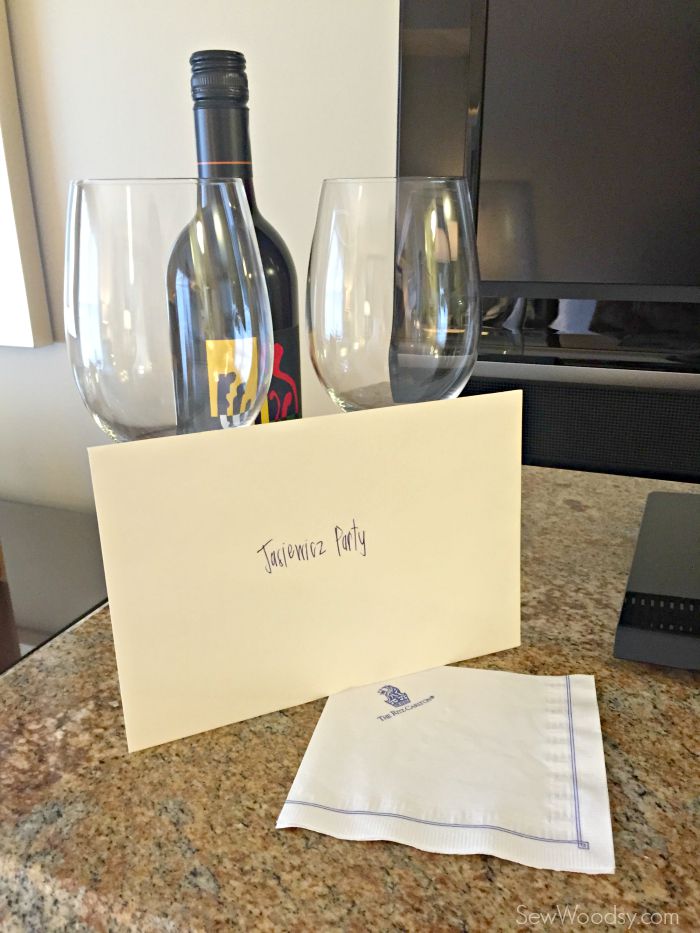 After we got done at the spa it was around 5:00 we went back to our room to get ready for dinner. Upon returning back to our room we were surprised with a bottle of wine and a sweet note. We didn't waste any time and popped the bottle of wine open. It was a delicious Cabernet Sauvignon from Napa valley. I'll be honest and say I can't remember the last time we finished a bottle of wine in one night… it's been a long time…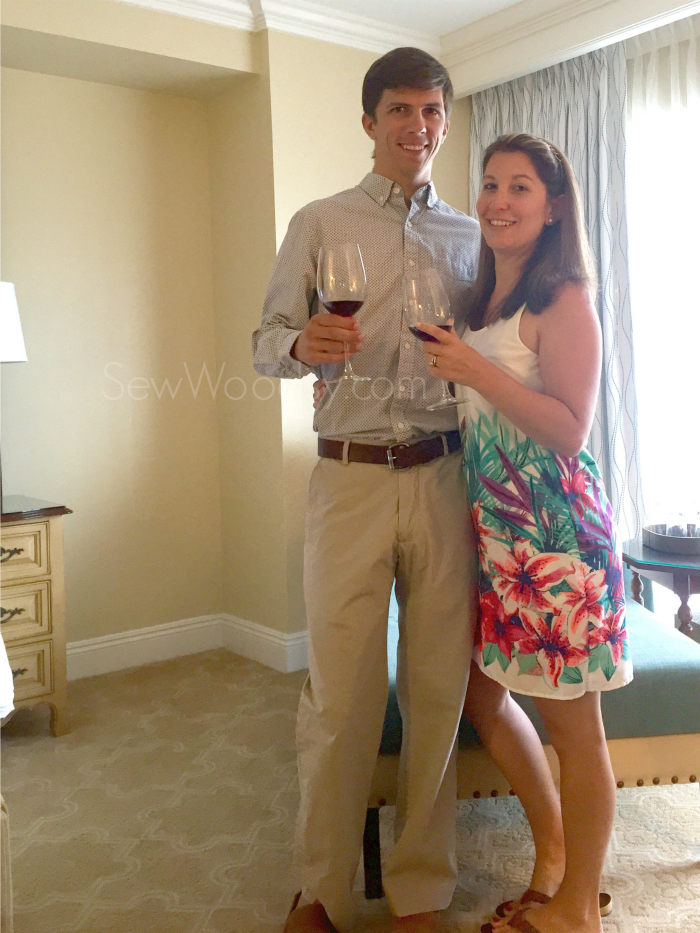 Instead of choosing just one place to eat we decided we would just hop from restaurant to restaurant because we could.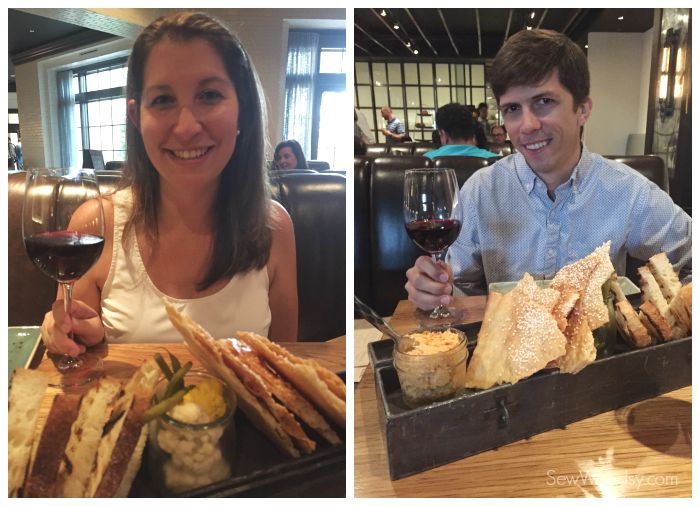 We started at Highball and Harvest. I was excited to take Jon to Highball and Harvest because I went earlier in the year and loved it!! We ordered the Southern Platter and the Crab Cakes with Fried green tomatoes. I love the pimento cheese dip and pickled vegetables. And we both agreed that we easily could have both had the crab cakes as our dinner. Lump crab with little filler and the most amazing corn relish to accompany the dish. I've had this dish 3 times now. The first two times it was amazing–on the night we had the dish the fried green tomatoes were a little over fried; making them chewy. Still good but not as great as the last two times I've had the dish. Both were delicious and kind of filled us up. We enjoyed the acoustic guitar player who sang a variety of songs from the 90's to current day popular music. If you listen to coffee house on Sirius XM then that's what kind of music he was playing–it was awesome.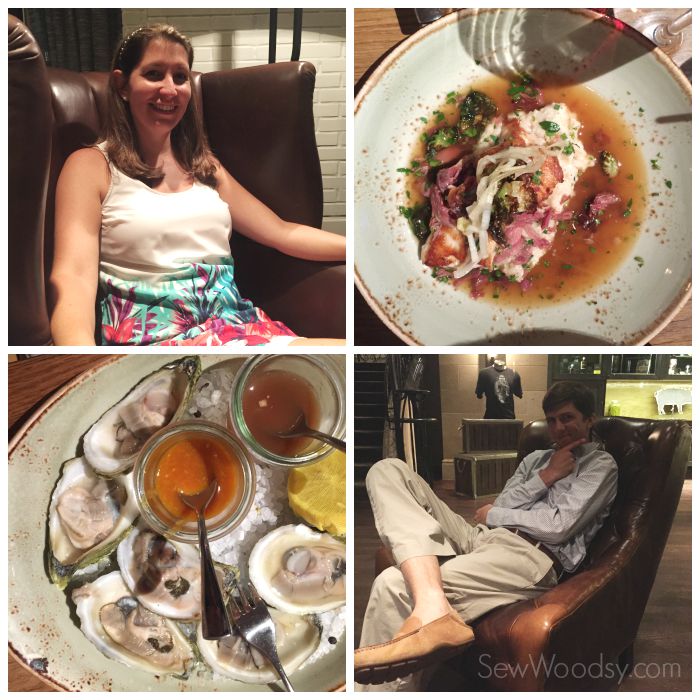 Next up, we walked over to the JW Marriot where we decided to dine Whisper Creek Farm: The Kitchen. It's another farm to table restaurant. They specialize in small plates (tapas) and flat breads. Since we were both starting to get full we figured this would be our last restaurant of the night. Jon ordered a half dozen raw oysters. He had been wanting oysters and I was all for letting him have his fix. Oysters are not my thing! I opted for a small meal (a little larger than the traditional tapas) of grouper over grits with a ham hock broth. Oh my gosh, seriously the ham hock broth was divine… Like I wanted to pick up the bowl and drink every last drop of the broth. After dinner we both agreed that we were full so we walked back to the Ritz-Carlton. We opted to walk outside to warm up because it was so cold inside. We walked right back into Highball and harvest to enjoy a little more live music before retiring for the evening.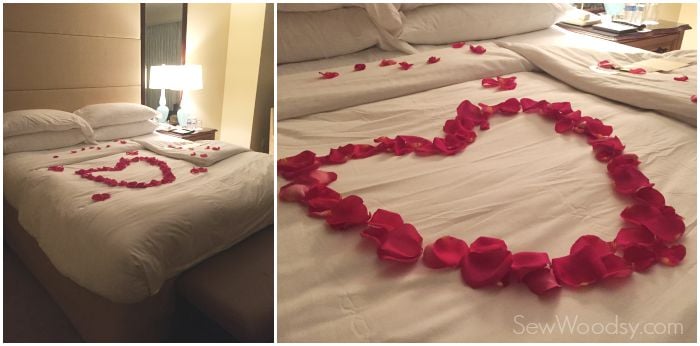 Upon getting back to our room we were surprised with the most romantic turn down service… Rose petals everywhere!! I was so surprised and honestly didn't want to move them. I wanted to sleep with them still on the bed but Jon told me I couldn't do that. Party popper. Seriously though I love all the details that the Ritz did for us. On our wedding night I wanted rose petals everywhere. The hotel we stayed at would not offer it so we paid a friend to do it for us. This was way better than on our wedding night!
The next day we slept in until we woke up to the maintenance blowing leaves off the pool deck. We got up and got dressed then went down for breakfast at Highball and Harvest. We both got the chicken and waffles. It was good but not the best I've ever had. Then it was off to the pool. Sadly, it was a gloomy and very rainy weekend. However, we did get to enjoy a little fresh air for an hour before the rain decided to start up again. While we laid by the pool I was bored. I rarely ever have the chance to lay around. I was enjoying the time but I couldn't sit still any longer. I forced Jon to go in the pool with me because I needed to do something. I'm so glad that we had the opportunity to get away before we started renovating our new home. It was the perfect amount of time away from Ryder given that it was our first time we had ever spent the night away from him. I asked Jon if we can make this a yearly ritual except for each year Ryder get's older means an additional night away. He just looked at me… I have 10 months to work on him. Although, I know he had a wonderful time and I don't think I'll really need to twist his arm to getaway with me again!
Disclaimer: We received a discount at the Spa. We were not required to write about our experience. We wanted to share our experience of our weekend getaway with our readers. There are affiliate links in this post. If you click on it and purchase we will receive a small percentage of the purchase.