Thank you Jeffrey Court for sponsoring our bathroom tile project! As always, all opinions are our own.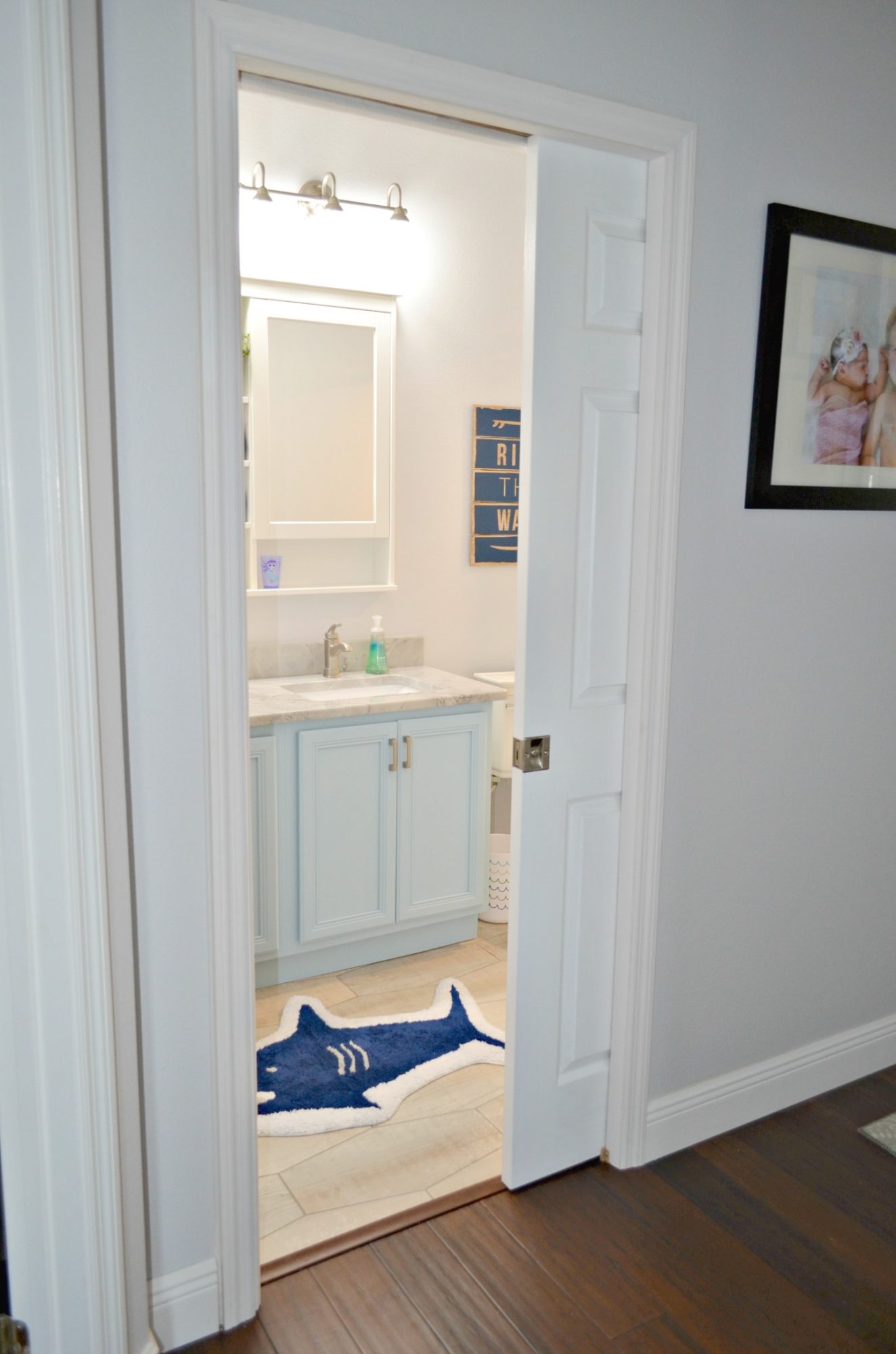 You guys… the day has arrived. It's time to reveal our bathroom! This was our first bathroom renovation and holy cow was it intense. You might remember we ripped this bathroom down to the studs–kept only the cabinet and countertop and started from scratch. We did ALL this in just 6 short weeks (with TWO kids under the age of 4). I wanted to hire out tiling but my wish was not granted. Jon worked his BUTT off! Like around the clock for 6 weeks straight. I would love to say that I helped a lot in this bathroom but I didn't. Instead I tended to our kids 24-7. Which, yes, is a lot of work in itself. Jon would come home from work, eat dinner really quick and then on to working on the bathroom. Most night he would work until 10-11:00 at night. Every weekend he would put in full days. Last weekend to be exact he worked from 9am-11pm! With less then an hour break the entire day. God Bless HIM! We are so lucky that he is ours. Our guest/kids bathroom came out better then we ever imagined. You might remember that we are in a One Room Challenge with Jeffrey Court tile. The grand prize winner wins a $5,000 vacation! We might not win the grand prize money but in our eyes we are winners. We not only completed the bathroom on time we now have a gorgeous bathroom that far exceeded our initial ideas of what we wanted! So here we go… here is our new bathroom!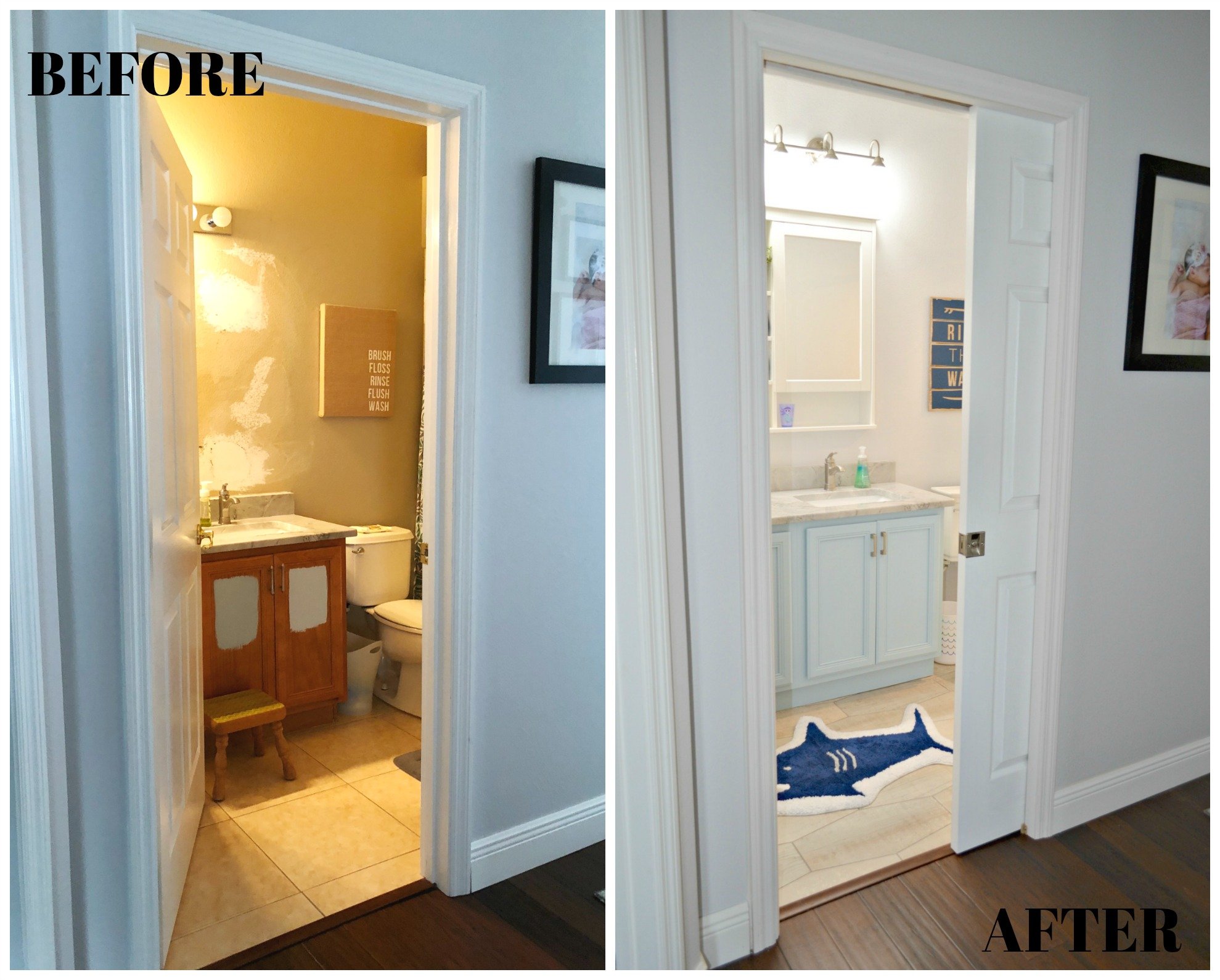 First up, our entryway into the bathroom. We removed the bulky swinging door and added a pocket door! Woo, that was a doozy in itself but made a HUGE difference. The pocket door opens up this tiny guest bathroom so much! Jon also had to move the electrical from one side to the other.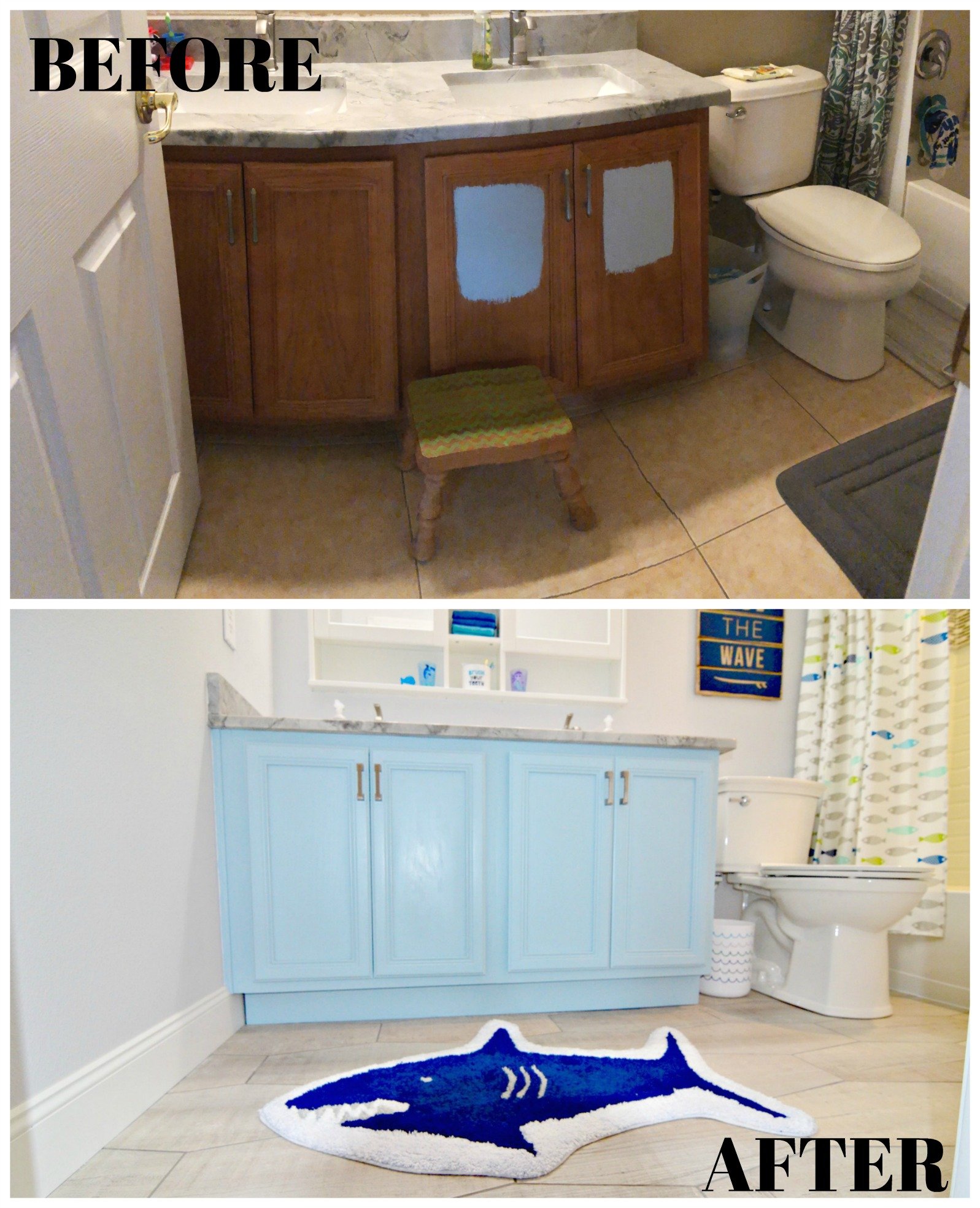 Next, the flooring and cabinet. We kept the existing bathroom cabinet and painted it. I'll have a post on that next week. We had removed the formica countertop last year and replaced it with a Courtzite countertop and double sinks. We removed the hideous shiny dance floor tile and laid the beautiful Jeffrey Court Oakwood Lilly Porcelain Hexagon Floor. I'm in love with this floor!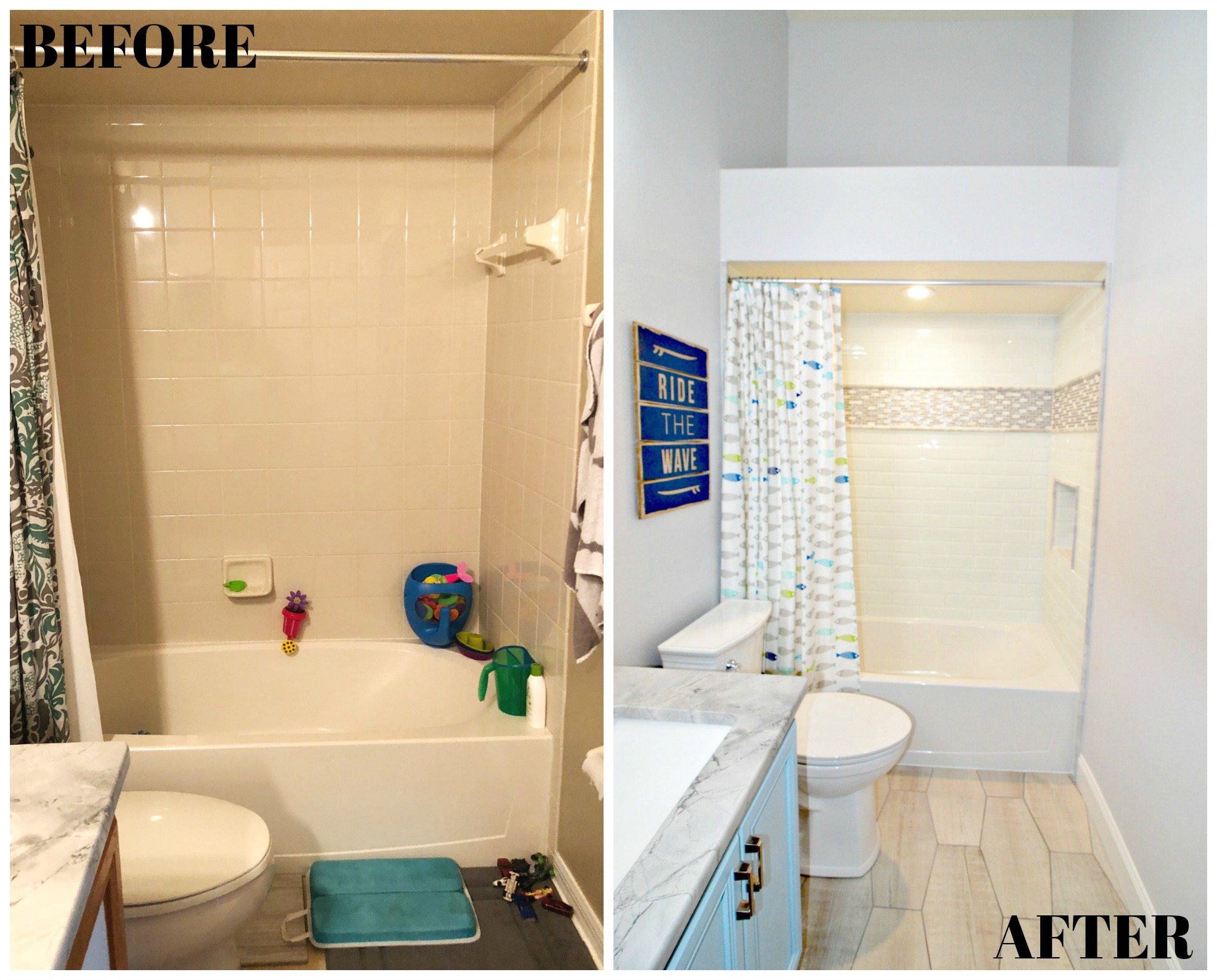 We went from builder grade standard tile to a gorgeous mix of custom tile. Our shower consist of the following tiles:
Jeffrey Court Sleet Beveled 3 in. x 12 in. x 8 mm Glass Bevel Wall Tile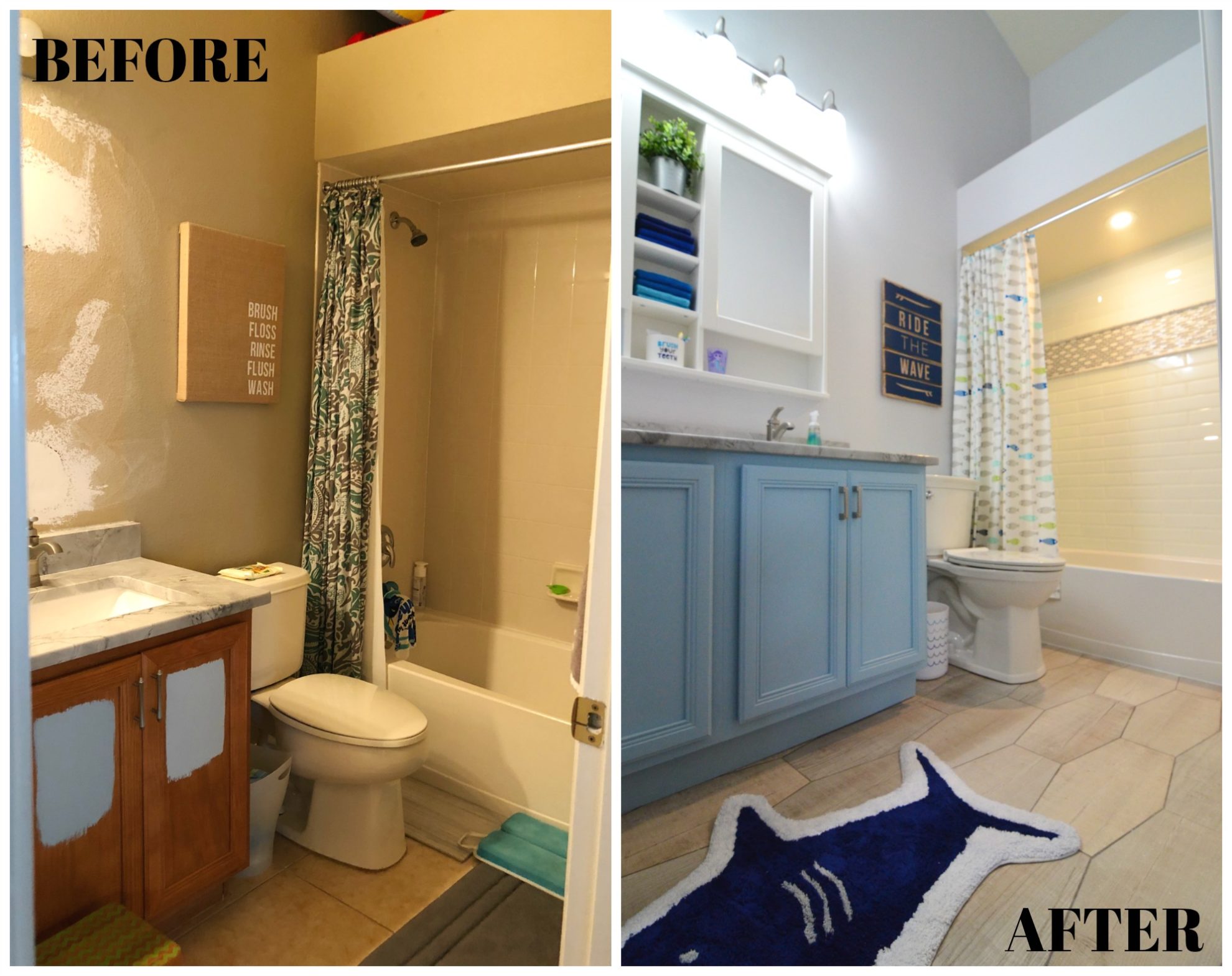 Here is a great snapshot of the drastic change our kids/guest bathroom underwent.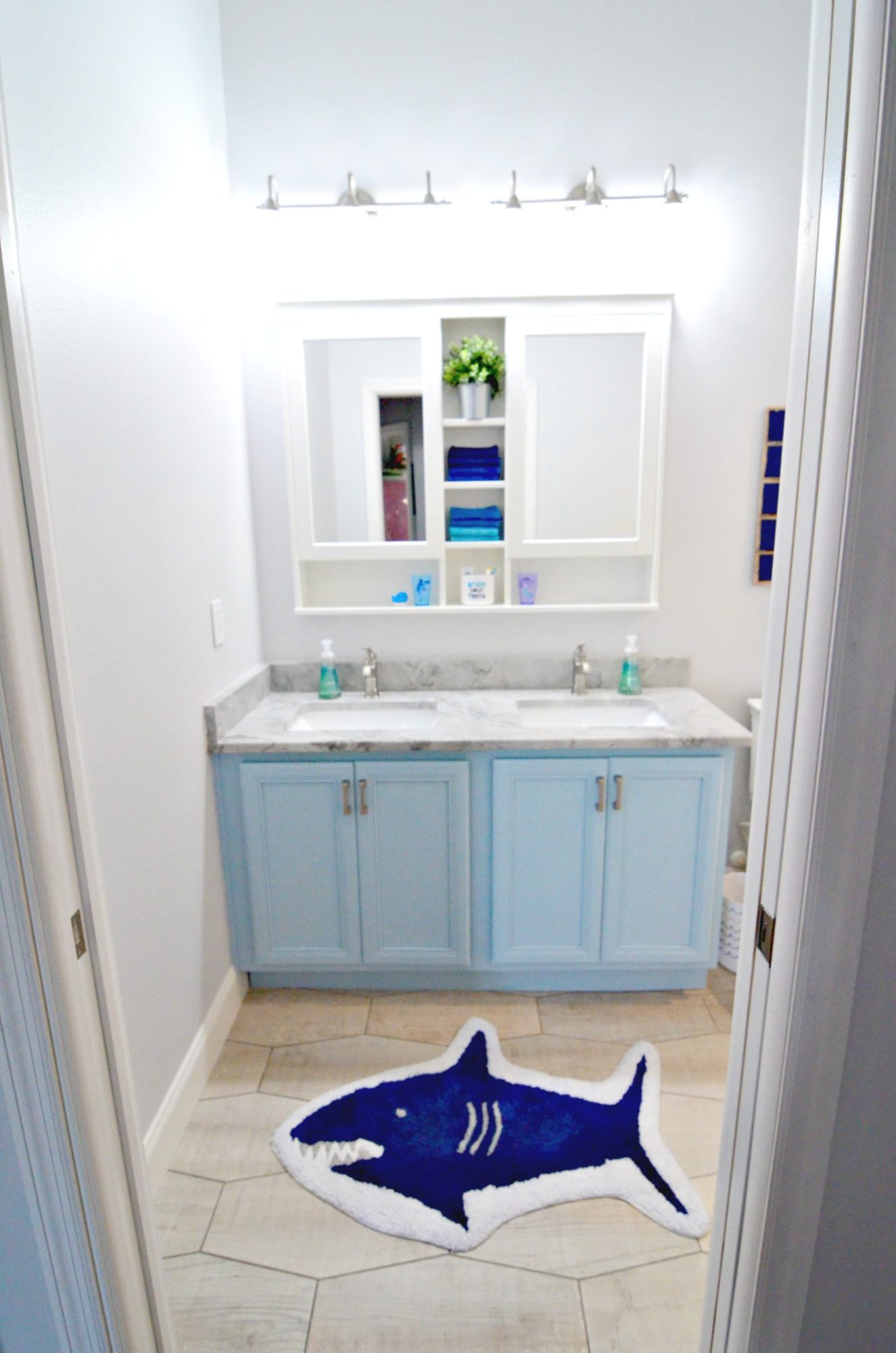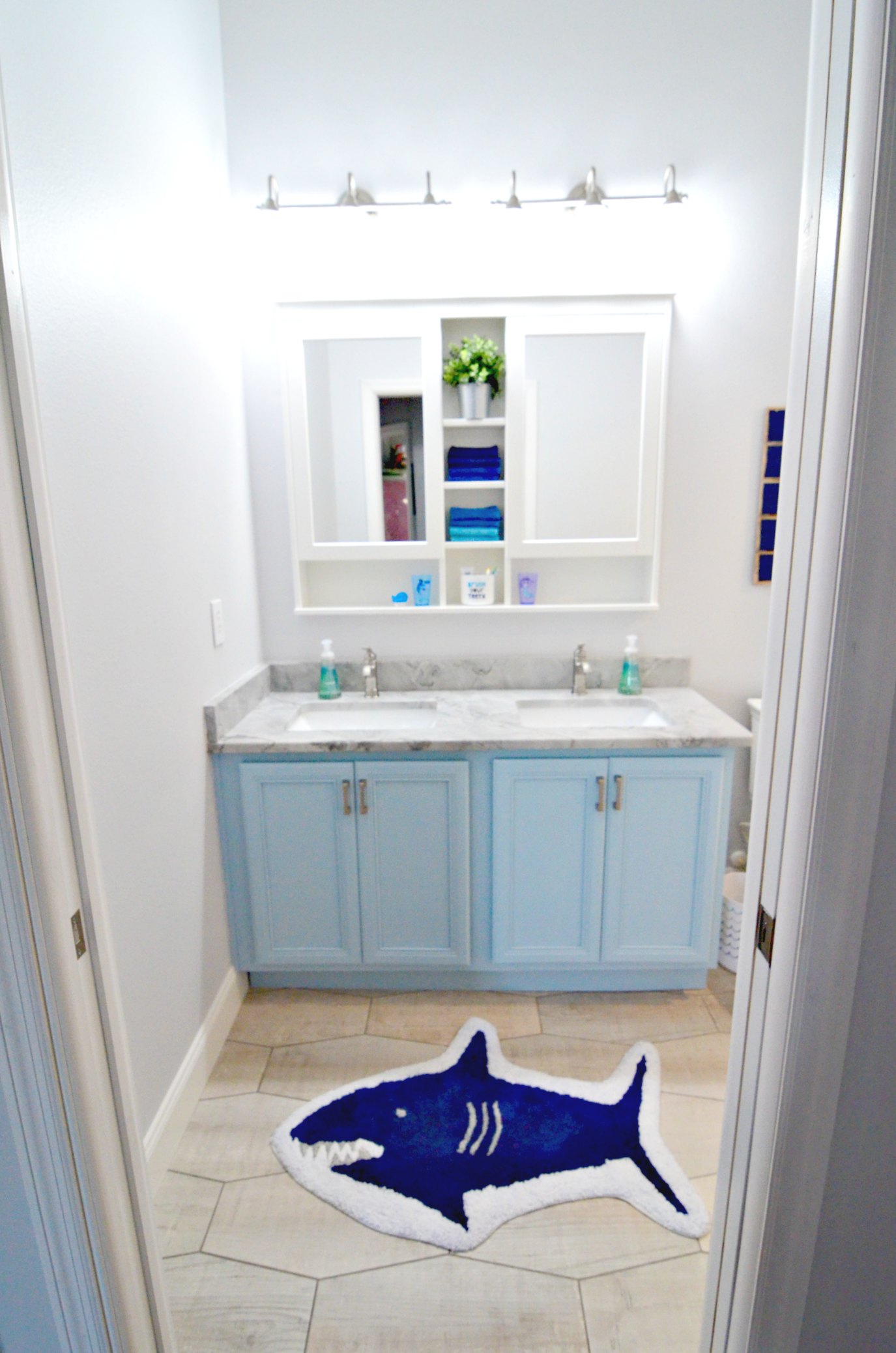 This is what you see as soon as you walk into the bathroom!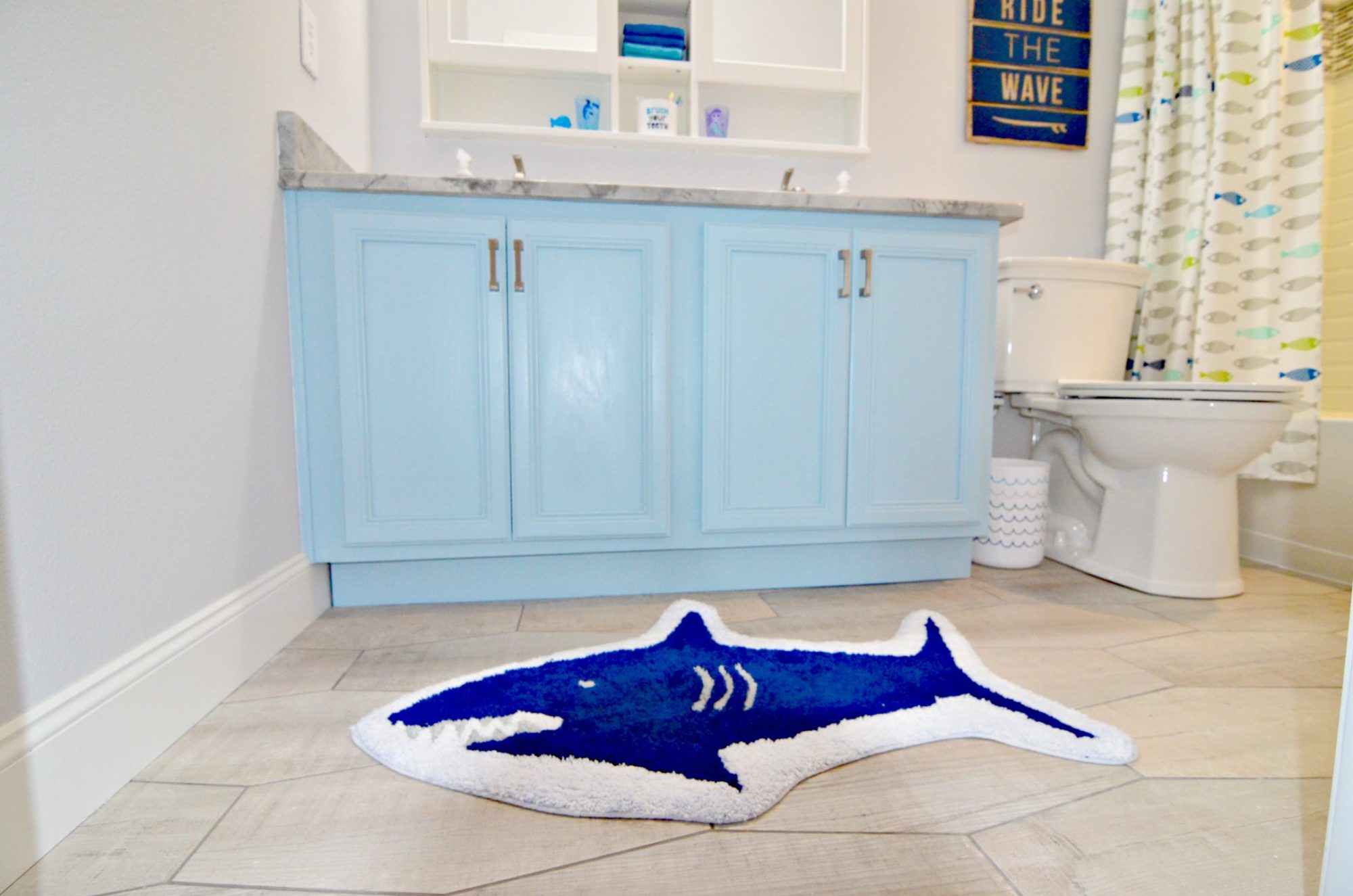 In love with the blue!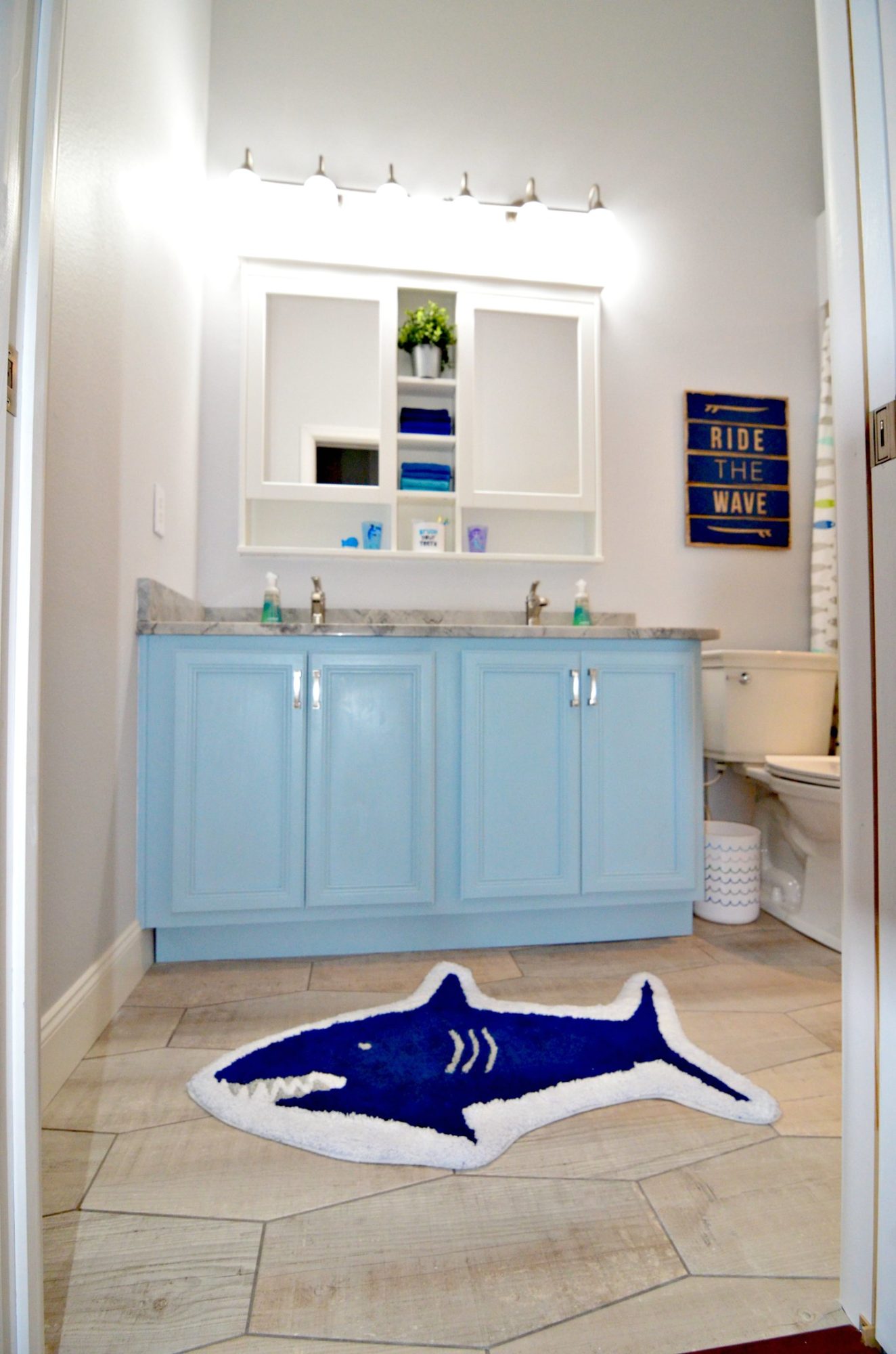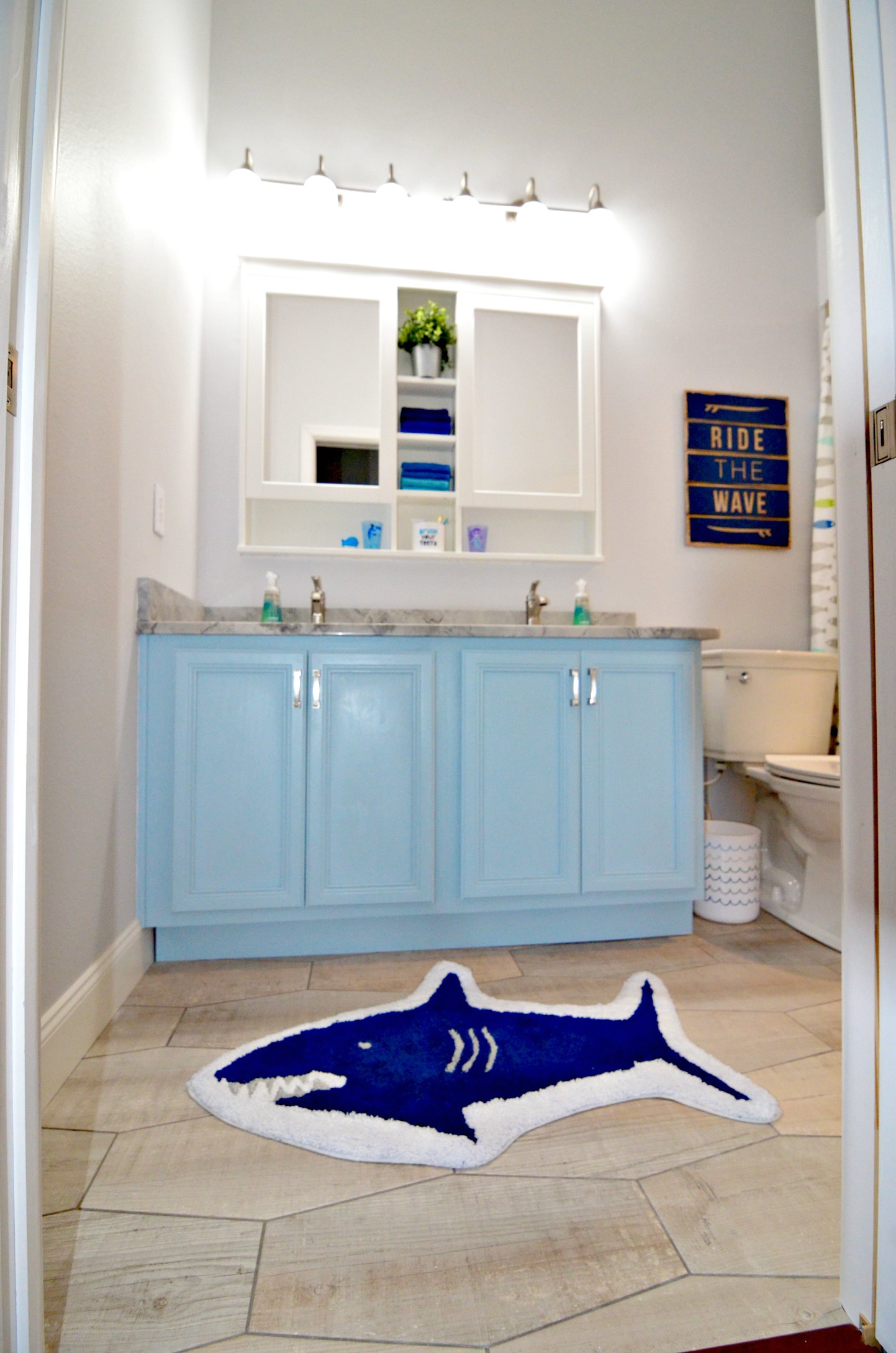 We got the HEMNES Mirror cabinet with 2 doors, in white from IKEA. It sits 6-inches off the wall and Jon and I just weren't feeling it. So we decided to inset the cabinet inside the wall. Sadly–we had a pipe in the wall so we were only able to put it 4-inches in the wall. Still much better then 6-inches. I LOVE this cabinet and all the storage I have!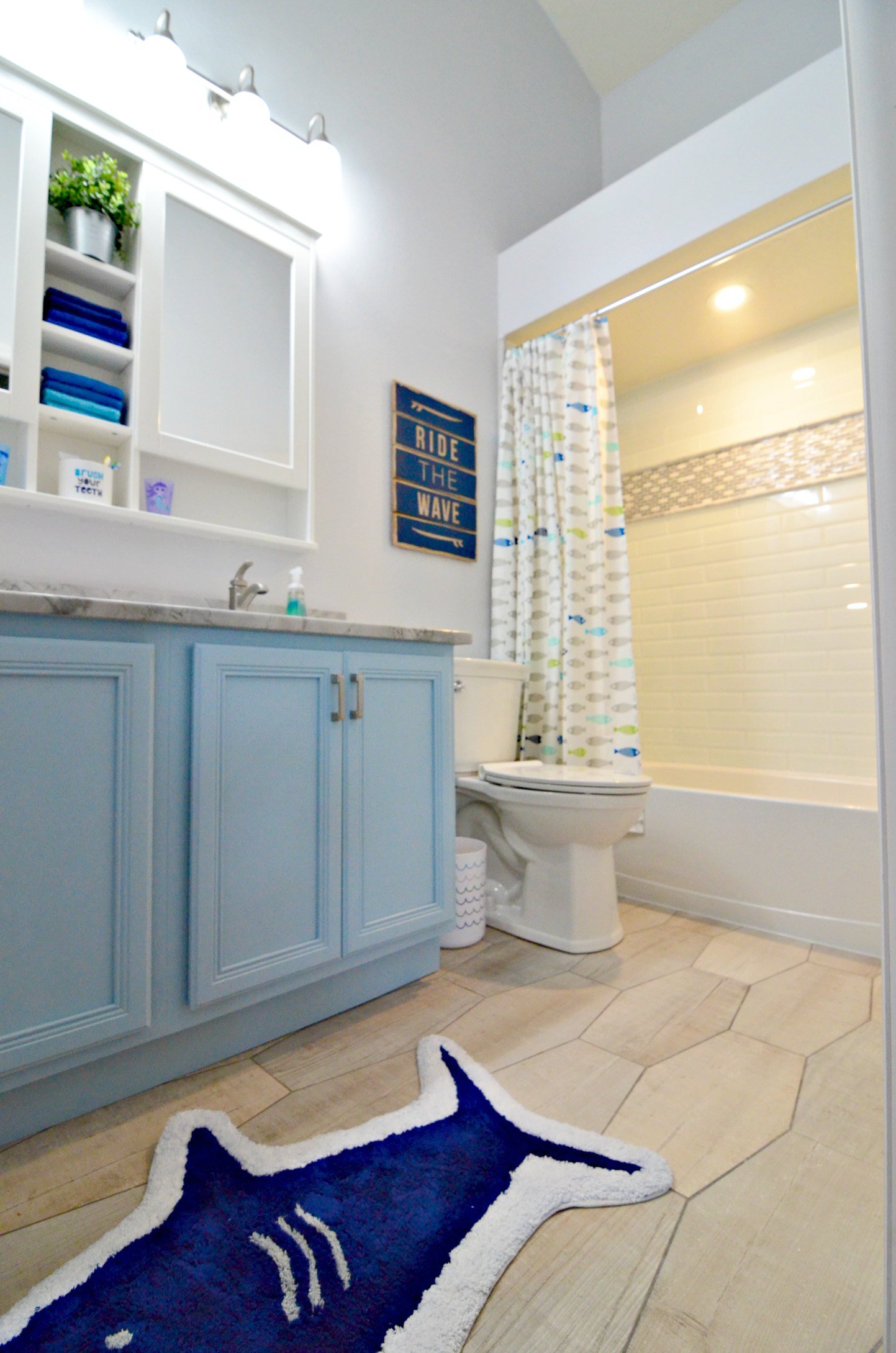 I decided to go with a playful ocean theme. Since we are about to change Ryder's nautical toddler room into a "big boy" construction room I'm happy to still have some ocean in my life! I got the shower curtain, sign, trash can, shark rug, toothbrush holder, cups, and wash cloths all at Target!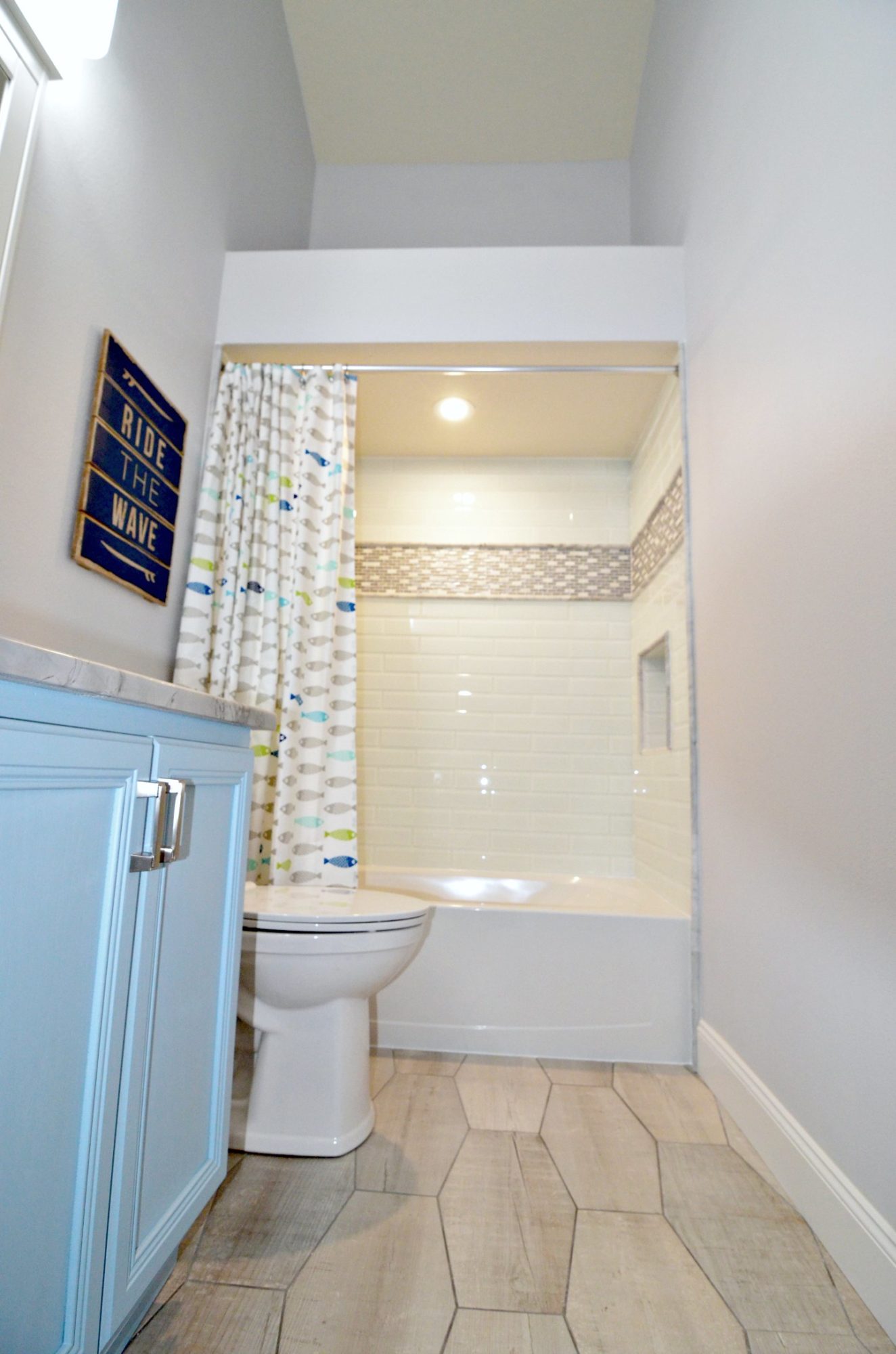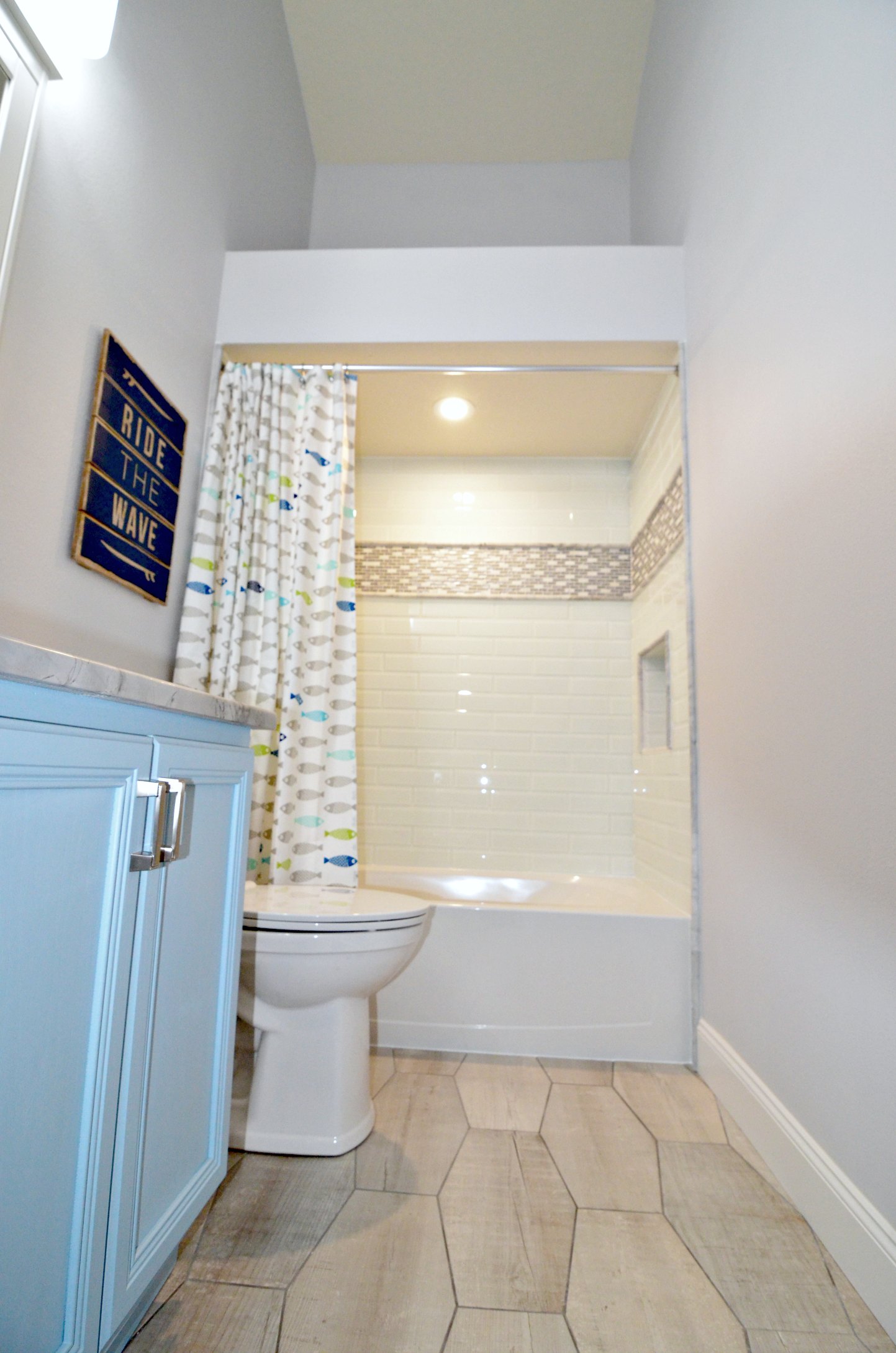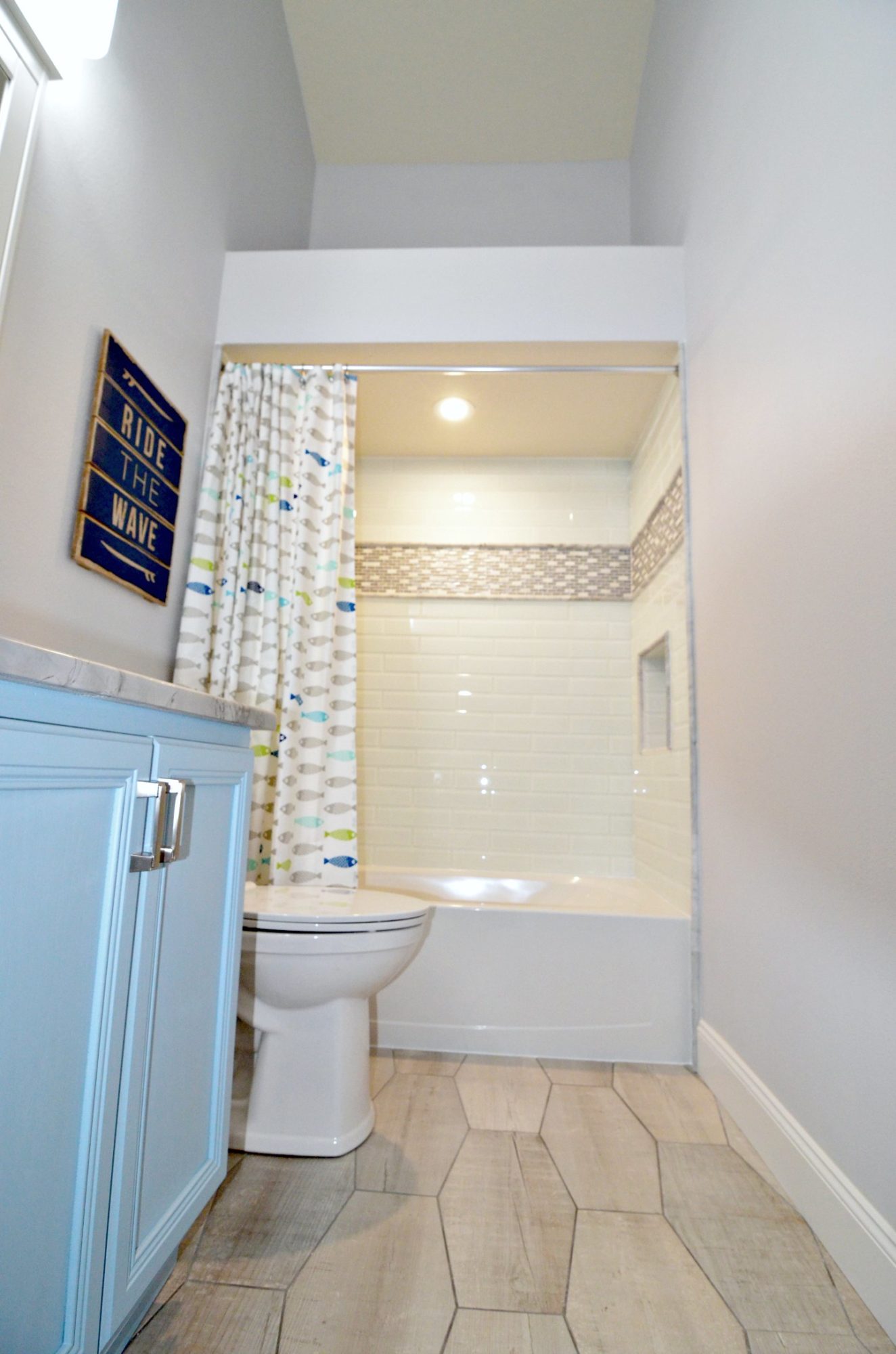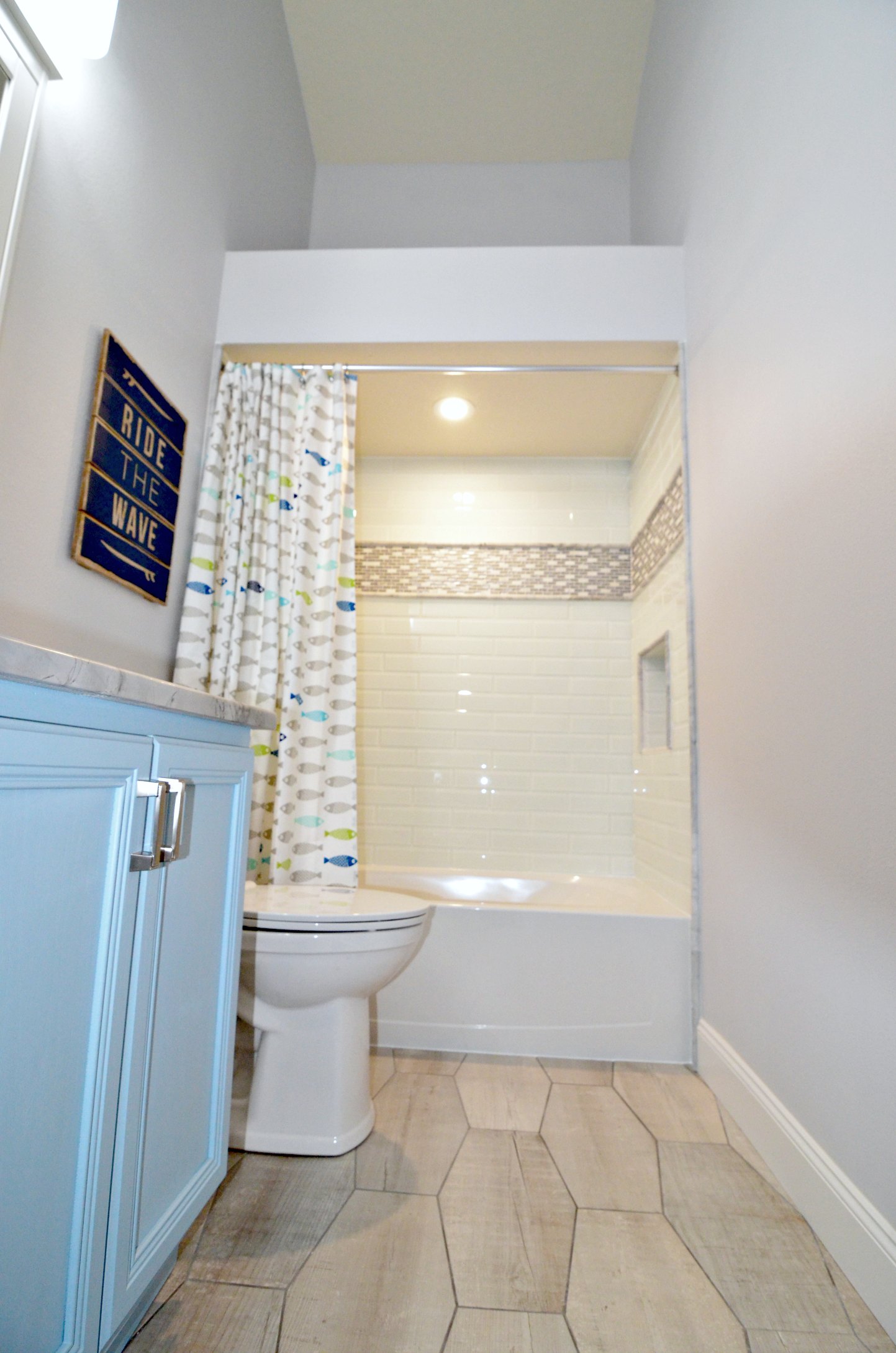 We eventually want to have our little storage loft area closed off. We just weren't able to get to it during this short time period. We plan to use it as a linen storage/overflow big toy storage and Christmas gift hiding!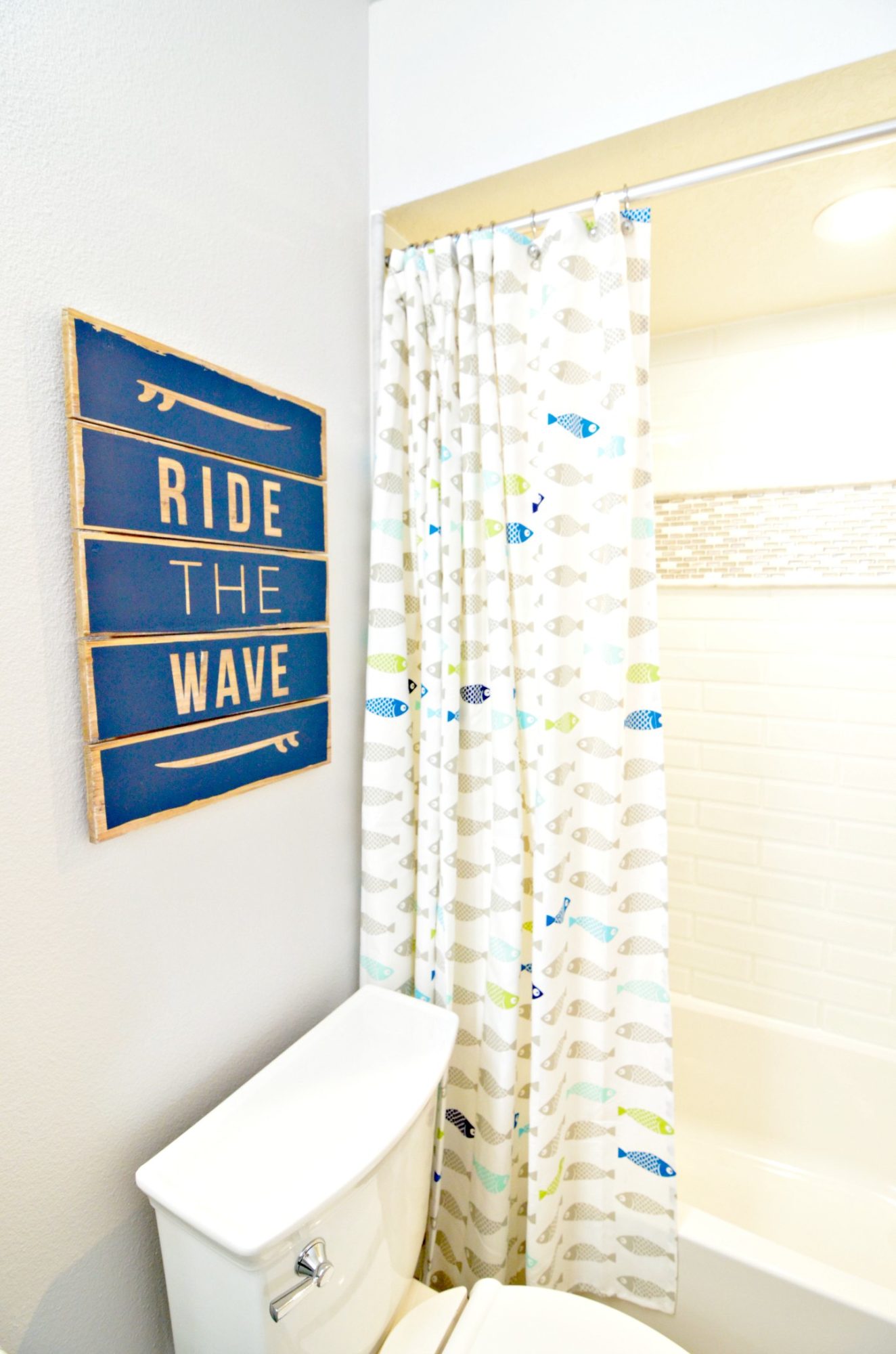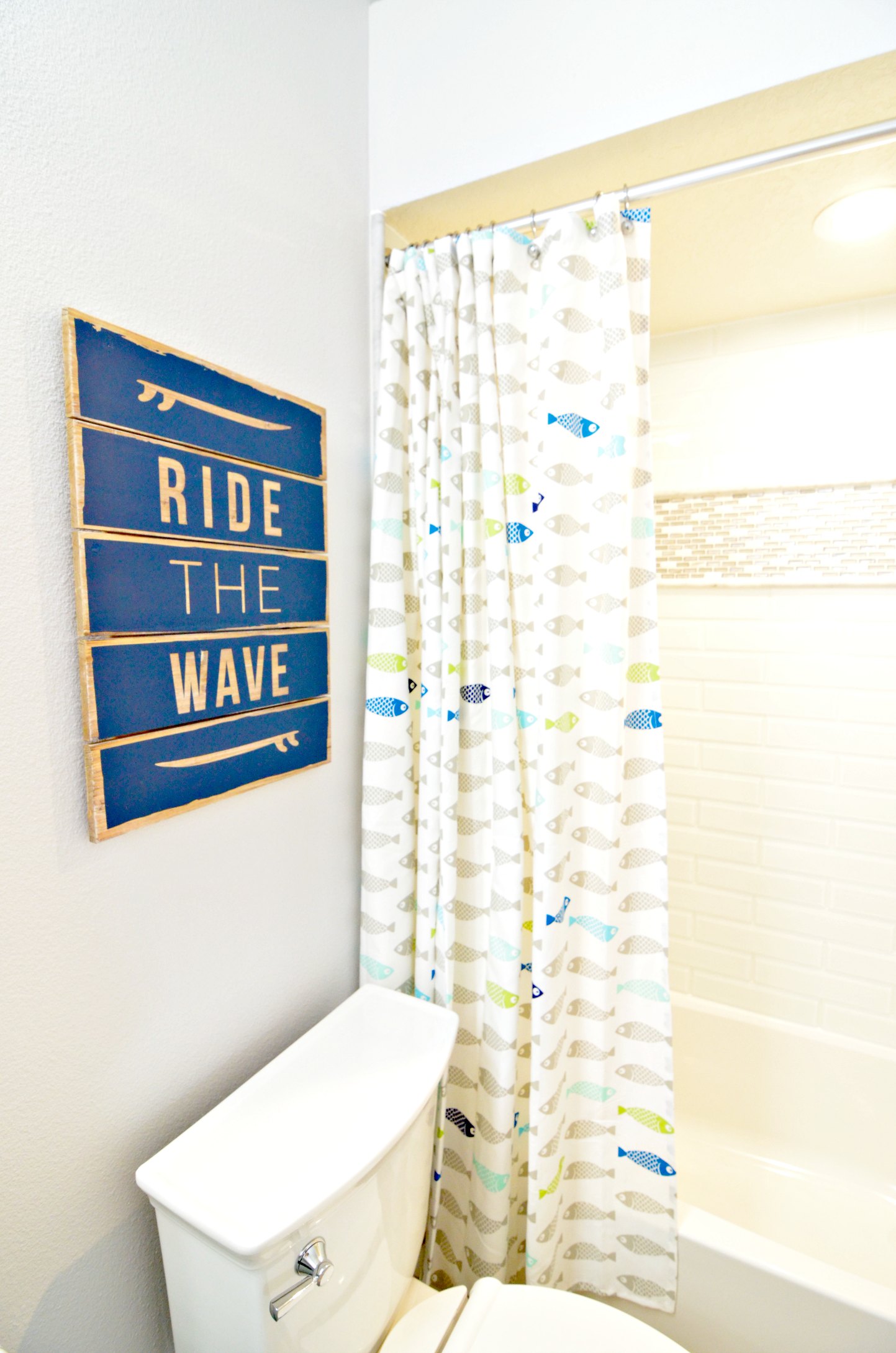 I thought for sure Jon was going to tell me to bring the sign back and make my own, but he saw it and instantly fell in love! Woot!
Let's also take a moment to talk about our new toilet. It's the American Standard VorMax Plus Tall Height 2-Piece 1.28 GPF Single Flush Elongated Toilet in White. It has a NO SLAM seat and lid AND self cleans after every flush! Can I get a hallelujah! We paid a little extra for it and I'm hoping it pays off.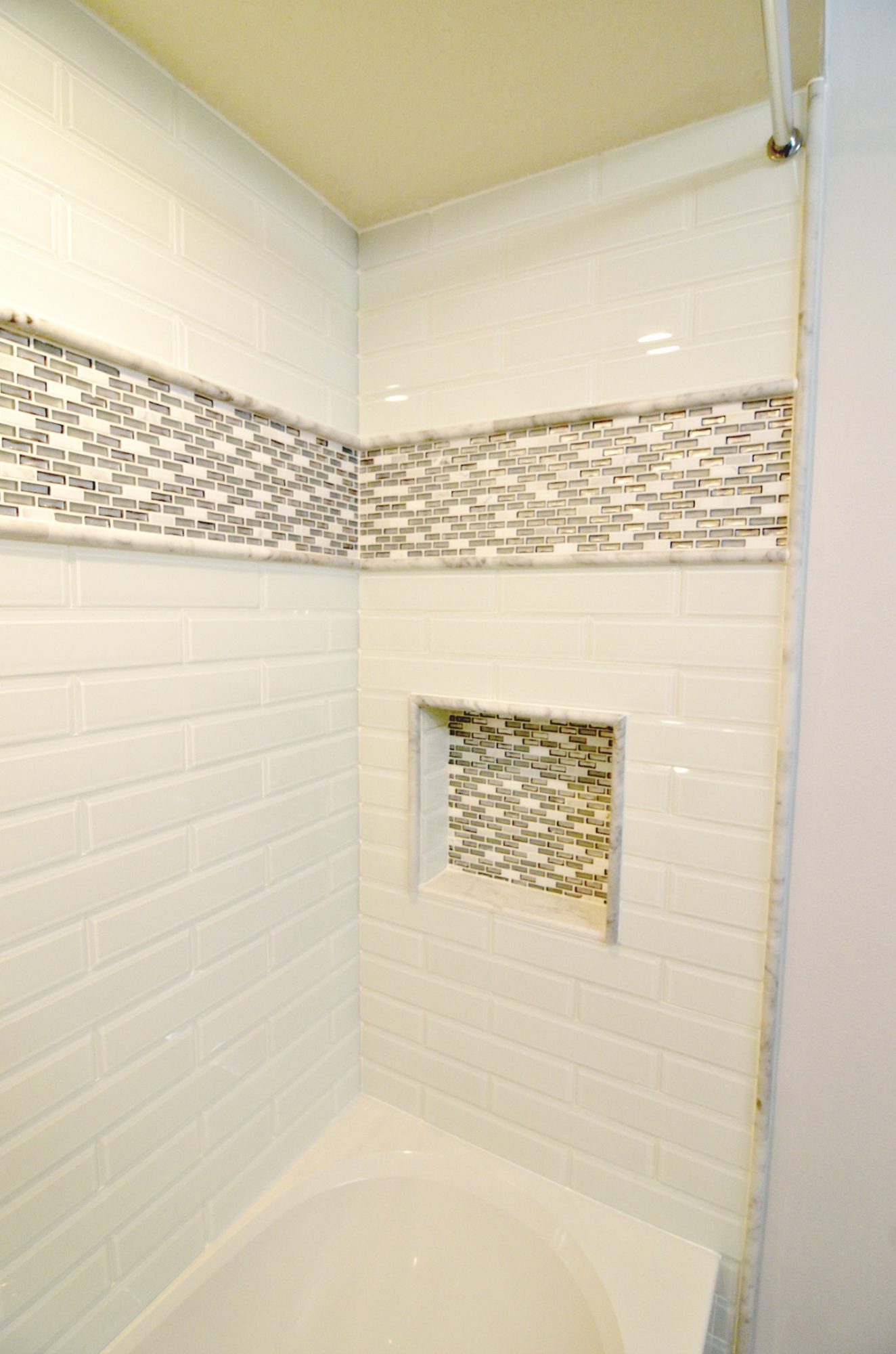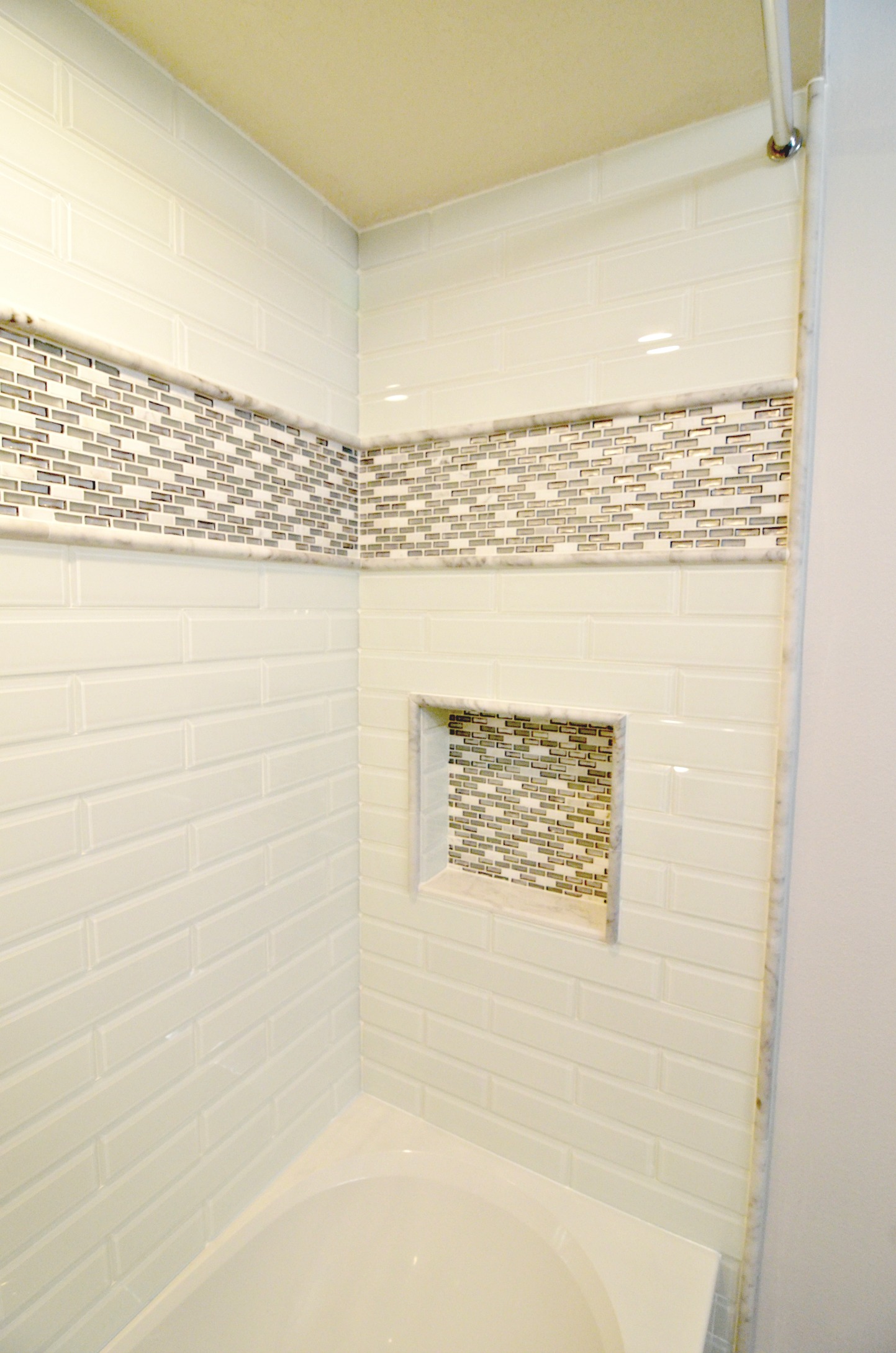 Loveing the built in niche that Jon made! The glass white bevel tile is exactly what I wanted although we will be honest they are a PITA to install and grout!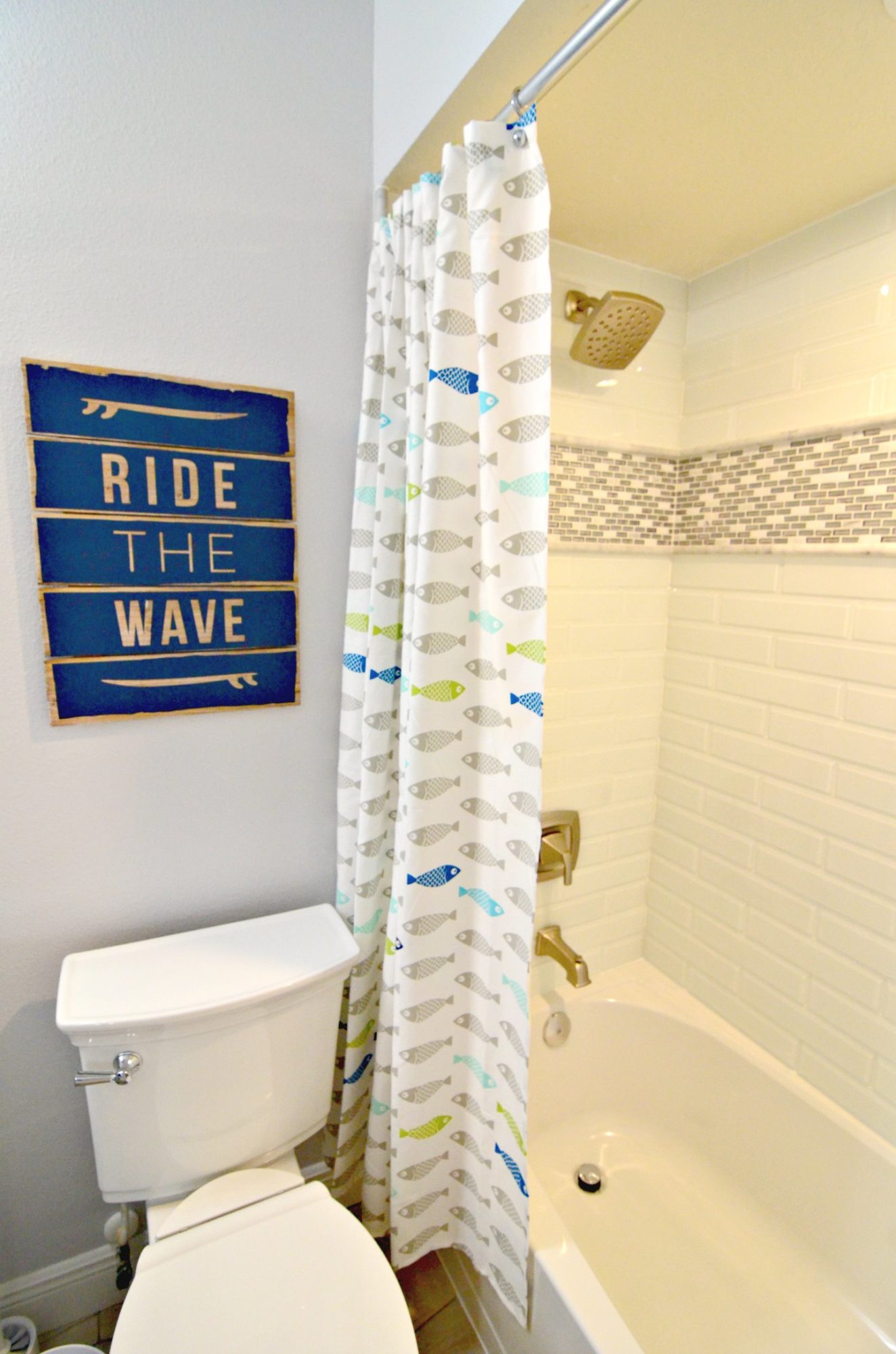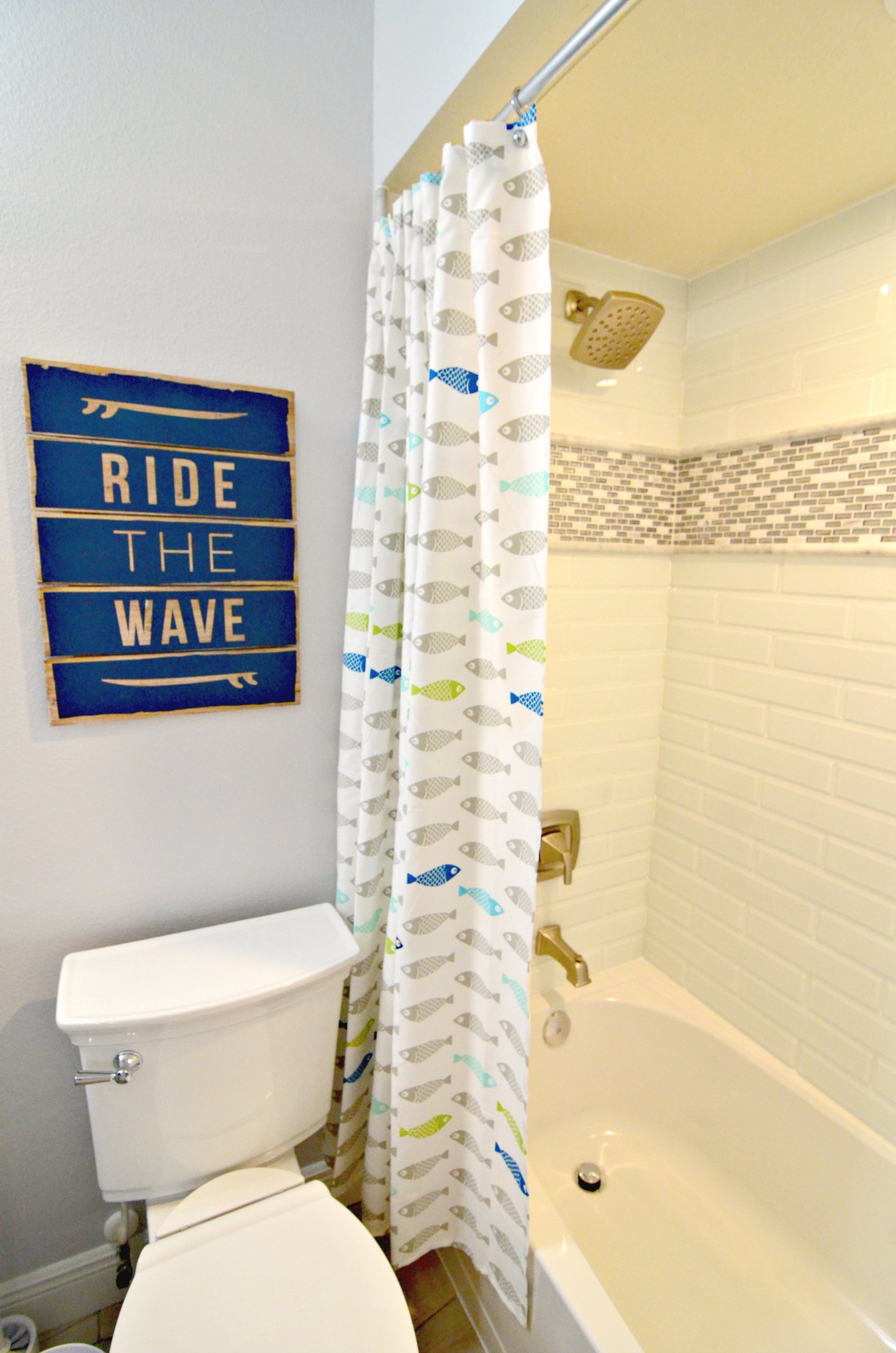 We went with the Moen Hensley Single-Handle 1-Spray Tub and Shower Faucet in Spot Resist Brushed Nickel. Super simple to install and looks great!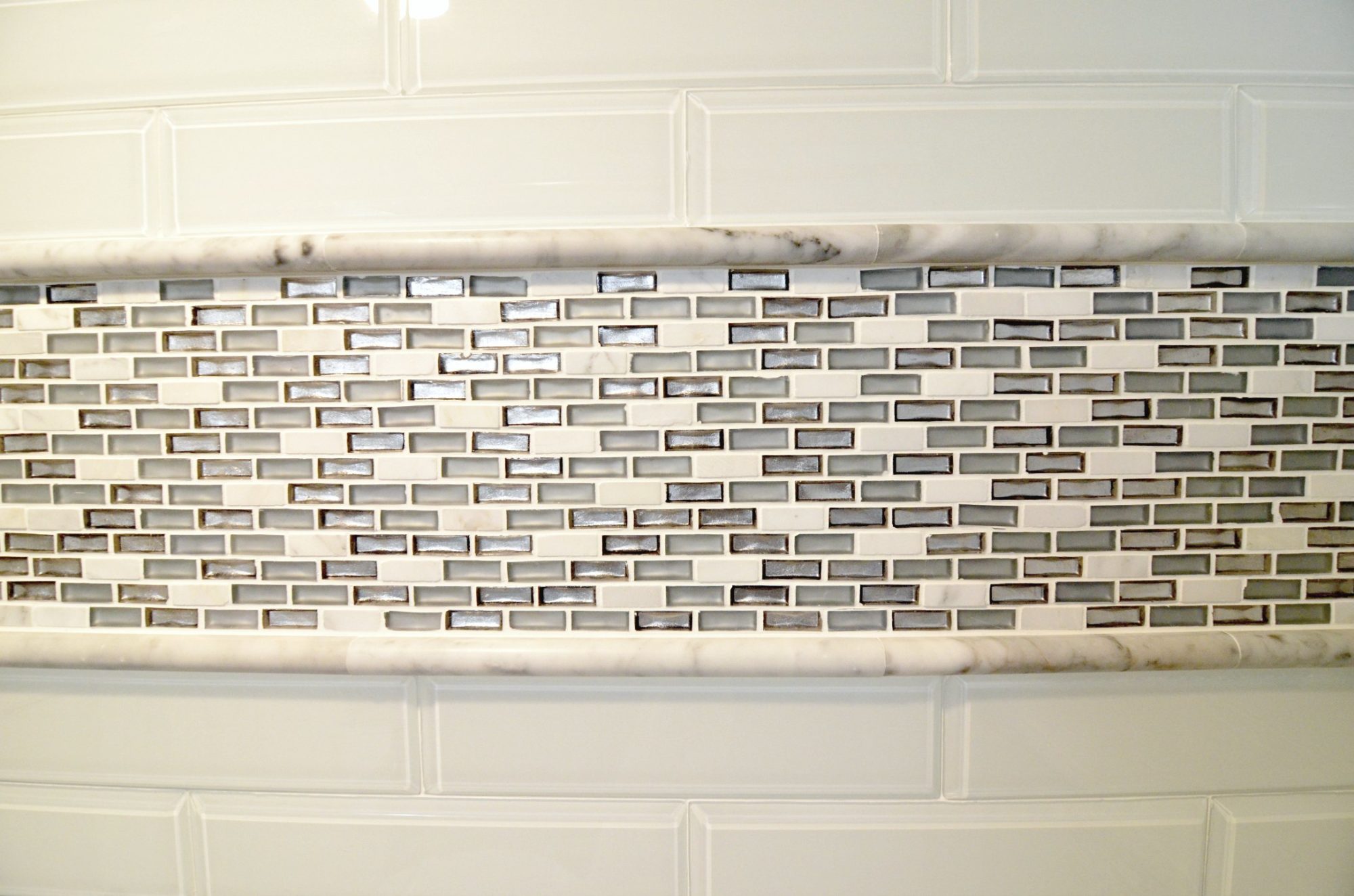 We had to pick all of our tile sight unseen and it was definitely a little nerve wracking. In photos online the Alaskan Chill 11-1/2 in. x 11-5/8 in. x 6mm Glass Mosaic had a little more blue to it. We weren't sure if we wanted to keep it when it came in but over time we fell in love with it.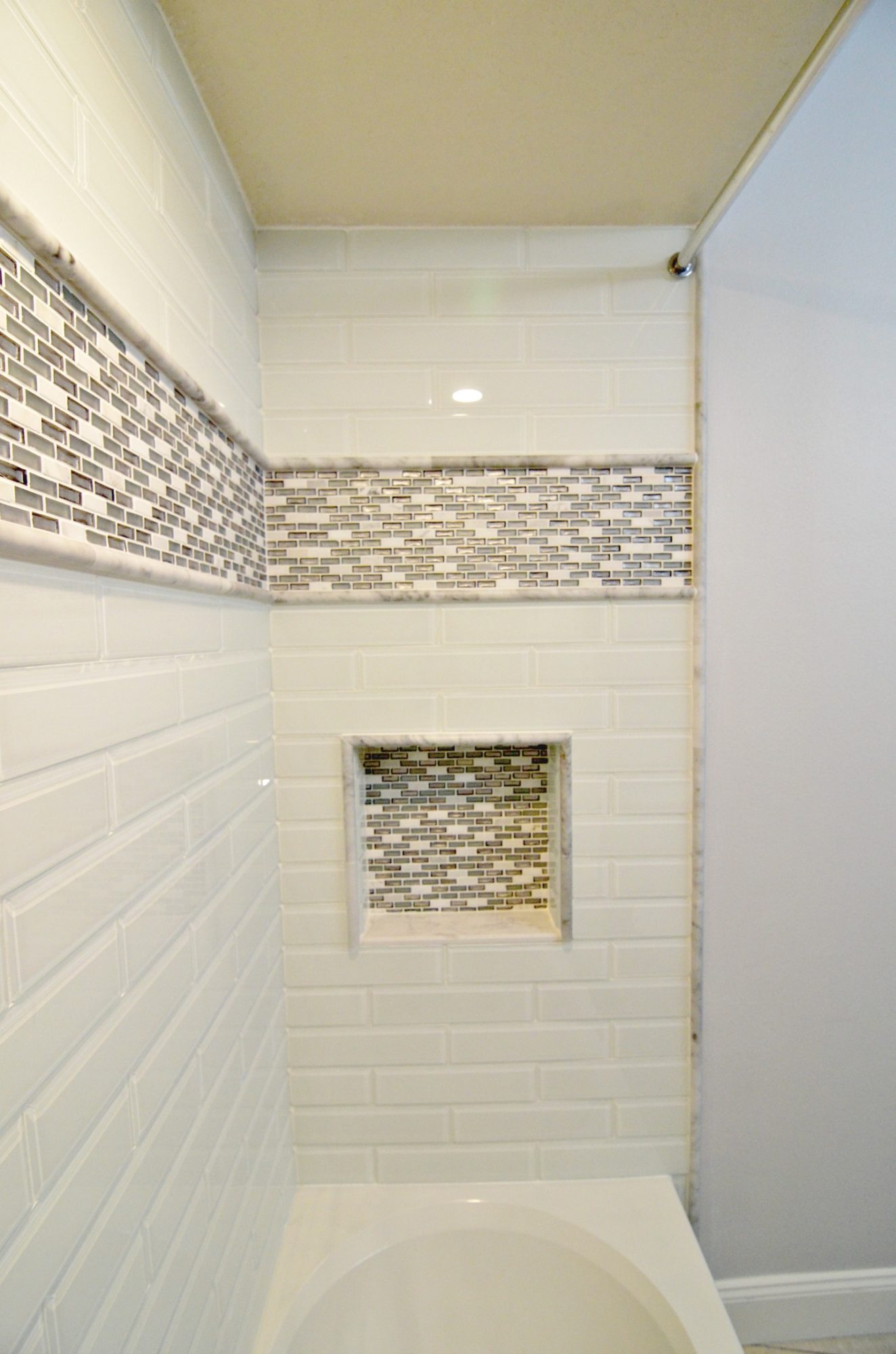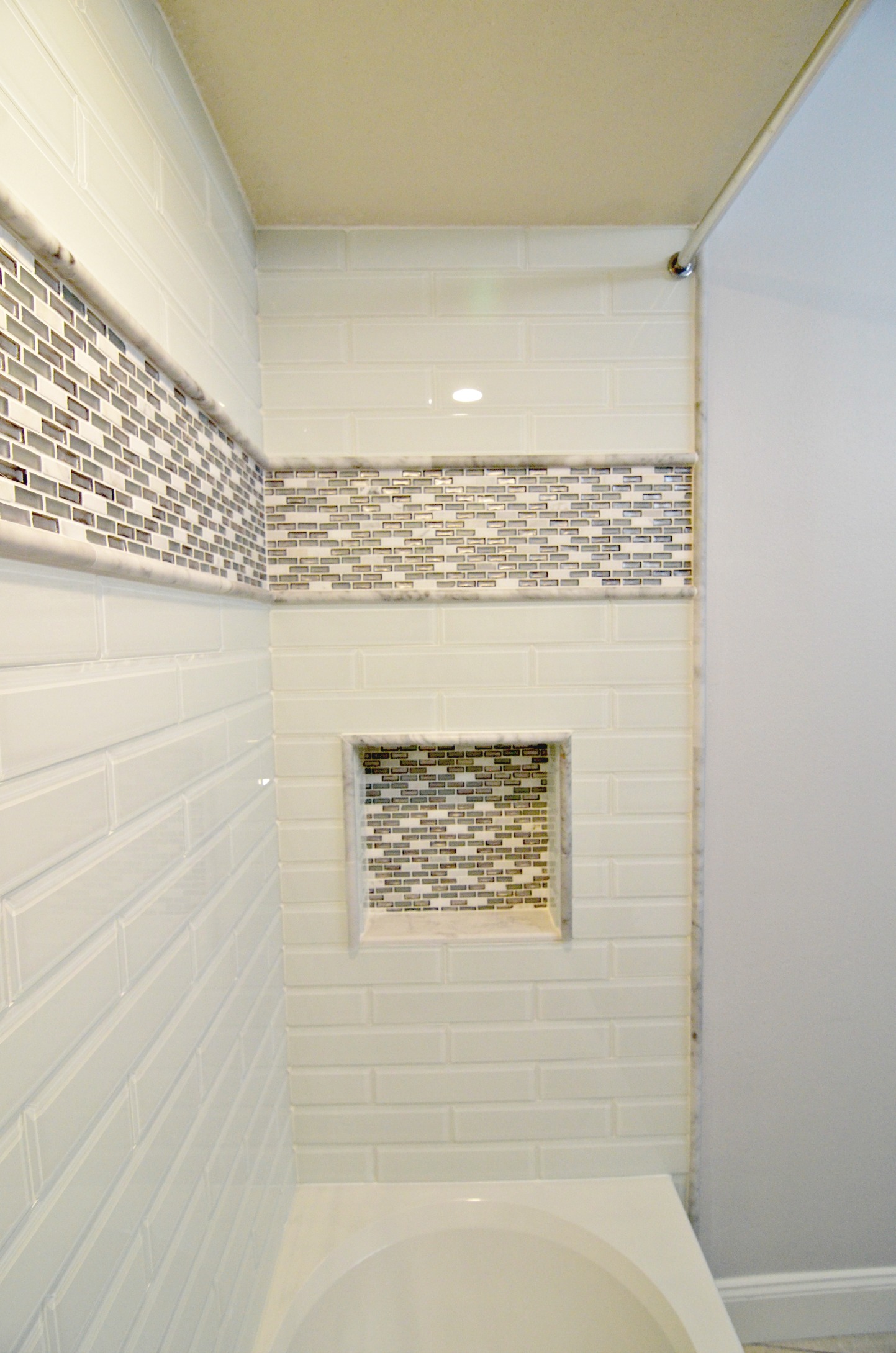 We always strive to play it on the "safe side" for re-sale purposes. We don't like to get too crazy or out of the box. Going with the mosaic tile was us being "wild". lol oh and the floors too.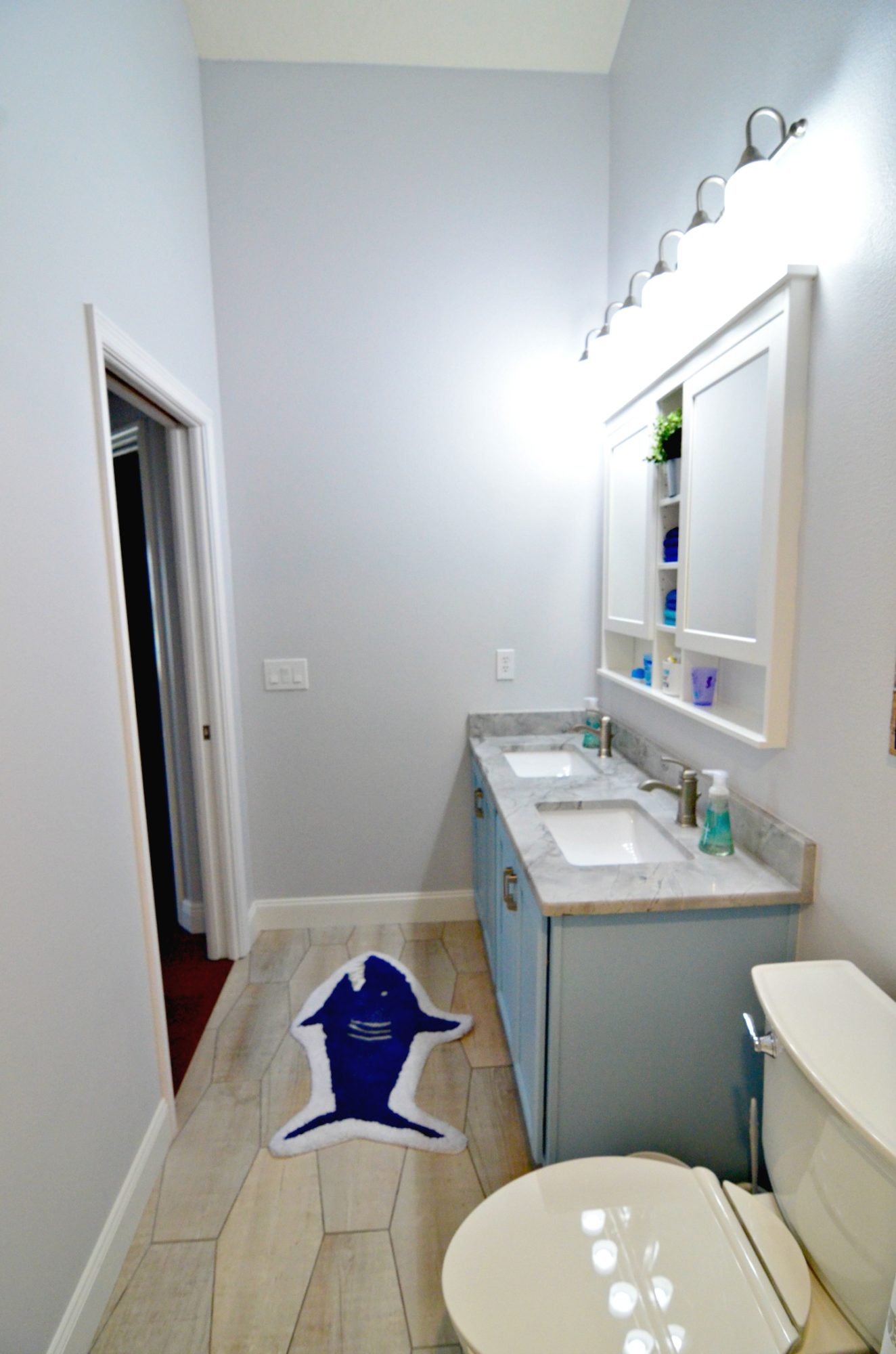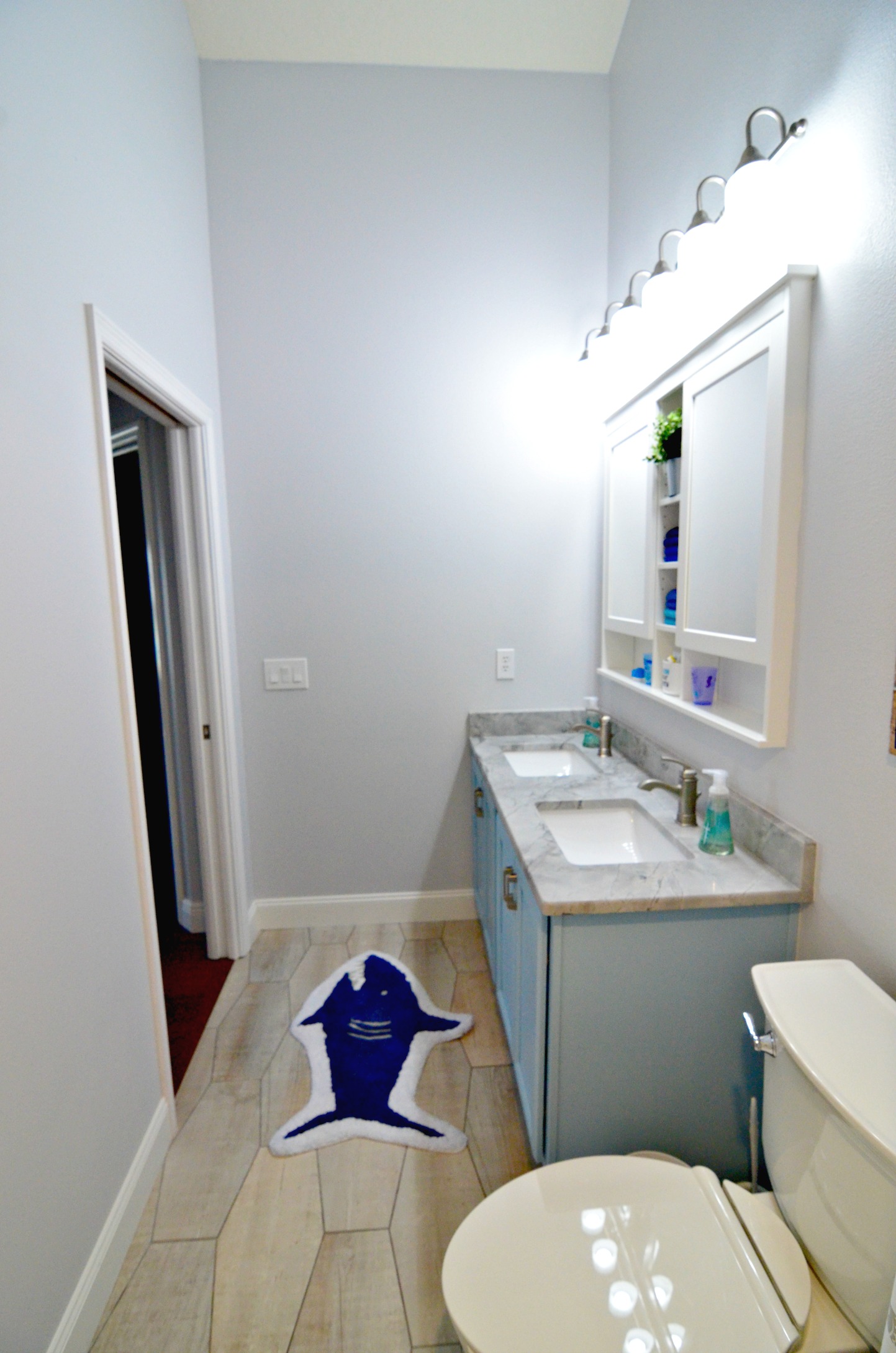 Look at all the room in the bathroom! I'm still in awe! I love our bathroom. Now to decide where to place our towel hooks and toilet paper holder!
I hope we've inspired you for your next bathroom renovation! Have questions? Ask us in the comments below and we will try to get back to you as soon as possible.