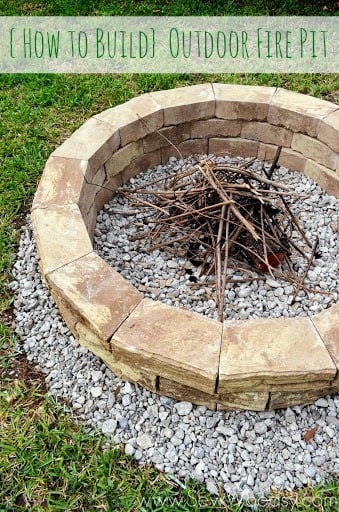 Happy Memorial Day! While we all honored those who have dedicated their lives for fighting for our freedom we wanted to share with you the outdoor fire pit we recently created. This is a fairly inexpensive project and only takes about a half day to complete! Not only does it add a lot of characteristic to our backyard but it also will add a little more value to our home!
Once again, we partnered with our friends over at Homes.com to create a video to share with the world on just how we created our Outdoor Fire Pit. Watch our video to learn just how easy it is to build an outdoor fire pit.
So, what do you think? Pretty darn cool, right? I'm so glad we tackled this project even though I will be the first to admit that I was against building a permanent fire pit in our backyard.
Here is the list of supplies in case you want to tackle this project and build a permanent outdoor fire pit in your backyard!
Supplies:
Shovel/ Wheel Barrel
Crushed Concrete Rock (DO NOT USE RIVER ROCK)
2×4 and Level
12 inch Antique Natural Impression Flagstone Concrete Wall Block
Construction Adhesive
Rubber Mallet
Hammer
Long story short. I bought Jon a metal fire pit years ago when we first moved in together. We had used it maybe two times during the two years we lived in our town-home. Fast forward to owning our home… I think we maybe used five times before it finally bit the dust. Last spring we used the metal fire pit once and then it never was moved back in to the garage. It sat all summer and fall outside; getting battered by the Florida afternoon rain-showers. We finally drained the water from the metal fire pit on new years eve. It was cold for a Florida night and we had our neighbors over to "toast" in the new year (ok, for drinks and an outdoor fire pit). Half way through our drinks, the fire fell from the metal pit and on to the grass. I may or may not have freaked out. Thankfully the fire did not spread and the next day we woke to a nice circular patch of grass missing thanks to the fire pit debacle of 2012/2013.
Jon was sad to see his beloved metal fire pit go. He had talked about building an permanent stone fire pit for a while. So when we had the opportunity to build one for Homes.com we knew we were going to jump at the chance. Well, let me get this straight. He knew it and did a lot of convincing to get me on board. Once again… here I thought you just dig up the grass and pour the crushed concrete rock in the ground and put the flagstone blocks in a circle. Wrong! Jon is so dang meticulous. I have a love/hate relationship about this. I love it that he wants to do the best job ever, but I hate that it takes him forever! However, for this project I was shocked that it took us only a half day to complete!
Our backyard has a slight slope, so this took a little longer for him to complete. By using an old 2 x 4 and a level he was able to make the fire pit level.
And this is what it really looks like behind the scenes. Our hot tub was pulled apart since it sprung a leak while I was gone at SNAP! and all the water leaked out (but that is an entirely different post). All the dirt from the fire pit was put directly behind me.
And here you go… she was done just like that in all her glory! I love the detail from the flagstone!
That night, Jon, had to make a fire to try out his latest project! Lucky for him, it just so happened to be a cool Florida evening (I say cool I am talking high 60's low 70's). The fire pit worked like a gem!
So did we inspire you? Who else will be making a fire pit, soon?
Linked up with Tatertots & Jello
Disclosure: We have a working relationship with Homes.com and are video brand ambassadors for 2013 (thus we are compensated). As always all opinions are our own.