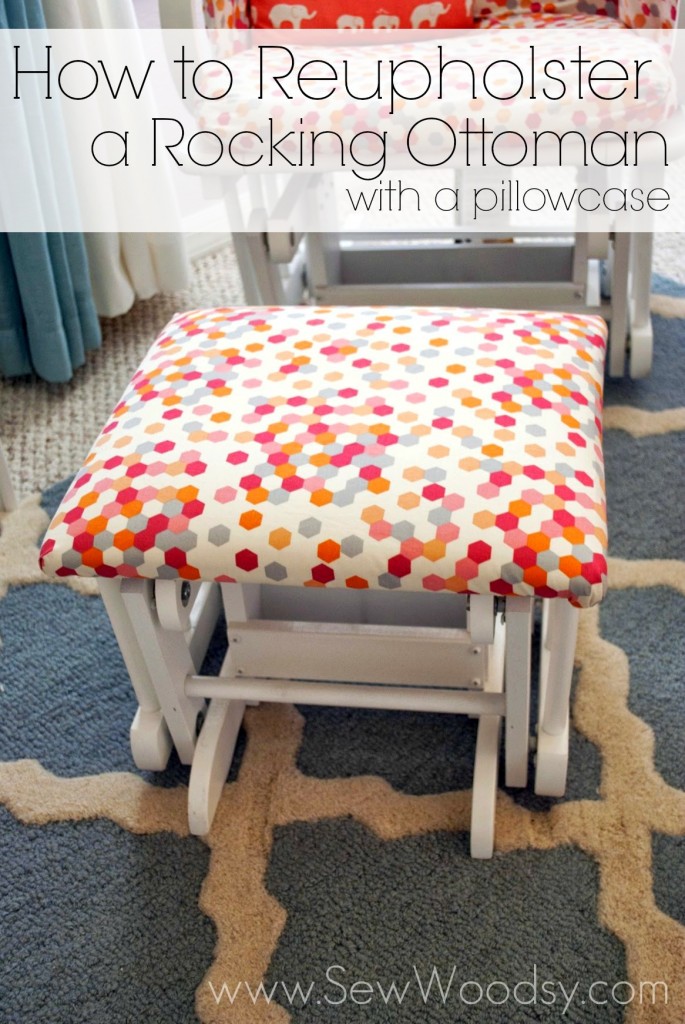 A few month's ago we had the pleasure of helping our friends with their nursery! You might remember, that we installed crown moulding for them. While we were over, I helped reupholster a rocking ottoman with a pillowcase. My friend, Rachel, couldn't find fabric that she liked, so she bought a flat sheet set that also contained pillow cases! While the guys finished up on the crown moulding I taught her how to reupholster using a pneumatic staple gun! At first she was nervous to use it but then she got the hang of it and wouldn't put it down.
Fast forward a few week's later, she changed her mind on her fabric choice and asked if I could (re) re-upholster the ottoman cushion again for them. Being the good friend I am (and of course knowing how easy this is to do) I didn't hesitate at the chance to help out! I do want to note that I did not recover the rocking glider chair. She sent the fabric and cushions to a family friend who did it in no time (much quicker than I ever could have)!
Supplies:
Rocking Gliding Ottoman
Pillowcase (or fabric of your choice)
Scissors
Pneumatic Staple Gun
Ear Plugs
Safety Glasses
First, cut the pillow case along the seam both vertically and horizontally.
Lay the fabric out so you have one long piece. Place the ottoman cushion on top of the fabric. Using scissors, trim around the fabric leaving 4-5 inches on every side.
Fold over one side of the fabric and staple every few inches.
When you get to the corner you'll want to fold it like a package.
Fold over the fabric, making sure that the corner is tucked in nicely.
This is what it should look like once you staple the corner.
Then repeat with the remaining four corners until all the fabric has been secured to the cushion. I made a video earlier this year on how to upholster a chair cushion. It is the same exact concept. If you need a better visual representation you can watch that video!
Trim excess fabric.
This is what the finished cushion looked like.
Re-attach the ottoman cushion back on the rocking glider and enjoy! I absolutely, LOVE what our friends did to their babies nursery! I love the color scheme and can't wait to share their entire room in the coming weeks.