Ever wonder how to create a gorgeous potted flower arrangement? We are breaking down all the details How to Create Outdoor Potted Floral Arrangements at home!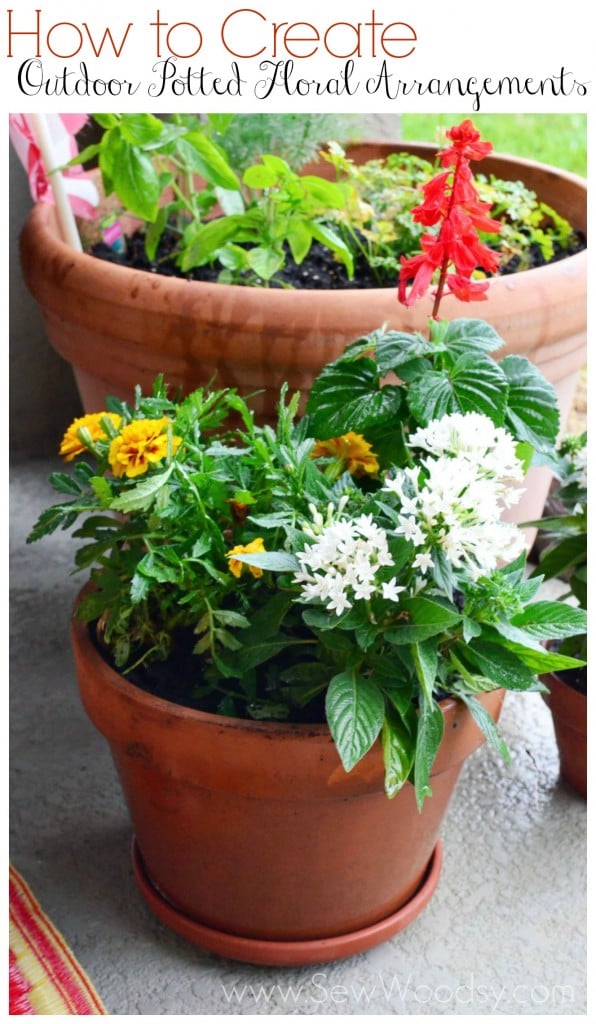 Well, we are officially back from vacation. It's been less than 2 days and we are both ready to go back and already planning our next trip later this year. To say we are addicted to travel is an understatement. We spent 8 glorious days in the Caribbean and we hope to share some of our adventures with you guys in the coming weeks and then we will go back to sharing Europe since we still have so much to share! Before we left for vacation we gave our back patio a summer refresh and brought in tons of color! One of the ways we dressed up our patio inexpensively was by planting flowers.
Not just a single flower in a pot, but by creating outdoor potted floral arrangements. By clustering together smaller potted plants you can create a gorgeous and chic look for half the price of buying one of these pre-made beauties in the store. We are going to share with you our tips and tricks on how to create outdoor potted floral arrangements at home!
Table of contents
Flower Planters Ideas
First up, you'll need to buy a wide variety of potted flowers.
Think about how many pots you want to fill–then depending on the size of the pot will depend on how many potted plants you'll need for the pot.
Buy high-quality potting soil mix.
Buy plans that all require the same amount of sun/shade.
If for some reason you buy a plant that requires say part sun and the rest require full sun, then try to plant the flower where other flowers might shade it and where it can get the least sun.
Once you have the flowers picked out its time to start planting. For a medium pot we like to place 3-flowers in. We fill the pot half way with new potting soil. Place your largest potted flower first, followed by the smaller flowers. *Make sure you break up the roots at the bottom so they have room to grow!
Potted Flower Arrangements
Easy as that, in just a few minutes time you have a beautiful outdoor potted floral arrangement. This flower arrangement consisted of the following flowers:
Salvia (tall red flower)
Marigolds (yellow flowers)
Pentas (tiny whit flowers)
Our next pot is much larger in size, so we opted to start with a larger flower first followed by smaller flowers. Flower pictured above is a zinnia.
Next up, he placed the melampodium across from the zinnia followed by the coleus.
Add more dirt to the pot as you go and then finish planting the remainder of your flowers. Jon planted another marigold, salvia, and balanced out the arrangement with a second coleus.
Flowers for a Large Planter
Flowers used in this arrangement:
Melampodium (larger yellow flower to the left)
Marigolds (smaller yellow flower to the right)
Zinnia (pink flowers)
Coleus (purple leafy plant)
Salvia (red tall flower)
The other day, I shared how easy it is to make a faux dip-dyed garden pot. Once its dry, fill it with gorgeous flowers!
Easy right? Don't stoop down and pay those high prices for outdoor potted floral arrangements when you can create them at home for half the cost. And best of all you can mix and match and make the arrangement you truly love!
Gardening Ideas
If you love to garden here are a few more related gardening post.
I hope you found my post useful and your ready to tackle your own project. If you tried this, it would make me so happy if you could take the time to leave a comment, and follow me on Facebook, Pinterest, and Instagram. Don't forget to subscribe to my newsletter, too!