Thank you LEGOLAND® for hosting us for the Media Preview Event. As always, all opinions are our own.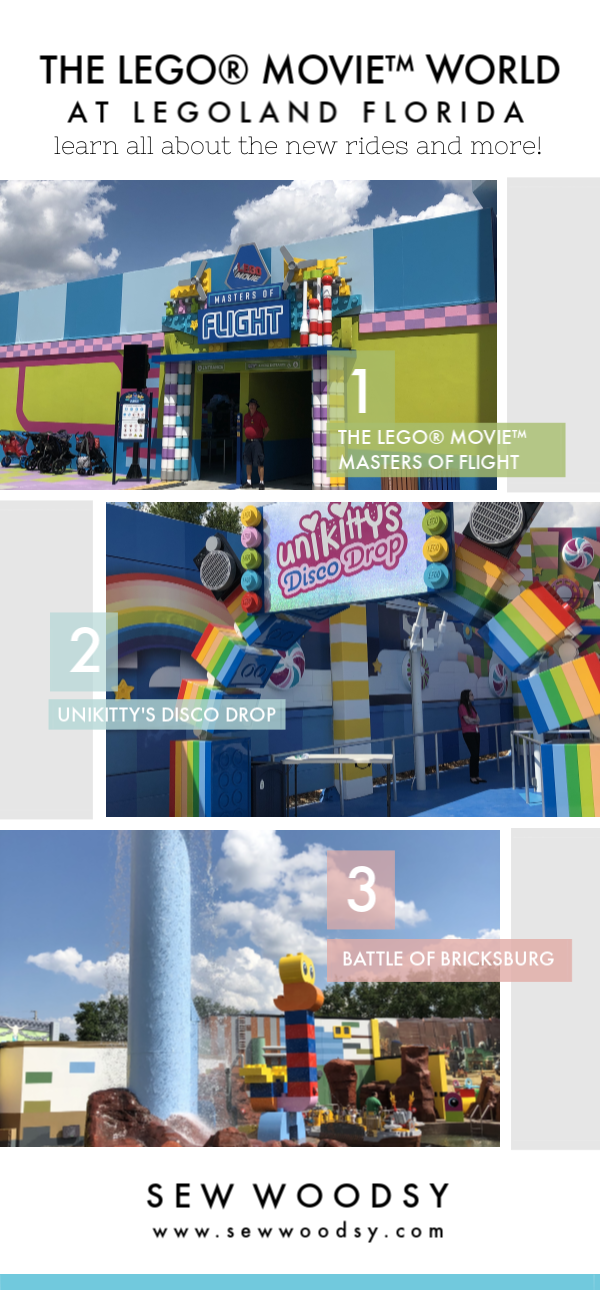 Last week, we had the chance to preview the brand new THE LEGO® MOVIE™ WORLD! Jon, my kids and my brother Mark joined me as we got to ride new rides and try tacos from Taco Everyday! We also had the chance to meet Benny the Spaceman, Emmet, General Mayhem, and Wyldside.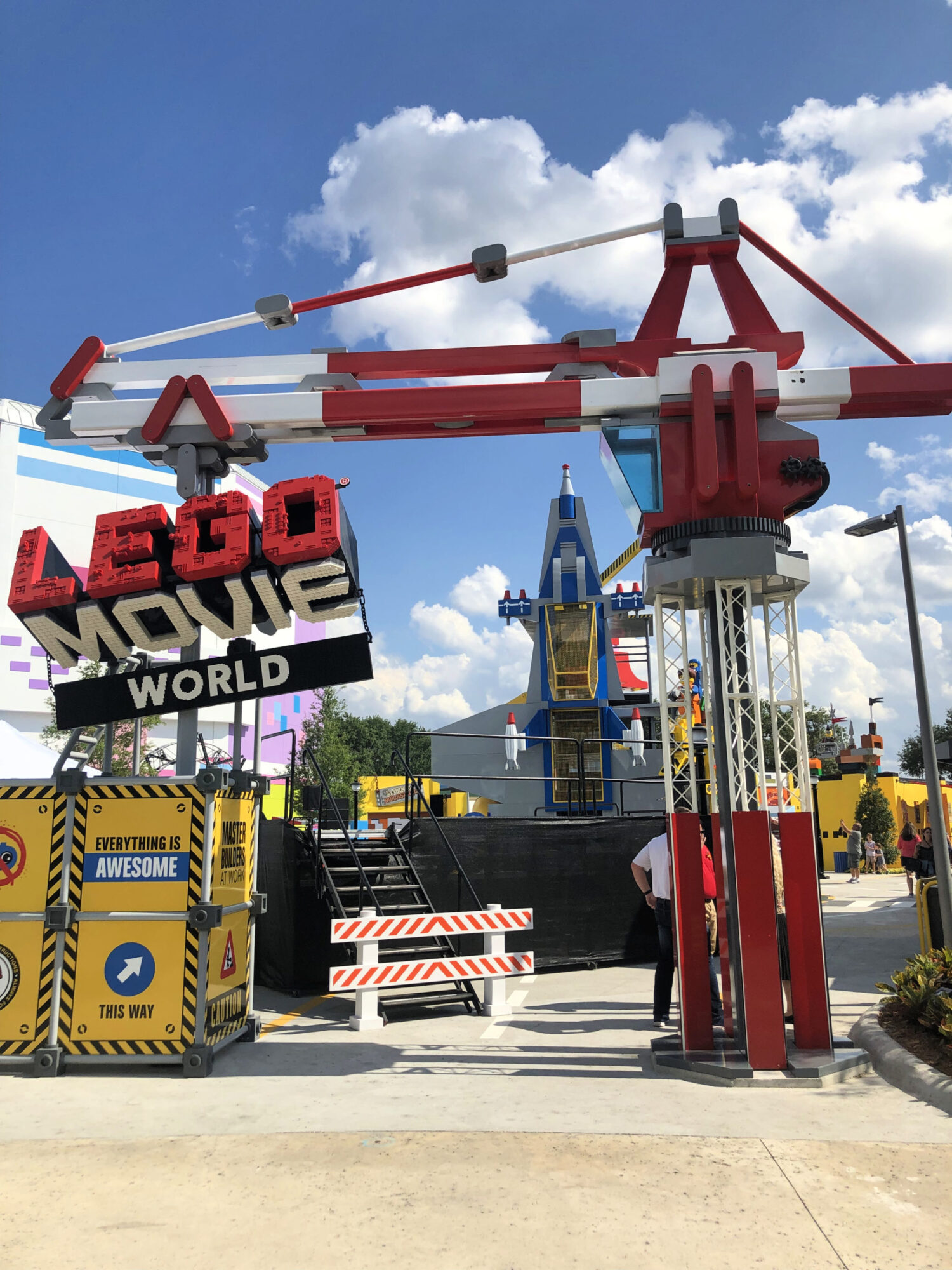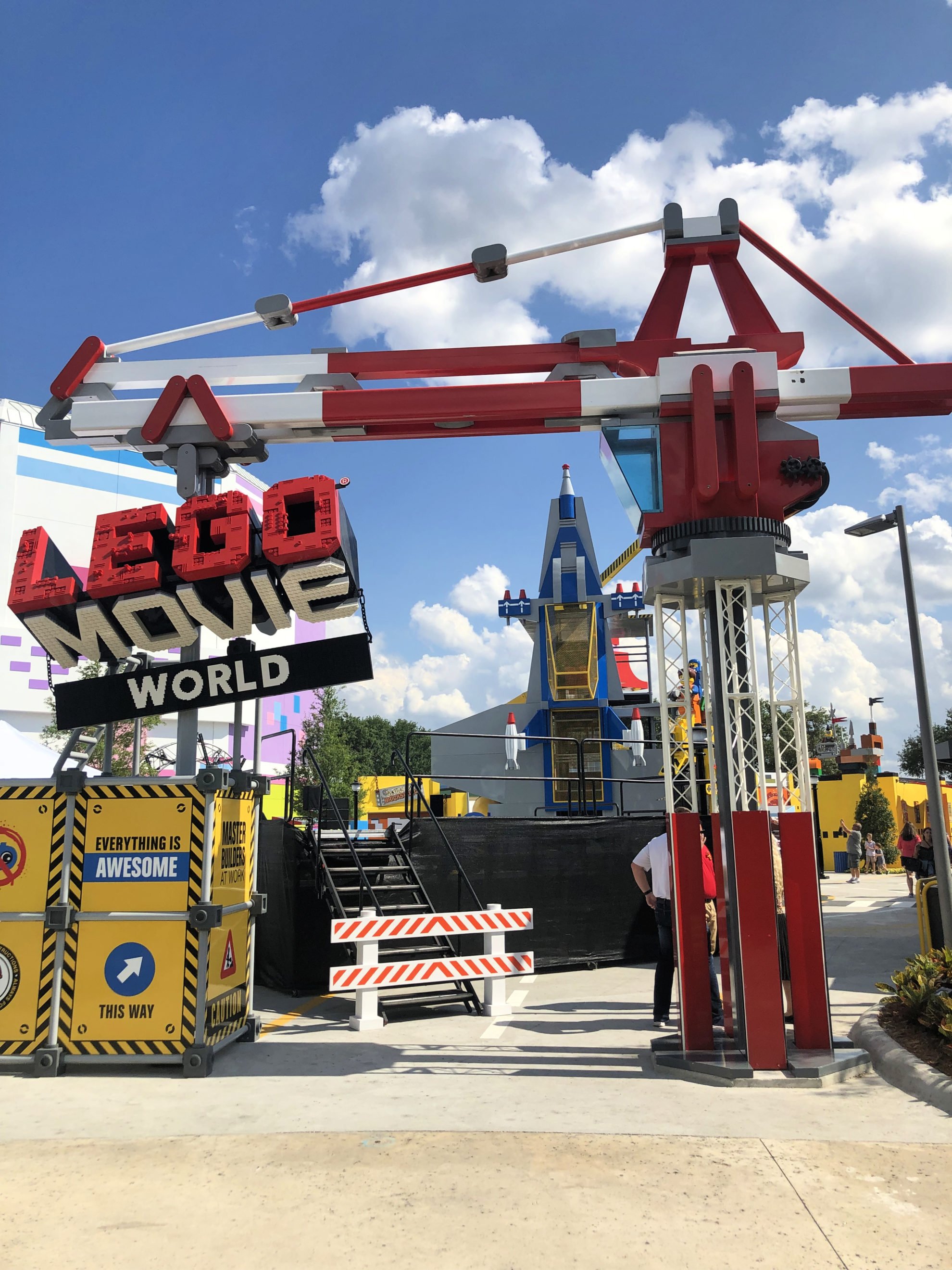 Guests go from the theater to the theme park with the launch of THE LEGO® MOVIE™ WORLD. Created in partnership with Warner Bros. Consumer Products, this impressive expansion features three new rides and numerous attractions; all inspired by the characters and themes of the worldwide blockbuster THE LEGO MOVIE and the exciting new big-screen animated adventure sequel THE LEGO MOVIE 2: The Second Part.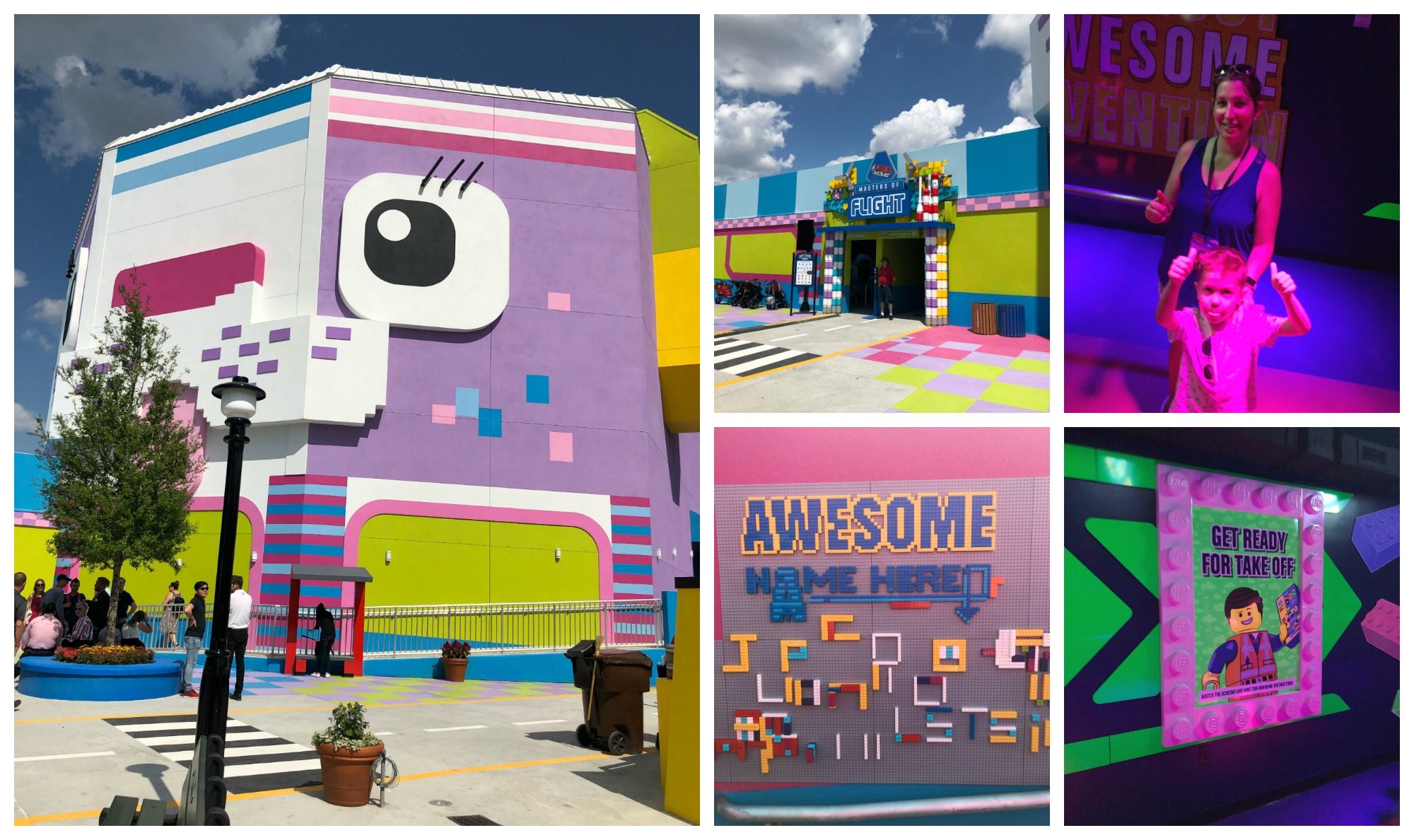 THE LEGO® MOVIE™ Masters of Flight
This is a flying theater attraction where guests join Master Builders on a Triple Decker Flying Couch transporting riders all over THE LEGO® MOVIE™ universe. This ride has a minimum height requirement of 40-inches and/or ages 3 and up. Each flying "couch" has 12 seats and from what I could tell–3 stories high with another "triple decker flying couch" next to ours… so if you do the math–that's 72 people at a time. That's just a guess as far as how many people it can accommodate at once.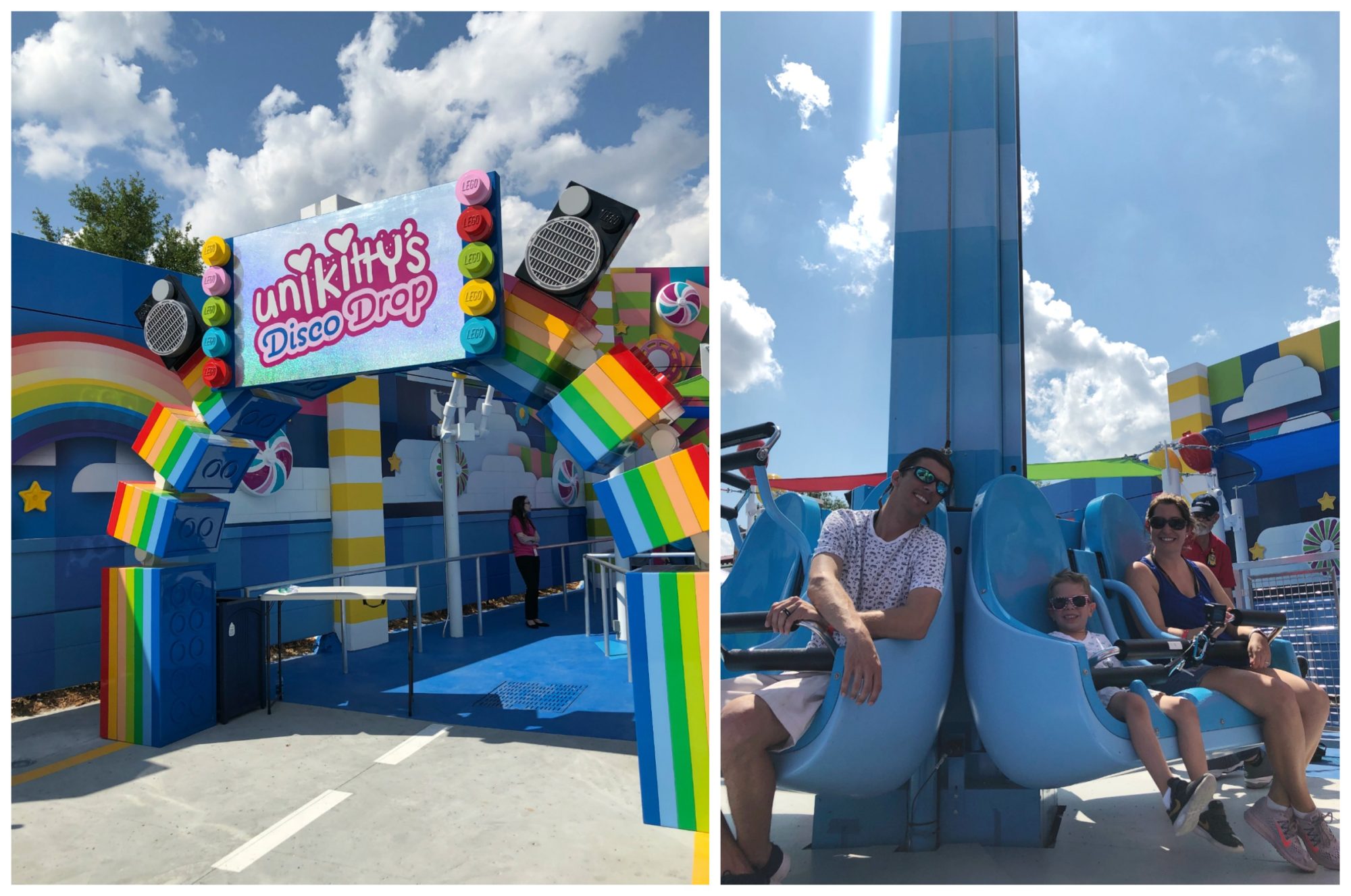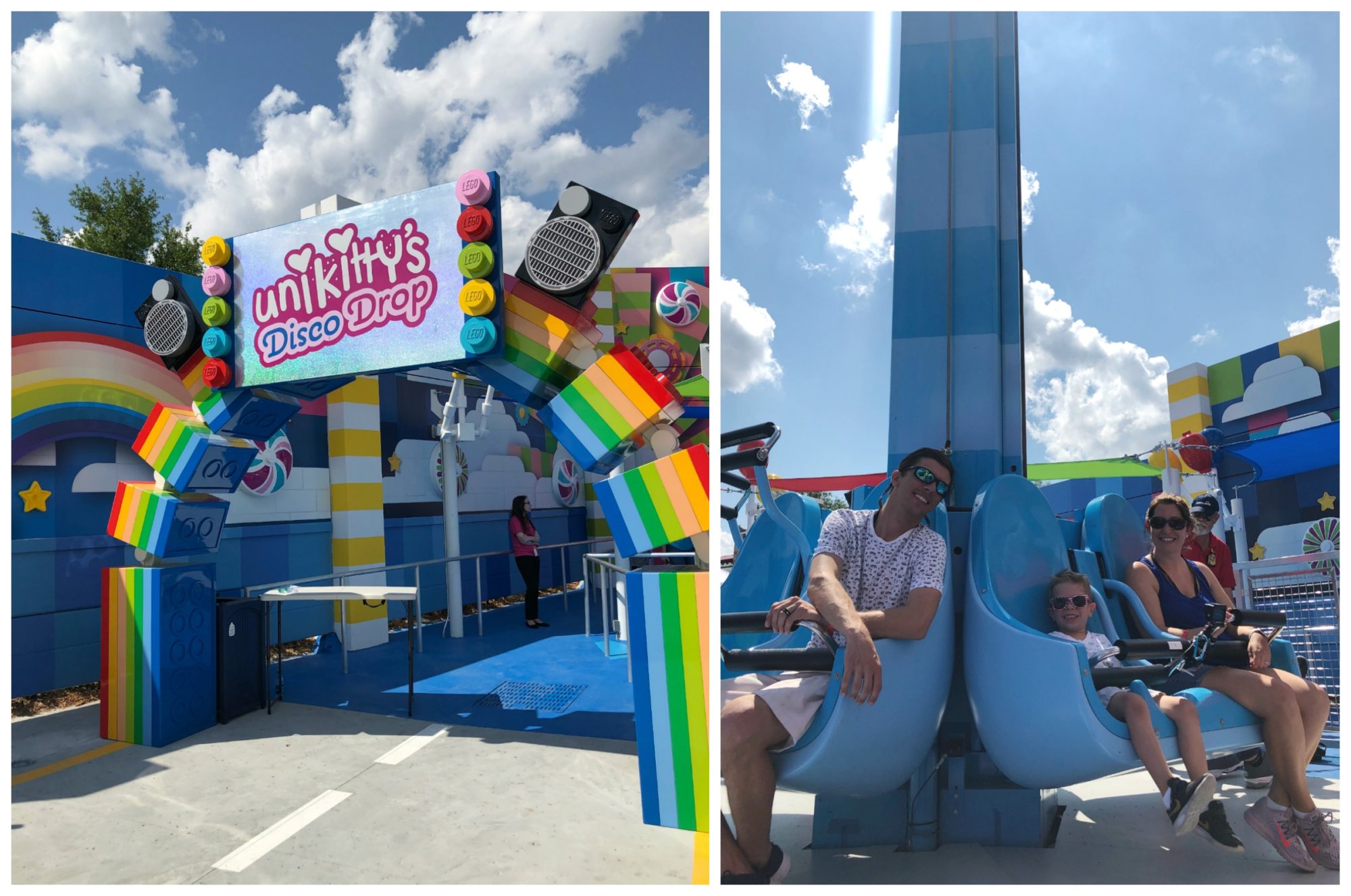 Unikitty's Disco Drop
Drops, spins and bounces to the heights of Cloud Cuckoo land. This ride has a minimum height requirement of 40-inches. I absolutely LOVED this ride and so did Ryder. I predict you'll need to be prepared for a long wait on busy days–because this ride only has 10 seats!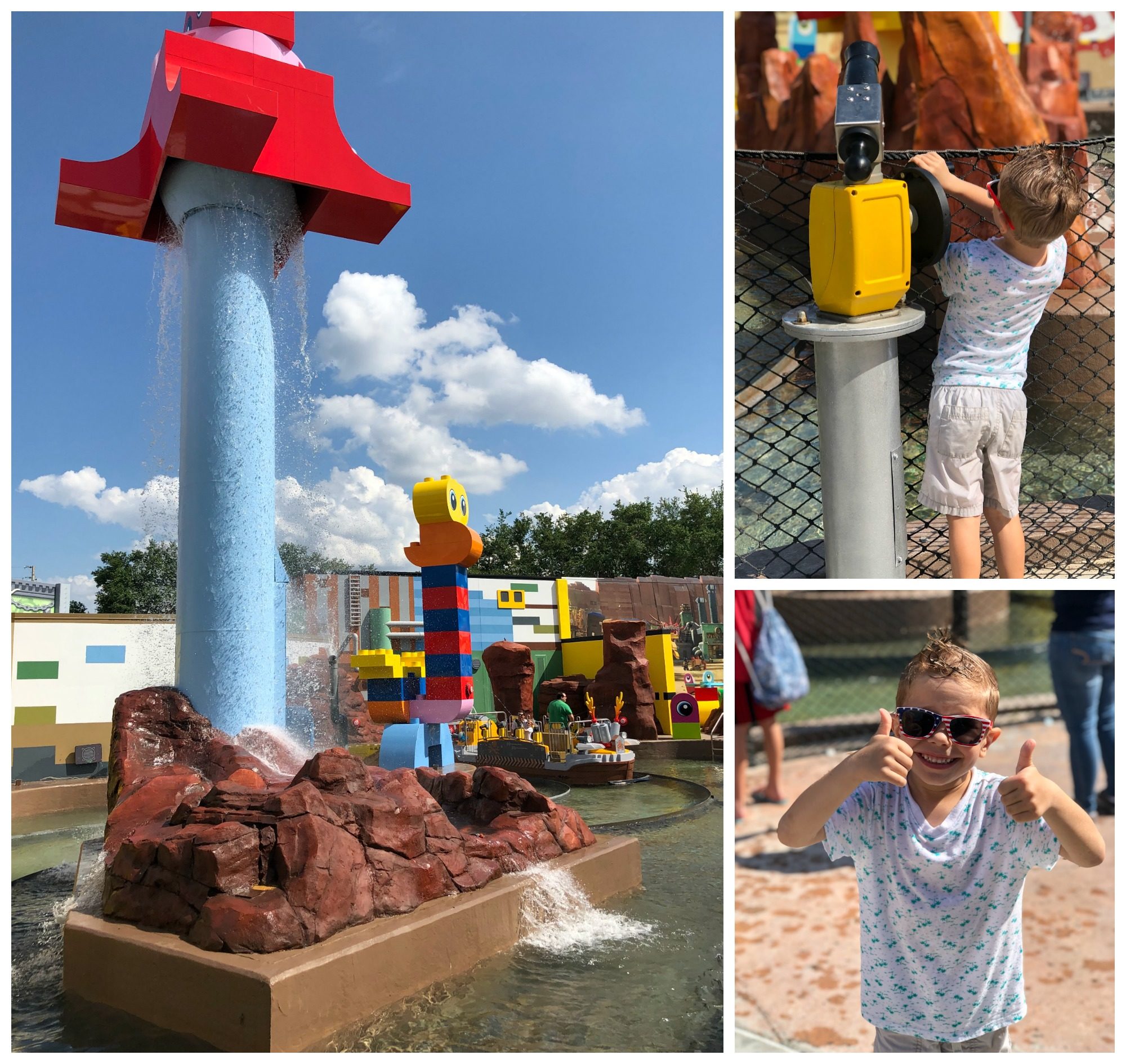 Battle of Bricksburg
Help defend Bricksburg by spraying down the DUPLO® alien invaders! Beware, you will get wet! This was an existing ride in the park that was re-themed to match the new THE LEGO® MOVIE™ World. My husband, Jon, brother, and Ryder all rode this. While I sat out while my two year old napped in the stroller. Even though I couldn't ride it I still had fun spraying water at them as they floated by (and they had fun spraying me, too)!
The Battle of Bricksburg does not have a height requirement. So had our 2 year old been up we all would have rode this ride. This is the only ride in THE LEGO® MOVIE™ World that 1 and 2 year olds can ride or those who may be under the 40-inch height requirement that the other rides have.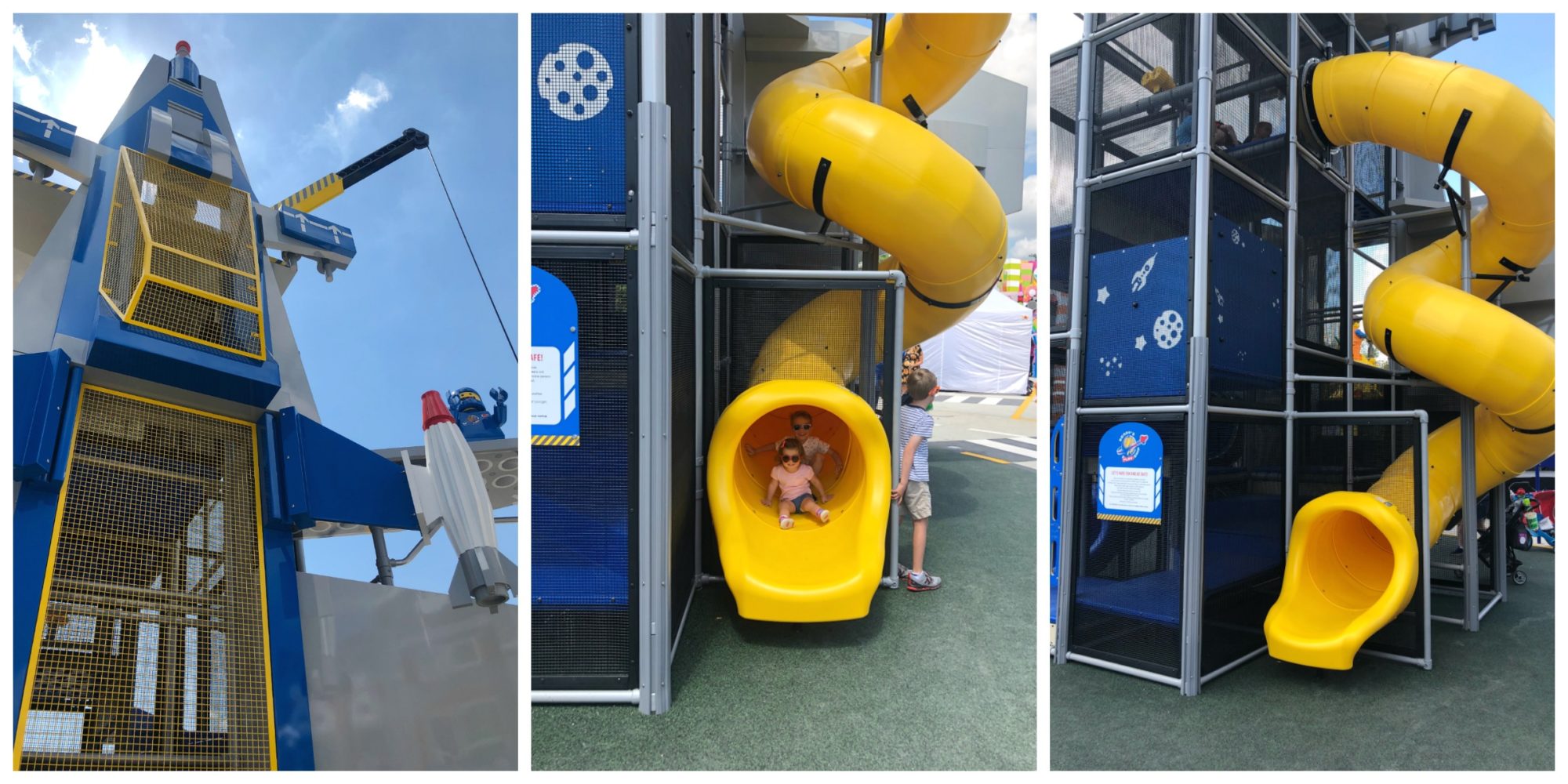 Benny's Play-Ship
Benny's spaceship has landed right in the middle of Bricksburg! Play on this space-themed playground structure and get ready for takeoff!
This is located right in the middle of THE LEGO® MOVIE™ World–you can't miss it and great for kids under the age of 10. Thankfully–the designers who created this Play-Ship kept parents in mind because my almost 6-foot tall husband had to climb to the top with my 2 year old as she insisted to go down the big yellow slide. He didn't have a hard time at all navigating up the Play-Ship.
My kids spent a good half hour on this as we waited in line for Taco Everyday!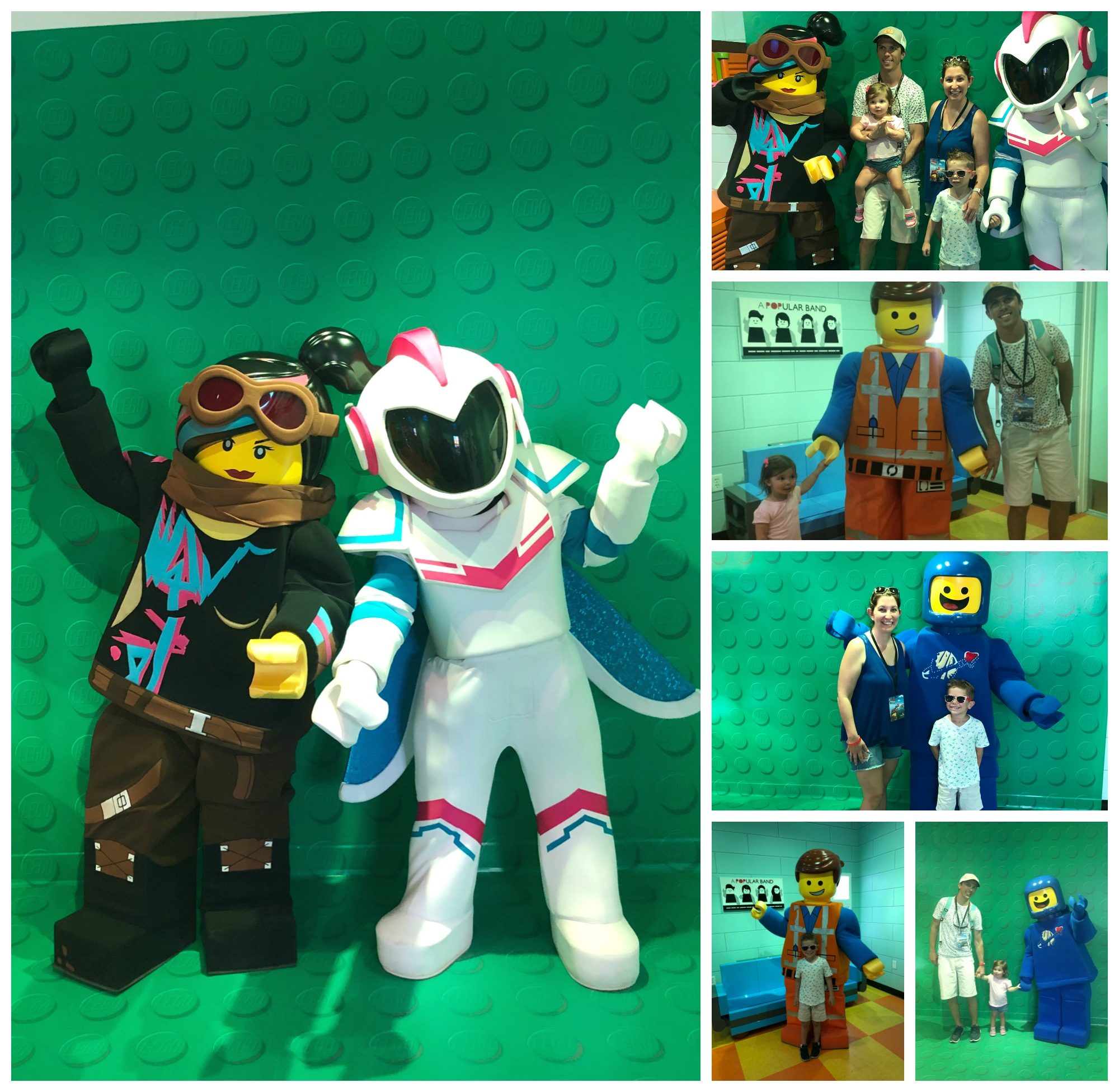 Emmet's Super Suite + The Awesome Shop
Stop by Emmet's apartment and meet some of your favorite characters from THE LEGO® MOVIE™! We got to meet Emmet, Benny the Spaceman, General Mayhem, and Wyldstyle.
After you meet the characters (typically only 2 available at a time) you exit directly into The Awesome Shop. You can find THE LEGO® MOVIE™ LEGO sets, stuffed animals, cute shirts, pajamas, clothing and more.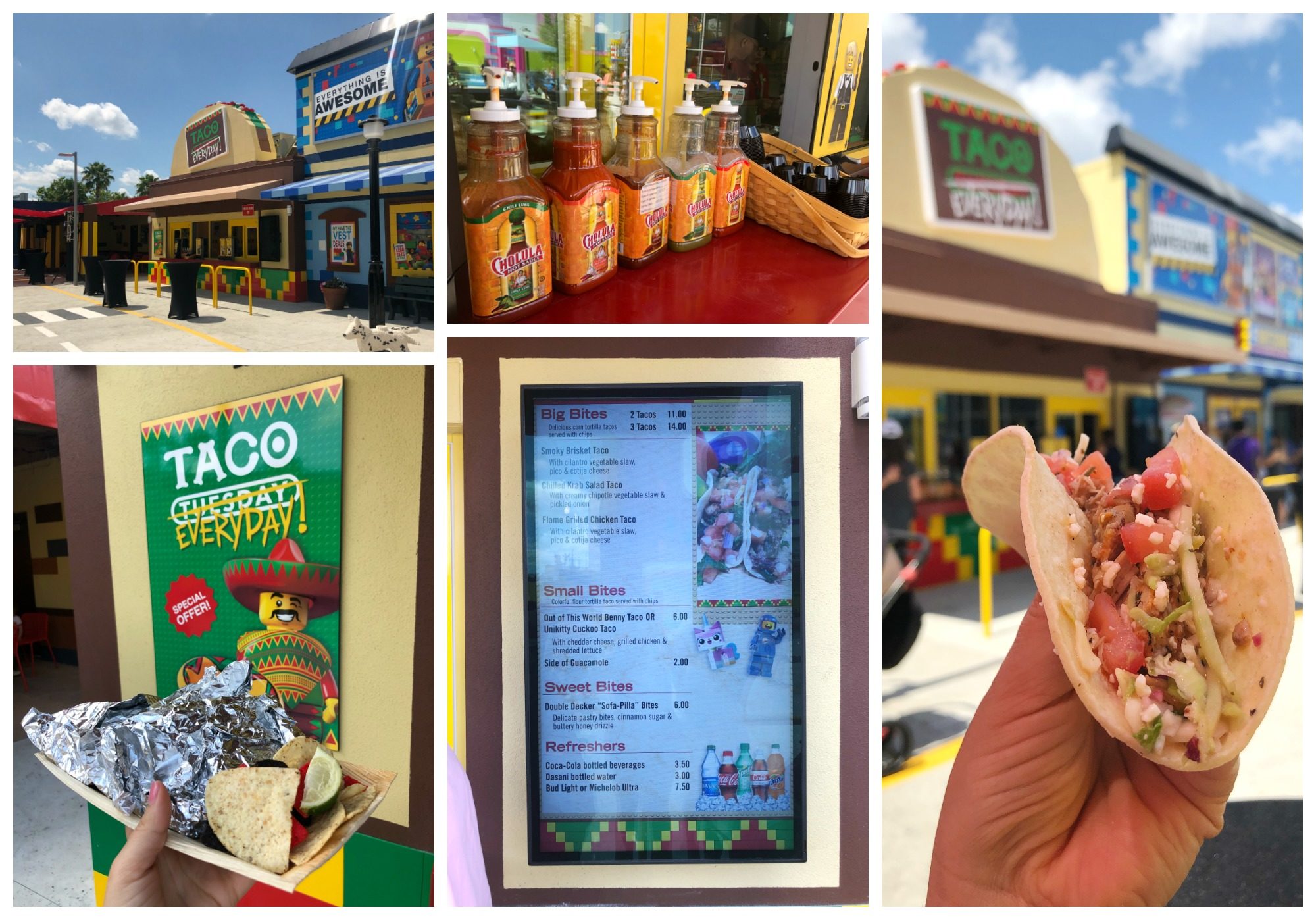 Taco Everyday
Just like the movie–Don't just taco on Tuesday, taco every day! This is a quick service restaurant (window ordering with covered seating outside). Being a food blogger–I take eating and food very seriously and was just as excited to try the tacos as I was for the rides.
You can select grilled chicken, smoky brisket, or chilled krab salad tacos on corn tortillas (with chips). As well as guacamole ($2) and tortilla chips ($3). Taco plates are priced 2 tacos for $11 or 3 tacos for $14. Individual chicken, cheese, and shredded lettuce3 tacos on flour tortillas served with chips (more of a kids-meal like offering can be purchased for $6 each.
The brisket wasn't available for us to try, so we tried the grilled chicken and the chilled krab salad tacos plus guacamole and chips. The grilled chicken tacos when finished with a squeeze of lime, cholula hot sauce, and a little guacamole were outstanding. So much so I forgot for a brief moment I was eating at a theme park. The chilled krab salad tacos fell flat and just tasted like I was eating the vegetable slaw. Even a fried fish (of course grilled would be even better) option would be better then the krab salad.
Save room for dessert (sadly, we didn't get to try these), but they offer Double Decker "Sofa-Pilla" Bites (delicate pastry bites, cinnamon sugar & buttery honey drizzled) for $6. You can purchase water, soda by the bottle, and Bud Light or Michelob Ultra for $7.50.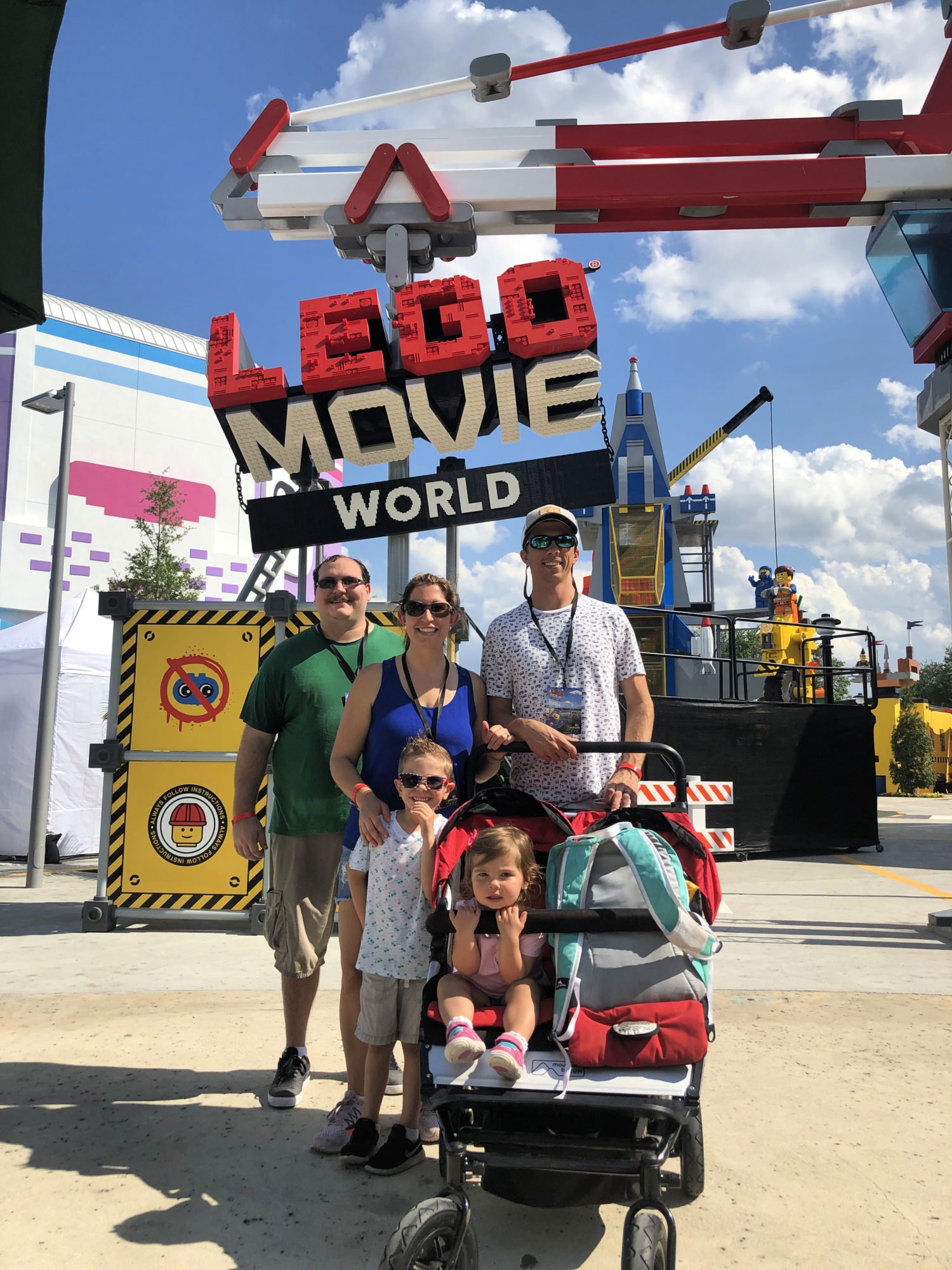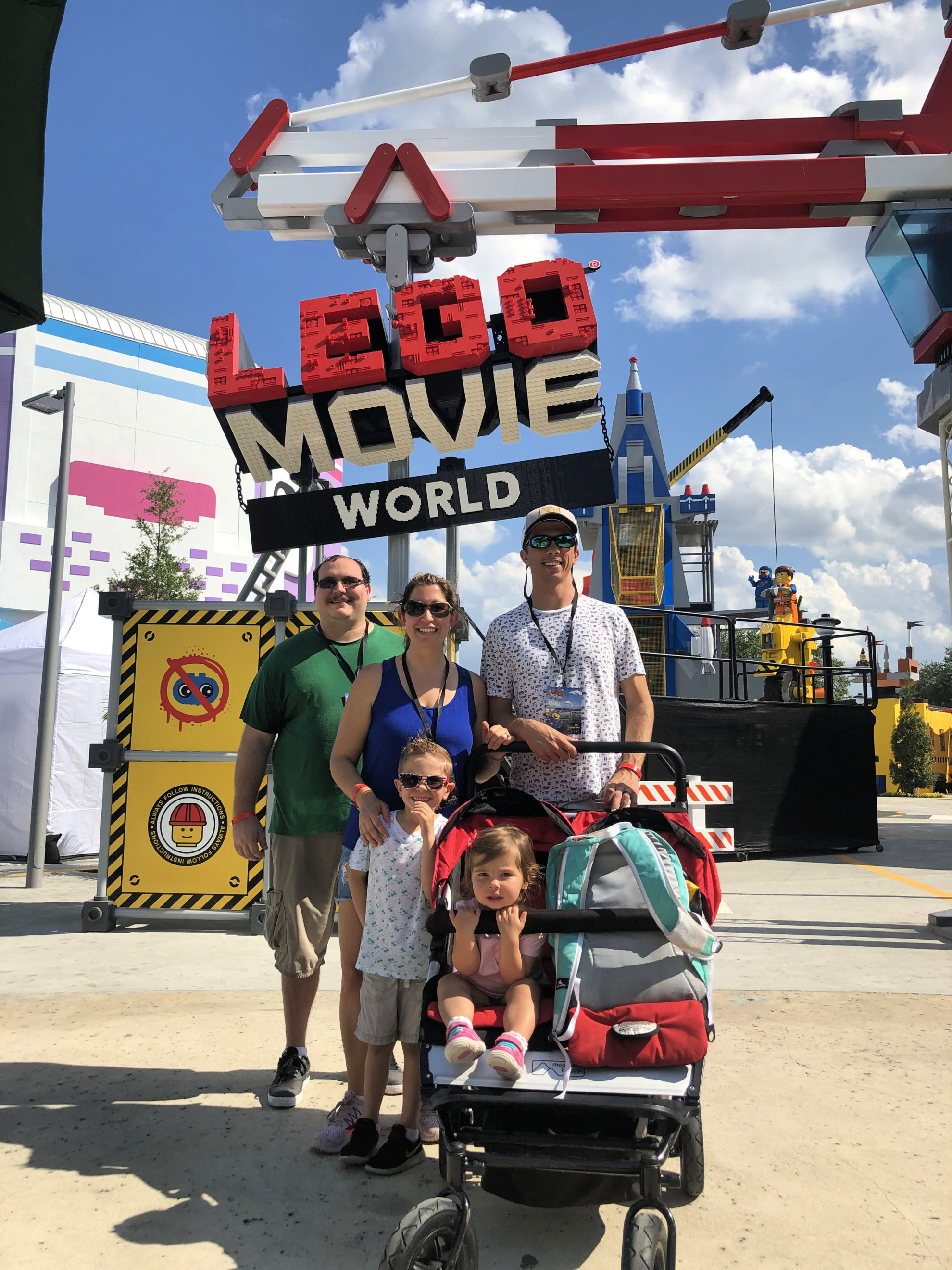 Upcoming LEGOLAND® Florida Events:
Red, Brick & Boom: July 4-6
NEW – THE LEGO MOVIE DAYS: July 13-14, 20-21 & 27-28 & August 3-4
Fire Safety Weekend: August 10-11
Brick or Treat: October 5-6, 12-13, 19-20 & 26-27
*Brick Dash 5K: October 12
Holidays at LEGOLAND: November 29-30, December 1, 7-8, 14-15 & 20-31
About LEGOLAND® Florida Resort:
Built for kids 2-12, LEGOLAND Florida Resort is a multi-day vacation destination located just 45 minutes from Orlando and Tampa. The whimsical resort includes an interactive, 150-acre theme park with more than 50 rides, shows and attractions inspired by popular LEGO brands and characters, plus LEGOLAND Water Park, the 152-room LEGOLAND Hotel and the 166-room LEGOLAND Beach Retreat.
LEGOLAND Florida Resort is part of the Merlin Entertainments Group (LONDON: MERL). For more information, visit www.LEGOLAND.com/florida.
LEGOLAND Florida Resort
One LEGOLAND Way
Winter Haven, FL 33884
Get social