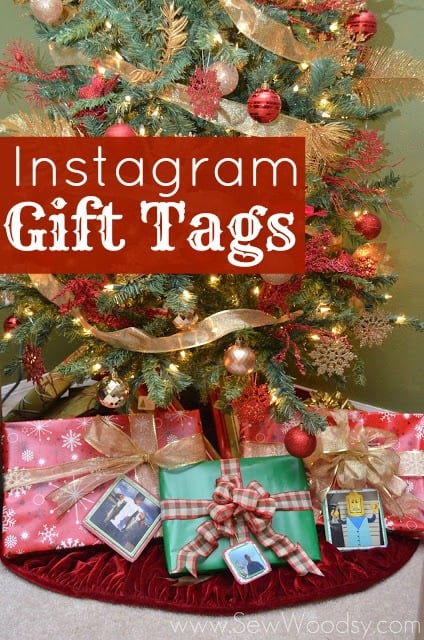 Christmas is right around the corner… as in T-minus 3 days! I just finished up the last of my shopping this morning and tackled wrapping the last of my presents. I had this idea last year to turn Instagram photos into gift tags but I had ran out of time and energy. So, I decided to tackle the idea this year! With just a few DIY steps you can transform instagram photos into personalized gift tags! So let's take a look how I made my Instagram Gift Tags.
Supplies:
Patterned Scrapbook Paper
Solid Color Card Stock
Instagram photos printed on paper
Scissors
Fiskars Paper Trimmer
Bowdabra Bow Wire
Adhesive
3-D adhesive foam dots
First, you'll want to start by trimming your Instagram photos down to its exact size using a Fiskars Paper Trimmer. Remember, you can make these as big or small as you like. All of my gift Instagram Gift Tags were any where from 2-4 inches.
Next up, gather a wide variety of scrapbook paper and solid card stock.
Using an adhesive runner, add adhesive to the back of your instagram photo.
Place the Instagram photo on the back of a piece of card stock, trim that down to size, and then line it up to your next layer of paper. You will also want to cut some Bowdabra Bow Wire for your gift tag.
Trim another layer of scrapbook paper to fit the other layers.
Place a 6-inch piece of Bowdabra Bow Wire on the back of your layered instagram photo.
Then place layer number 3 on to layer number 4.
Next up, cut that piece to size and trim off all excess paper.
Using a fancy corner punch add a little extra dimension to your gift tags.
Using 3-Dimensional foam dots add them on to the back of the layered Instagram photo.
Adhere the Instagram photo layer to the other layers of card stock.
These were just a few of my Instagram photo gift tags. At this point Mr. Woodsy had walked in from work and thought I made ornaments of him!
Then, he saw me attach them on to gifts. He thought it was an awesome and unique way to identify his gifts!
You can sign the back of the tag if you want or just let everyone know that your presents are the crafty personalized packages!
I loved making these tags and looking back throughout the year. It's also a nice way to remember what you did that year!
So take a half hour to an hour out and go personalize those packages. Your recipients will surely notice the additional DIY touch and you could always take Mr. Woodsy's advice and turn them into ornaments for years to come!
Disclaimer: This post contains affiliate links.