Thank you to BLACK+DECKER for sponsoring this post and inspiring me to FINALLY finish this project!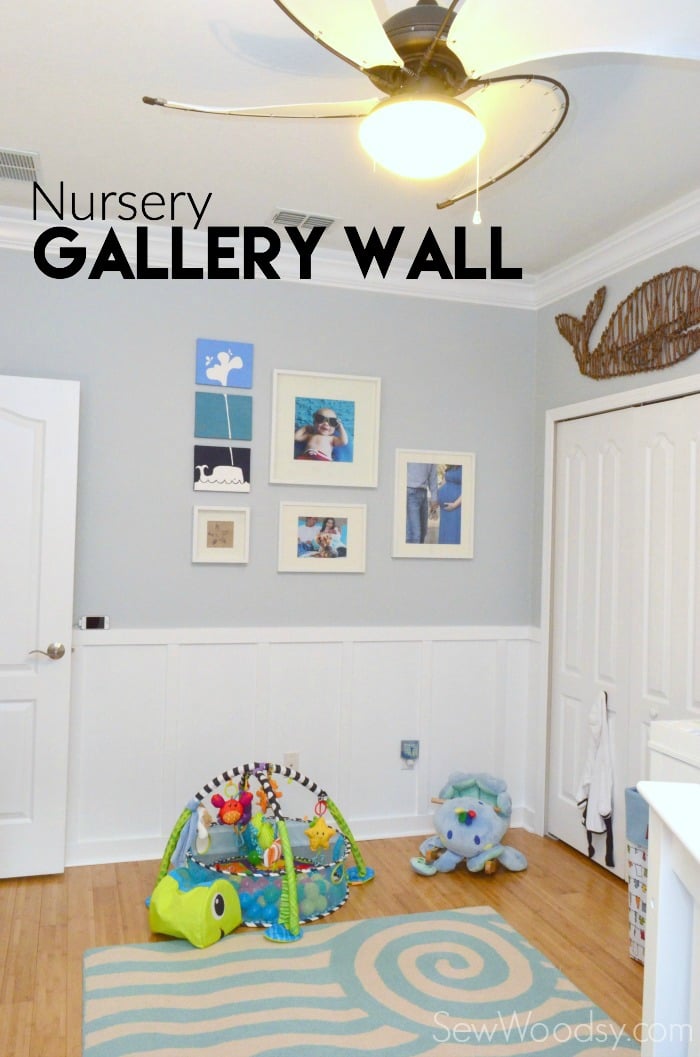 I have always had a long "honey-do" list. But now with a baby I feel like the list is getting longer and nothing is being crossed off. For weeks, ok, month's I've said I was gonna finish the gallery wall in the nursery. I rocked day-and-night in my glider starring at the beautiful photos that were rested against the wall in Ryder's nursery. 2 month's ago I decided to finally put photos in the frames, and then over the past month it's been my goal to get the gallery wall hung before Thanksgiving. Before all our Thanksgiving guest arrived. The day has finally arrived–the wall is up! I have to thank BLACK+DECKER for motivating us to get this wall done among other small projects around our home. But the nursery gallery wall has been #1 on my list for a while.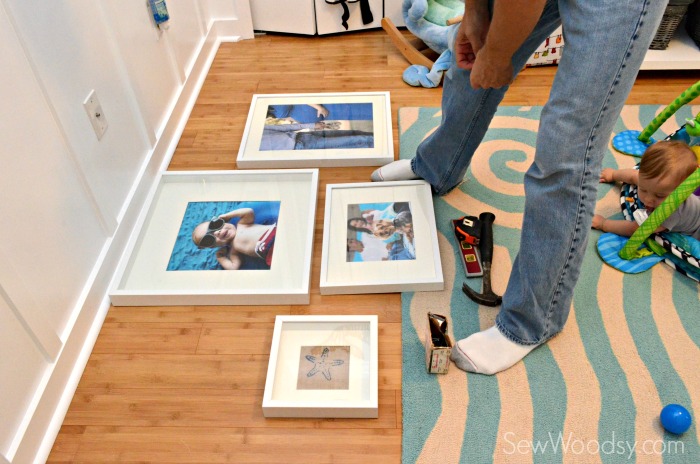 First we laid out the frames and decided how we wanted them placed on the wall. We have more frames to place on the wall, but are waiting to hang them because we aren't 100% if we want them on the wall. *Ryder is not crawling yet, so don't be alarmed at the hammer and nails. Right after the photo we move the nails and hammer to the wall where we were working!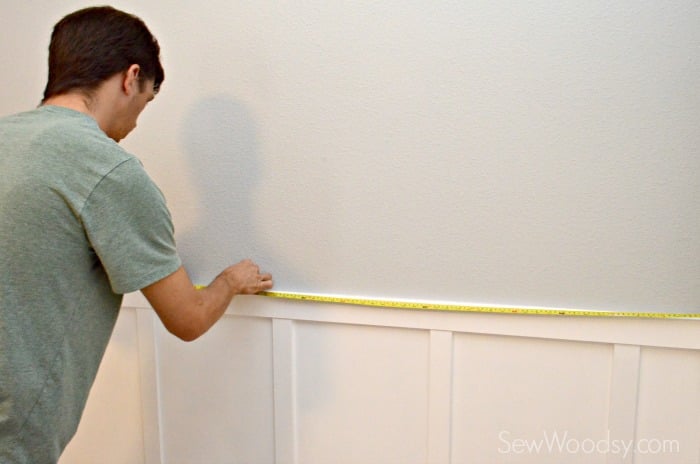 Next, up we measured the length of the wall and found our center point. Actually, for our wall we based our center off the door being opened since the door is always open. But we plan to fill in the other side where the door covers (eventually) too!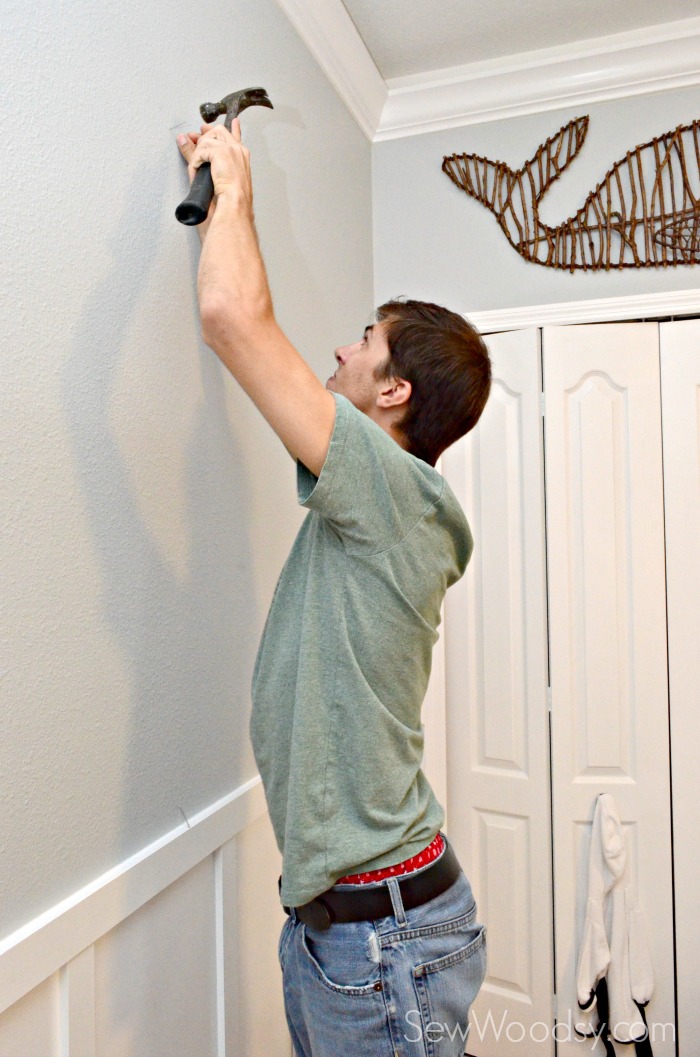 The first nail went in the wall.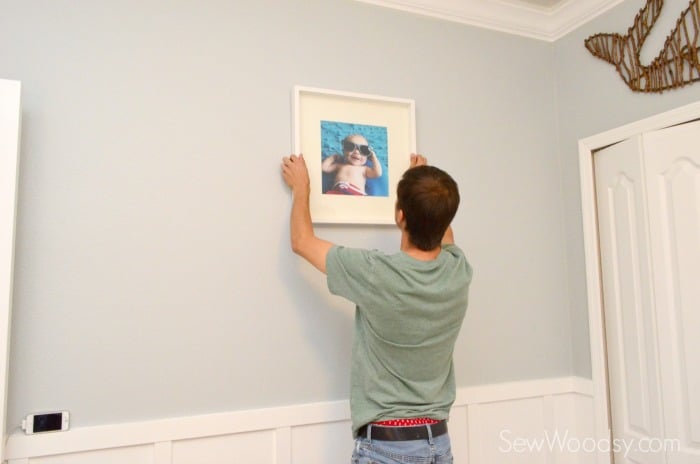 The square frame was going to be our focal point.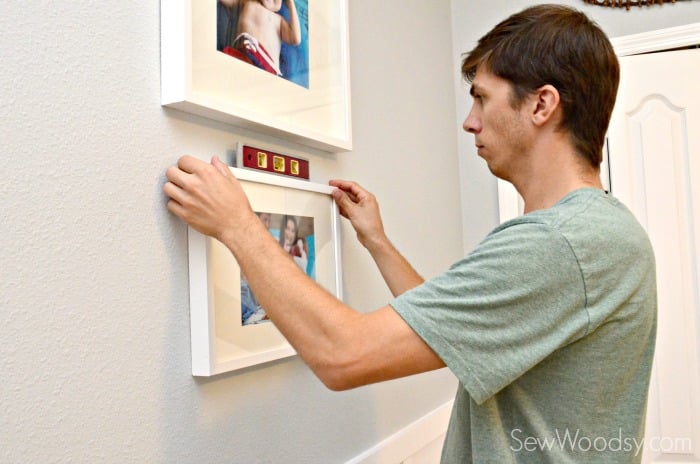 And we continued to hang up our frames one-by-one.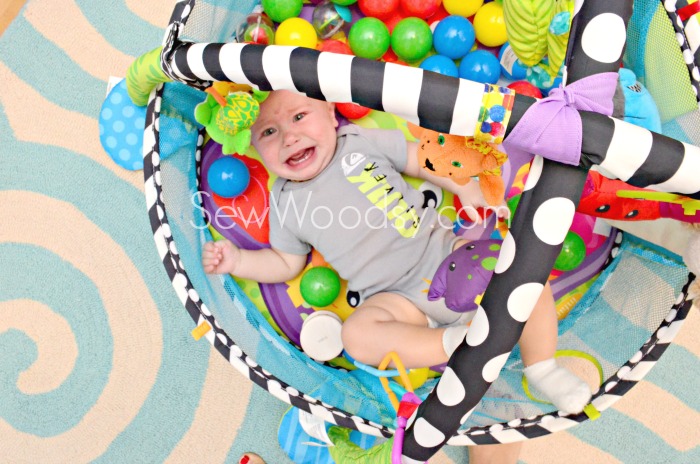 By this point, Ryder started to have a meltdown… so we were moving and working quickly. Love the ball pit… it some what contains him (and entertains him)! lol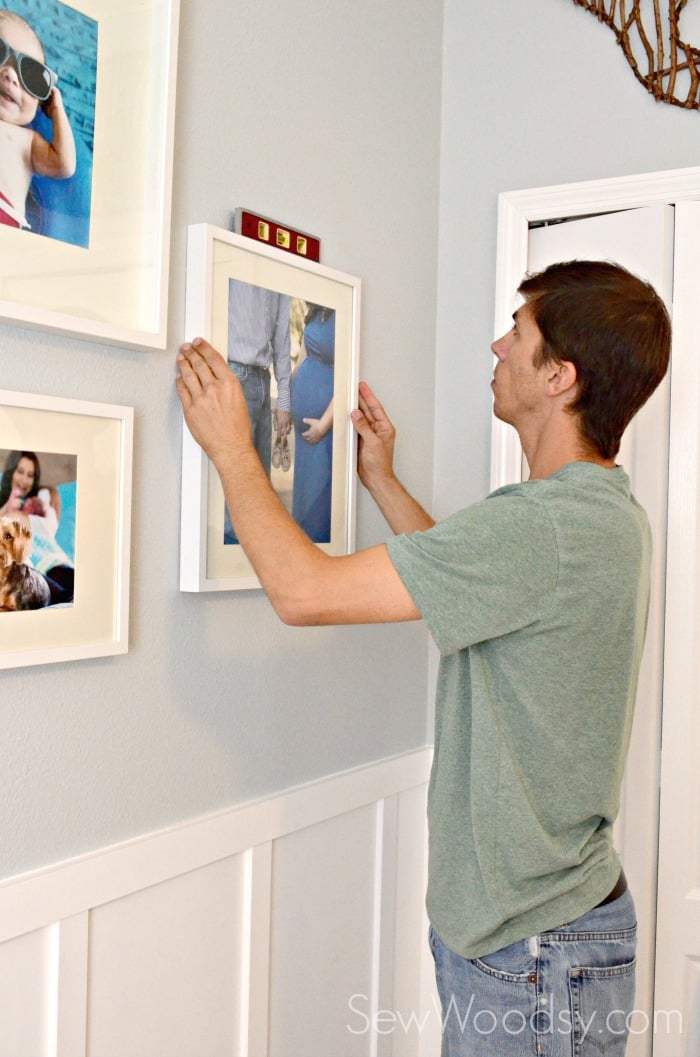 Always use a small level to make sure your frames are straight!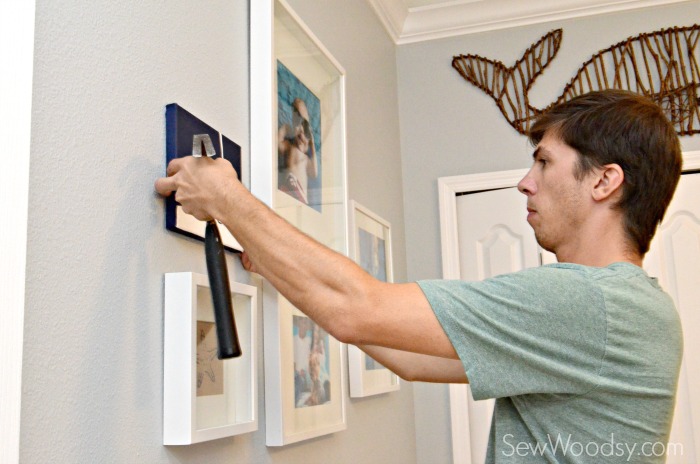 And we decided on where we were finally going to put our DIY Whale Art that Sarah from While They Snooze made us.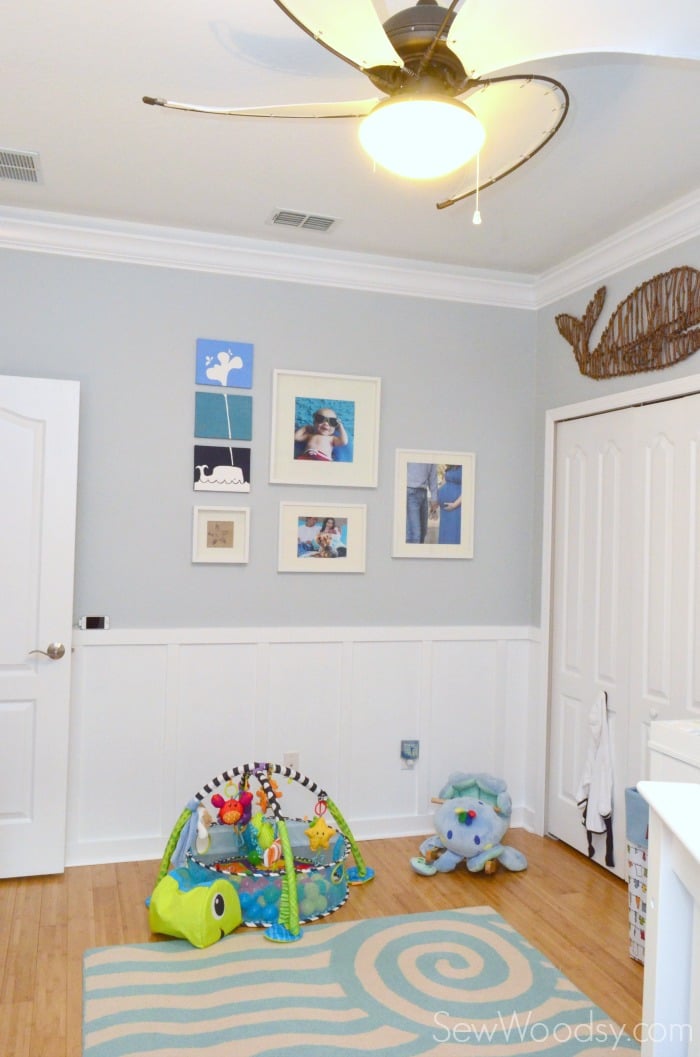 That's it… it's still a work in progress. But at least now, I don't have any more frames resting against the walls or on top of the dresser. I can enjoy them on the wall–where they should be!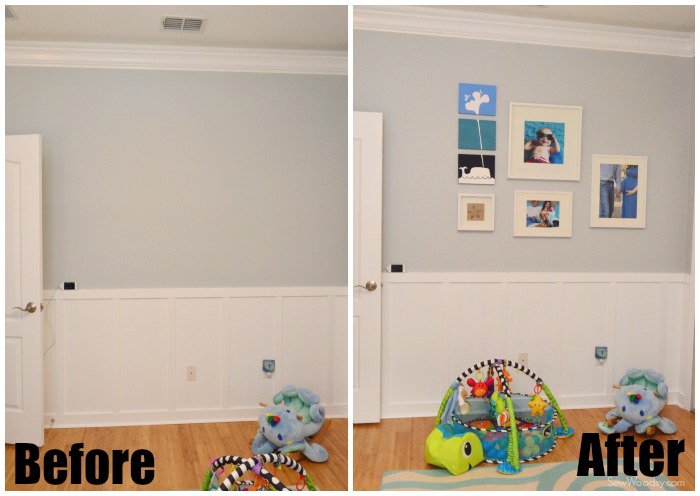 Love seeing the before and after! What a big difference!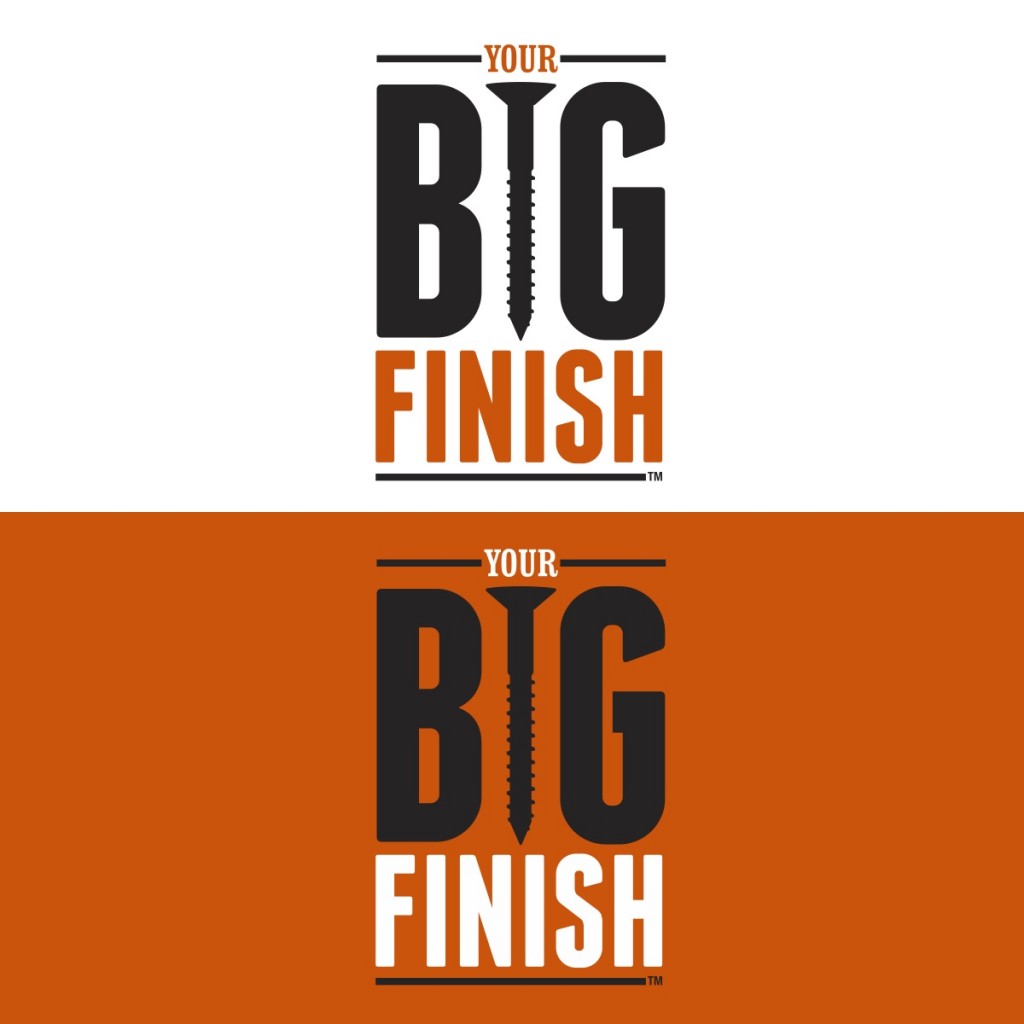 BLACK+DECKER has launched a movement to get all the unfinished home projects moving again. Join them for the opportunity to win $10,000 cash and products. Plus, they might put you and your finished project on a billboard right in the middle of Times Square. So while your family may never notice that you finished hanging the crown molding, millions of others will!
The Weekly Prizes include (at approximately $439.91 per prize, and one Grand Prize of $10,000) one of each of the following:
BLACK+DECKER prize package comprised of one (1) of each of the following:
• BDCDE120C 20V MAX* Lithium Drill/Driver with AutoSense™
• BDEMS600 Mouse Sander
• BDCS40BI 4V MAX* Lithium Pivot Screwdriver
• BDCDCMT120 Matrix 20V MAX* Lithium Drill/Driver
• LCS1020 20V MAX* Chainsaw
• BDCMTRS Matrix Reciprocating Saw Attachment
• BDCMTI Matrix Impact Driver Attachment
To enter, visit the campaign landing page, and enter your First Name, Last Initial, Email, City, State, Phone and upload a photo of yourself and your completed project! (Contest ends December 28th, 2014.)
So what project do you think you'll be entering into the BLACK+DECKER Your Big Finish contest?