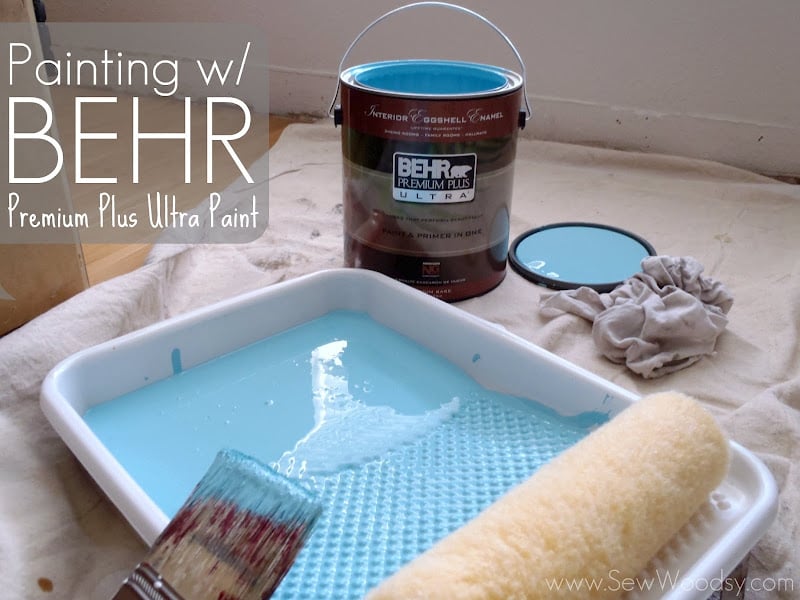 I'm so excited to finally share the colors we painted our room!
I want to give you a little background on to why we love BEHR paint so much. Since moving to our house we have only used BEHR paint products. For instance when we did our Guest Bathroom Mini-Makeover and painted our crown moulding black we used BEHR paint. We also showed the world how to paint stripes *using BEHR paint once again. What was never documented on this blog was when we first bought our home and purchased over 20 gallons of BEHR paint! We painted every square inch of our home with BEHR paint. Although back then the Premium Plus Ultra (also knowns as the Paint and Primer in One) only was available in select colors. Now you can tint it with any color you choose! So it was only fitting, to remain loyal to the paint brand Mr. Woodsy and I both hold near and dear to our hearts.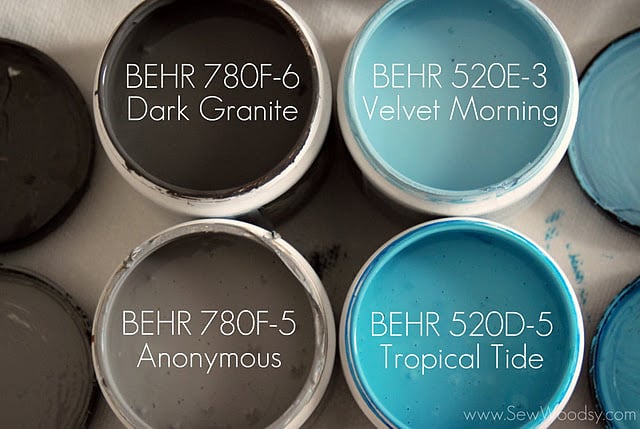 Back in December we shared how it all starts with paint. It was our first step of progress toward working on our master bedroom revamp project. We tried out a few sample colors on our walls. After only a little deliberation we knew that we wanted the main colors of our walls to be BEHR 780F-5 Anonymous. It was the exact gray I had pictured in my mind for our room. Rich in color but not overwhelmingly too dark. Let's remember we were going from BEHR Tuscan Beige walls to a darker color we didn't want to be to shell-shocked! Mr. Woodsy completely surprised me one Saturday back in February (yes, I'm that far behind in posting about our room). I was gone all day for a produce conference for my cooking blog. Little did I know that when I came home that evening I was going to have a freshly painted room! I loved every minute of it, and to boot–he even remembered to take photos (*although not of the best quality because I had our DSLR he took photos so we could share with our readers). He even set up the tripod so he could take timed photos of himself painting–he is a gem!
I invite you to watch this short video to see how just 2 colors of paint can transform a room!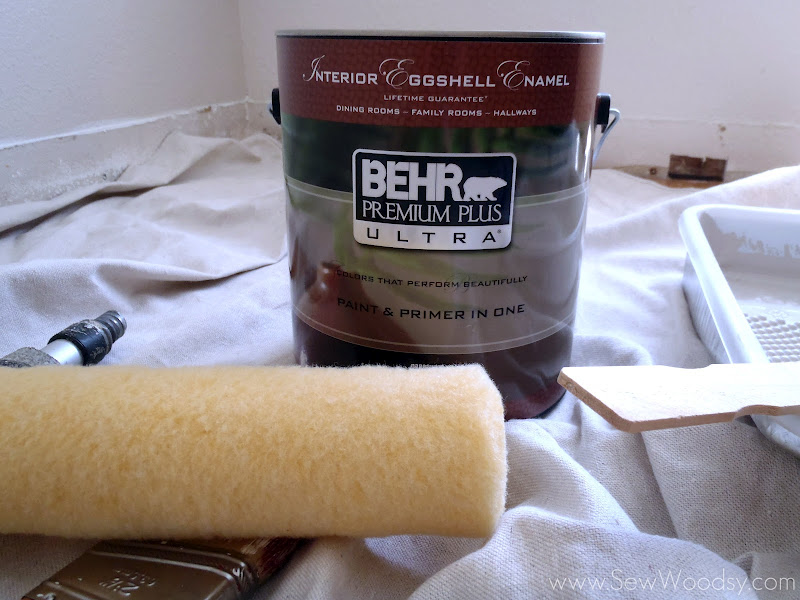 In case you aren't familiar with BEHR Paint I want to give you a little background about the BEHR Premium Plus Ultra Interior Eggshell Enamel Paint we used for our master bedroom revamp project.
BEHR PREMIUM PLUS ULTRA® Eggshell Enamel is a 100% acrylic paint and primer in one with advanced stain blocking formula that will change the way you paint. This exciting product, featuring NANOGUARD® technology, forms an extra-protective shell that offers outstanding stain, scuff, mar and mildew resistance and an easy-to-clean, STAYS LOOKING NEW LONGER® finish with superior stain removal. This sophisticated color palette delivers exceptional hide and maximum moisture resistance.
What we loved about BEHR's Premium Plus Ultra paint was that it applied on the wall beautifully and it dried insanely quick. You can essentially do a second coat 2 hours after painting! Thats a nice perk if you don't want to spend multiple days painting one room. Mr. Woodsy was prepared to paint multiple coats on to the wall, but after the first coat he realized that he didn't need too–nor did he have to prime the walls prior to painting since its a 2 for 1 kind of paint! As always photo's don't give the paint on the walls justice–the lighting in the room can change the color of the paint and some of the photos the paint looks splotchy. Let me tell you–that's a lie–the camera did not do a good job truly showing the beauty of our room!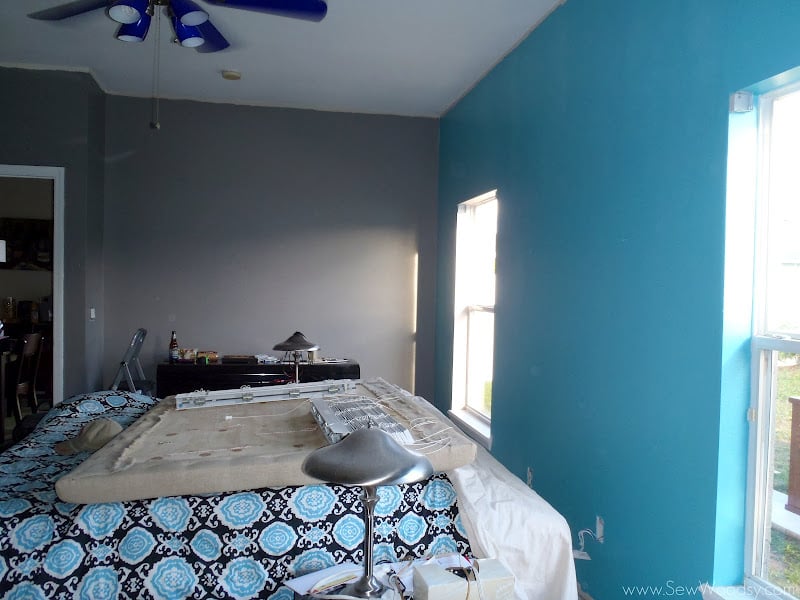 This was the first step to a drastic change in our room… What do you think? I can't wait to share the gorgeous large baseboards and crown moulding Mr. Woodsy installed! If you are a fan of BEHR paint make sure you follow them on Facebook and Twitter. They give great painting tips and tricks! Did you know they have a blog too? Make sure you stop by Colorfully, BEHR. They write about color, trends, and BEHR product updates!
Disclaimer: We were provided paint; however, we were not compensated to write this post. As always our opinions are our own.