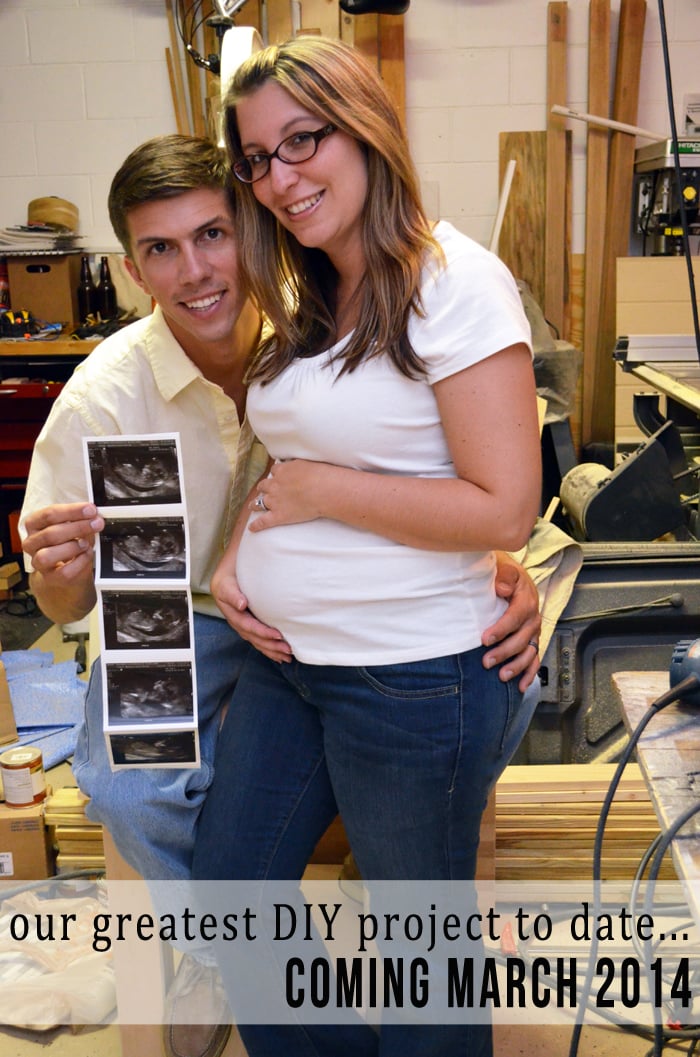 Well the day has finally come… we can officially share with the world that we have been working on our greatest DIY project to date… a BABY!
There have been many times that we have made announcements and readers thought it was a baby, but this time it really is true. I'm officially in my second trimester and we feel confident and safe enough to announce it to the world. We have had quite a few challenges over the past few months and continue to have a few ahead, so that's why we weren't too quick to announce.
I can not stress enough how much of a big help Jon has been over the past few months. The tables have turned. I use to make him breakfast every morning–now he makes me a smoothie every morning and its ready before I get out of bed! He has also done about 90% of the kitchen revamp project that will debut next month. A big thanks to his friend, John, for coming over and helping. There are so many things in the DIY world that do not agree with a pregnant woman, so we have been super cautious and Jon has picked up my slack! Which I think he is still trying to wrap his head around how little I can do. Oh spray paint… how I miss thee! lol.
I've also had little to no energy to do anything other than sleep over the past few months. I've tried my very best to maintain both blogs without it looking suspicious. I've also slacked on doing and posting about Halloween projects this year. My favorite time of year and I just don't have any energy. Over the next few weeks I promise to share a few fun and easy Halloween projects.
Oh, and for those who might be wondering… we are due March 26! We also will find out the gender at the end of October and plan to have a gender reveal party. Don't worry–we will announce after our party on Sew Woodsy what we are having (although odds are–we are having a boy because that is all Jon's family produces)! Either way–all we want is a healthy baby.
For more information on what foods I've been craving head on over to my food blog Katie's Cucina to read more.
Stay tuned for lots of Baby Woodsy projects…