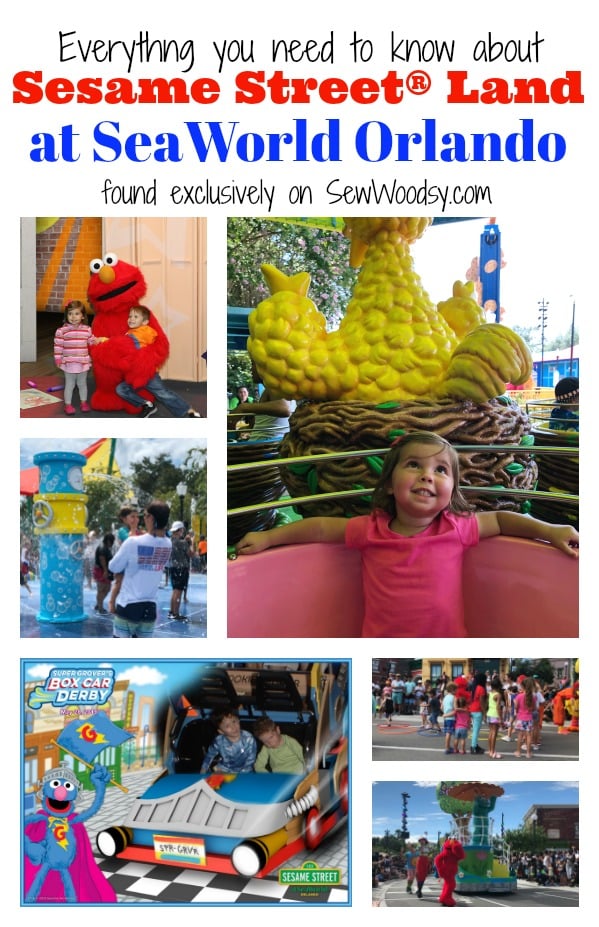 Last month, my family and I finally got to visit the much anticipated Sesame Street land at SeaWorld Orlando. The Orlando park boasts the largest of the Sesame Street Lands with siz-acre's of world class attractions. This is also in conjunction with Sesame Street's year-long 50th anniversary celebration. This new addition to the park took over what use to be Shamu's Landing. The land features the iconic Sesame Street neighborhood including Abby Cadabby's Garden, Big Bird's Nest, Mr. Hooper's Store and the famous 123 Stoop, as well as everyone's favorite Sesame Street friends.
"We are thrilled to officially welcome guests to walk down Sesame Street for the very first time in the theme park capital of the world," said Mark Pauls, President of SeaWorld Orlando. "This highly-anticipated, immersive new land is the largest Sesame Street land inside of any of our SeaWorld parks. With over 30 new ways to play and an award-winning parade, this is a new land that guests of all ages will love, and we are excited to share it with the world."
"Theme parks represent one of the most powerful ways for families to engage with and delight in the Sesame Street characters," said Scott Chambers, Senior Vice President/General Manager, North America Media and Licensing, Sesame Workshop (the nonprofit educational organization behind the iconic brand). "Sesame Street at SeaWorld Orlando will enable us to establish deeper connections with even more families while helping the Workshop sustain its nonprofit and educational mission."
Sesame Street at SeaWorld Orlando brings together fun and learning through several educational interactive experiences. Elmo's Window invites guests to play, dance, and sing with everybody's favorite furry red monster and his friends. In Cookie Monster's Foodie Truck Challenge, guests follow video instructions to whip up some delicious meals with Cookie Monster and Gonger.
What new rides are at Sesame Street at SeaWorld Orlando
In addition, Sesame Street at SeaWorld Orlando includes six colorful, themed rides. One thing that we found a little confusing at the park is the wording of the height requirements. All of the rides minus Super Grover's Box Car Derby is the following: Guests must be at least 42 inches tall or accompanied by a supervising companion at least 14 years old to ride. No hand-held infants.
This means that if your child is under 42 inches you need to ride with them!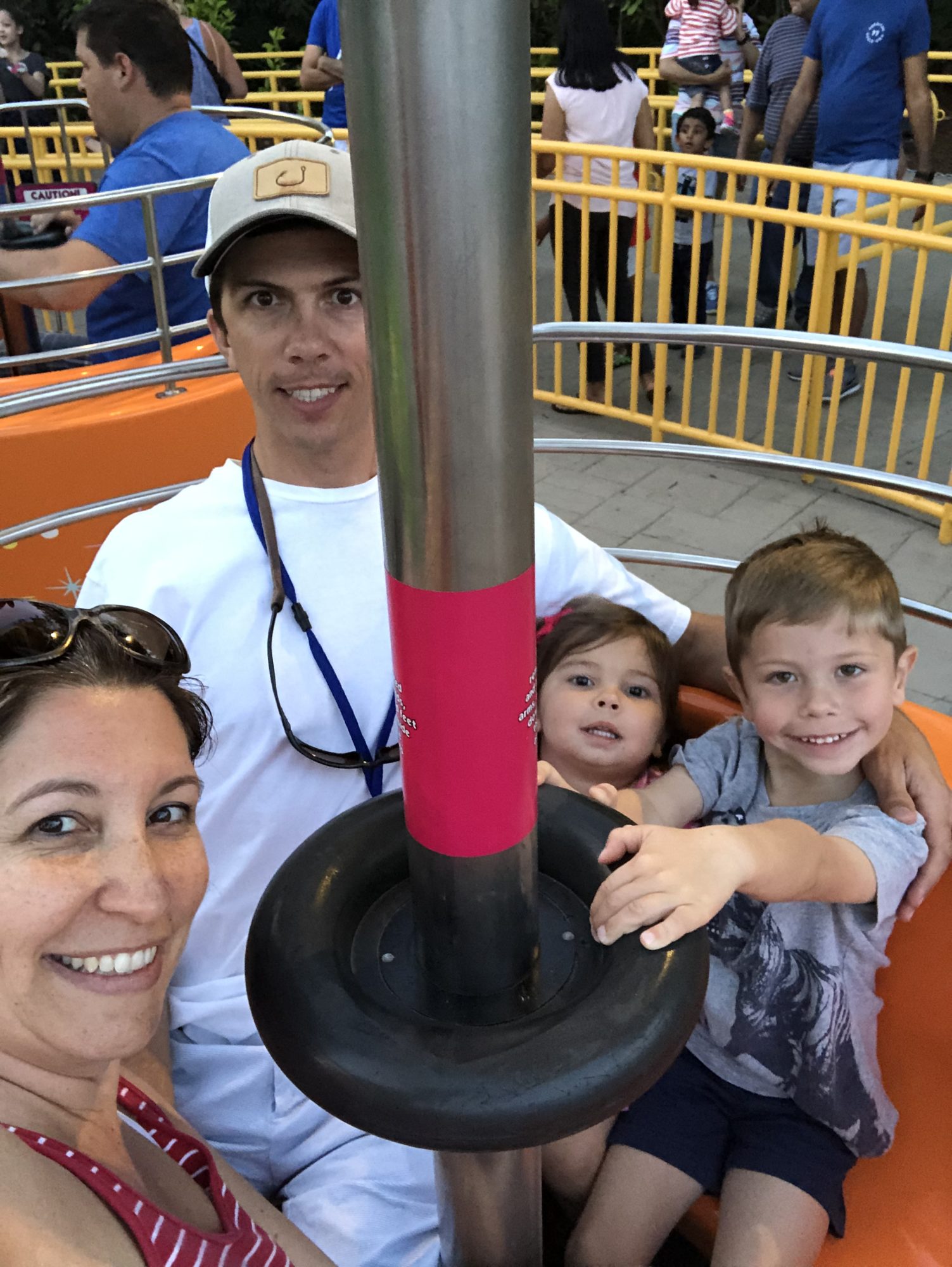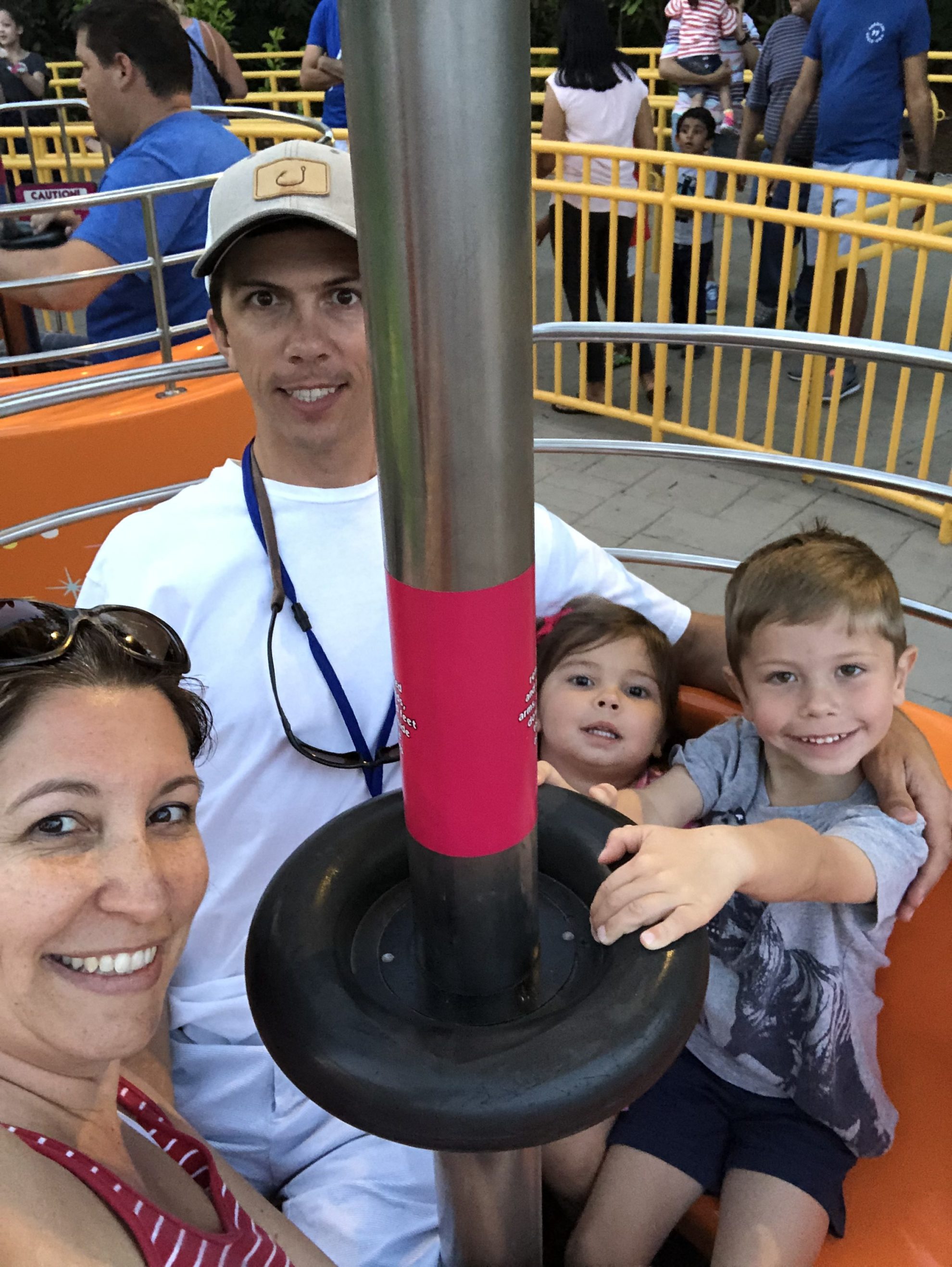 Abby's Flower Tower – Just a sprinkle of magic from Abby Cadabby's wand will send you up, up, up in colorful flower pots aboard Abby's Flower Tower! Everyone can ride on this one–it goes high in the air plus can spin a lot if you want it too!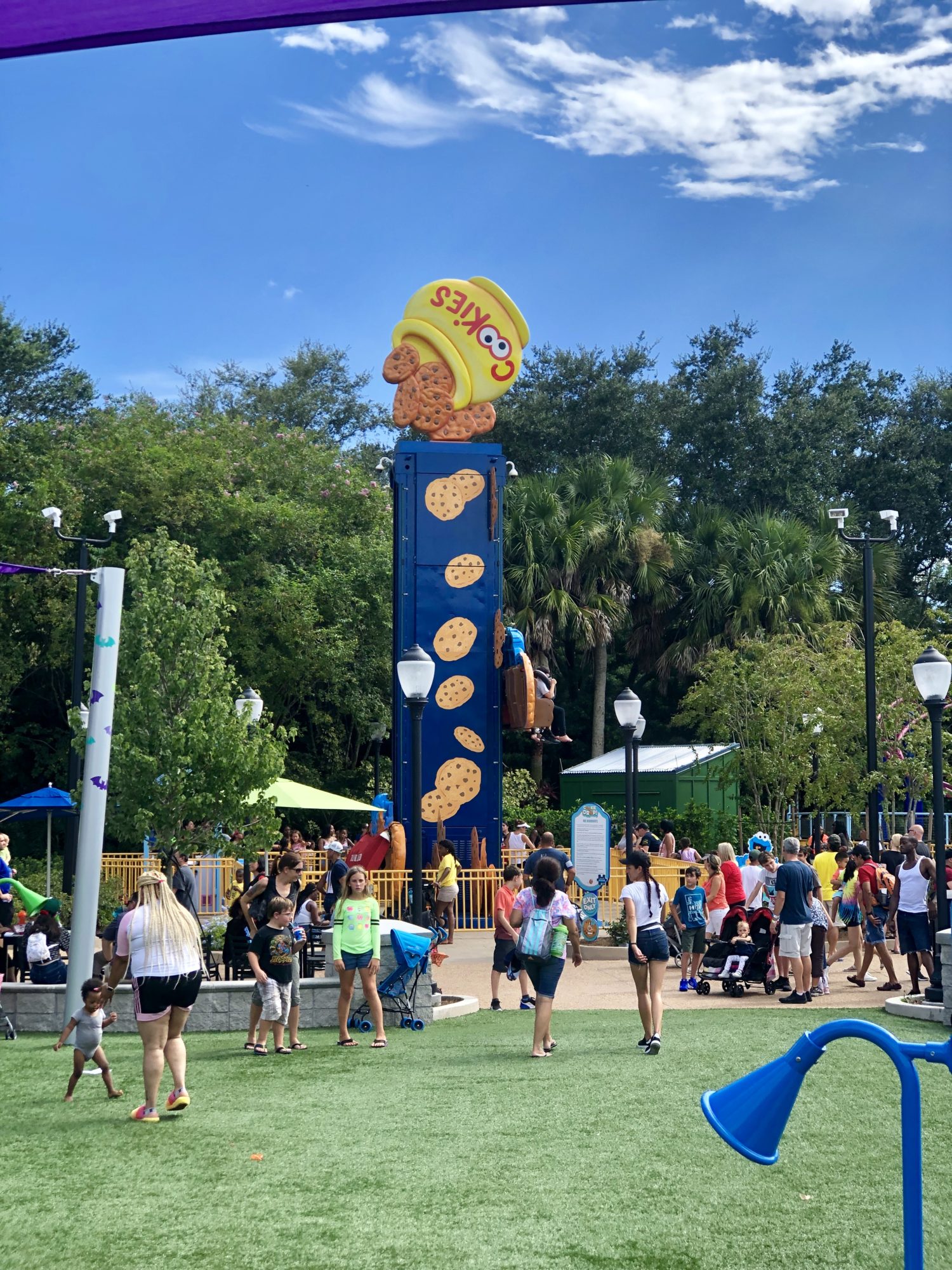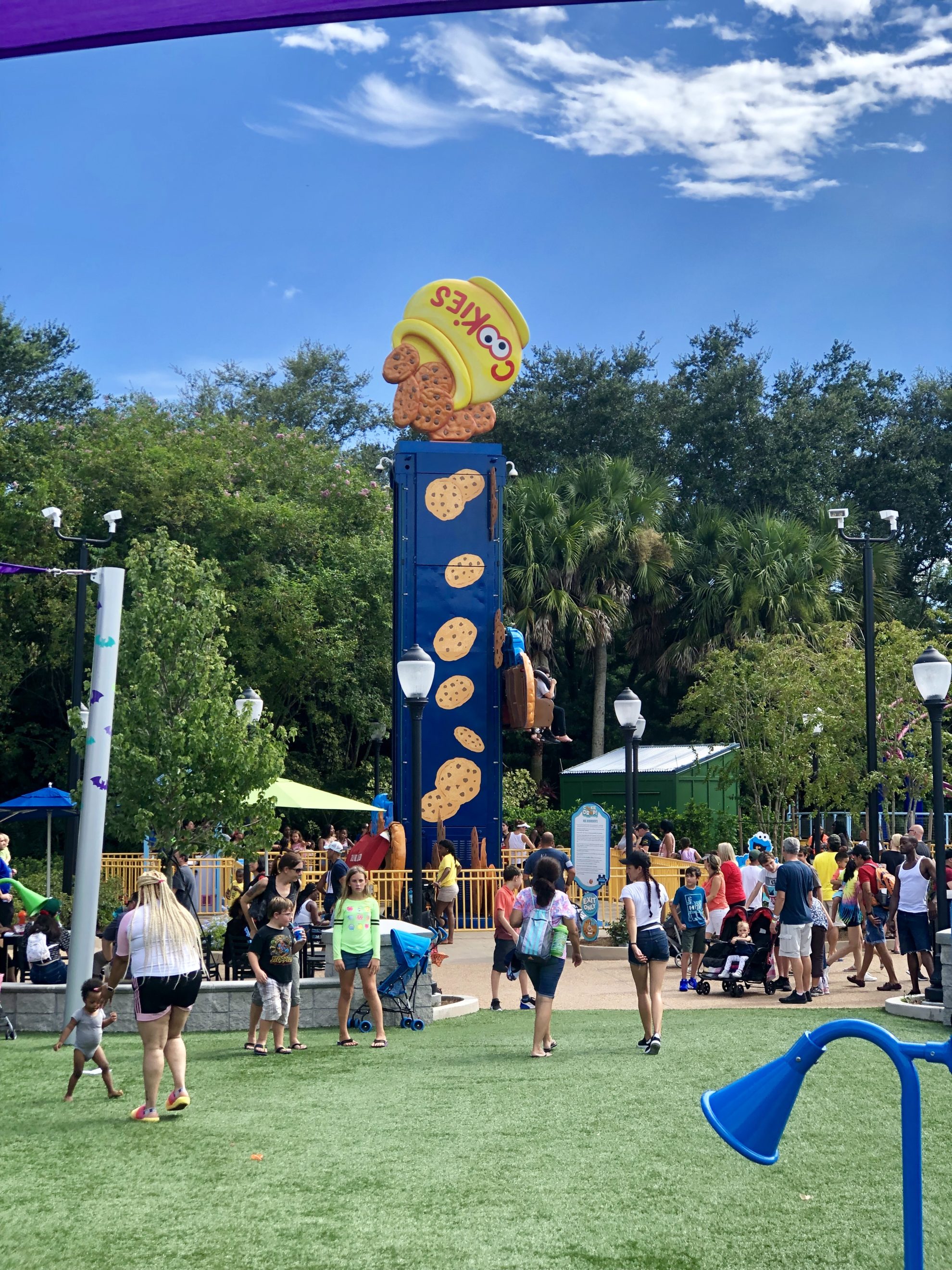 Cookie Drop!Get carried away in a cloud of cookie crumbs as you bounce up and down on Cookie Monster's Cookie Drop! Everyone loves this ride in my family including me!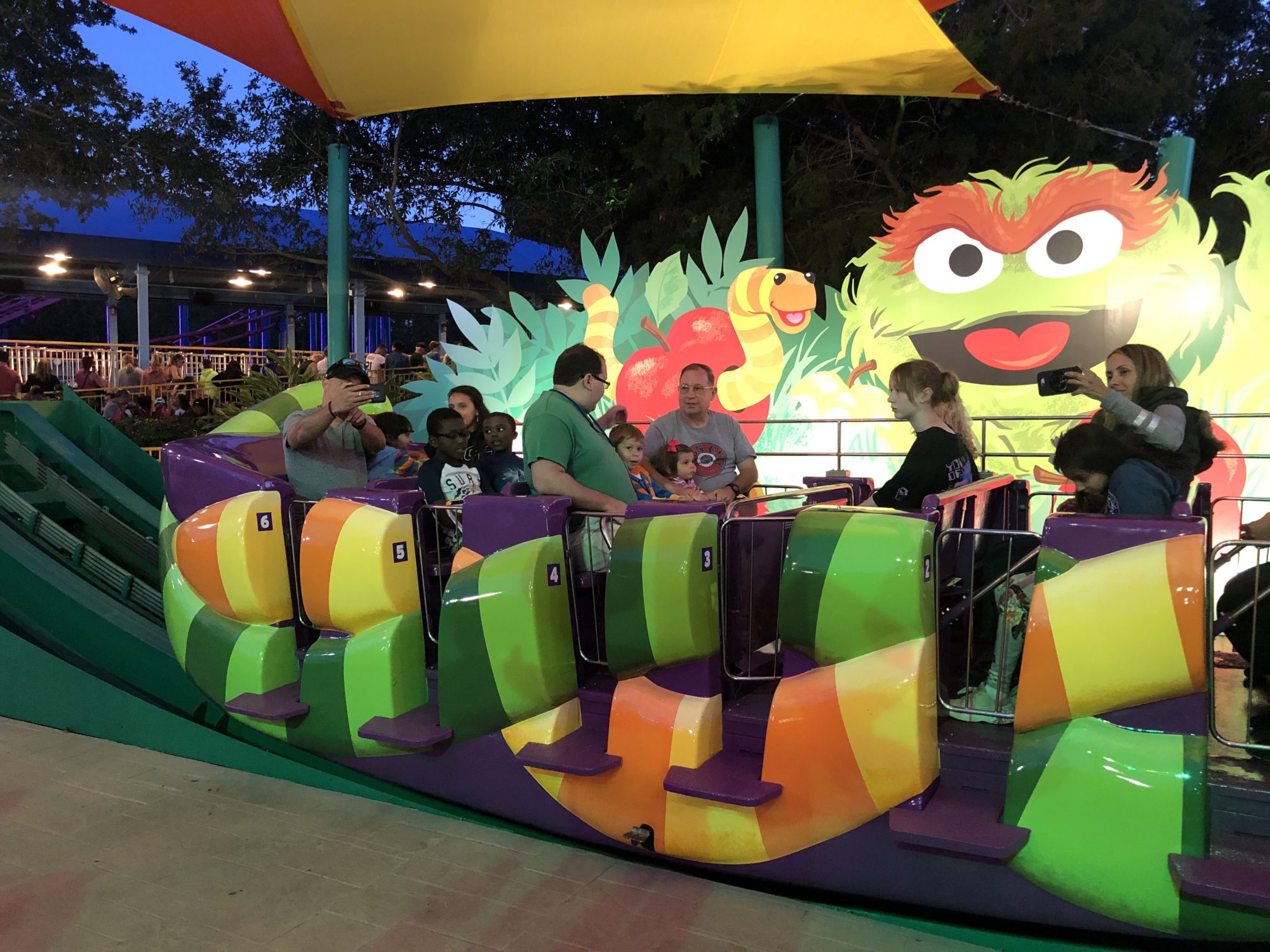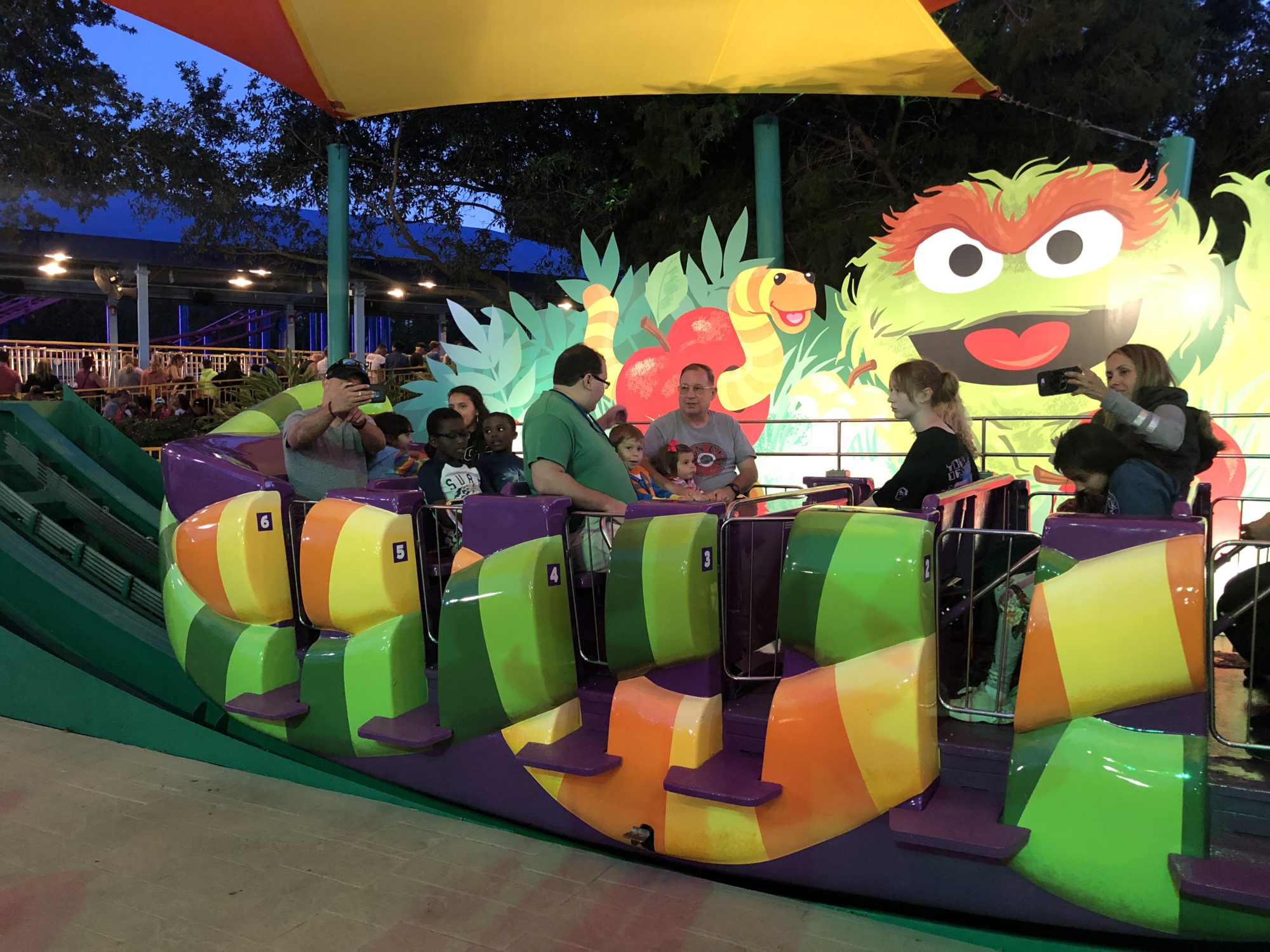 Slimey's Slider –Climb into Slimey's Slider for an exhilarating swoop and swivel ride through Oscar the Grouch's treasured compost collection! LOTS of spinning… so I try to get other adults to ride it when I can since I'm not a big fan of all the spinning!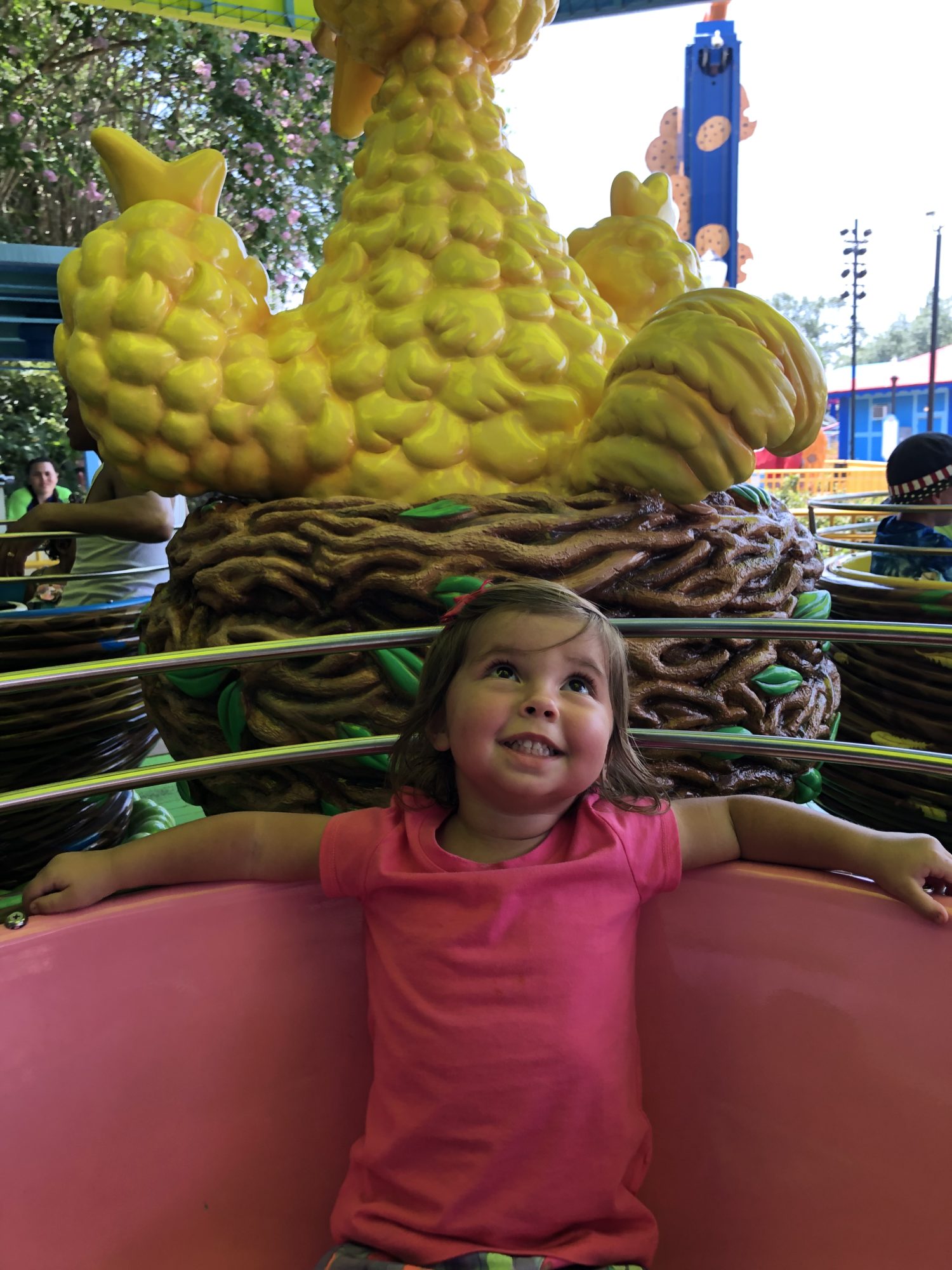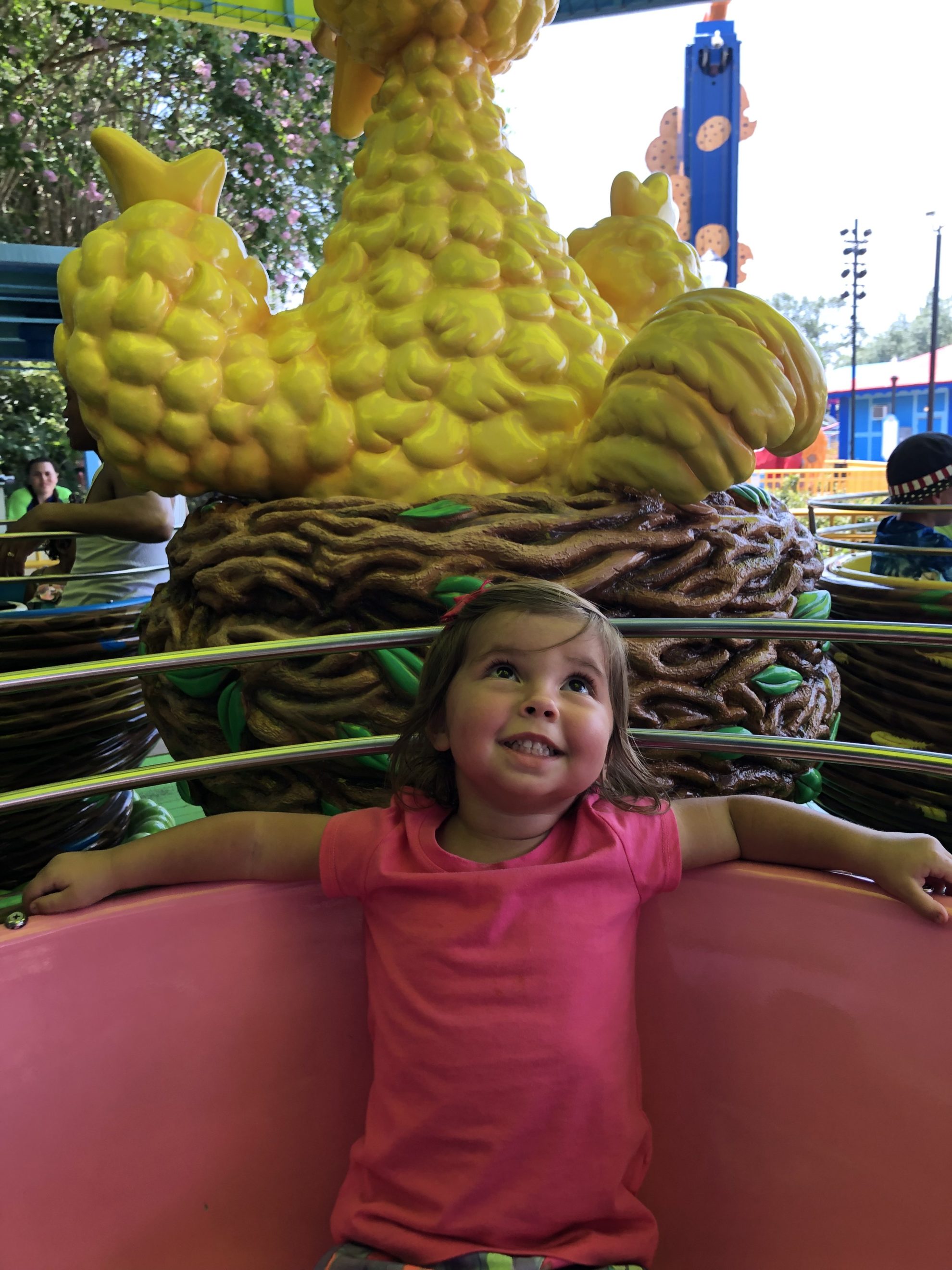 Big Bird's Twirl 'n' Whirl –Ready… set … spin in a nest of your own when you enjoy Big Bird's Twirl 'N' Whirl. This is a tea-cup style ride so if you don't like them try skipping this with your kids!
Elmo's Choo Choo Train –It's all aboard for everyone on Elmo's Choo Choo Train, an interactive bell-ringing, horn-honking train ride you won't want to miss!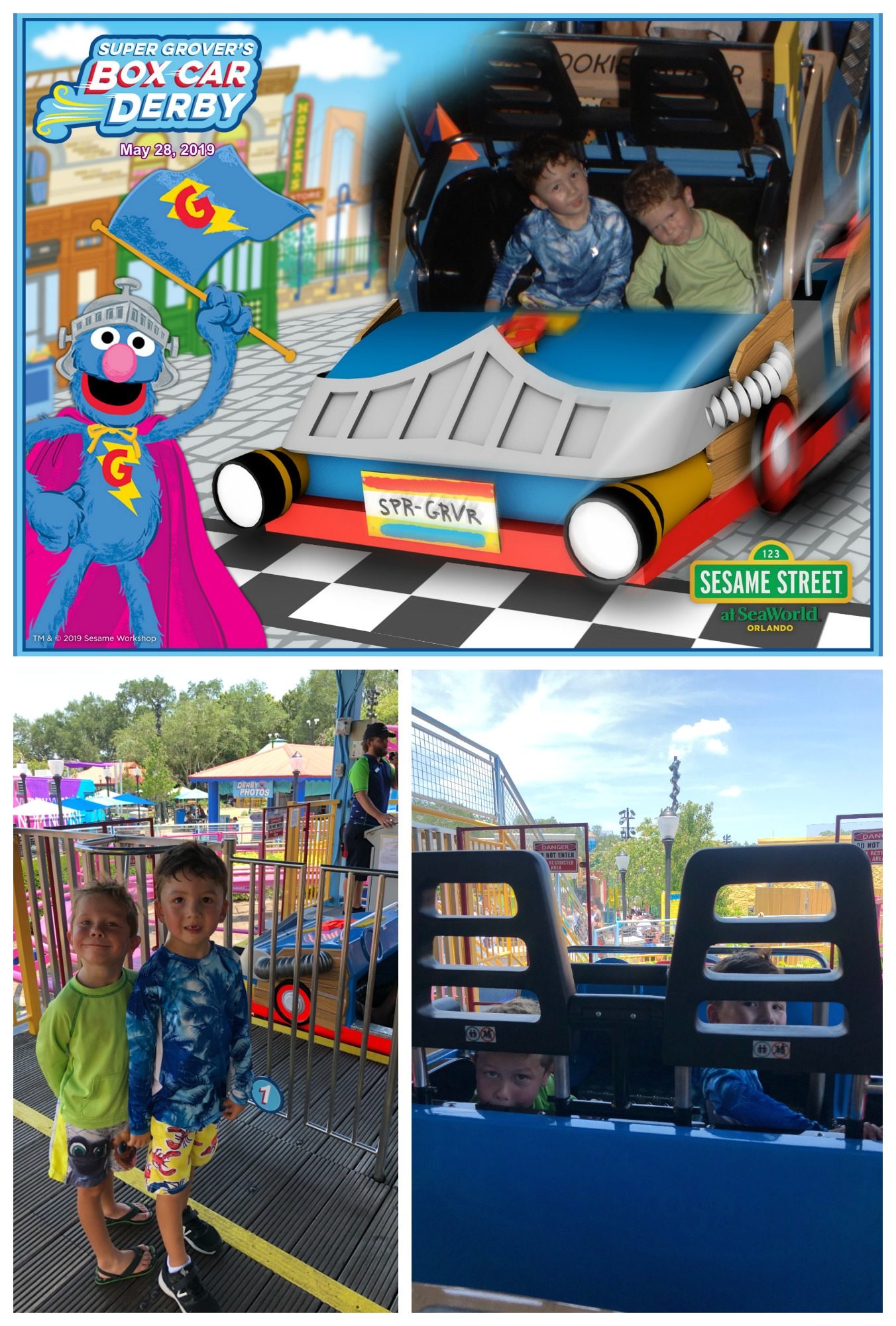 Super Grover's Box Car Derby – Sesame Street's own furry superhero wants you behind the wheel for a racing good time at Super Grover's Box Car Derby. **Guests must be at least 38 inches tall to ride. Guests between 38 inches tall and 41 inches tall must be accompanied by a supervising companion.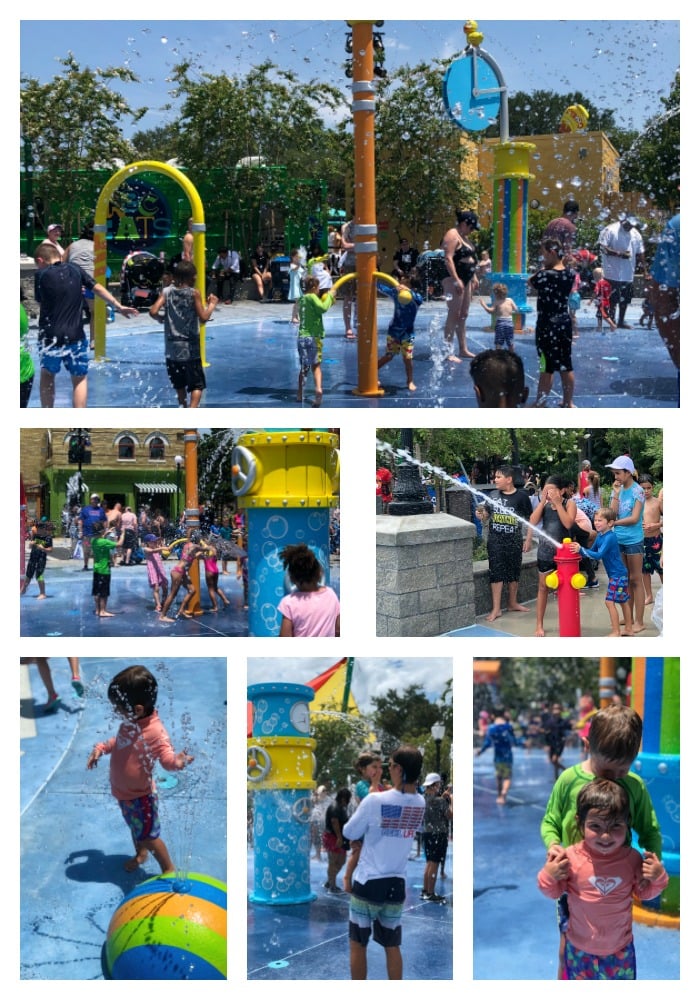 Another favorite of the new land is the Rubber Duckie Water Works wet play area. My big parent tip too you: bring bathing suits and towels so they can play and cool off. Parent's take off your shoes and get your legs wet too. Especially in the summer months when it's HOT. I love this play area. The only downfall is that their is minimal shade throughout this land and in the water area where parents want to sit and watch the kids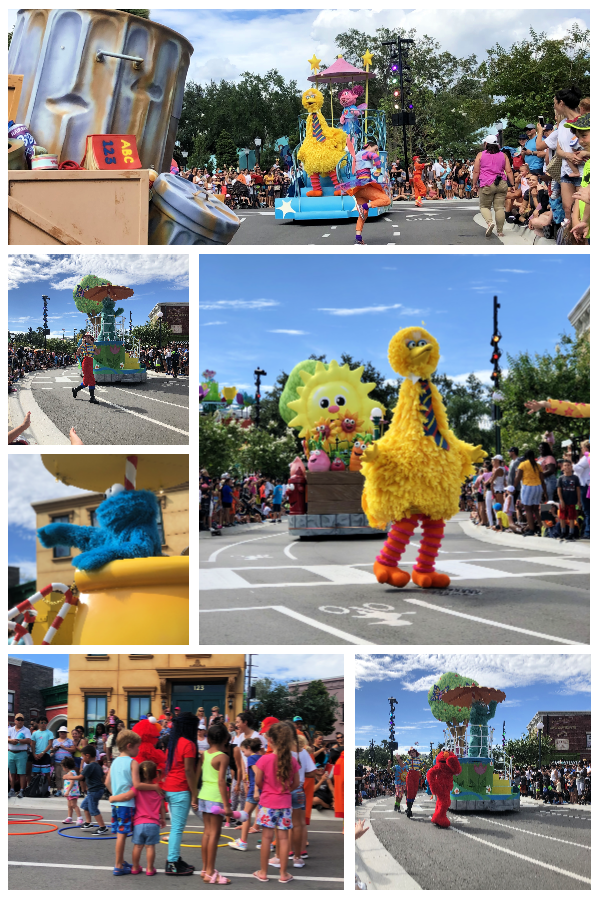 Find a seat on the curb so you can watch the award-winning Sesame Street Party Parade. Move to the beat during the coolest party on wheels and celebrate with your favorite friends at the award-winning Sesame Street® Party Parade. Visitors of all ages will be up and dancing as Elmo, Big Bird and friends accompany colorful floats – and a few special surprises – in the first parade ever at SeaWorld Orlando.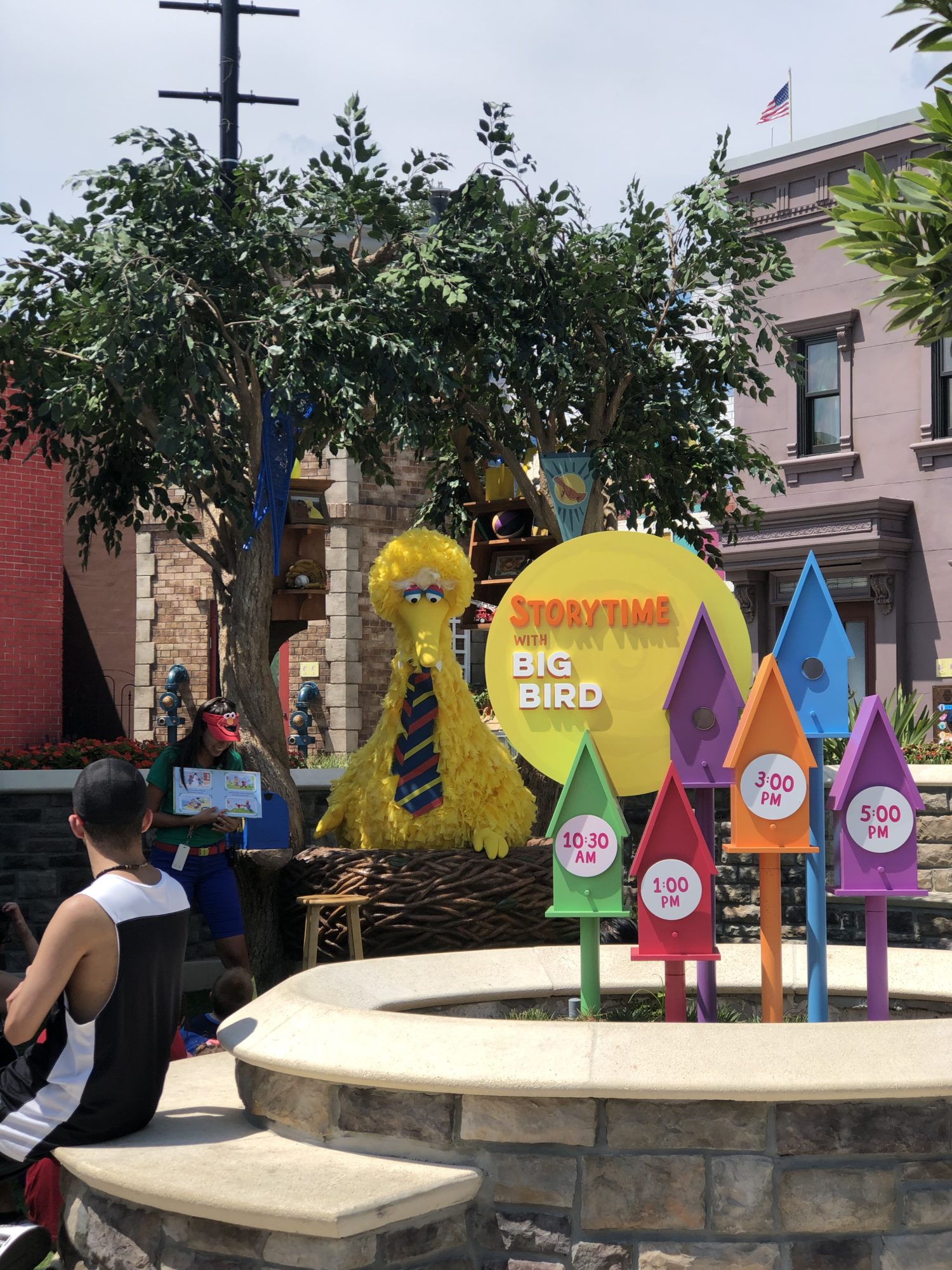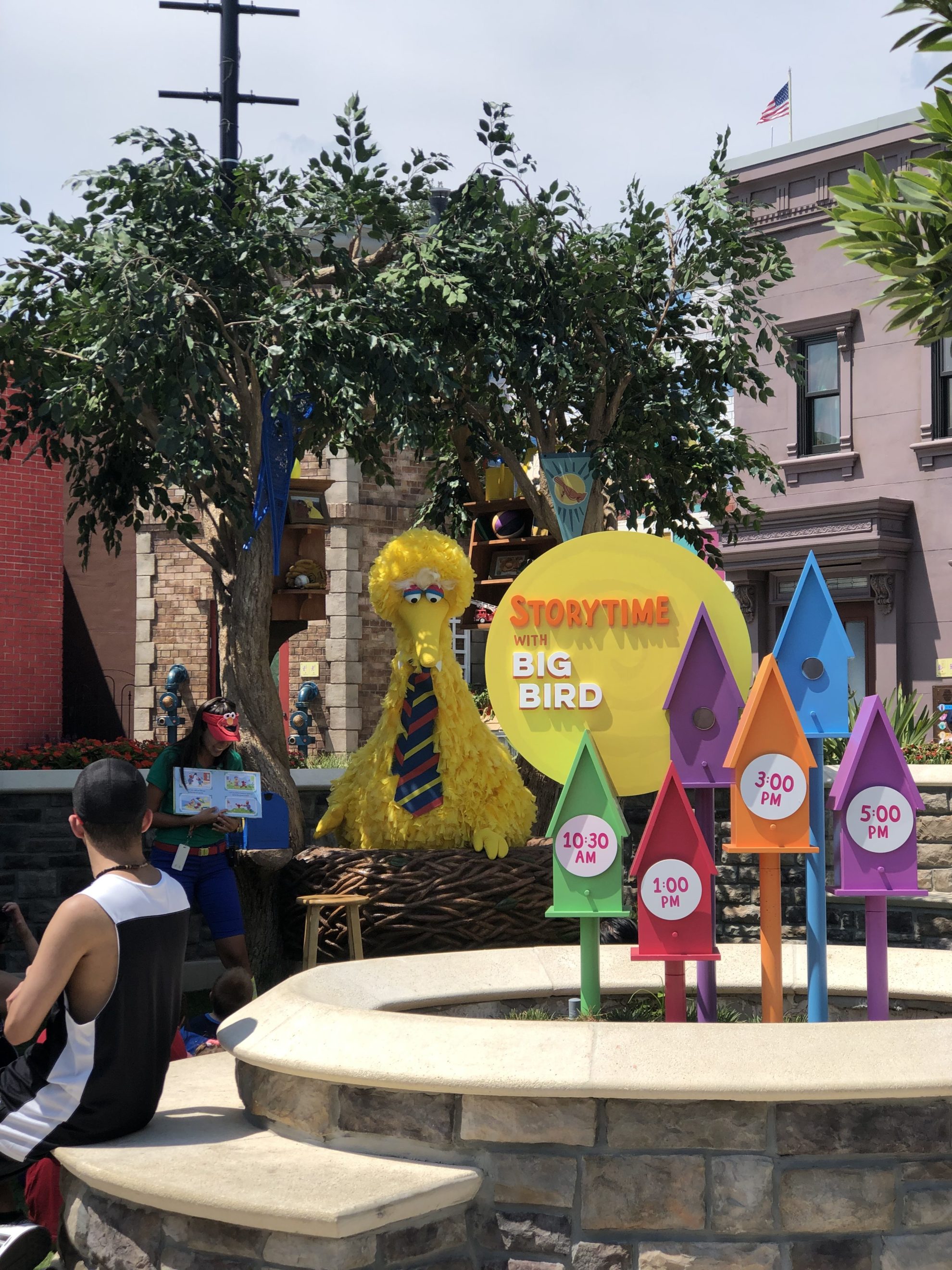 Scheduled daily highlights in the neighborhood include Storytime with Big Bird at his nest! My daughter loved this when we happened to catch one of the storytimes! Storytimes at 10:30 am, 1pm, 3pm, and 5pm daily!
No visit is complete without a bite to eat! Sesame Street at SeaWorld Orlando serves up fun favorites at Eats on the Street. Where food trucks and a specialty drink stand offer guests a delicious variety of healthy choices and sweet treats. ((This is something I've yet to try and enjoy! Once I finally have the chance to try the food options out– I'll edit this post with what they have and how it was!))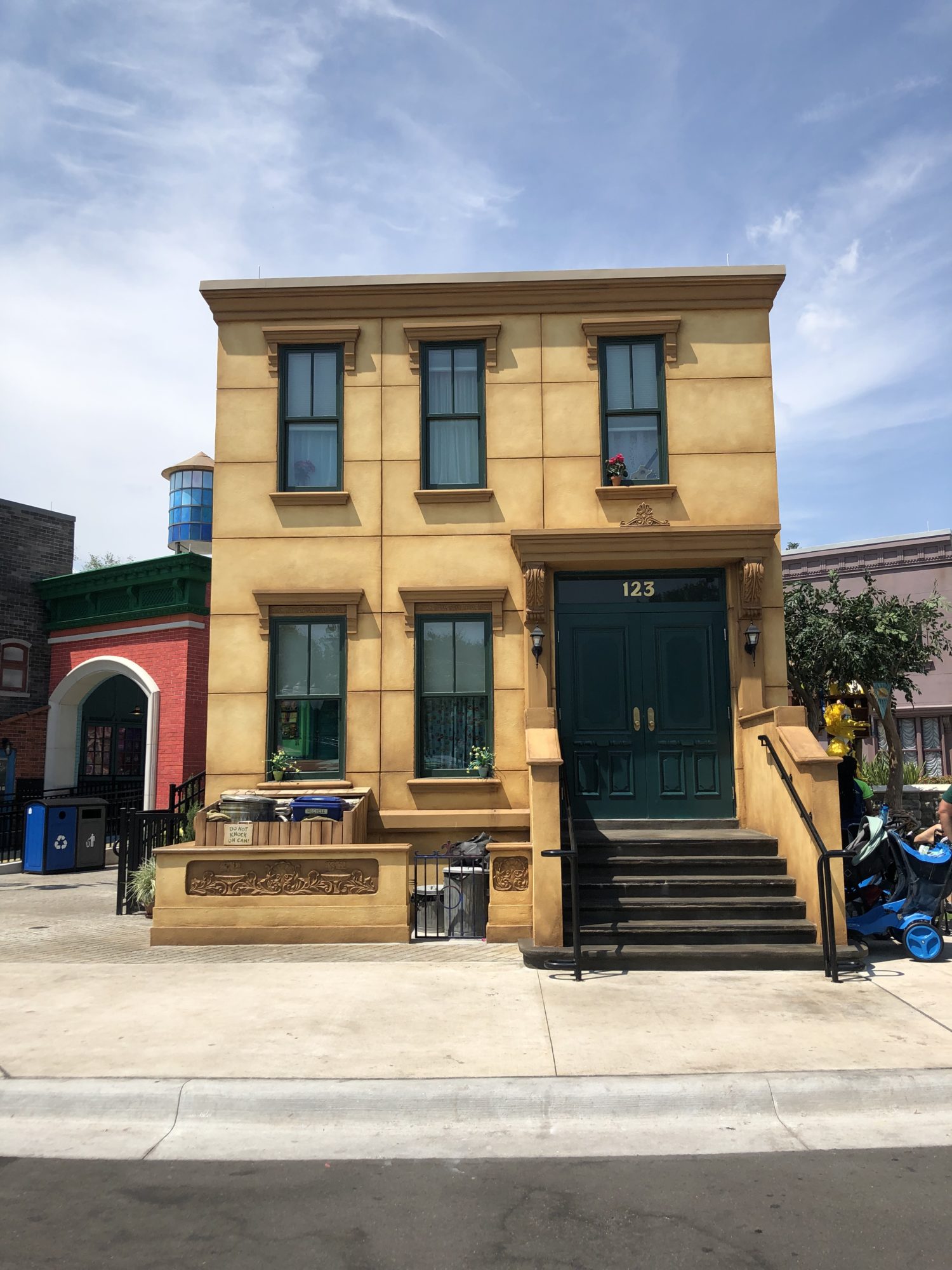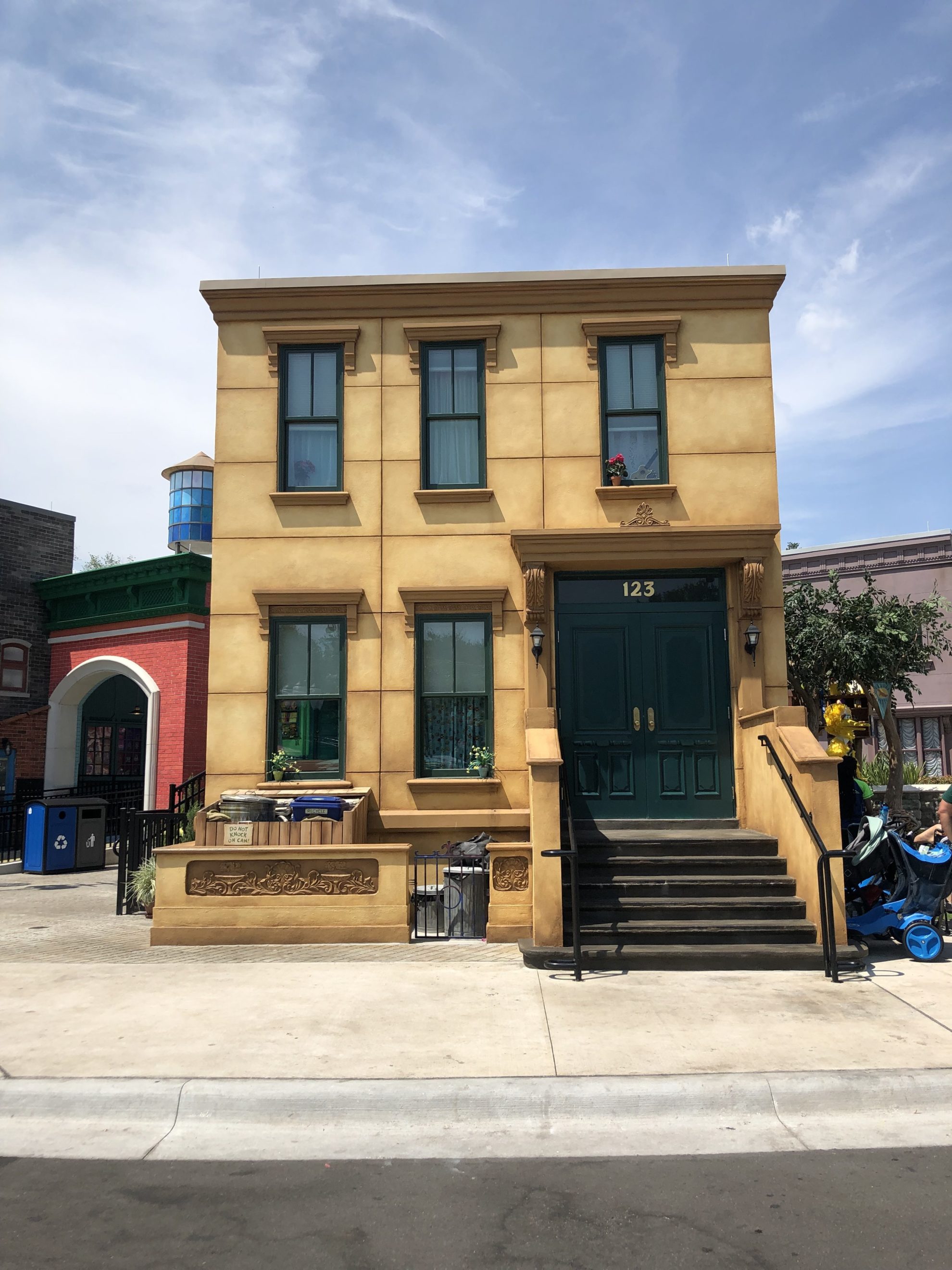 Guests can take home a little bit of the street from Mr. Hooper's Store, which features plush characters, apparel, collectible pins, and more available only at Sesame Street at SeaWorld. For even more fun, Elmo's Interactive Light-Up Bubble Wand unlocks hidden surprises, special effects and exclusive content throughout the street.
Photos with Elmo and Friends

A visit to Photos with Elmo and Friends provides backstage access to Sesame Street friends with meet and greet opportunities. I've been a handful of times now and they've yet to have crazy lines. Maybe 20 minute wait tops. First, you get to meet Cookie Monster.

After you meet Cookie Monster you get to meet one of the most popular red furry creatures… Elmo! The set is mainly a green screen. If you don't have the Photo Key Card (like I do) you won't get these cool looking photos. However, you still get to meet the characters regardless of the photo pass. And like always you can buy individual photos and frames!
My family loves the new Sesame Street Land at SeaWorld. Did you know Sesame Workshop's exclusive theme park partner in the United States for almost 40 years. For more information, please visit: Sesame Street at Sea World Orlando.