Looking at what to do in Toronto with Kids for a half day? I have a list of activities plus sharing all the places we visited during our half day trip!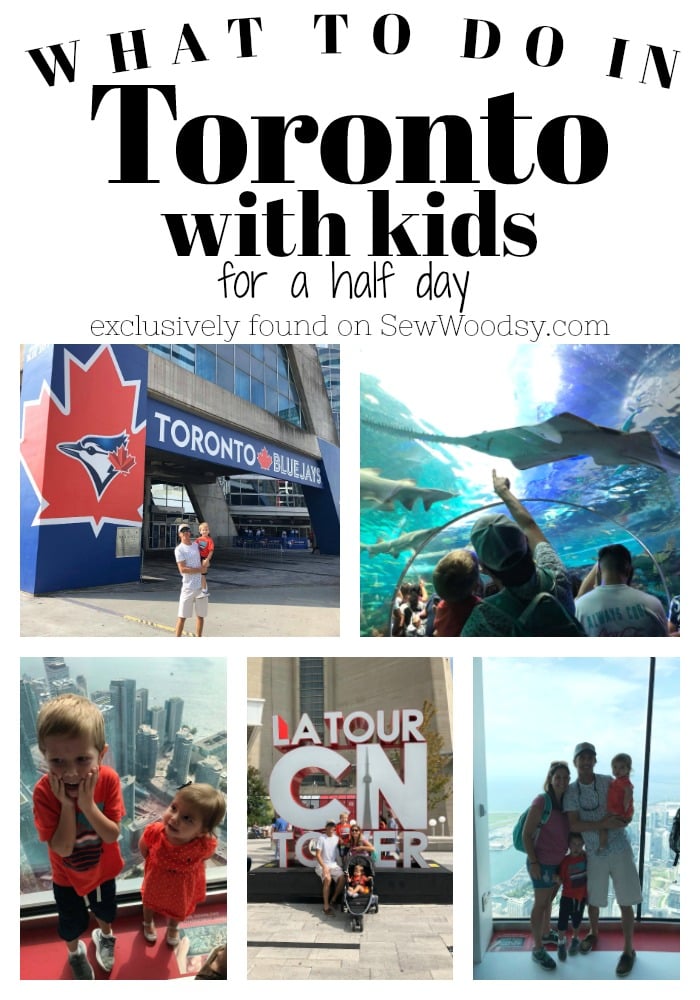 Last year, we
traveled
to Niagara Falls over the Labor Day weekend. We stayed in the heart of Niagara overlooking the falls. However, I really wanted to see a glimpse of Toronto. After scouring the Internet I really couldn't find too much info on what to do in Toronto with Kids for a half day.
I picked the one thing I really wanted to do and based our day off it. I wanted to see and go up on the iconic CN Tower. Right next to that is the Ripley's Aquarium. We figured that would be perfect for our kids; ages 4.5 and 1.5 at the time.
Coincidentally, right across from these two major attractions is the Toronto Blue Jays stadium, the railroad museum, Steam Whistle Brewing, and the Rec Room Restaurant.
How long is the drive from Niagara (Ontario) to Toronto?
We drove up to Toronto on a Sunday morning. We left our hotel at 9am and arrived in Toronto, a few blocks from the CN tower just after 10:30. The drive up was easy and we had no traffic until we hit the city. It took us an hour and a half and a very easy ride. We rented a Cadillac Escalade and only used a quarter of a tank of gas.
Going home, was a different story. We left at 3:30 in the afternoon and we didn't get back to our hotel until almost 6pm. Luckily the kids slept for half the ride home, making it peaceful for us. Giving us a chance to talk and plan out our last day of vacation. Overall, going home it took an hour longer. Give yourself plenty of time to get back to Niagara!
Where do you park in Toronto?
We were warned that we would be spending a lot on parking and fully ready to spend it. However, we stumbled across a hidden parking garage a few blocks from CN Tower and only spent $10 for the full day.
As we walked out of the parking garage we saw the parking lot right next door was charging $25 to park! And, as we walked closer to the CN tower we saw parking go all the way up to $35! So just be prepared that you could be laying $35!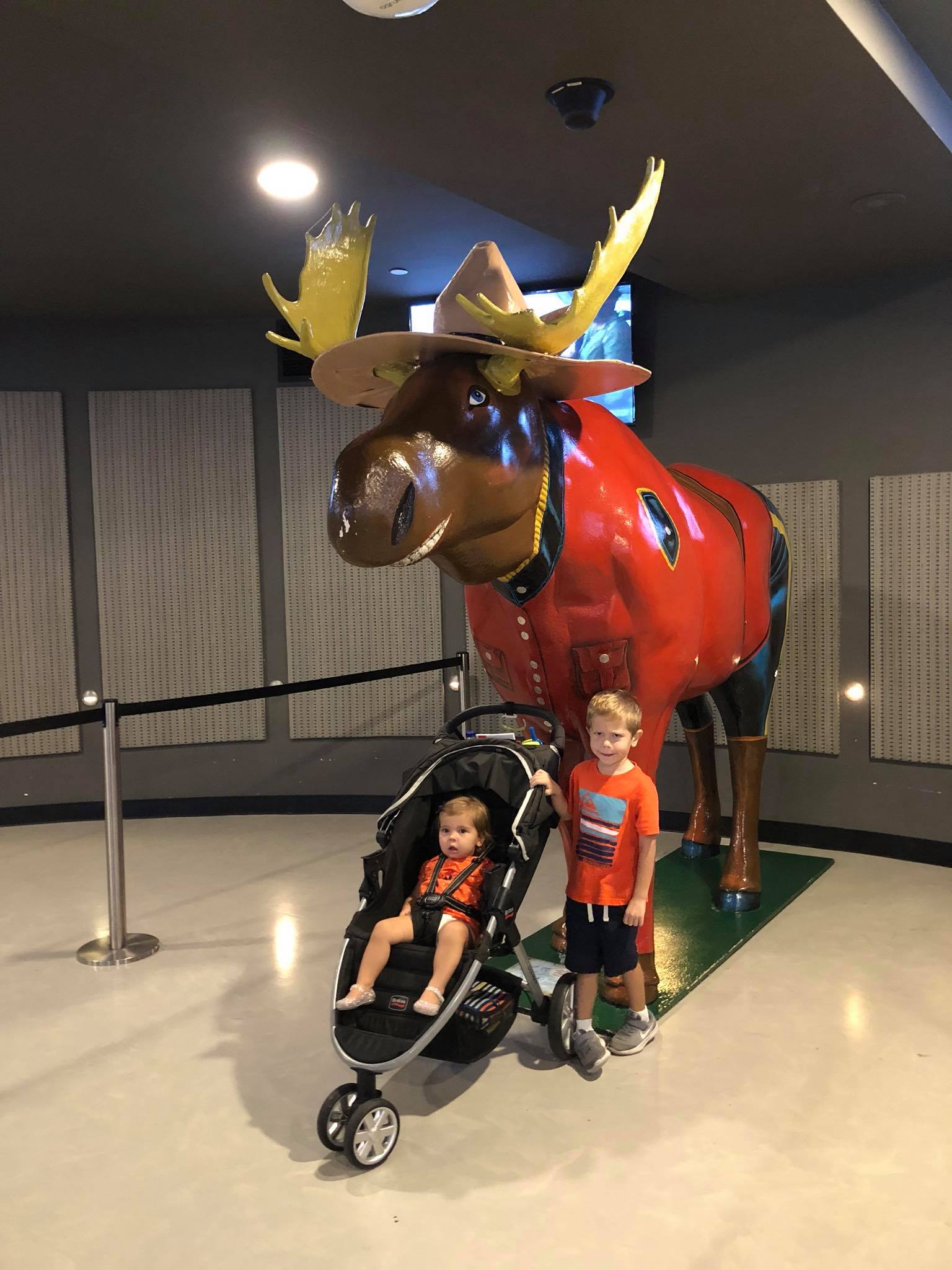 Kid-friendly attractions to see in Toronto
Here is a list of all the kid-friendly attractions to see in Toronto that will appeal to all ages.
LA Tour CN Tower
Blue Jays Stadium
Toronto Railway Heritage Centre
Ripley's Aquarium of Canada
Toronto Zoo
Royal Ontario Museum
Toronto Waterfront
Ferry to Centre Island's Amusement Park
Ontario Science Centre
Hockey Hall of Fame
Bata Shoe Museum
High Park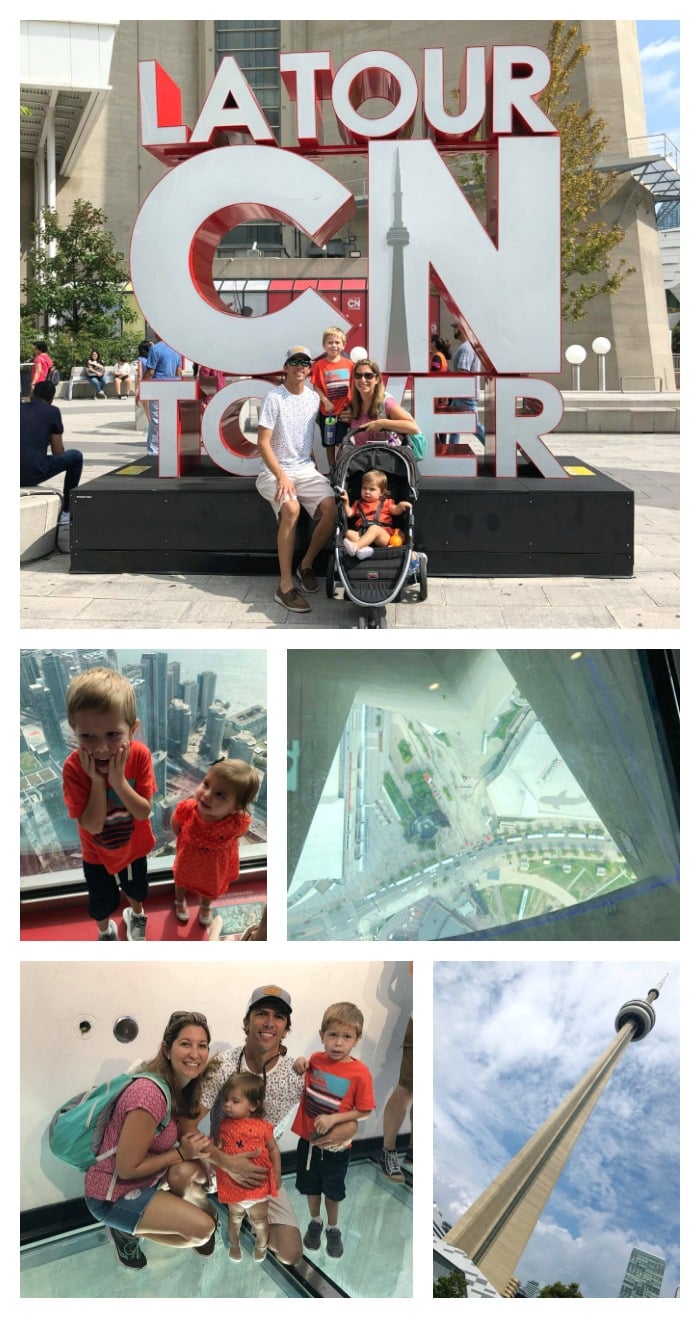 Like I mentioned above, we started at CN Tower. I had looked on the website multiple times prior to our visit and found a great deal to buy ahead and bundle other tower and aquarium tickets together. However, I failed to buy them ahead of time. BIG MISTAKE!
If your planning to go make sure you buy them online. You will save so much more money and bypass long ticket lines. You CANNOT buy that same great deal when you get to the tower! You can only buy it online. And if your like us, you don't have an International plan so your not gonna be able to connect and buy them when you arrive on site.
Make sure your first stop is the CN Tower. The lines can get very long and you can wait a few hours to go up. When we arrived just before 11 we waited maybe 5 minutes? You take a high speed elevator up 118 floors. The high speed elevator takes about a minute from bottom to top.
Make sure you have water bottles or snacks for kids and gum for yourselves. You will need to pop your ears half way though. We spent about a half hour up top. Looked around, went down a floor and stood on the glass that looks down to the bottom and walked outside for a little bit.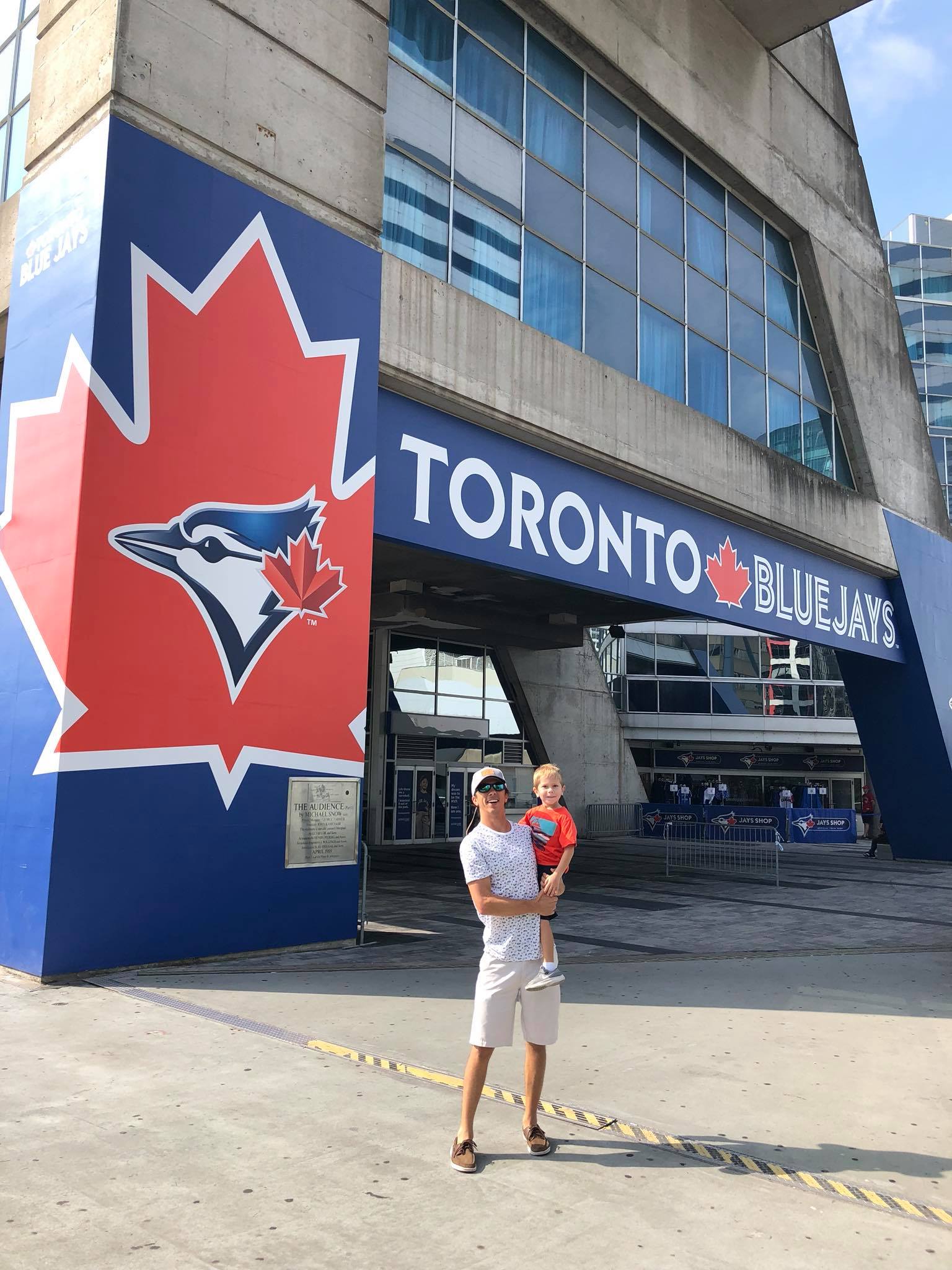 Toronto Blue Jays Stadium
Right across from the iconic CN Tower is the Blue Jays stadium. You can't go in, but we did walk over to take this photo. If you are visiting during baseball season you can always look into getting tickets to watch a MLB game!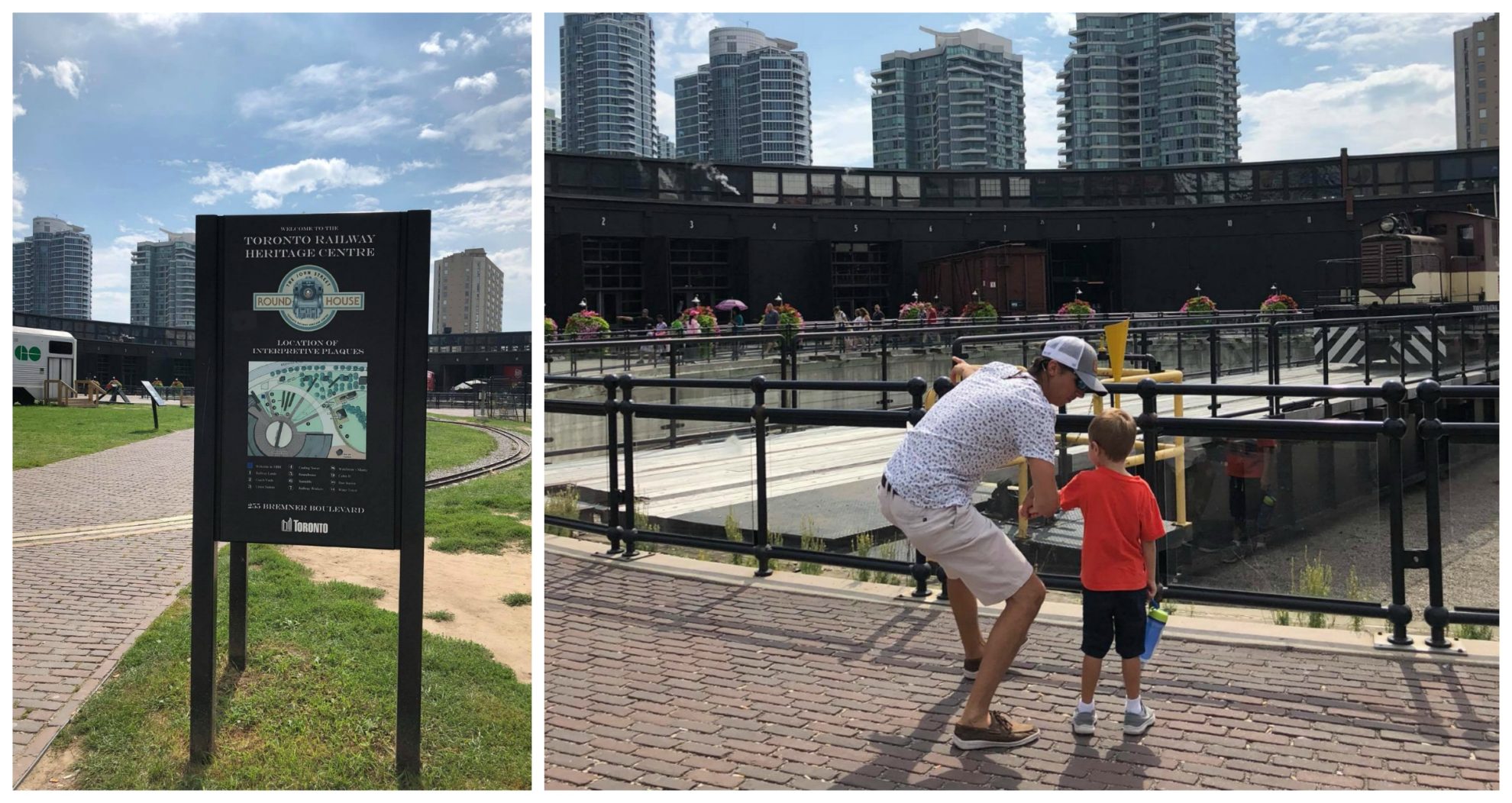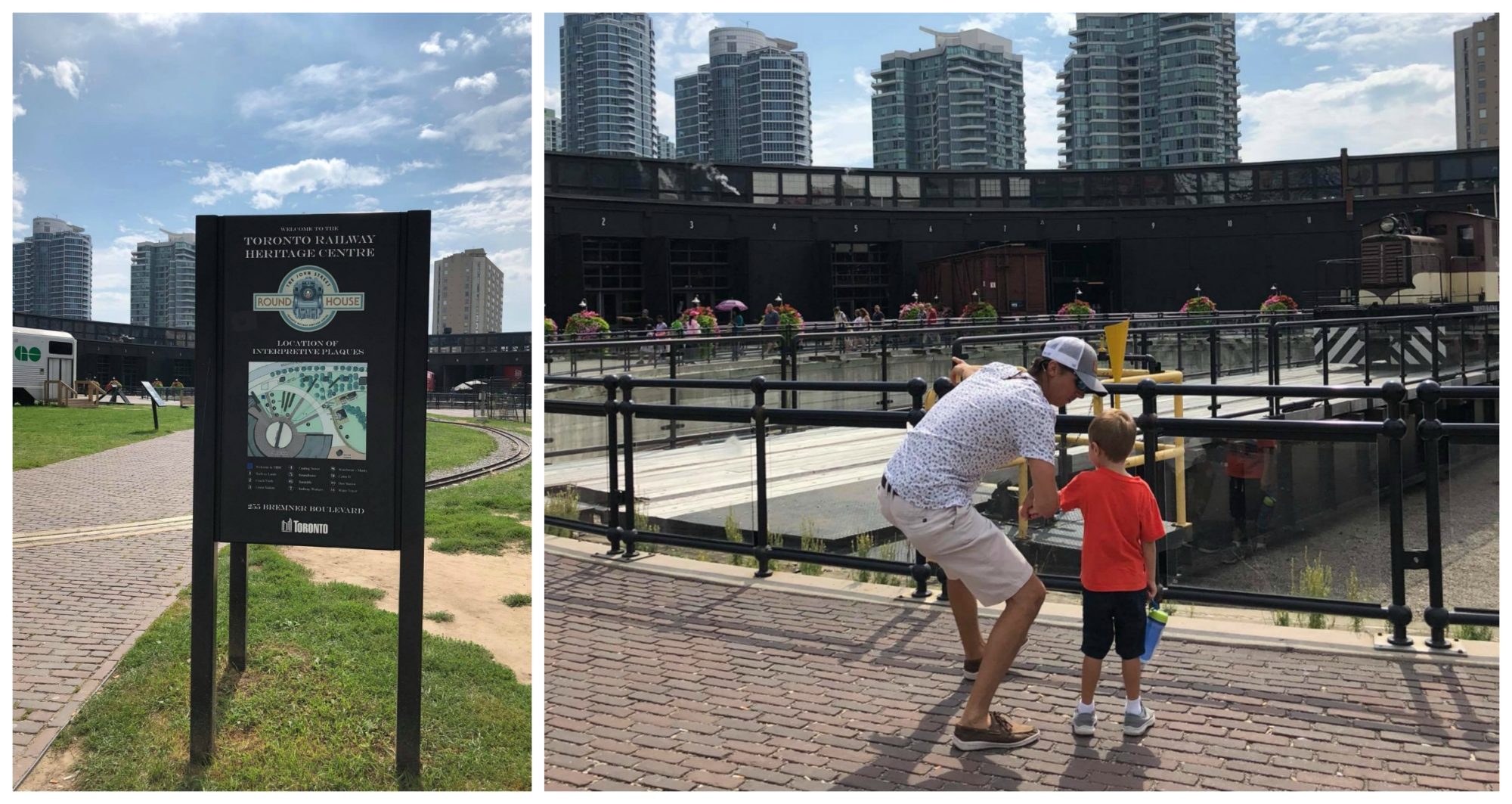 Toronto Railway Heritage Centre
By the time we finished up at the CN Towerit was close to lunch time, so we ventured over to the Toronto Railway Heritage Centre and Steam Whistle Brewery. (Unsure if they had lunch but figured we would check.)
While walking over we got to see all the trains. They also had a little train the kids and parents could all ride on (for a small fee). We didn't get a chance to ride on it (unsure of prices), but it looked cute!
The brewery didn't have a full lunch menu, but for $12 you could take a tour that included a pint of beer. The tour takes a half hour and they don't mind if kids come (strollers aren't recommended). We did not do this, but know that if your in the area it's an option to add some fun to the parents time too. It's all about balance, right?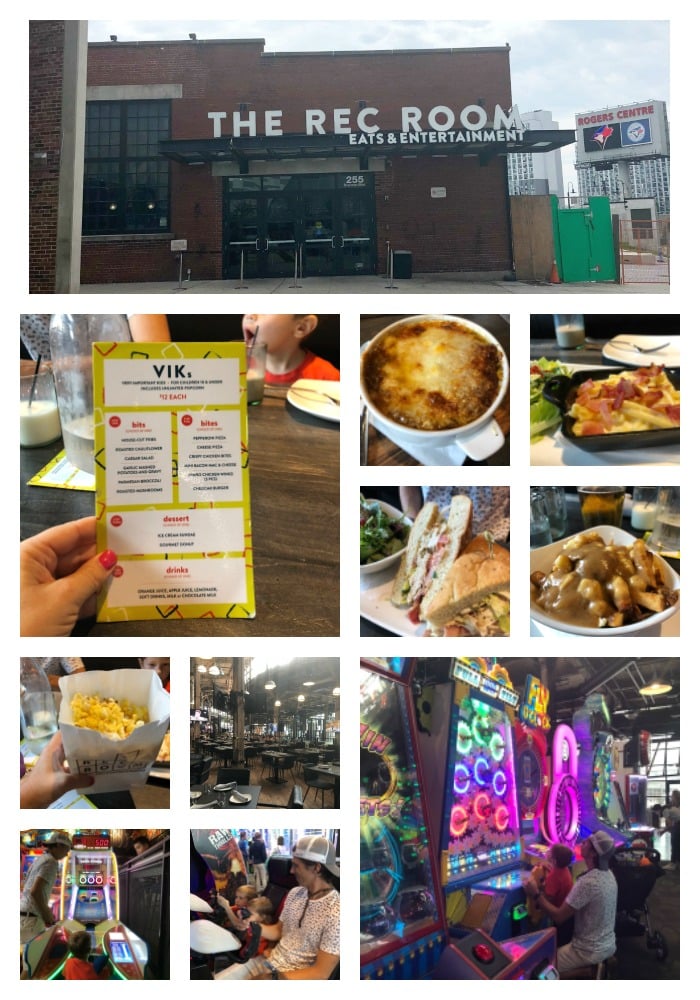 The Rec Room
We ended up heading to the Rec Room for lunch. It's a glorified version of a Dave and Busters. They have a full menu and quite a few Canadian specific menu items. We started with traditional Poutine. Freshly cut French fries with gravy and cheese curds. The hype was worth the wait—so good!
The Rec Room had a great kids menu too. For $12 you got a main dish, side, dessert and drink. They even included my daughters milk in with my son's kids meal so we didn't have to pay for it. My son got the bacon mac and cheese!
For lunch my husband and I split a turkey bacon club sandwich. He also had a side salad and I had the Canadian French Onion Soup. We split a beer brewed just a few hundred feet at Steam Whistle Brewery. The signature lager we tried tastes similar to a Heineken. It was really good.
If you buy a sandwich or entree you get a $10 credit for $5. Since we promised our 4.5 year old he could play if he ate most of his lunch . So that's exactly what we did for half the price!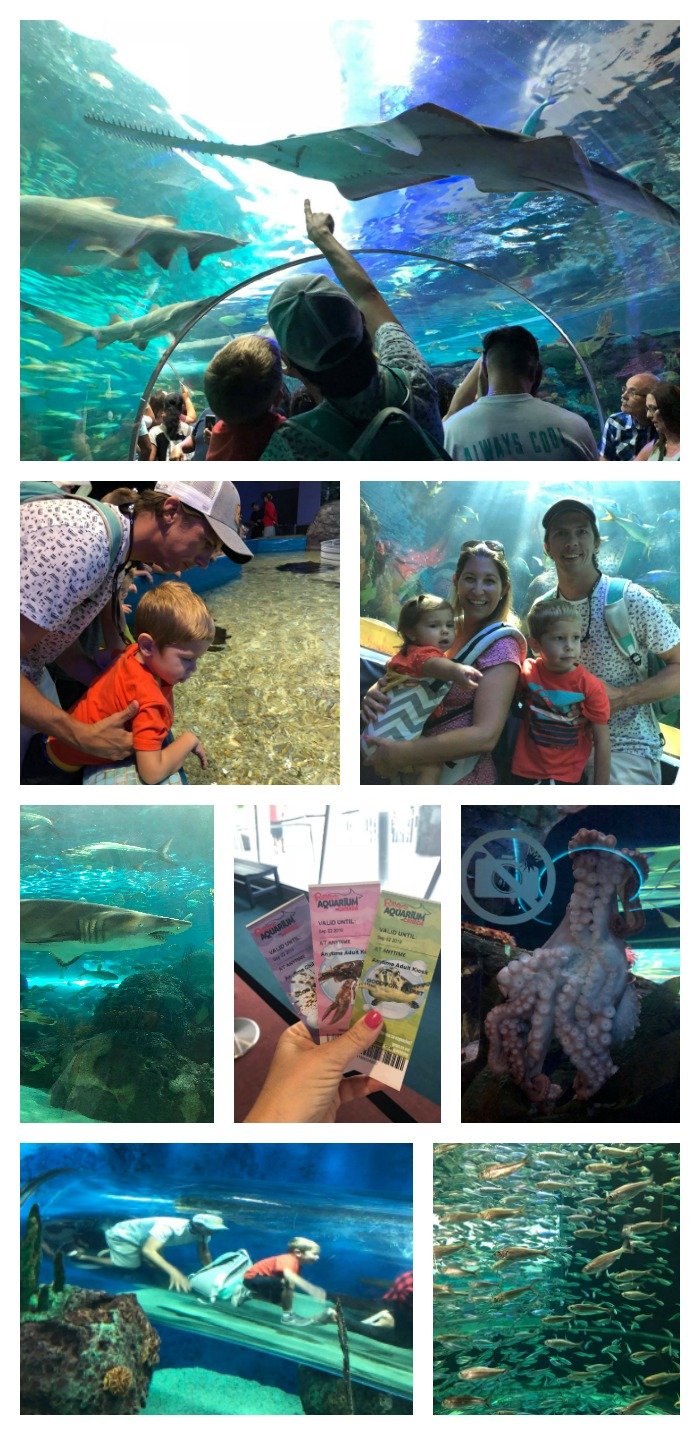 Then, we made our way to the aquarium. It was just after 1 when we made it over and it was so busy!!!! We waited at least 20 minutes in line just to purchase tickets. Then to see each exhibit we would have to wait to get close to the tank. I will say that this aquarium had a cool feature that I haven't seen at others.
You hop on a people mover and ride it throughout the tunnel of open water tanks. It was awesome. No pushing and shoving and waiting turns. A solid 10-15 minutes of tank time!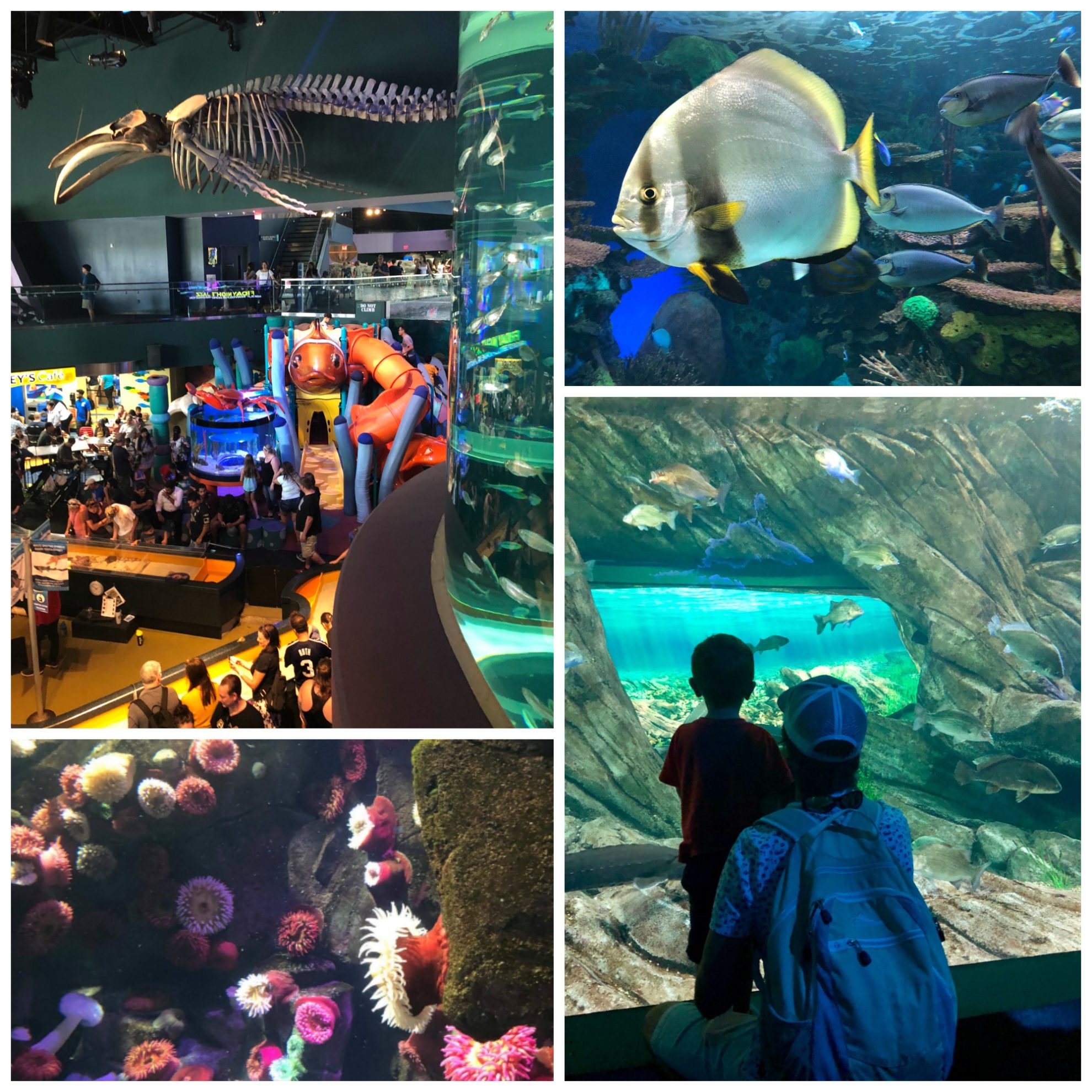 I kept reminding myself that not only was it the weekend, but also a holiday weekend. Our 1.5 year old was in dire need of a nap and just wanted to run. Impossible to keep up with and for the safety of her not the best idea. She basically screamed and tantrumed in her stroller the last 15-20 minutes of our tour if the aquarium!
After the big ride through tanks –you reach what I felt like was a 2/3 point of the aquarium. They had a small indoor playground, a submarine and touch tanks. My son had a blast, but this is when my daughter lost it. No way was it safe for her 22 pound tiny self to run around.
We left the aquarium and headed back to our car. With a kicking and very upset little 1.5 year old. The kids slept just about the whole drive back to Niagara.
Best tips for a half day trip to Toronto?
Here are my biggest takeaways from our half day trip to Toronto.
Know exactly where you want to visit and eat
Leave as early as possible from Niagara to Toronto.
Drive around for affordable parking.
Buy your CN Tower and Ripley's Aquarium tickets online ahead of time.
Leave the stroller behind if possible.
If your planning a trip to Niagara Falls with the kids and want to experience a taste of Toronto I hope you'll find my experience helpful!