This post brought to you by At Home. The content and opinions expressed below are that of Sew Woodsy.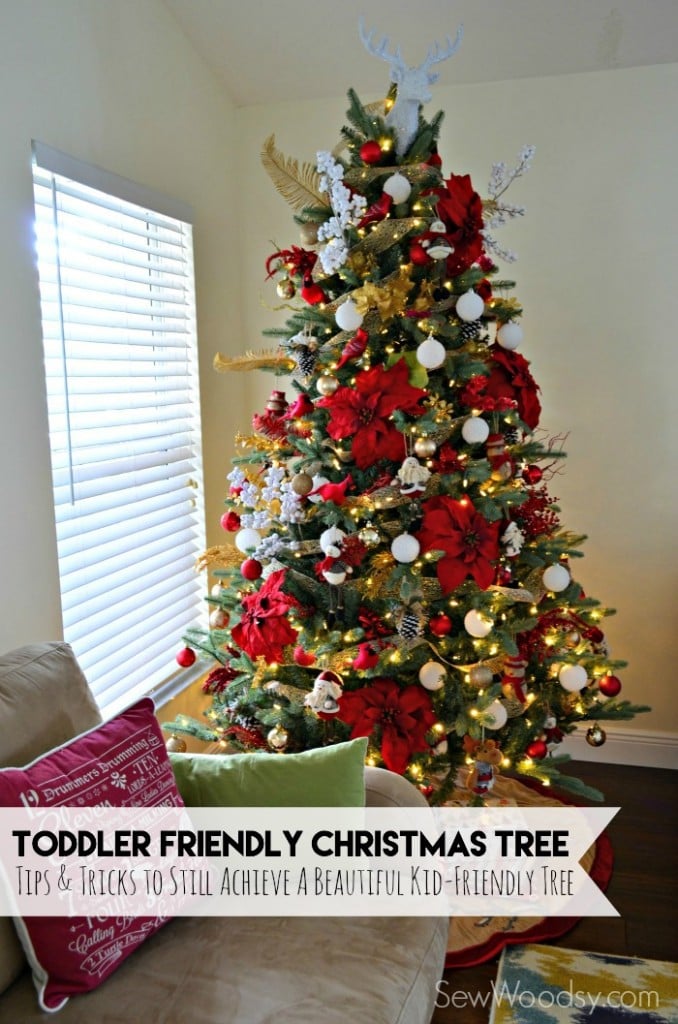 Have you guys heard of the store At Home? I didn't until recently and now I'm kind of obsessed. They asked me to go checkout the store and trim my tree. I love having a fancy Christmas tree, but knowing I have a curious toddler makes it a little more challenging. Even better, they have every day low prices which makes it affordable to modify the look and feel of your Christmas tree, year-after-year! While I was browsing the At Home Christmas Decor, it occurred to me to find some kid-friendly ornaments. I found a wide-selection of soft plush-like ornaments. I figured this would be perfect for our tree. He could still touch and even safely play with them and my tree will still look stunning! At Home is the one-stop-shop for customers to design their whole house – every single room. Not just Christmas! But let me tell you now, the Christmas selection takes up over a quarter of the store!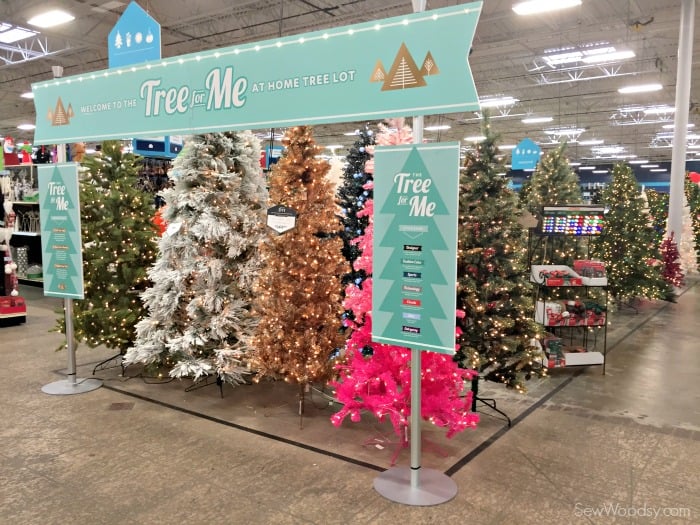 At Home also offers 101 Varieties of Christmas Trees. The At Home tree lot, called Tree for Me covers an acre of fun with over 100 trees. At Home has a large in-store tree selection to come touch and feel, the widest range of trees from classic to colors, to technology trees. Each tree is curated because of a unique feature and every tree in the store (with the exception of 1) is exclusive to At Home! Pretty awesome feature if you are in the market for a new artificial tree. I'm tempted to buy a flocked tree! They had some gorgeous flocked trees!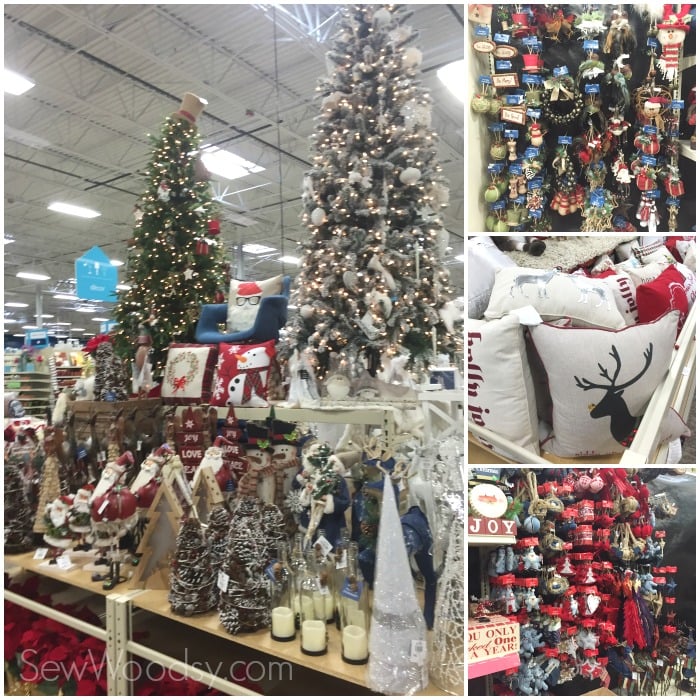 I spent a good two hours in the store *and we only had 1 toddler size meltdown toward the end! I am always a little pillow obsessed and they had a wide-variety to choose from! At Home offers a complete holiday solution for every home, an unmatched assortment of indoor and outdoor décor items for Christmas.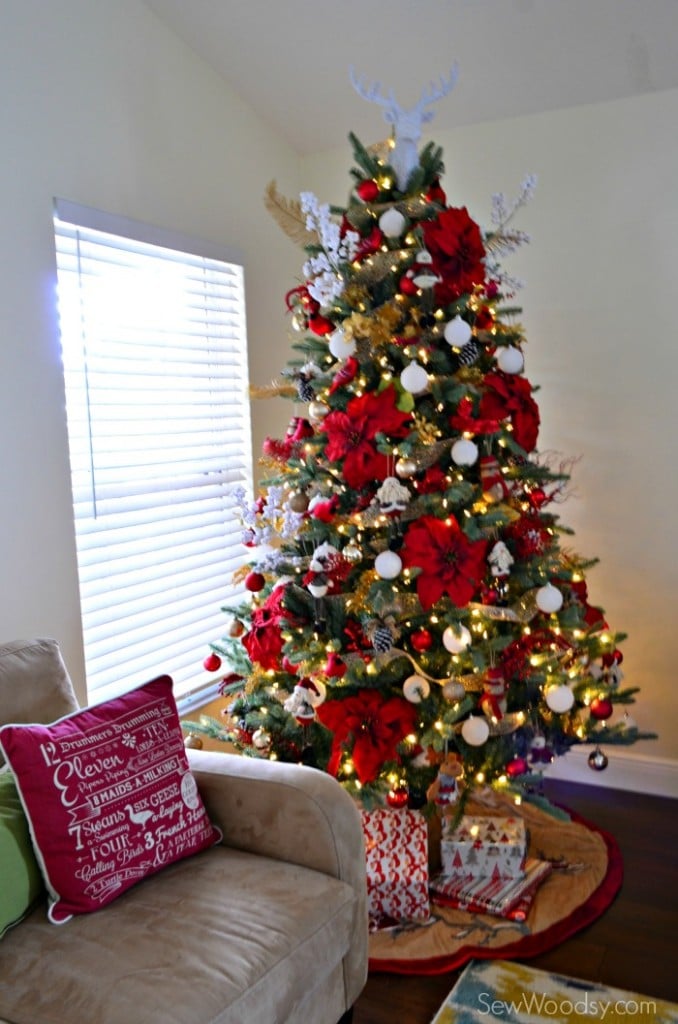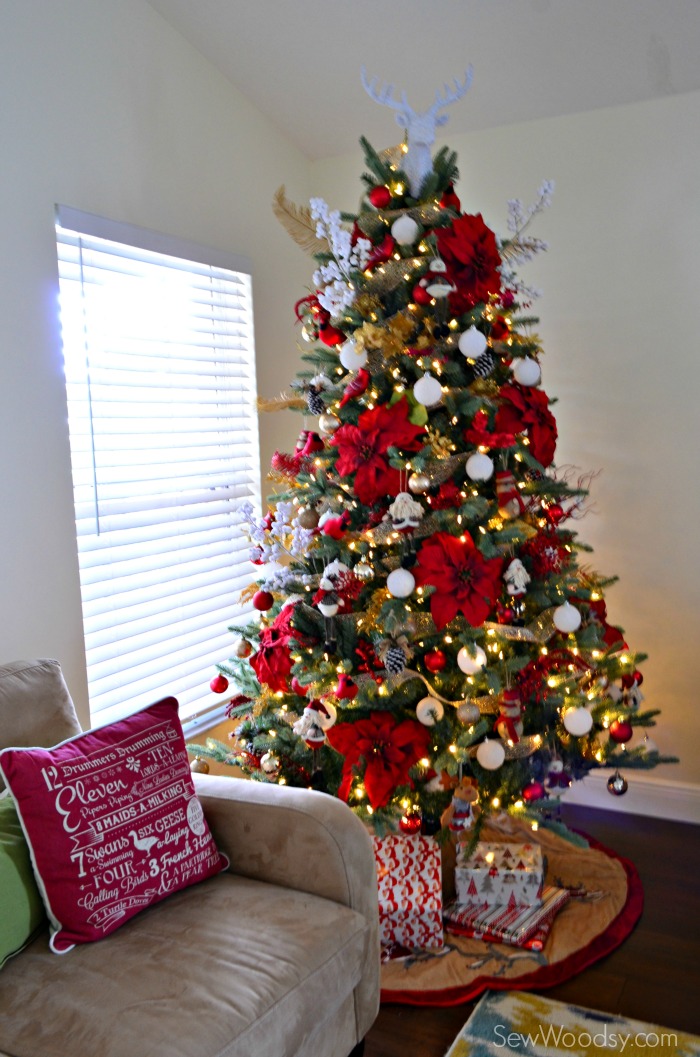 At Home features all Christmas décor items (from dining to ornaments) in fifteen decorative themes. I choose from both the Holiday Hoedown and Dem Darlings collection.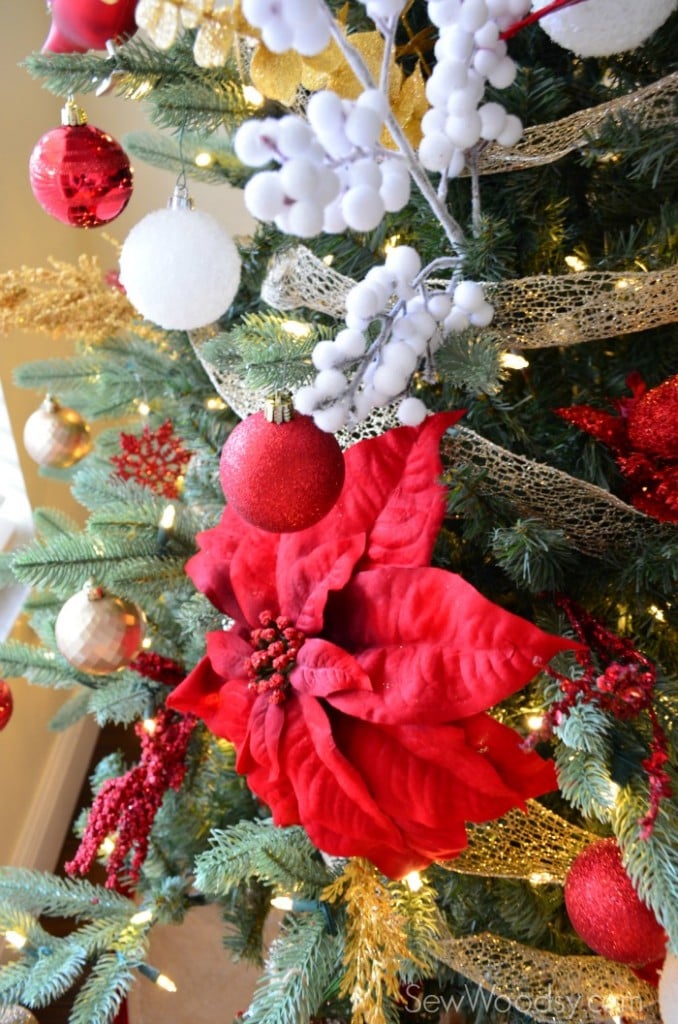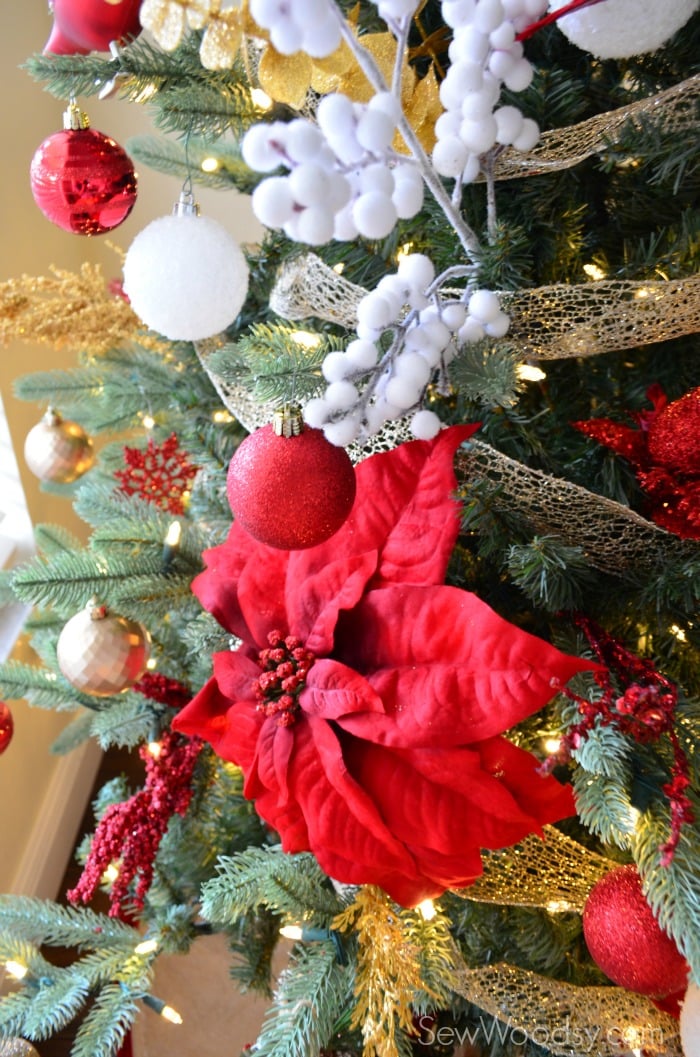 I also purchased 7 of these large red poinsettia's to help fill in any gaps in my tree. At first Jon thought I was crazy, but now he loves it! I also picked up the white flocked shatter-proof balls and the white tree filler to add to my existing tree filler I already owned.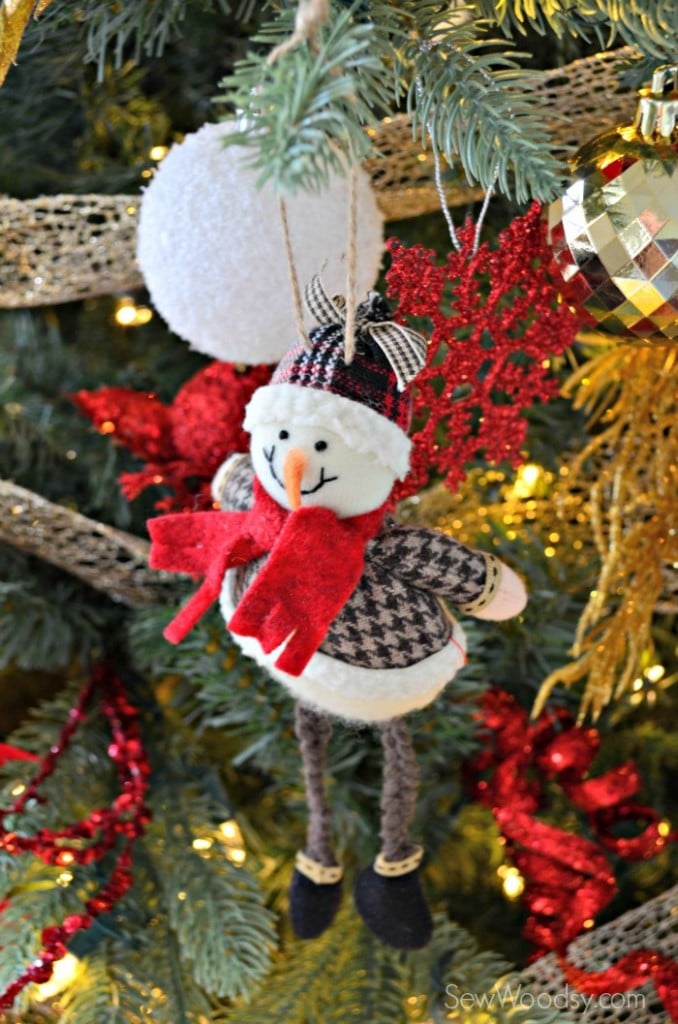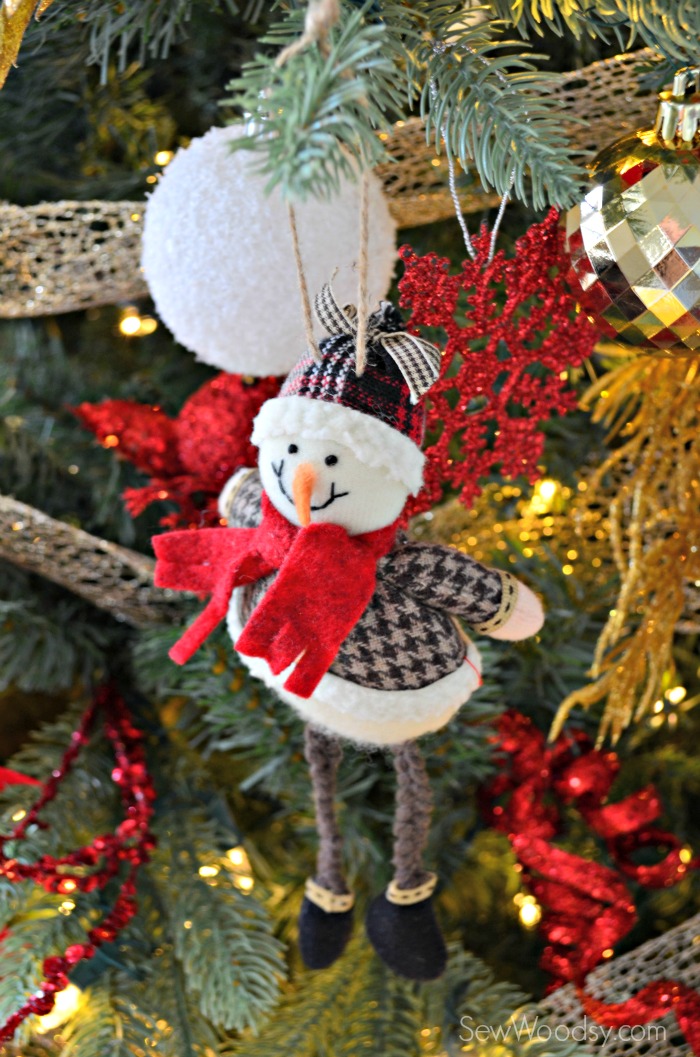 I picked up a few of these plush kid-friendly snowman ornaments. I strategically placed most of the plush at the bottom of the tree but without it looking unbalanced!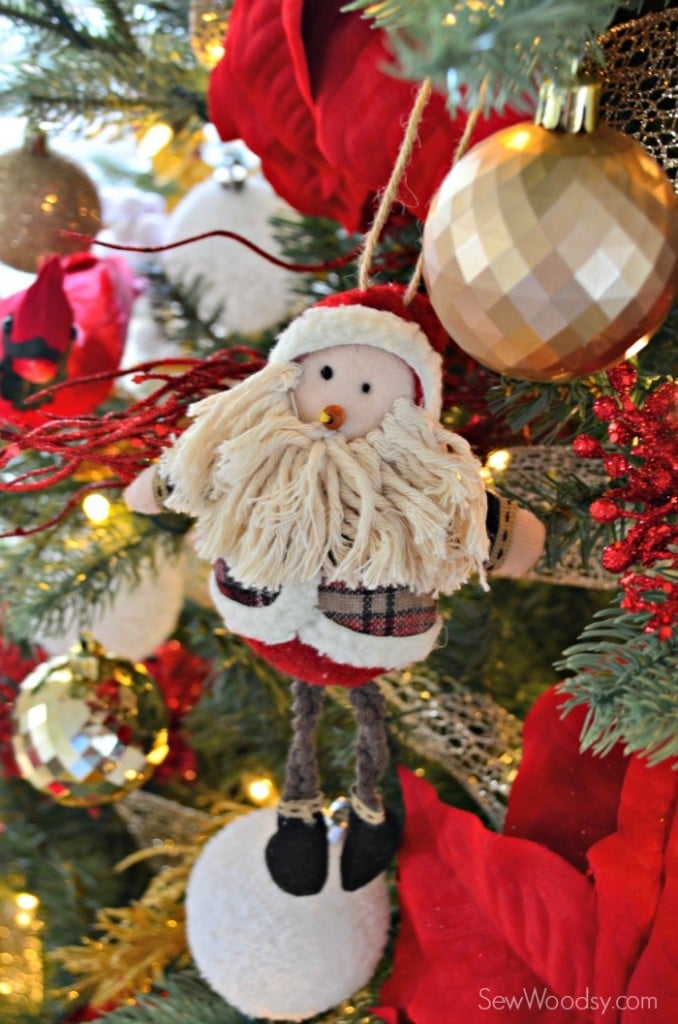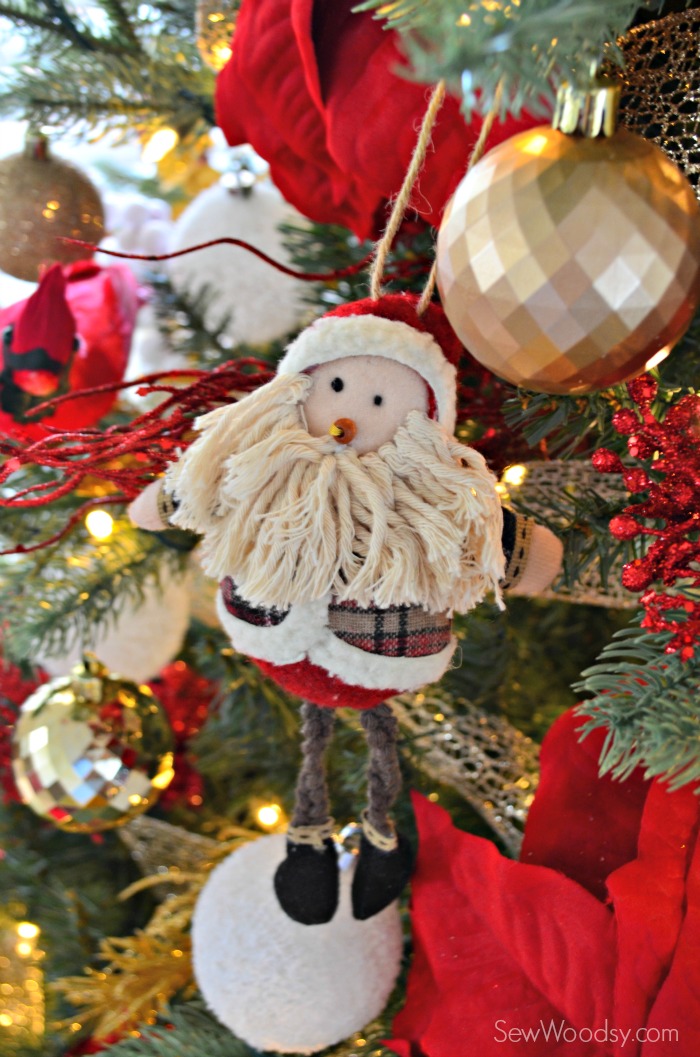 And Ryder loves these santa ornaments. They have a little bell on them so he loves to hear it jingle.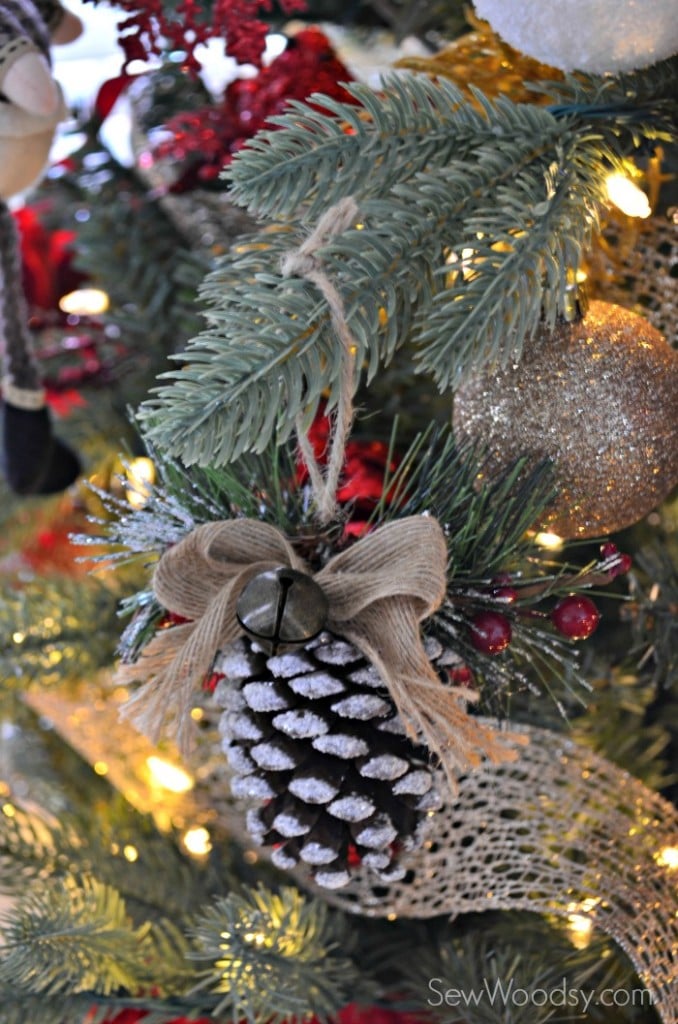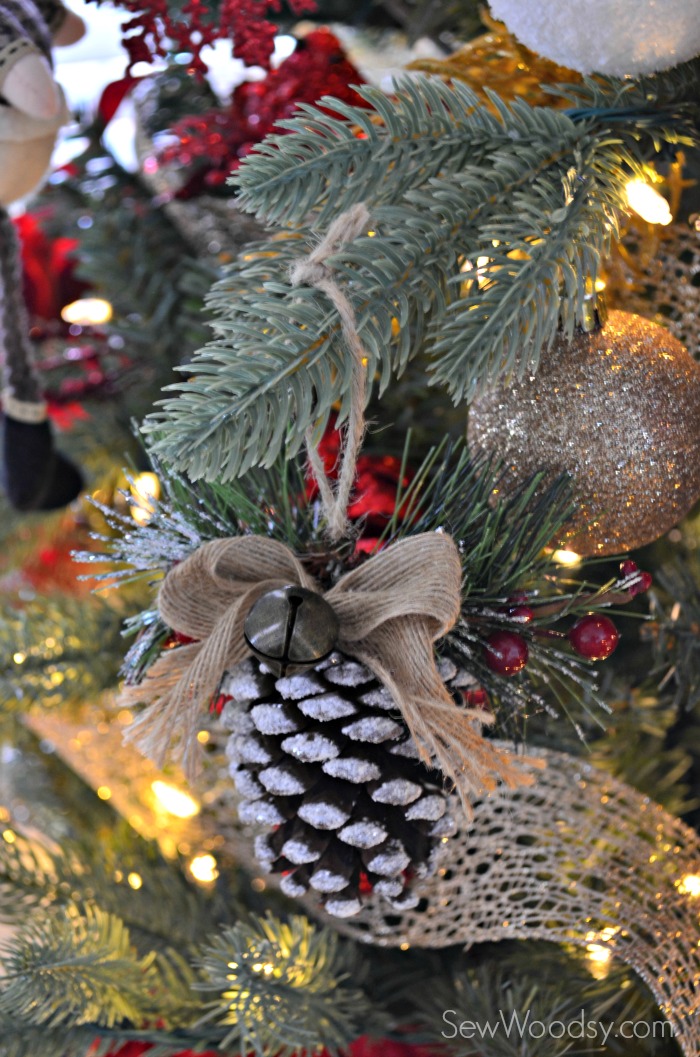 I loved the pine cones dusted with a white glitter. They added an extra touch of rustic-ness to the tree!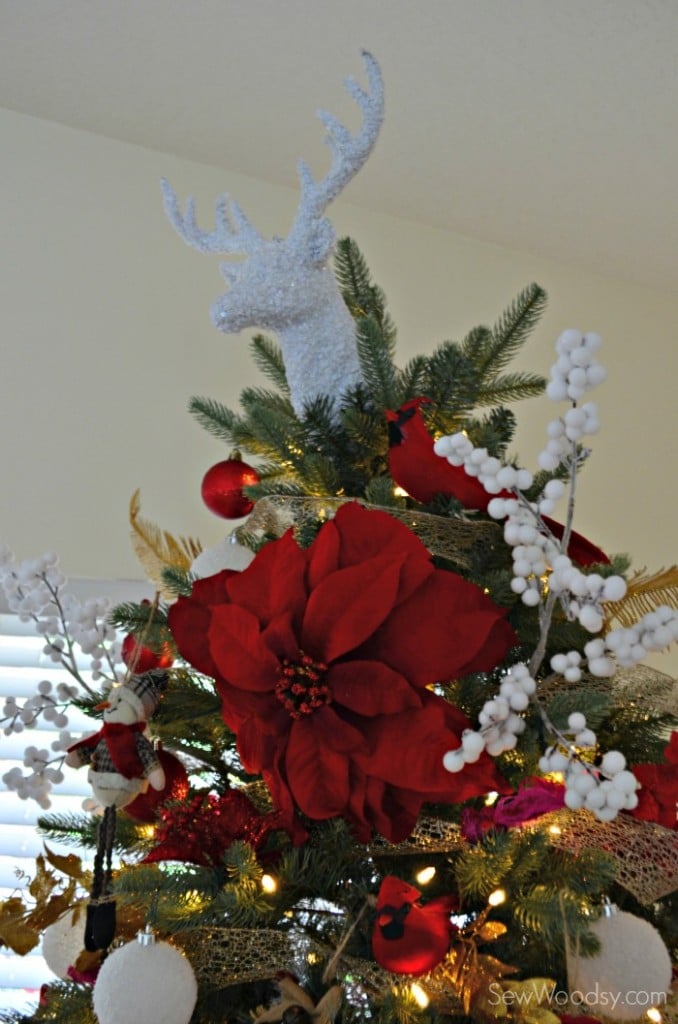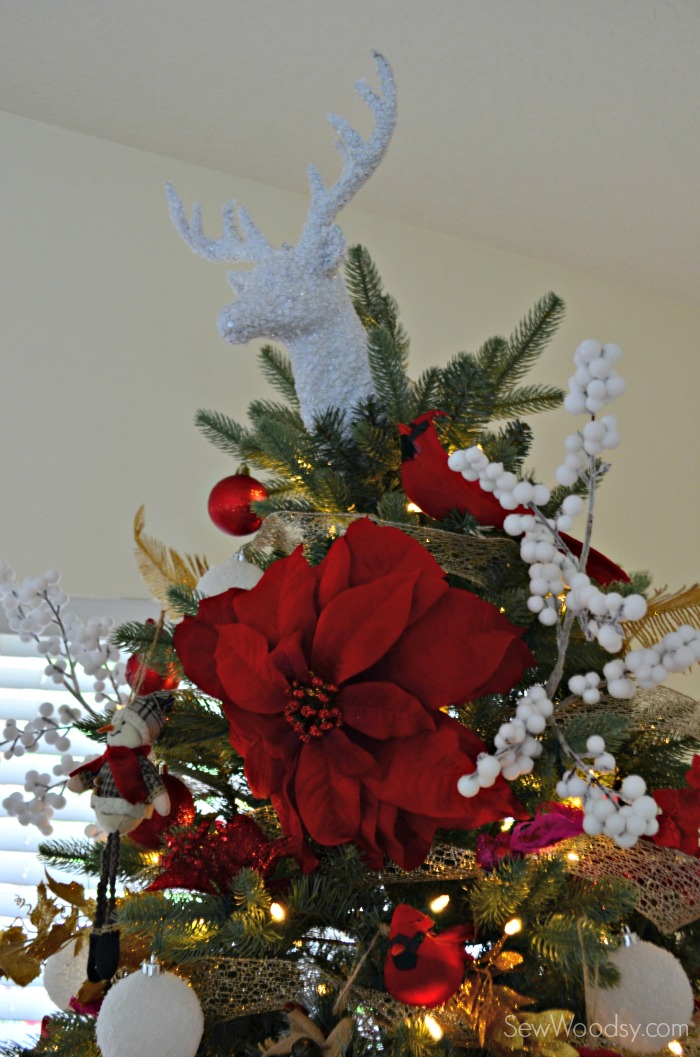 On my second trip back to At Home, I picked up this glitter and beaded deer head. I knew it would make for the perfect tree topper. We just wrapped the string that was attached to it multiple times around the top of our tree. It's been up for over two weeks now and is still in the same place we secured it too. The beautiful cardinals are from At Home too! I always incorporate cardinals into my Christmas tree every year. My grandmother passed away 27-ish years ago and always said that when she was gone she would come back as a cardinal. So anytime we see a cardinal we know my grandma is watching over us. We see them more often then none. I feel by placing cardinals in our tree my grandma is always with us during Christmas.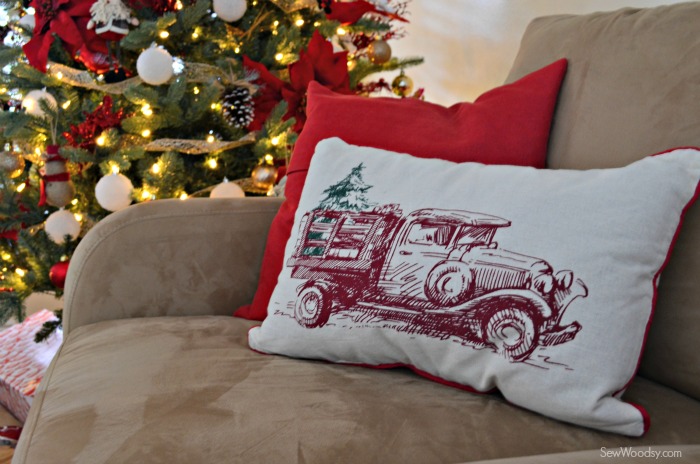 And of course, I couldn't go home without picking up a few pillows. I loved this vintage truck pillow and so did Jon! Normally, he yells at me for buying more pillows.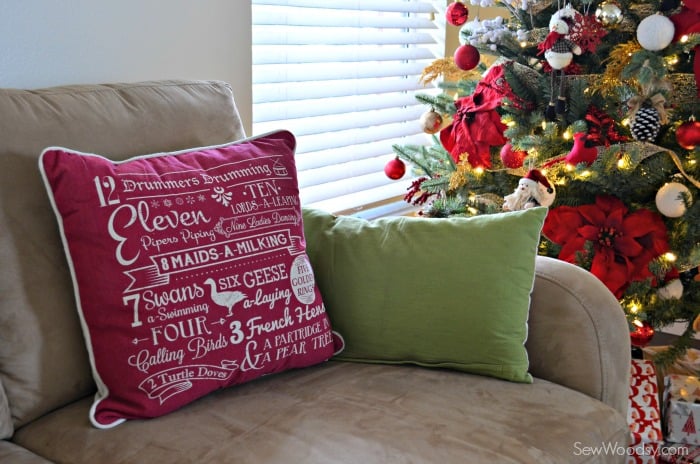 And I loved the 12 Days of Christmas pillow!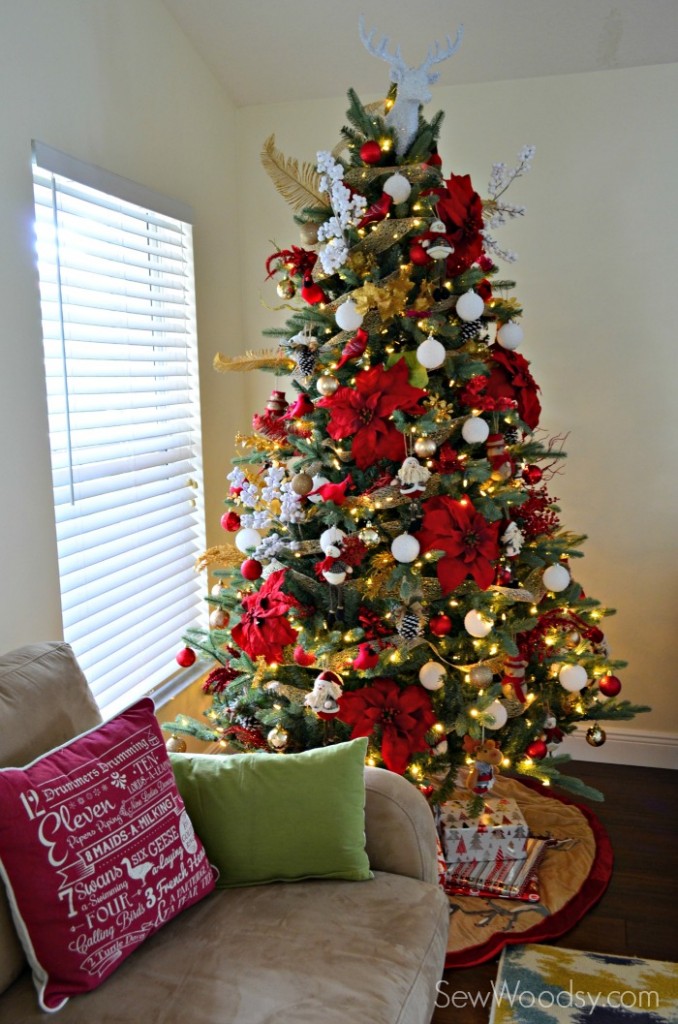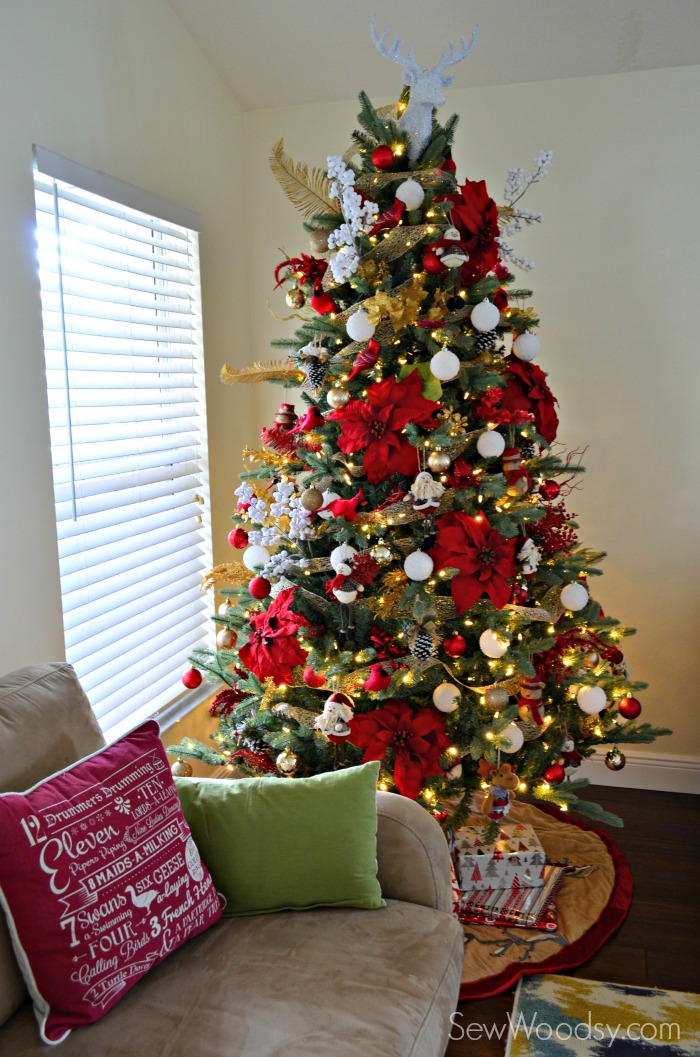 Here are a few tips for keeping a beautiful yet toddler-friendly tree:
Use shatter-proof balls
Secure the balls with hooks, but wrap the hooks tightly multiple-times around the branches so that they are really secured on the tree well.
Have toddler-friendly soft (touchable) ornaments within reach.
Don't yell, but practice "gentle hands".
Try to place your tree in a room that isn't frequently visited by your toddler. This makes it a treat to see and gently touch the tree!
I hope with a few of these tips it will help you still have a gorgeous tree, but also a toddler/kid friendly tree for everyone to enjoy. Make sure you visit your local At Home store to pick up the products I've shared today to make your very own toddler-friendly Christmas tree! They have affordable prices a wide-variety of Christmas decor items to fit everyone's needs! My tree has been up for almost a month and knock on wood we've had no ornament or tree fatalities. He has learned gentle hands and surprisingly is very good with our tree. He loves to sit and look at the lights!