We're back! We had the most amazing vacation ever! For those who don't follow us on Facebook, Twitter, and Instagram you may not know that we were traveling around Europe for the past 2.5 weeks. During our vacation we spent 4 days in Barcelona, Spain and then hopped on a 12 day Mediterranean cruise. So over the course of the next few weeks (maybe even months) I'll be sharing our journey around Europe.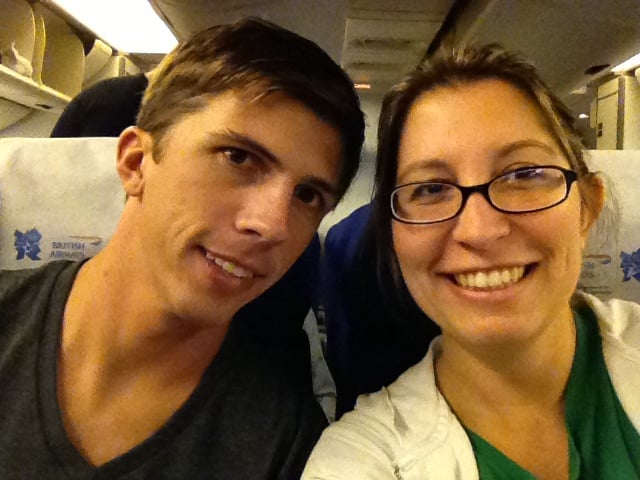 First off, our trip didn't get off to the best start thanks to American Airlines silent strike. We missed our flight from Miami to Barcelona because we could not get out of Orlando. Our flight kept getting delayed (over 4 hours delayed). The sky was clear, but no plane. Mr. Woodsy spent 2.5 hours waiting in line at the ticket counter while I was on the phone with Expedia trying to get rebooked on to a later flight (which at the time we thought we would make). Let me just tell you–if you are flying Internationally buy the trip insurance! It is so worth it in times like these!
Our plane was delayed further and I'm sure at this point you can predict the story… we missed our second rebooked flight (and got an upgrade from American Airlines to British Airways). So upon landing at Miami International we ran as fast as we could to the gate in hopes that the flight was delayed by a few minutes. (Imagine an episode of the Amazing Race–that is what we looked like except I started to have a minor asthma attack. Which then led to prove Mr. Woodsy's point that I could never do the Amazing Race. In my head, I still think I can!) Instead we arrived to an empty gate. So I begged and pleated with the amazing staff of British Airways and they put us on their last flight of the evening. American Airlines on the other hand wanted us to stay in Miami over night and then leave the following day at 6pm. Ummm, no thank you. I wanted to get to Europe the next day not two days later. We ended up having to have a layover in London which was very unexpected since I had booked us a non-stop flight from Miami to Barcelona. Instead of arriving at 9am Friday morning we arrived at 7:30 pm Friday night. Essentially, thanks to our flights we missed one full day in Barcelona.
Now that I've given you the back story of our flight drama… Today I'm excited to share with you photos we took during our first 4 days of our trip in Barcelona, Spain! Technically we spent 2 full days touring the city since the first night was a bust and all we did is have dinner and go to bed and the last day we boarded our cruise ship.
Day 1: We woke up to a nasty rainy day. But we only had 2 days and decided we would trek through the rain. Thankfully we packed our rain jackets and the accommodating Hilton gave us golf umbrellas to tour around the city with for the day!
We bought passes for the hop on hop off bus in Barcelona since we knew we only had two days to sight see we figured we could cover the most amount of places this way (whether or not we decided to get off and explore). We rode the bus down to Columbus square where we walked up Las Ramblas.
I loved the Las Ramblas market. It was chocked full of freshly pressed juices (which we had 4 of at only one euro each it was a steal), fresh fruit, vegetables, meats, fishes, cheeses, chocolates, and anything else your heart could desire! Since I have a food blog (Katie's Cucina) Mr. Woodsy filmed a video of me walking through the market. We also had a light lunch of juices, croquettes, empanadas, and chocolate! I could have stayed at the market all day!
After the market we made our way back to the bus where we visited La Sagrada Familia. This by far is the most spectacular church I've ever seen in my life. The church began being build in 1882 and at the end of 1883 Gaudí was commissioned to complete the church. He worked on it until he died in 1926. Since then other architects have worked on the church and they plan to have it completed on the 100th anniversary of Gaudí's death in 2026. "When the church is finished it will have 18 towers: 12 dedicated to the apostles, 4 to the evangelists, one to Jesus and another to Mary."
After we spent a few hours at La Sagrada Familia we decided to head back to Las Ramblas for dinner. We were instantly on Barcelona time and didn't eat until almost 9pm!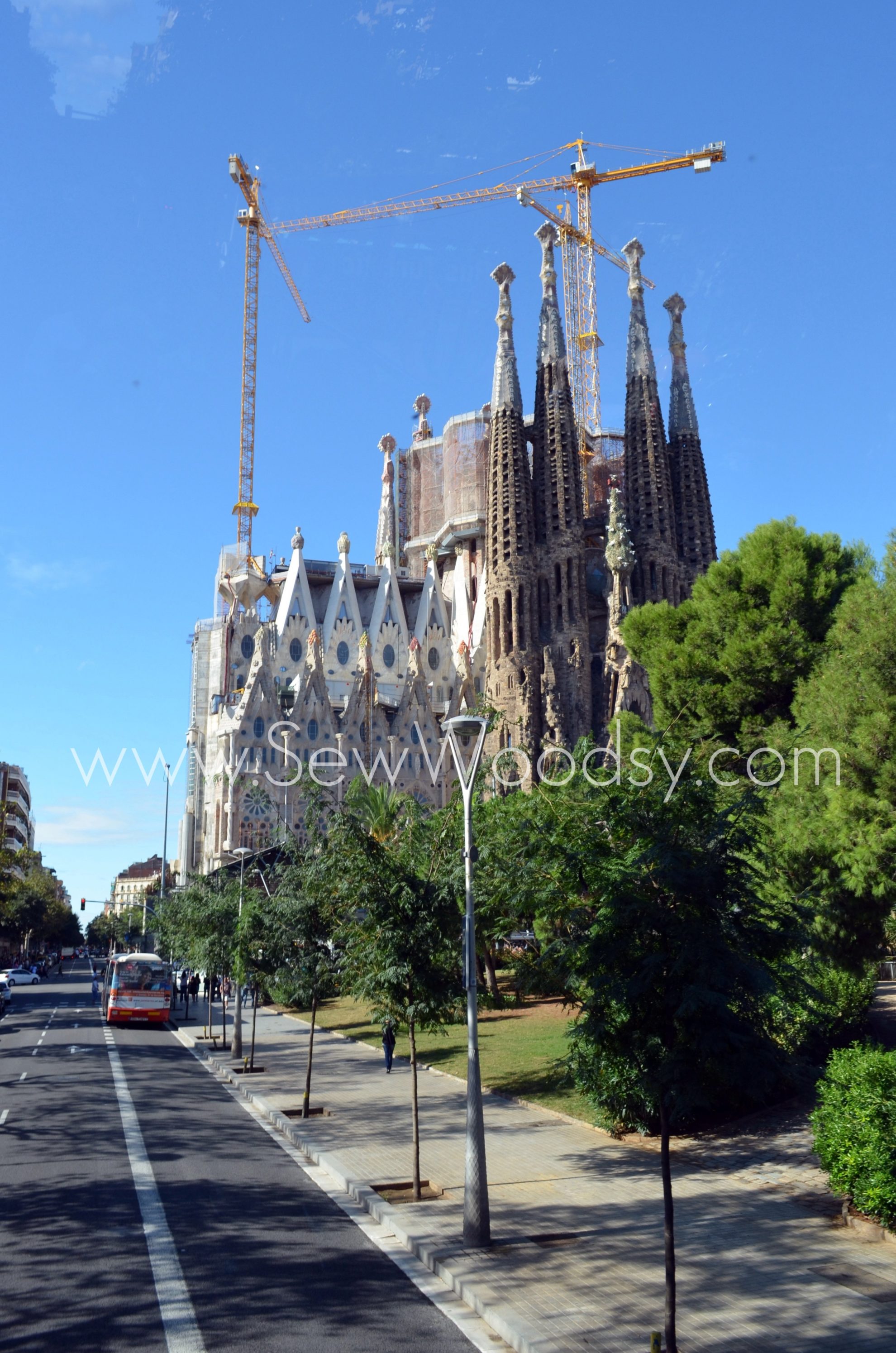 Day 2: This is what La Sagrada Familia looks like during the day when its not all gloomy and raining. The lines on our second day were out of control for not only the church but to get on the bus. We had premium seats and decided instead of getting off the bus to take exterior pictures that we would just snap a few from the bus.
We made our way to Gaudi's natural masterpiece: Park Güell. This was the one thing I really wanted to do while in Barcelona. Little did I really realize that we would be hiking. We spent a good 2-3 hours exploring the park, taking in the gorgeous views, and looking at the beautiful mosaic masterpieces.
We also had tickets to the Gaudí House Museum, so we waited in the short line and went in. Mr. Woodsy was in love with all the handcrafted furniture displayed in the museum. Of course, all the furniture was made by Gaudi. The first thing they said to us in broken English was "Do Not Touch". That killed Mr. Woodsy… he wanted to feel each piece and really dissect how it was made. I swear he looked like he was in a scene from the Matrix's because he was bending and moving all different ways to look and not touch the furniture!
We spent a few hours in a quaint little town, dodged an afternoon rain shower, and ate with the locals at a local restaurant. After that we were back on the bus and made our way over to Olympic Park. I'm not going to lie… I was disappointed. This park has not been well kept up and had lots of graffiti on it. The stadium was very impressive though and is still being used for various athletic events.
We ended our day with the Magic Fountain show at Montjuïc's. This was the one thing that Mr. Woodsy really wanted to see. This is a free show that only happens Thursday-Sundays (weather permitting). Since Saturday night was a bust thanks to our rainy day we ended our Sunday at the show. Thousands of people come out to watch the spectacular fountains change color and dance to music. Ironically, Disney music (in Spanish of course). We were 5k+ miles away from home and still couldn't escape Disney!
Our last morning in Barcelona we had a nice breakfast, went shopping at the local grocery store, and headed to the cruise ship! I hope you enjoyed living vicariously through us during our few days in Barcelona, Spain.