Create a Valentine day garland using store bought garland and adding ribbons and bows to it to make it your own!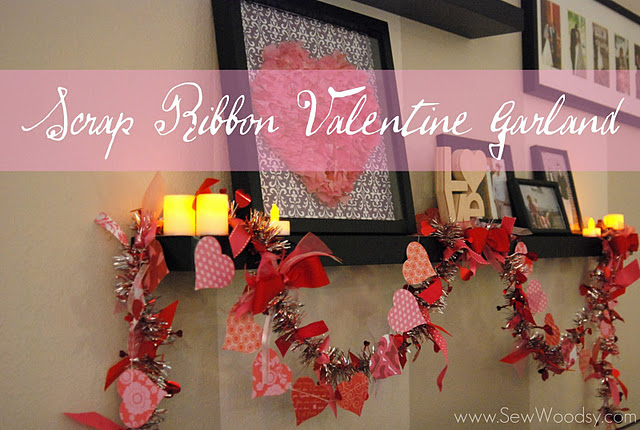 I'm here to share with you today on how to make your very own Valentine Day Garland for a fraction of the price. I am making the effort to not spend a lot of money on craft supplies this year, and in doing so using more of the supplies I already own. I got this garland idea while cruising the Valentine aisle at Michaels Craft Store. That is when I realized it was finally time for me to stop hoarding my scraps of ribbon and put them to good use!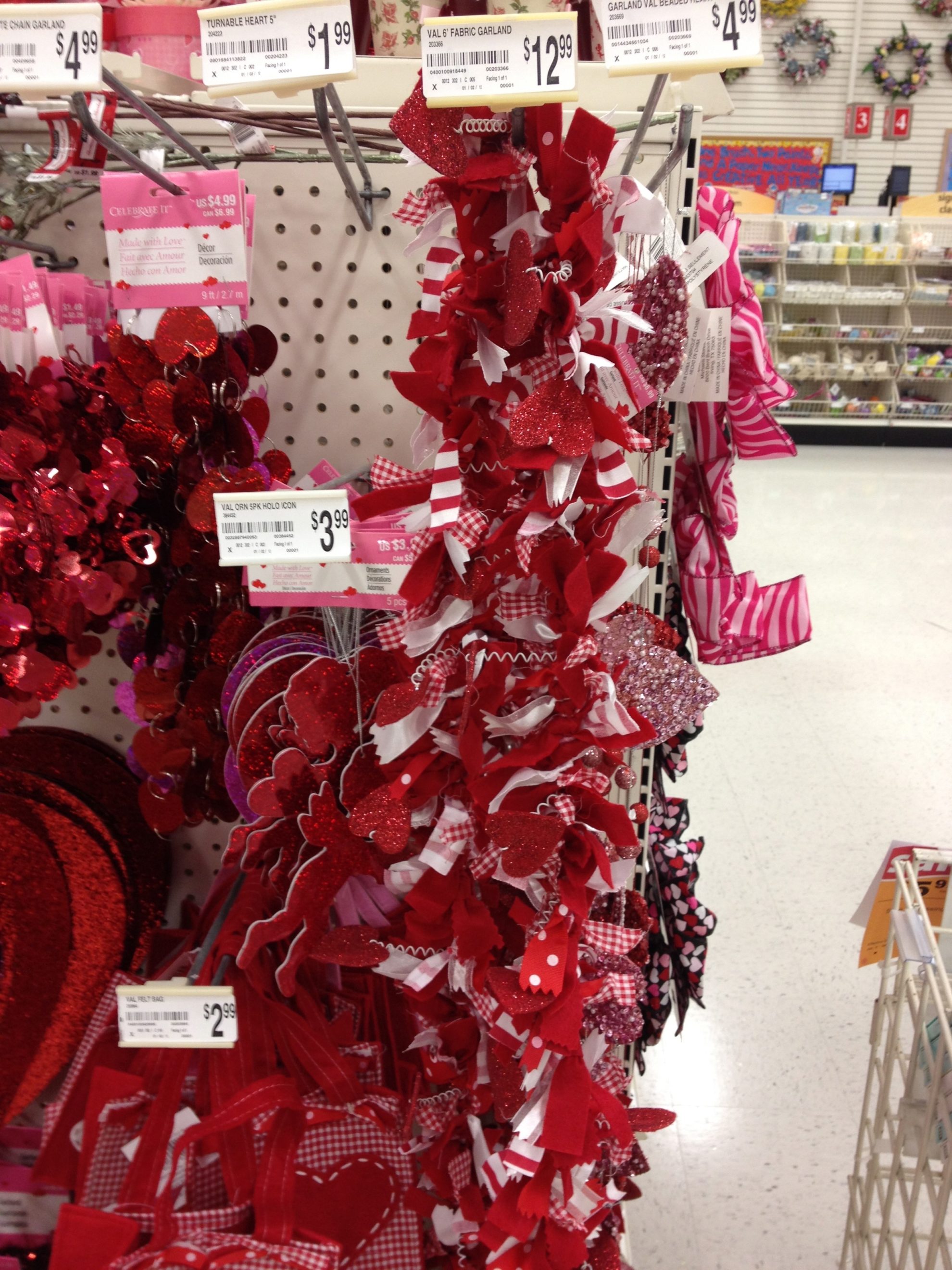 I saw this Valentine Day Garland and loved it, but didn't want to spend $12.99 on a strand of garland. I also didn't want it as busy as the one I had seen at Michaels. I originally was going to use a long strip of ribbon and tie the ribbon onto it, but then later decided to splurge and spend $1 at the Dollar Store on a Valentine's strand of garland. This is super easy to do and can make a big impact in the Valentine's vignette you create!
Table of contents
Supplies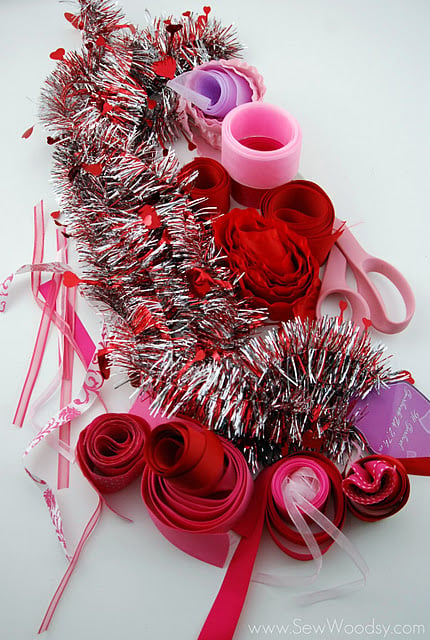 Valentine Garland – You can find this either at the Dollar Store or even at your local craft store.
Scrap Ribbon
Scissors
Bowdabra and Bow Making Supplies
How to Make Valentine Day Garland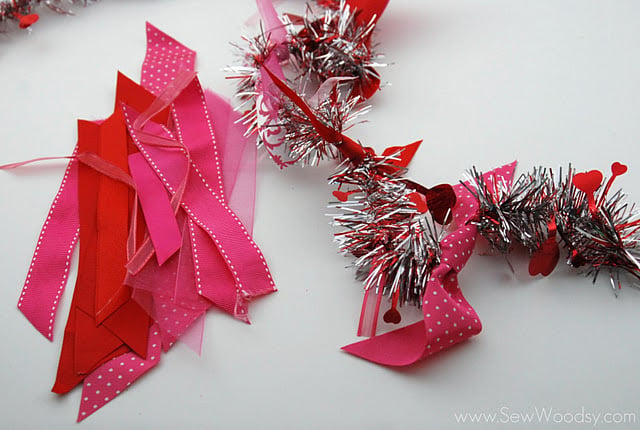 Decide how long each of your pieces of ribbon are going to be. I cut 8-10 inch strips of ribbon.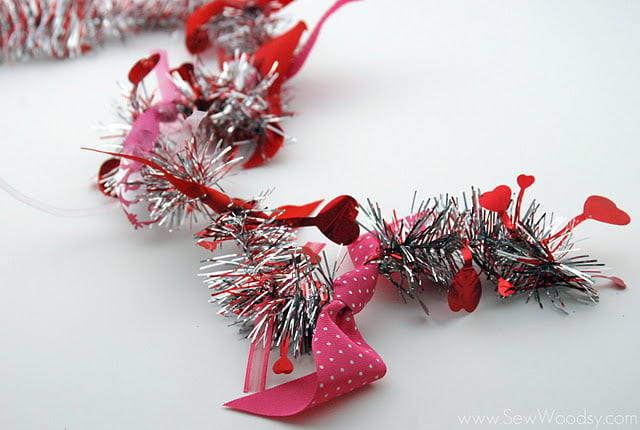 Begin tieing the ribbon in even spaces on your dollar store garland.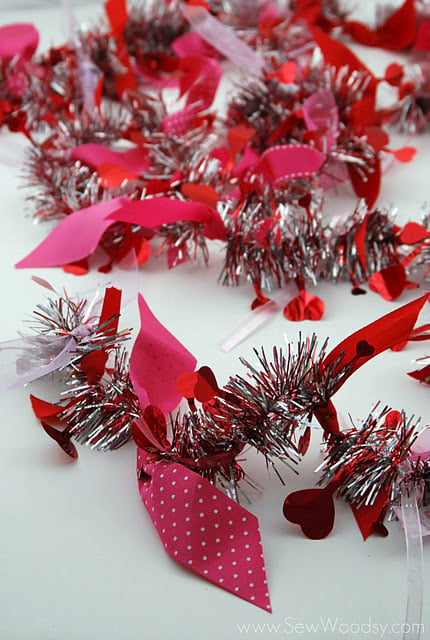 Once you've used up all your ribbon or until you are satisfied with how it looks your done!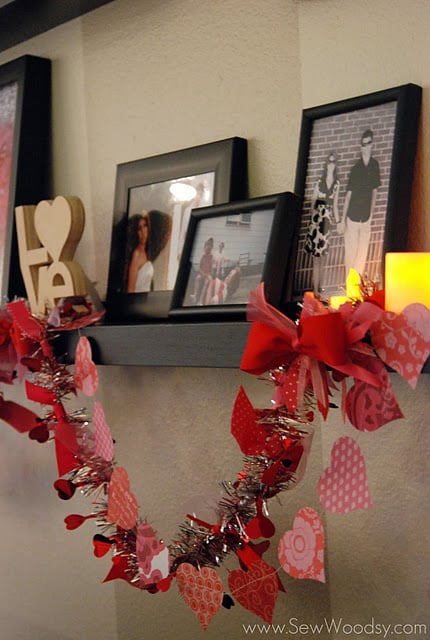 Hang your garland in its desired location. For good measure I draped last years paper heart garland over it.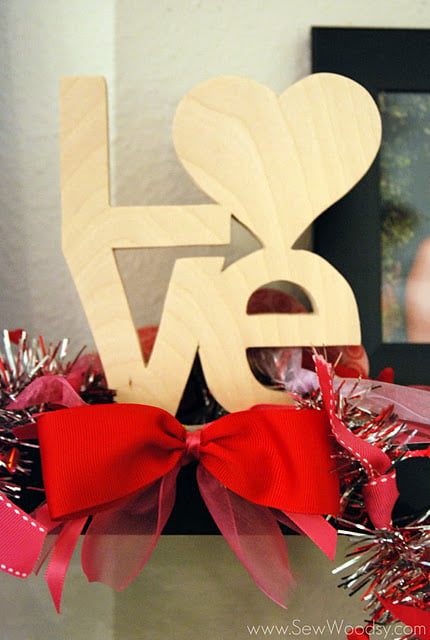 Take note: I attached the beautiful Valentine inspired Spiky Bow & Bow Tie Stacked bows to my garland!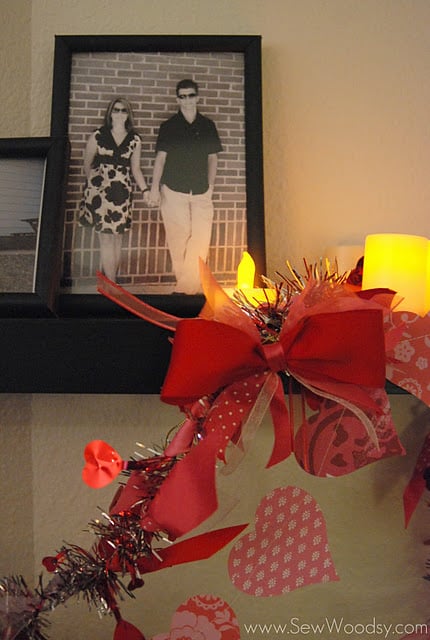 Since I don't have a mantel I hang my garland on my shelves above our tv and place my favorite "romantic" photos of Mr. Woodsy & I. This photo was taken almost 5 years ago during our engagement photo shoot. Crazy how quickly time passes us by!
Valentine Crafts
Here are a few more adorable Valentines day crafts you can make for your home!
Heart Garland
Burlap and Felt Heart Garden Flag
Disclaimer: There are affiliate links in this post. That means if you purchase from a link I make a small percentage at no additional cost to you. Thank you for supporting Sew Woodsy!