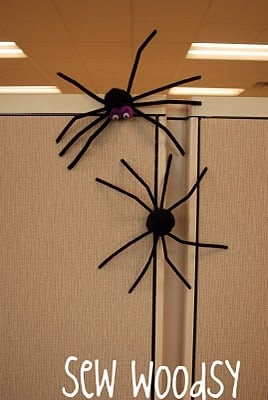 I'm happy to report that I helped organize our first "craft at lunch" event at my office earlier this week. A handful of us are very crafty and craft all the time, so we decided to do an easy project during our lunch hour to clear our minds off work, and focus on a fun craft project. We adhered magnets on to the bottoms of our spiders, but you can honestly use anything like velcro or clips, etc… Our first crafting lunch was a huge success and we are already starting to plan for our next!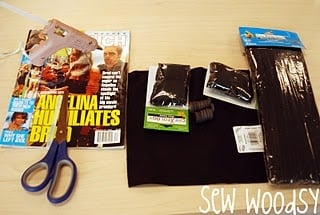 32 black pipe cleaners
(I bought 100pk for $4)
8 two-inch black puff balls
($2 for 4)
8 magnets
(18 for $2 at WalMart) OR (clip, velcro, etc)
1 sheet of black felt
(.25 cents)
glue gun w/ glue sticks
(already owned)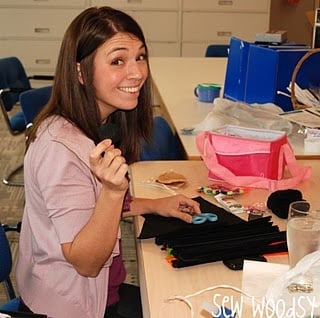 Our craft project "instructor" for the hour, Sarah.
This was Sarah's project that she taught us all how to make.
I wish she had a craft blog, because she makes some really cool stuff!
1. Plug in hot glue gun then start cutting small circles out of your felt
(the size of your puff ball).
2. Once your glue gun is hot enough; place a large "glob" of hot glue in the middle of the circle.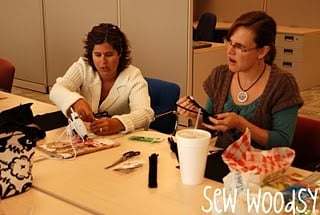 3. Take 4 pipe cleaners and place the centers of them on the circle. Push down, but be careful not to burn your fingers. Once the pipe cleaners are in place–place more glue on top of the pipe cleaners then press the puff ball on top.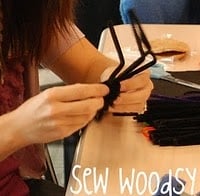 4. Lastly, hot glue a magnet on to the bottom of the felt circle, and bend the legs to how you'd like them to look.
*If for some reason your felt circle is larger than your puff ball you can always cut around it so that the felt circle does not show.
5. If you would like you can add other decorative items to your spiders to give them more character you can do so at this time (googly eyes, small colored puff balls, etc).
As you can tell this was a super easy project. One of my co-workers made one at the office, and then made the rest at home with her 10 year old daughter who LOVED the project! You can place these creepy spiders on your refrigerator, magnetic cabinet, or best of all on your garage. It gives for a creepy cool effect from the street!
Here are more photo's from our craft lunch: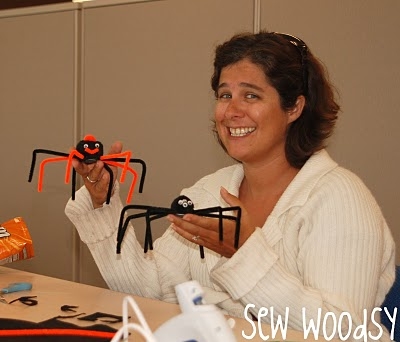 Kristi posing with her 2 spiders. *The black and orange spider is a Halloween spider and has NO ASSOCIATION with a sport's team! (lol)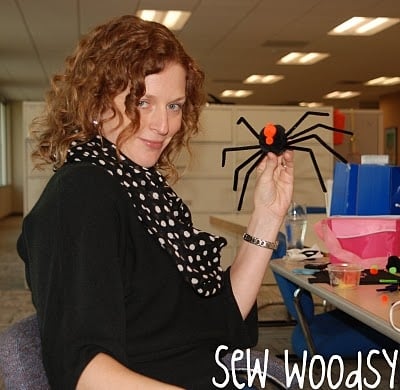 Christy with her eclectic spider!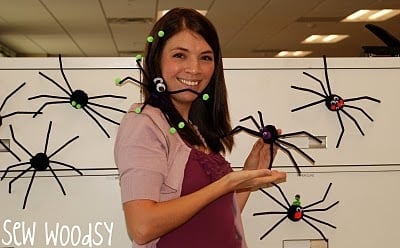 Sarah and her crazy spiders!!!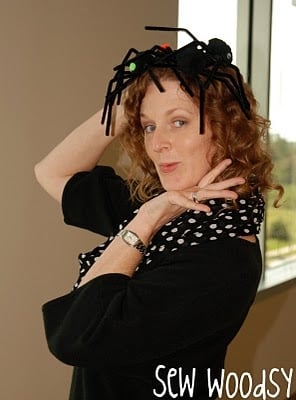 Here's my favorite picture from our craft hour!