I'm sharing 13 Things to Know about Mickey's Not-So-Scary Halloween Party before you go! These helpful tips will help you navigate a fun-filled evening.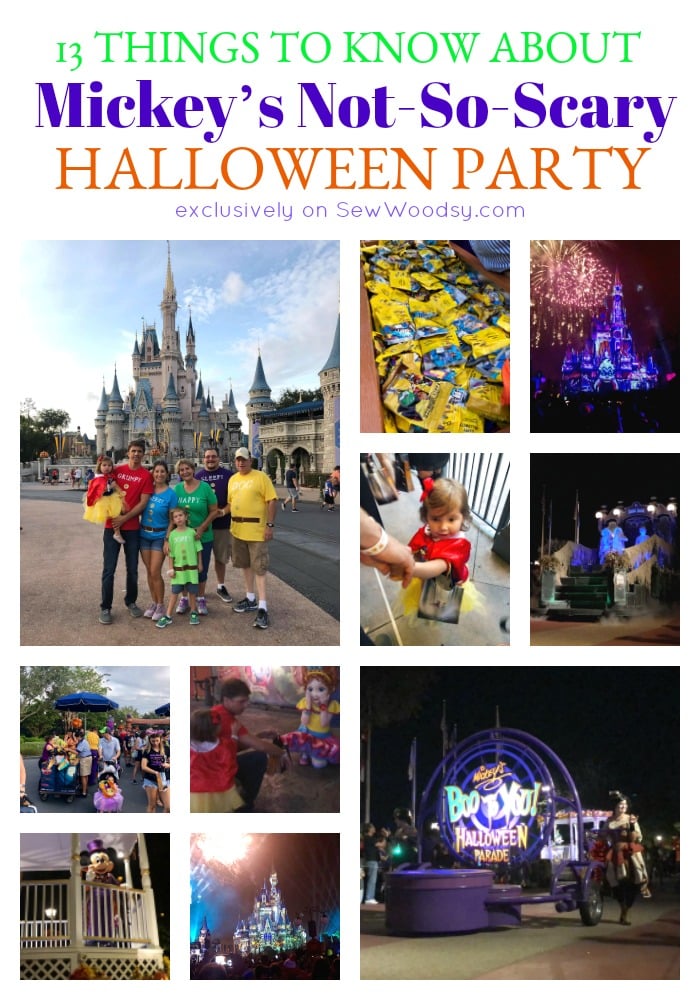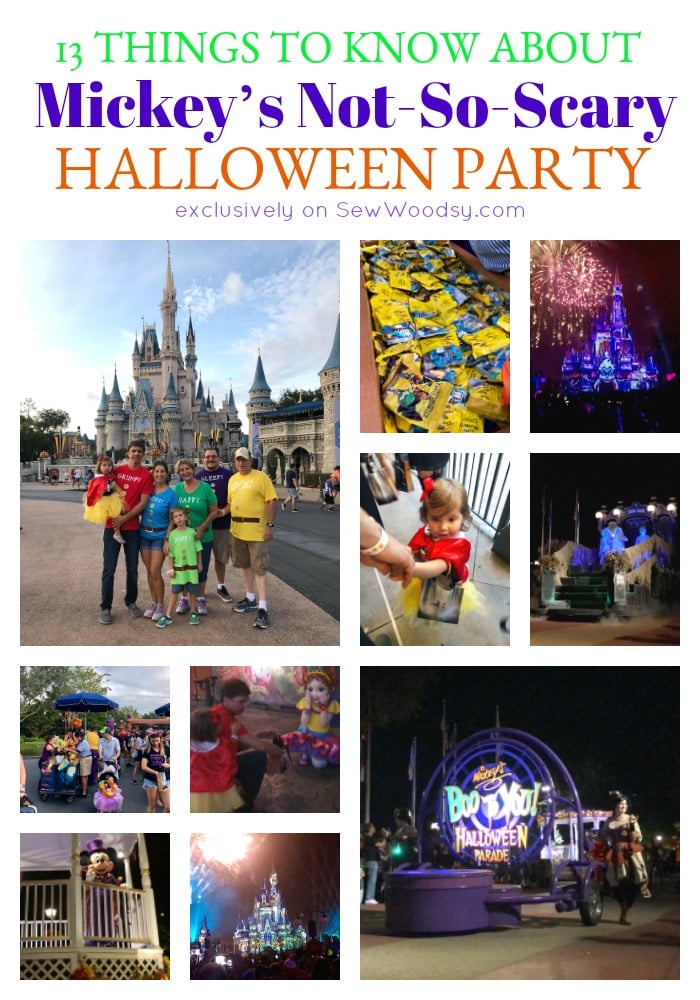 Last week, my husband Jon and I surprised our kids with a visit to Mickey's Not-So-Scary Halloween Party. The last time I attended was when I was 13 (some 21 years ago). I feel like a lot has changed since then. I think I was just as excited as the kids. Jon has never been so he was also buzzing with excitement.
Before going, I read a few post on what to do, but no one gave solid advice for first time attendees. I also asked friends tips and tricks which helped a lot. I figured I would share my 13 Things to Know about Mickey's Not-So-Scary Halloween Party that I found helpful and/or wish I would have known!
1. Arrive as early as possible to Mickey's Not-So-Scary Halloween Party
The earliest you can arrive with your Mickey's Not-So-Scary Halloween Party ticket is 4pm. That is what time I wanted to attend, but no one else in my party wanted to listen to me. By the time we got in and wrist bands on it was close to 7pm! With little kids it's best to arrive early since they won't be able to hang as late. Needless to say, we wanted our monies worth, so we stayed until 12:30! *If you have an annual pass you can arrive before that time and head to the wristband stations when they open at 4pm!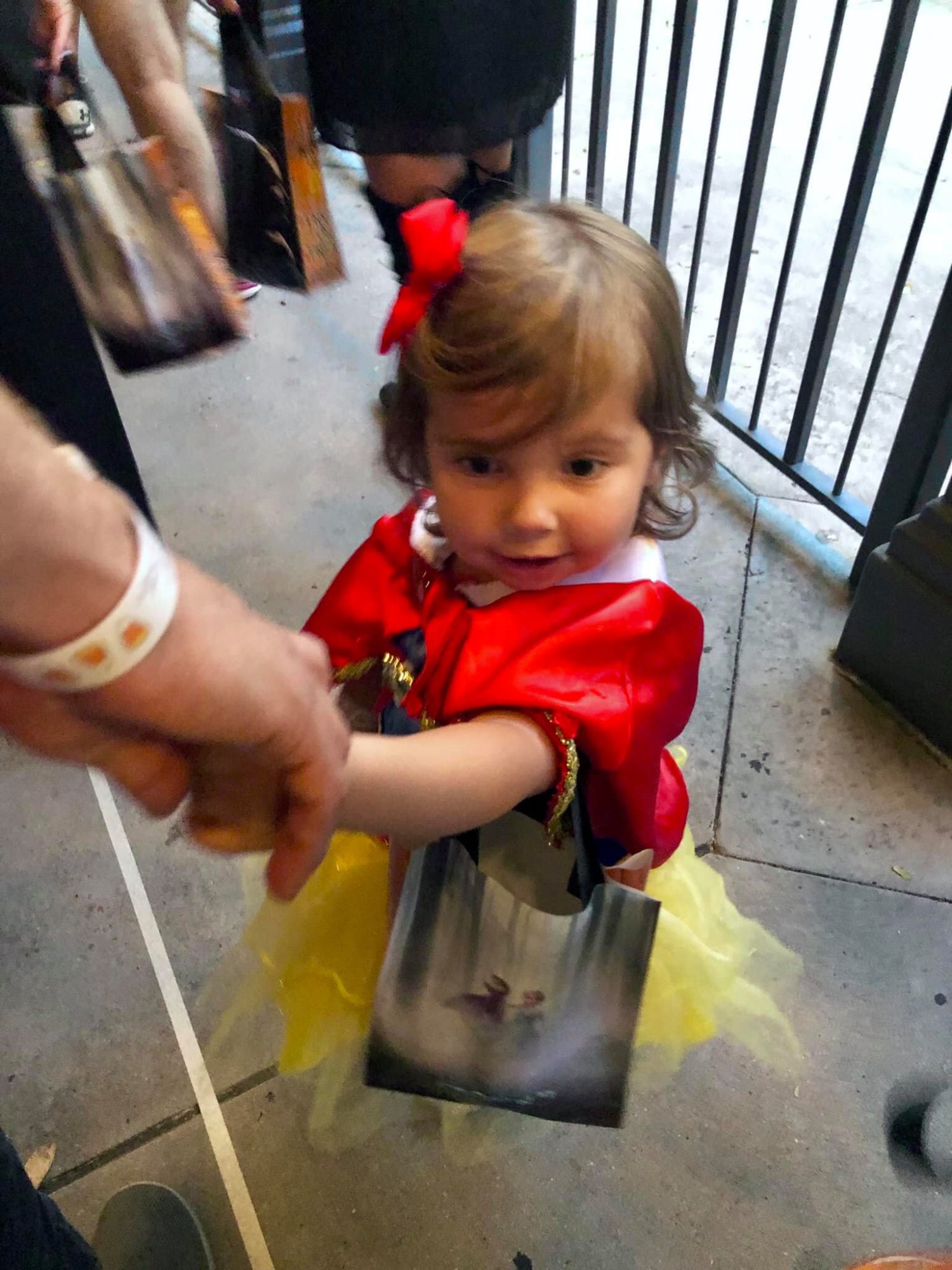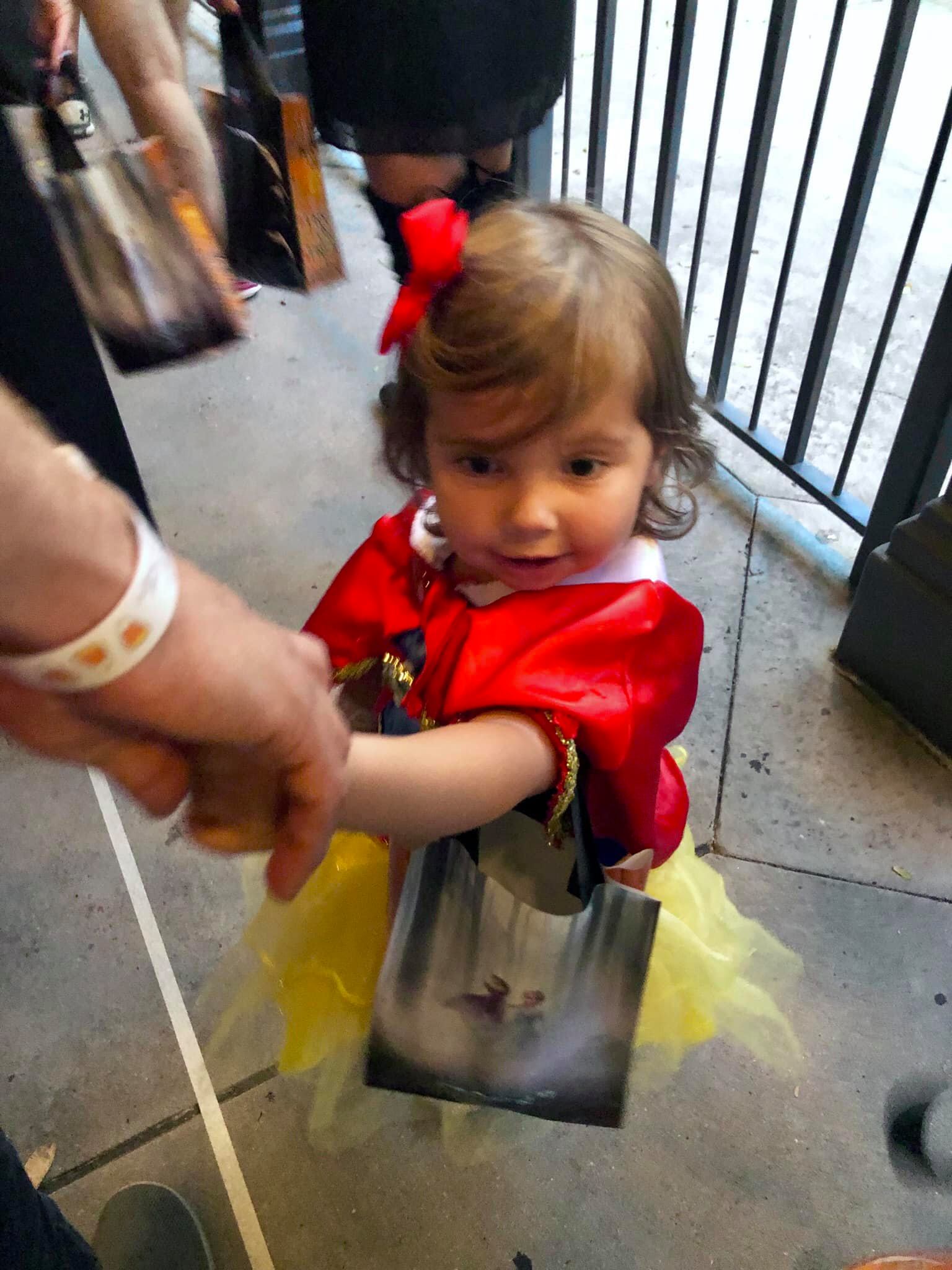 2. Treat bags are provided!
You do not need to bring your own bag/bucket for trick or treating! They provide you with small bags that you can use throughout the park. You will get this after you receive your wristbands and walk into the park.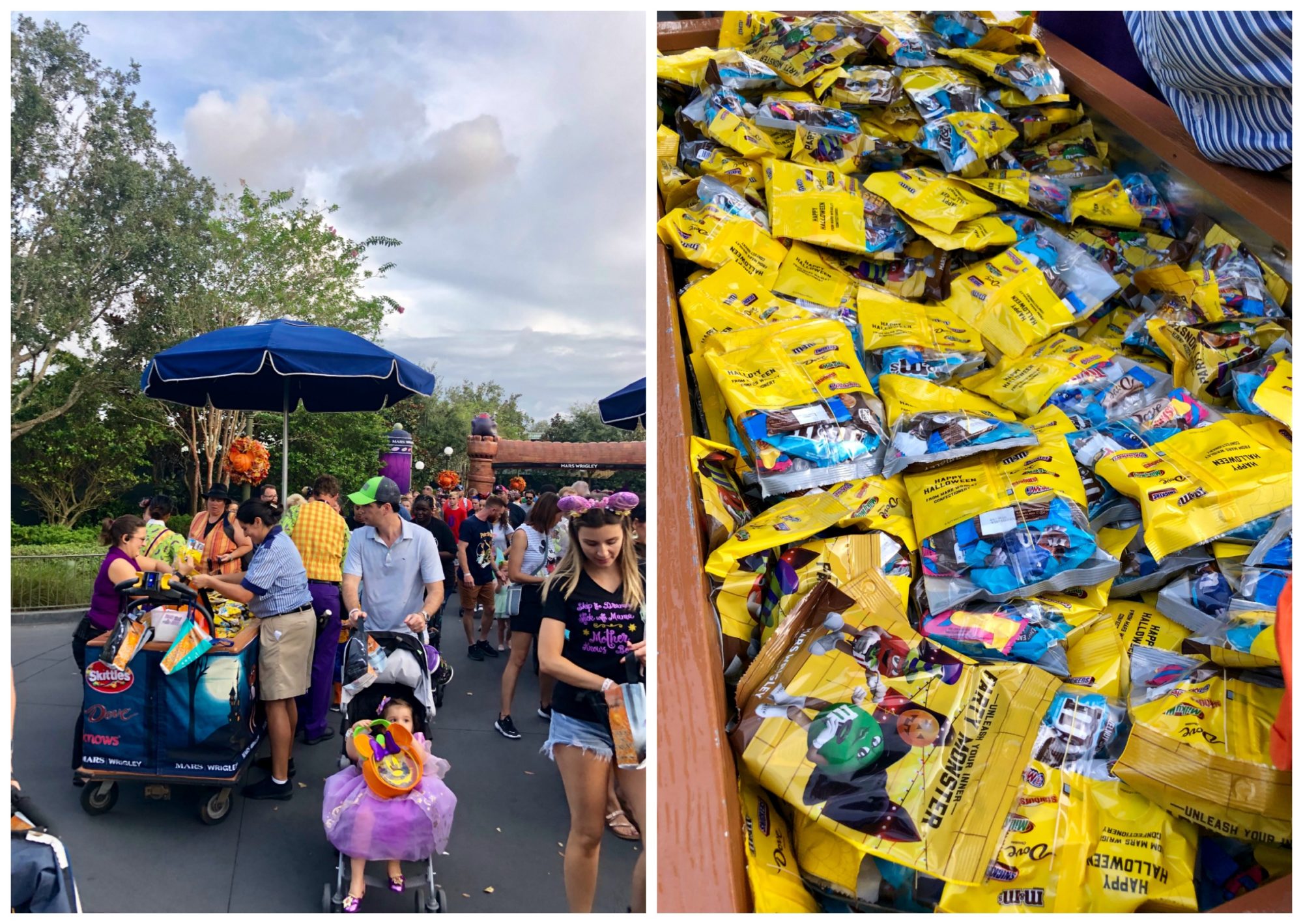 3. Treat stations throughout Mickey's Not-So-Scary Halloween Party
As soon as you get into the park grab a map, so you're well aware of what trick-or-treat stations they have throughout the park. You will get more candy than your heart could ever desire! Don't worry they pass it out to everyone (adults included even if you don't have a kid with you)! The first candy you receive after you receive your treat bag is a bag of candy that is prepackaged and has about 6-pieces of various candies in it. Even if you don't grab a map you'll be able to spot the candy stations! They all have a sign and lines (fast moving) that really don't ever stop until you get to the candy station. Candy we received throughout the night: Snickers, M&M's, starburst, skittles, etc.
4. Allergy-Friendly Centers
Disney has done an excellent job with catering to those with food allergies. when you arrive at the park and receive your treat bag he will need to see a cast member to pick up a teal color tree bag. When you trick-or-treat with your teal bag you'll receive till tokens at each trick-or-treat location. Then you can redeem them at an allergy friendly center for special treats.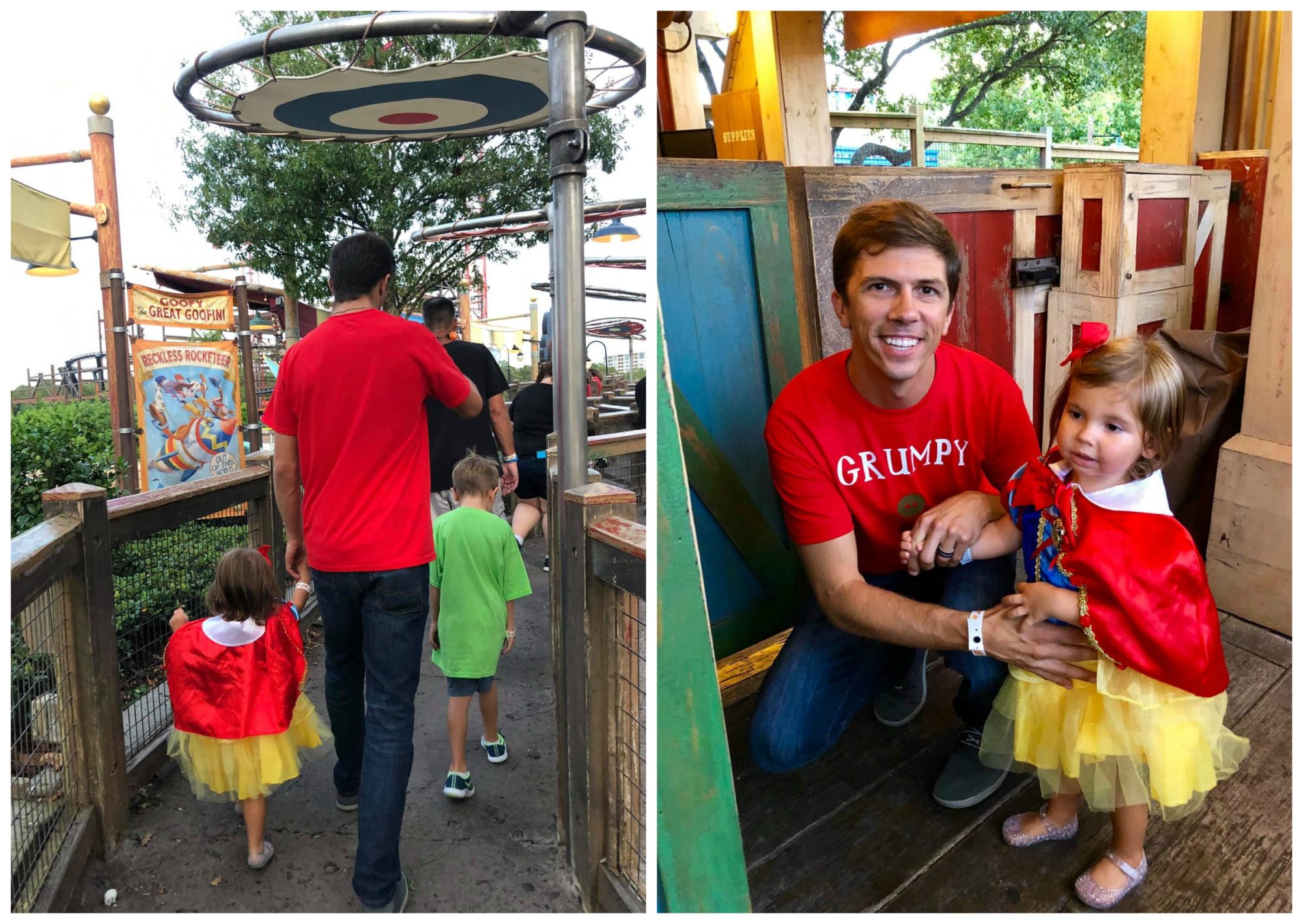 5. No Fast Passes Needed
They do not allow you to schedule fast passes for this event! This might be a surprise to some, but let me tell you… it's not that crowded. Because it's a specialty ticketed event they only allow so many tickets to be sold each night. The night we went the longest lines were 30-45 minutes. Most rides hovered in the 5-10 minute range. For instance, we attended on a Friday evening. Our longest waits were 20 minutes for Peter Pan, 20 minutes for Big Thunder Mountain, 25 minutes for Mine Train, and 30 minutes for Pirate's of the Carribean. We walked right on to Barnstormer (and rode it twice) as well as The Voyage of the Little Mermaid.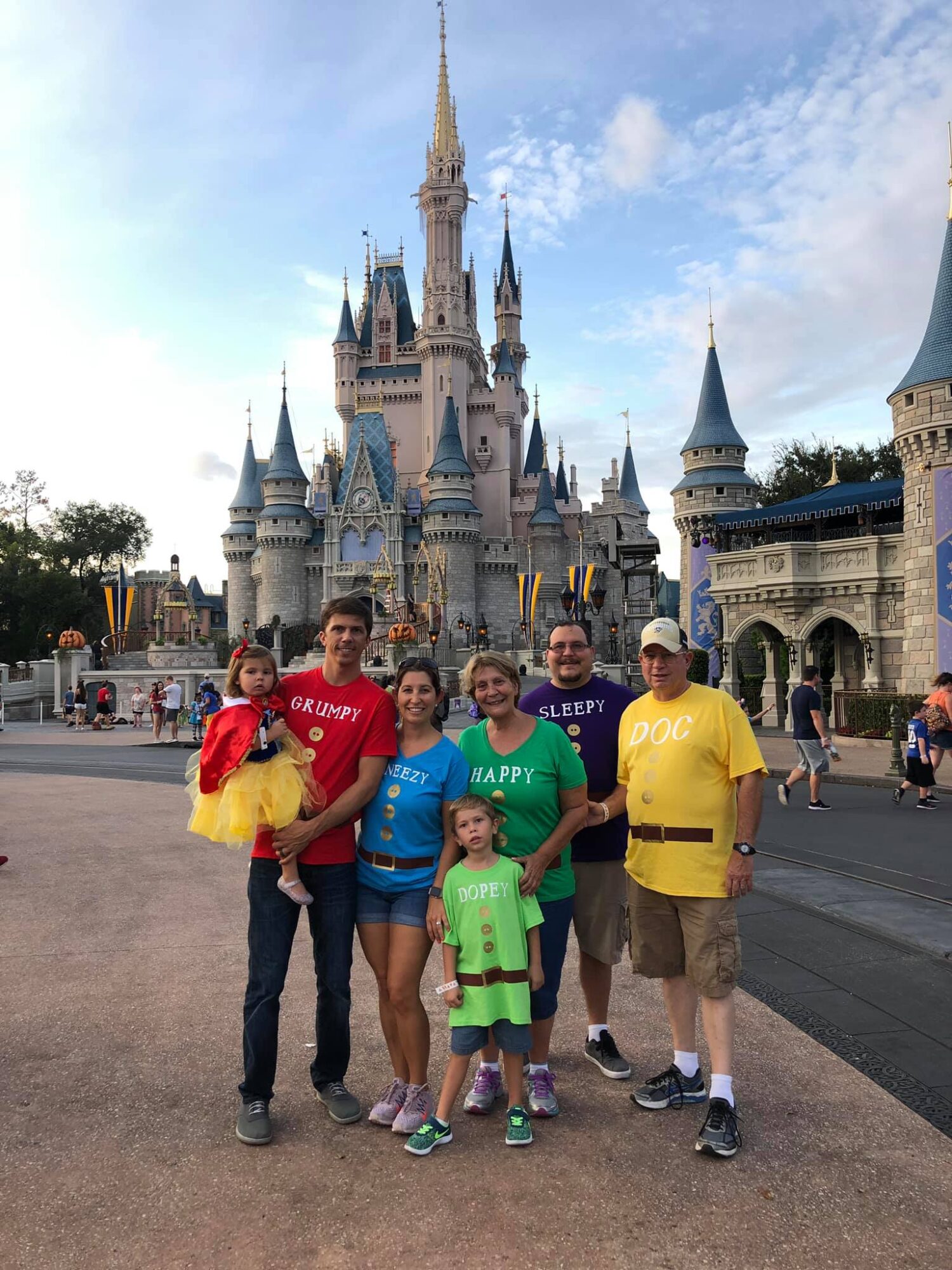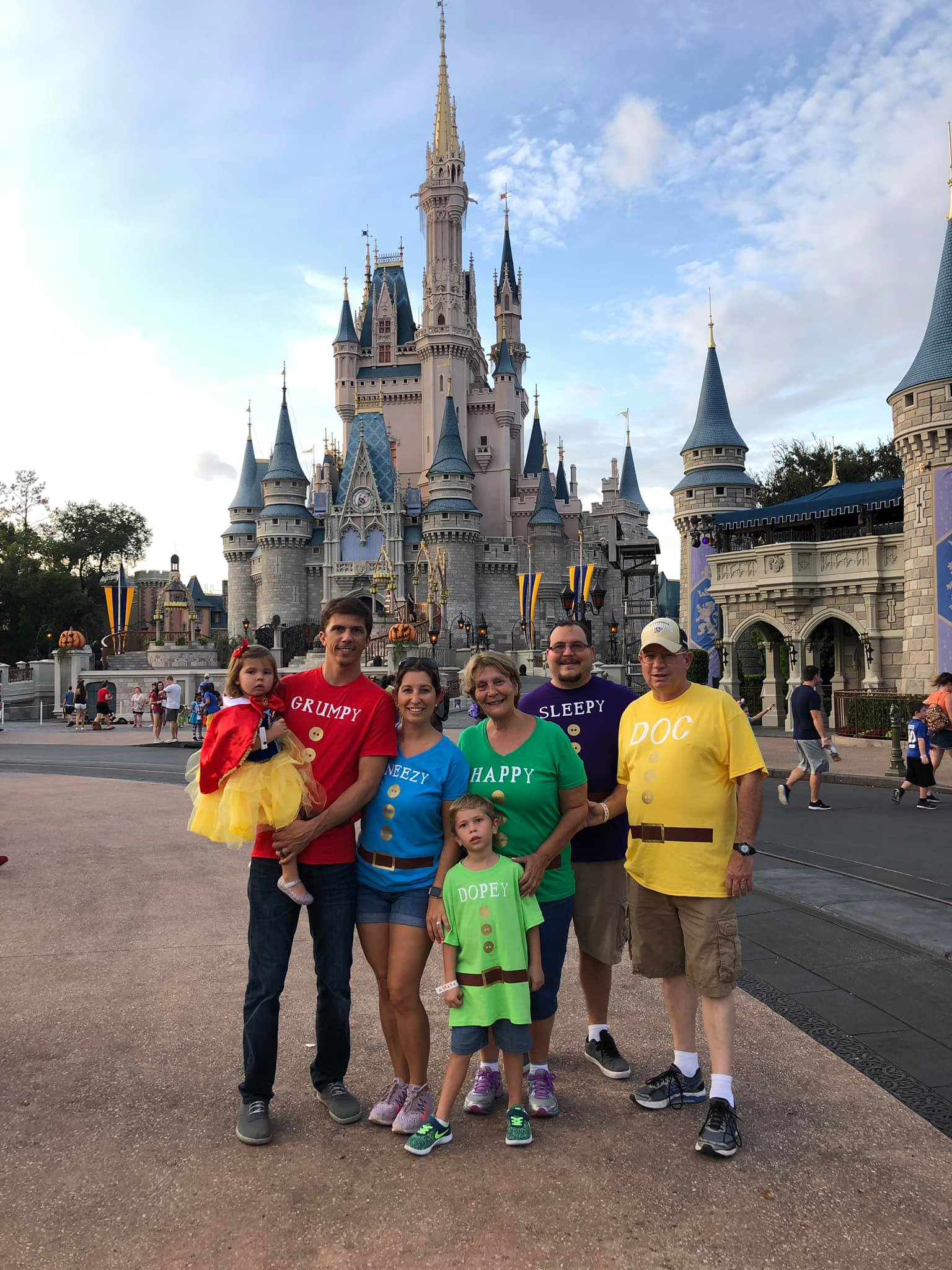 6. Wear a Costume!
Be smart and wear something that is conducive for 90 degree weather and riding rides. Some people do group costumes other people just let their kids dress up. I would probably say about 80% of people attending dress up! Since we had a group of 7 we went as Snow White and the 6 dwarfs! My daughter had the costume already and I made all of our shirts for under $50! Just be advised not all costumes are welcomed. So make sure you read up on the Disney website so you know the do's and don'ts before heading out!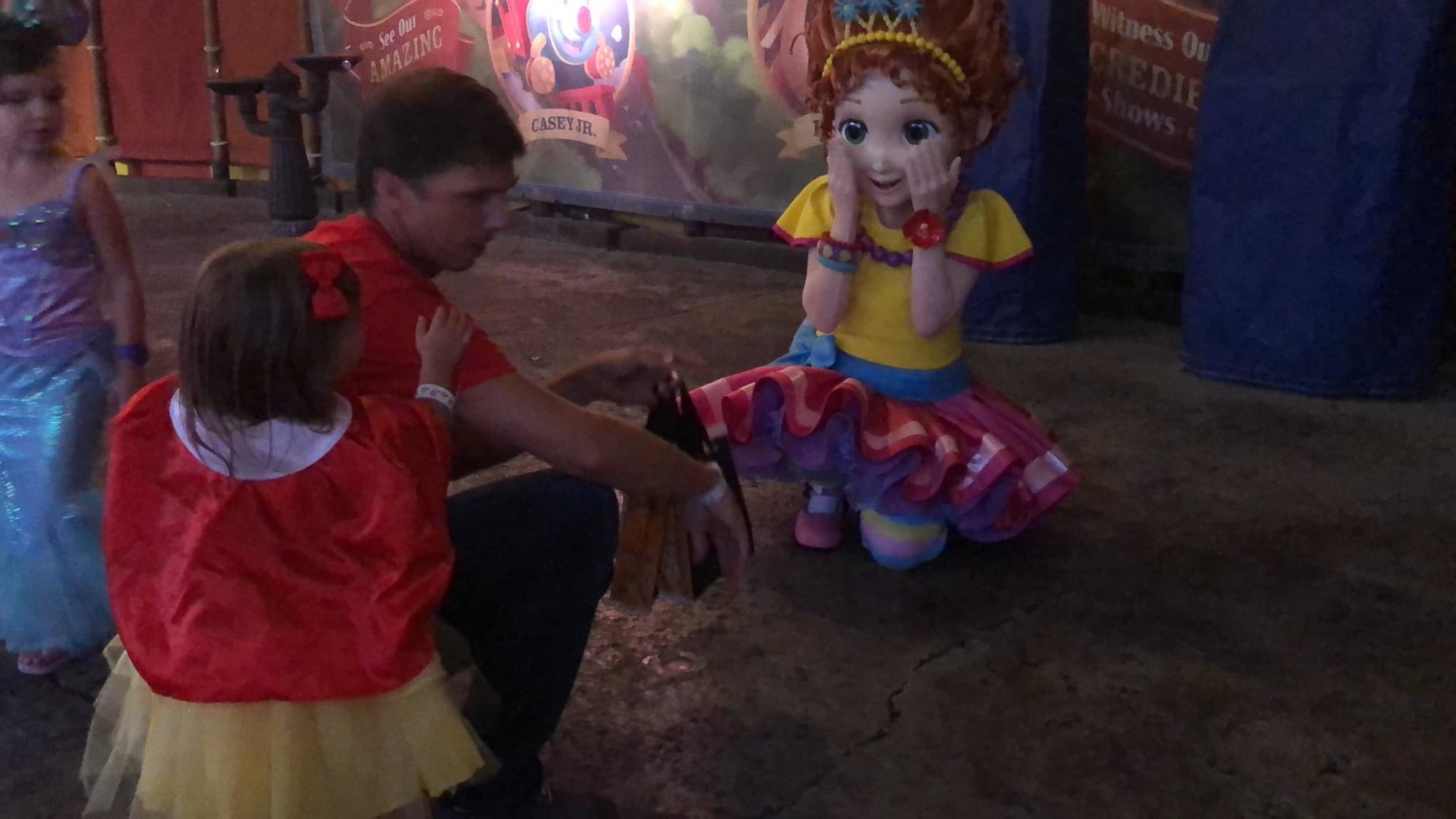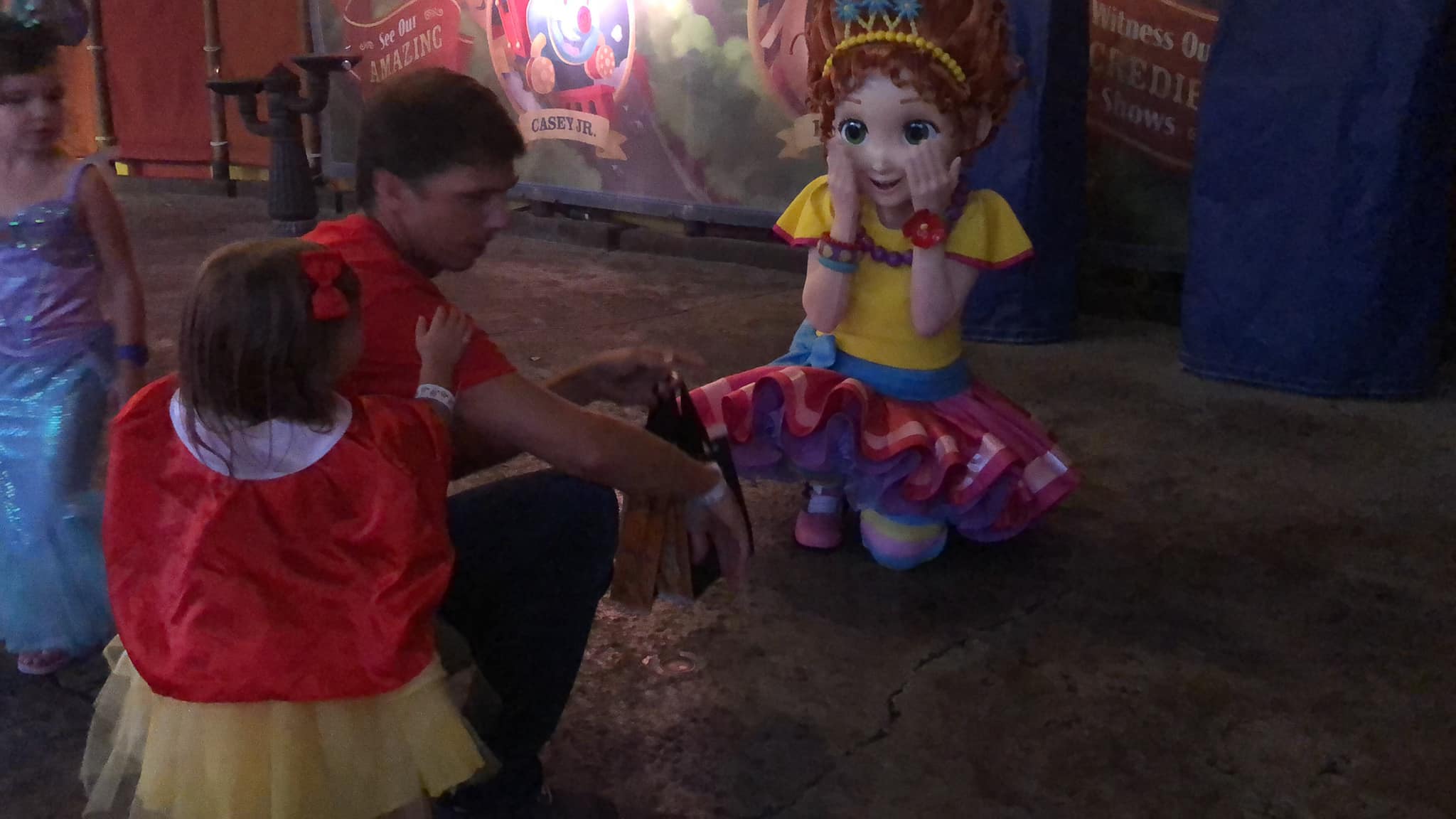 7. Special Dance Parties!
They have quite a few areas that have special Halloween themed dance parties just for this event. We went to the Disney Junior dance party located at the Storybook Circus across from the Barnstormer Roller Coaster. The kids got to meet and dance with Vamparina, Fancy Nancy, and Timon!
Monstrous Scream-O-Ween Ball (7pm-12am, Rockettower Plaza Stage)
Storybook Circus Disney Junior Jam (7pm-12am, Fantasyland)
Disney Descendance Party (7pm-12am, Cosmic Ray's Starlight Cafe)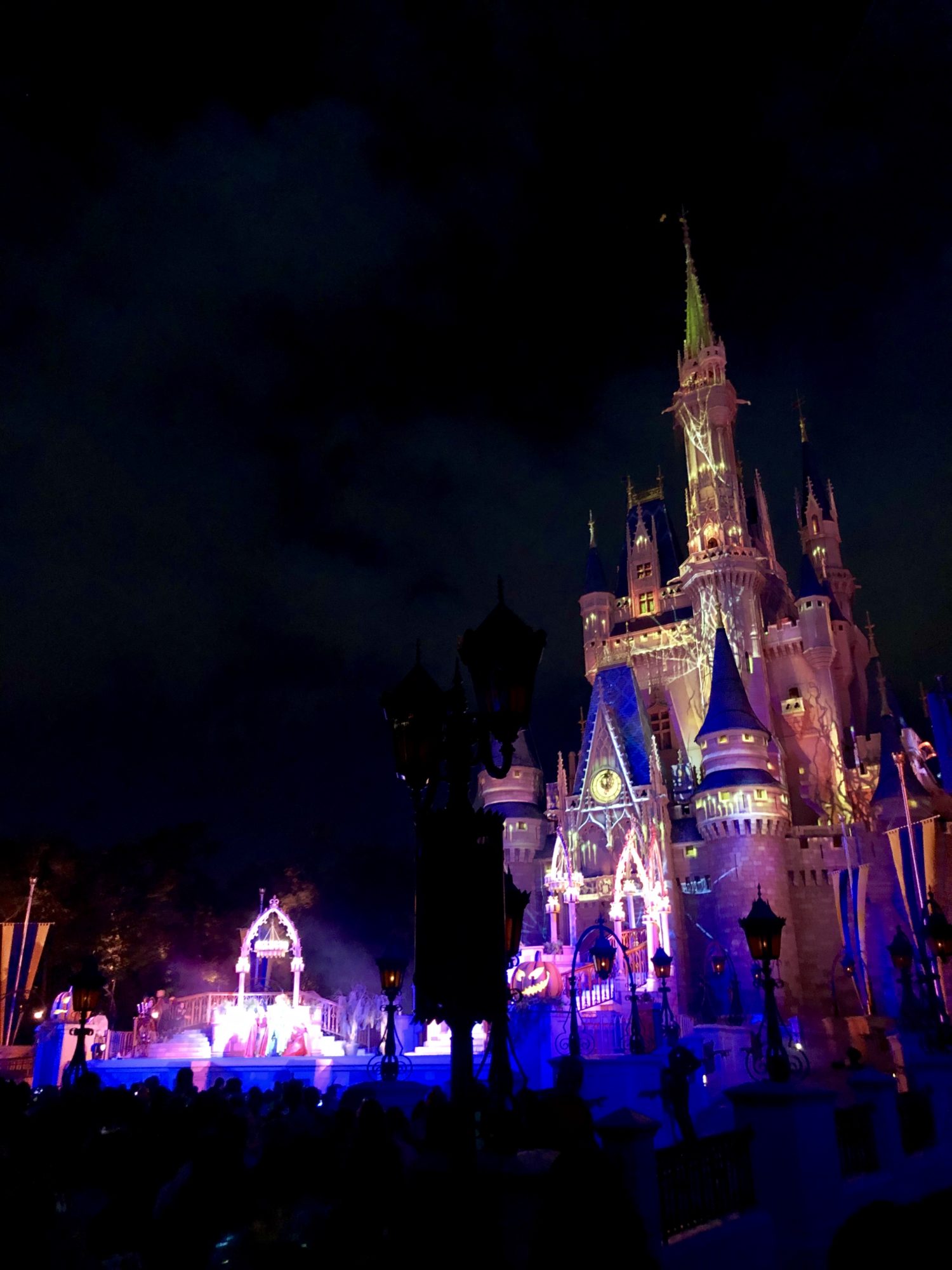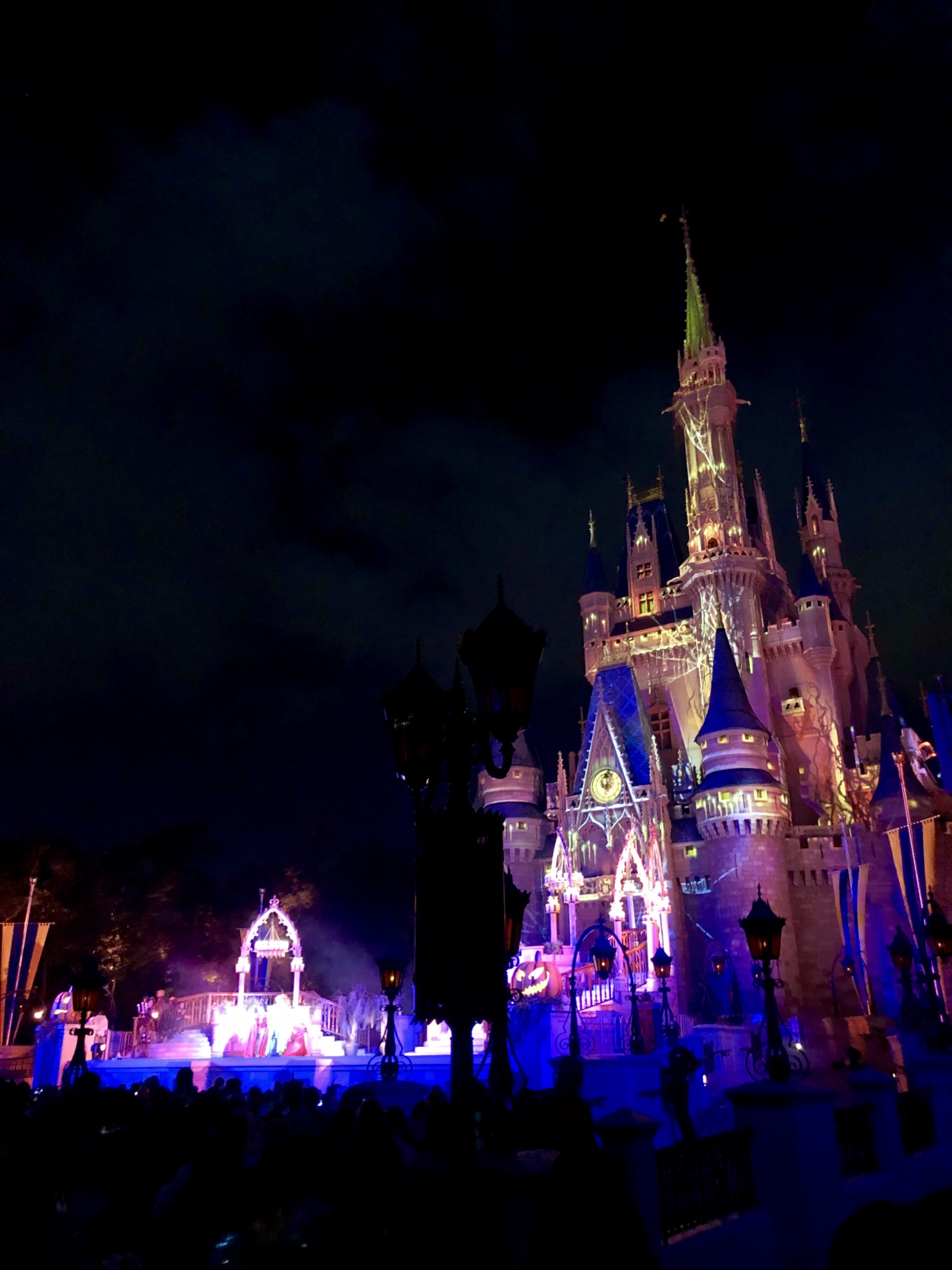 8. Hocus Pocus Villain Spectacular
This show features the Sanderson sisters and a few villains from popular Disney movies. Located at the Castle Forecourt Stage (weather permitting) 8:30pm, 10:45pm, 12am.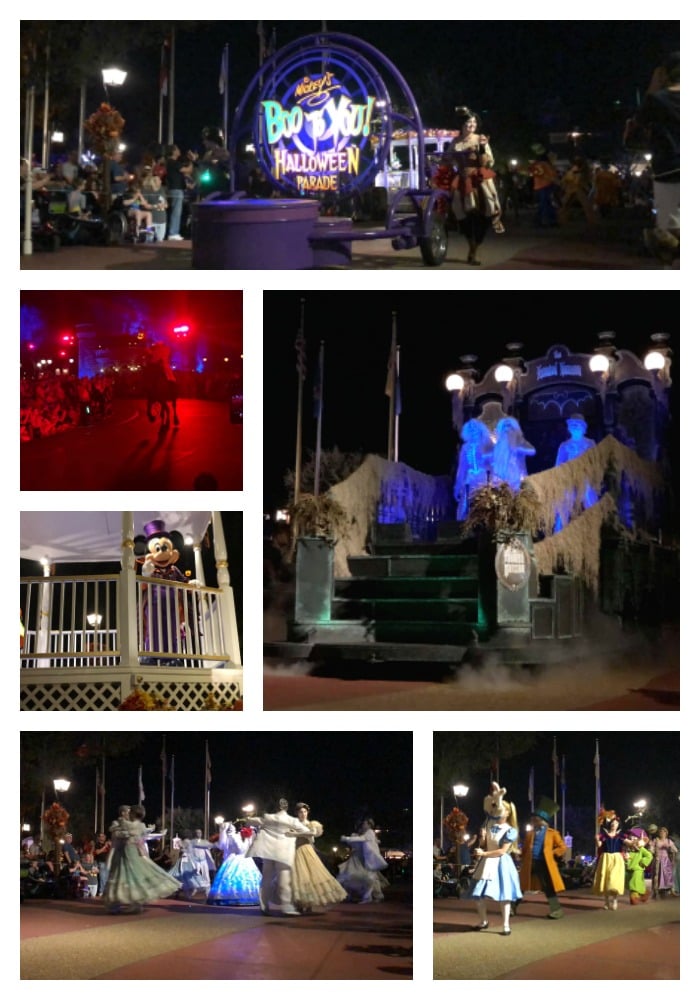 9. Mickey's "Boo To You" Halloween Parade
This is a special parade just during Mickey's Not-So-Scary Halloween party. You will see all the characters plus villains, pirates, and characters themed around the Haunted Mansion! It's one parade you do not want to miss. They have two different times for the parade 9:15pm and 11:15pm. The parade starts in Frontierland and ends at the beginning of Main Street. Just a heads up the 11:15 is not nearly as crowded. So if you have older kids who can hang later I would say ride all the rides (or wait in lines for characters) you want during the 9:15 parade and catch the 11:15. Make sure that you get your spot 30 to 45 minutes in advance. You will also get a special visit five minutes prior to the parade from the headless Horseman himself.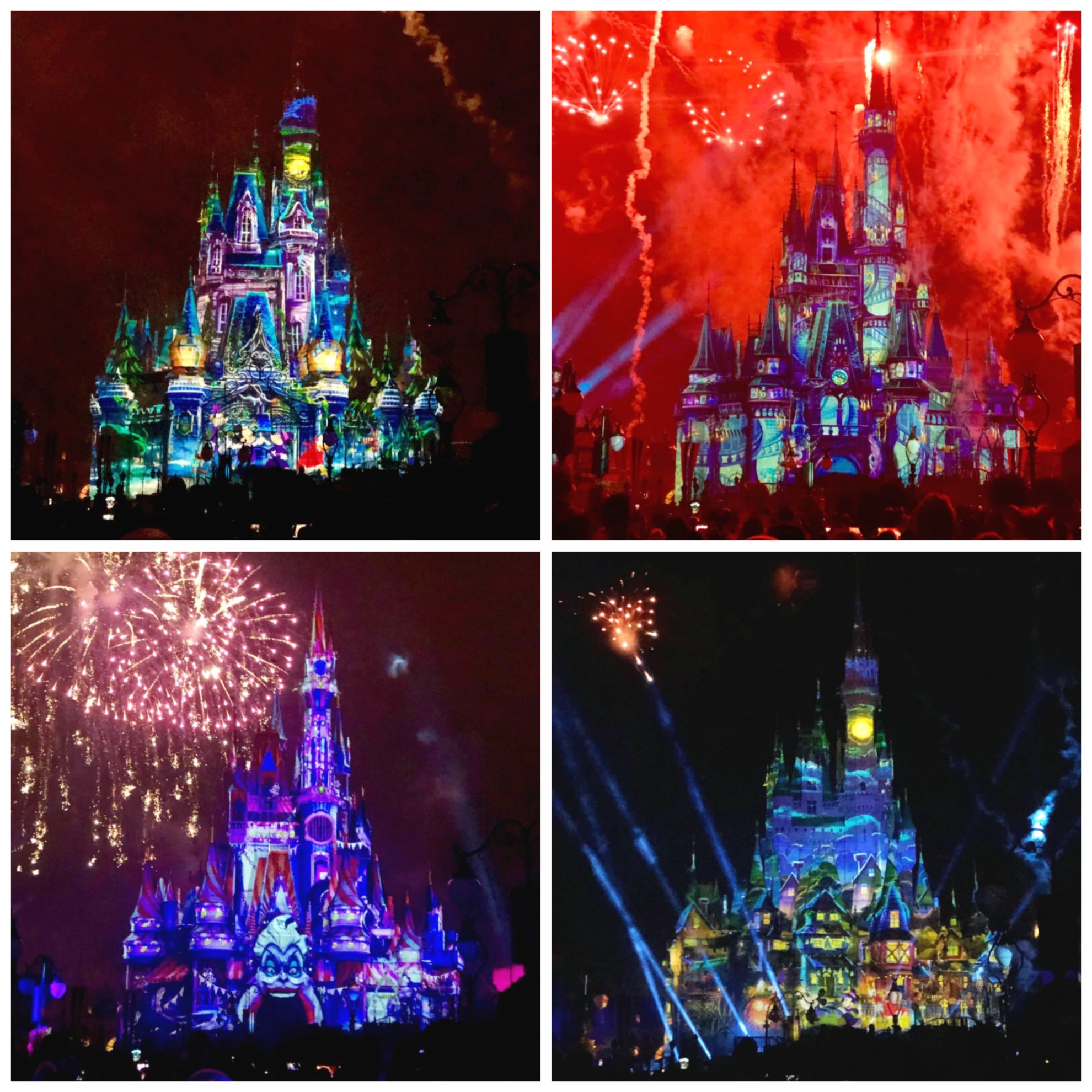 10. Disney's Not So Spooky Spectacular
This fireworks and laser projection show starts at 10:15 in front of the castle. This is a one-of-a-kind show that you only got during Mickey's Not-So-Scary Halloween party. It's really more of the laser show on the castle as Jack Skellington tells a not-so-scary tale about Mickey Mouse and his pals on a Halloween night where anything can happen. The story is projected on the castle. The fireworks (in my opinion) are a secondary effect to the story. We found we were focused in on the castle story and not so much on the fireworrks. It was my favorite part of this event.
11. Specialty Halloween Desserts atMickey's Not-So-Scary Halloween Party
During Mickey's Not-So-Scary Halloween party they have specialty desserts scattered throughout the park that you can only get during this event. Be prepared, the lines are long but as I hear well worth the wait. On the map you'll see 5 highlighted. What I did not realize until after I was home was that they had more then just 5 specialty desserts to purchase. *They even have one gluten-free option for those with gluten allergies! Pro Tip: They also have 2 Disney's Not So Spooky Spectacular Dessert Parties to choose from. An additional ticketed event located at either Tomorrowland Terrace or Plaza Garden Viewing. This gives you a front row seat to the fireworks. Here is what they have to offer:
Main Street, U.S.A.

Main Street Bakery: Amuck, Amuck, Amuck Cupcake and Halloween Cinnamon Roll
Casey's Corner: Donald Brownie
Snack Carts near Cinderella Castle: Jack and Sally Push PopsMain Street, U.S.A.

Frontierland

Golden Oak Outpost: Cinnamon Donuts, Caramel Pretzel, and Frozen Apple Cider
Pecos Bill Tall Tale Inn and Cafe: Hades Nachos and Billy's Worms & Dirt

Liberty Square

Liberty Square Popcorn Cart: Constance's for Better and Worse Wedding Cake
Sleepy Hollow: Chocolate Mickey Waffle Sundae and Headless Horseman Cheesecake.

Fantasyland

Storybook Treats: Malieficent ConeFantasyland

Tomorrowland

Cosmic Ray's Starlight Cafe: Lots-O-Burger
Auntie Gravity's Galacatic Goodies: Pumpkin Spice Soft-Serve Sundae and Pumpkin Spice Milkshake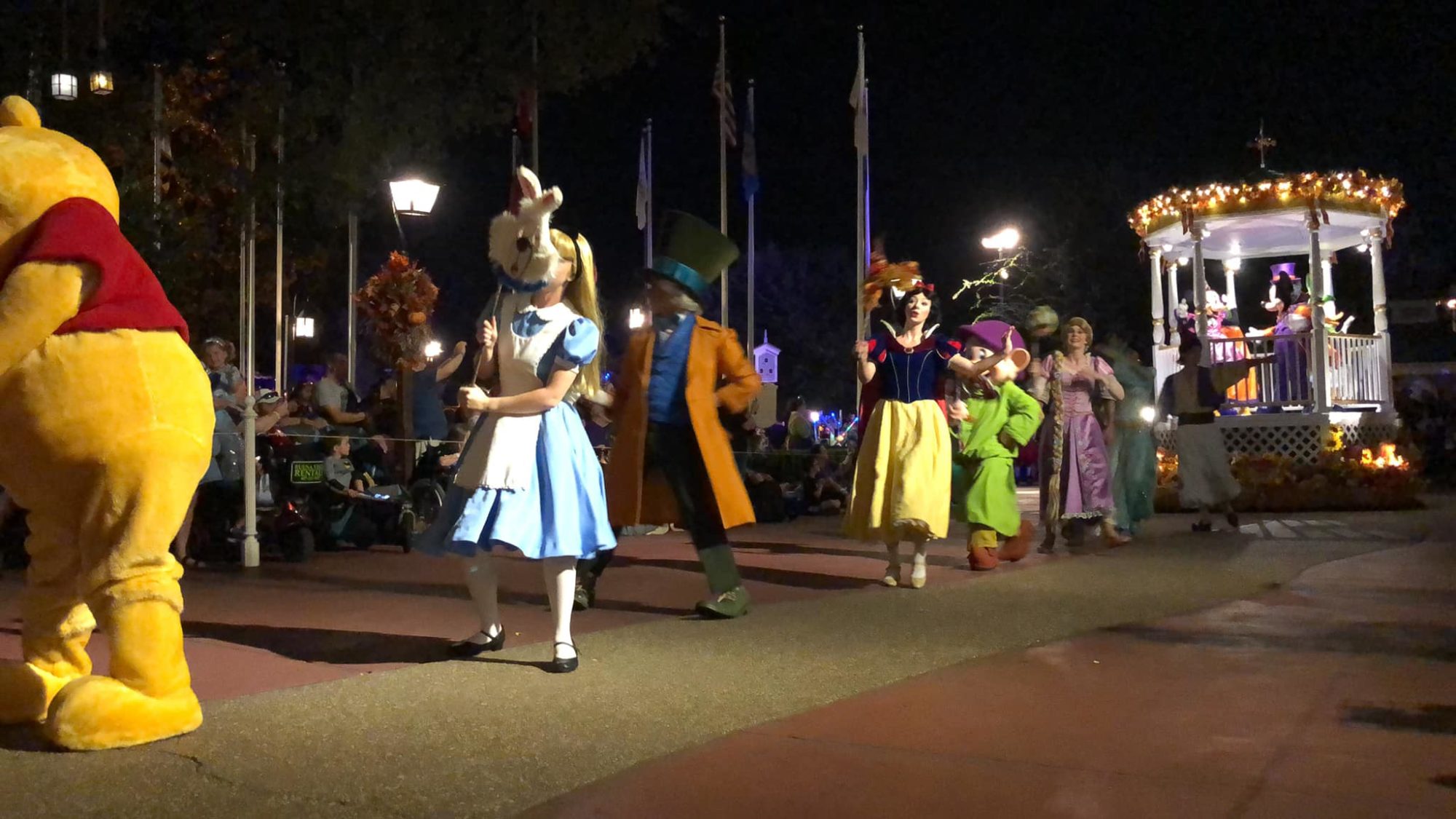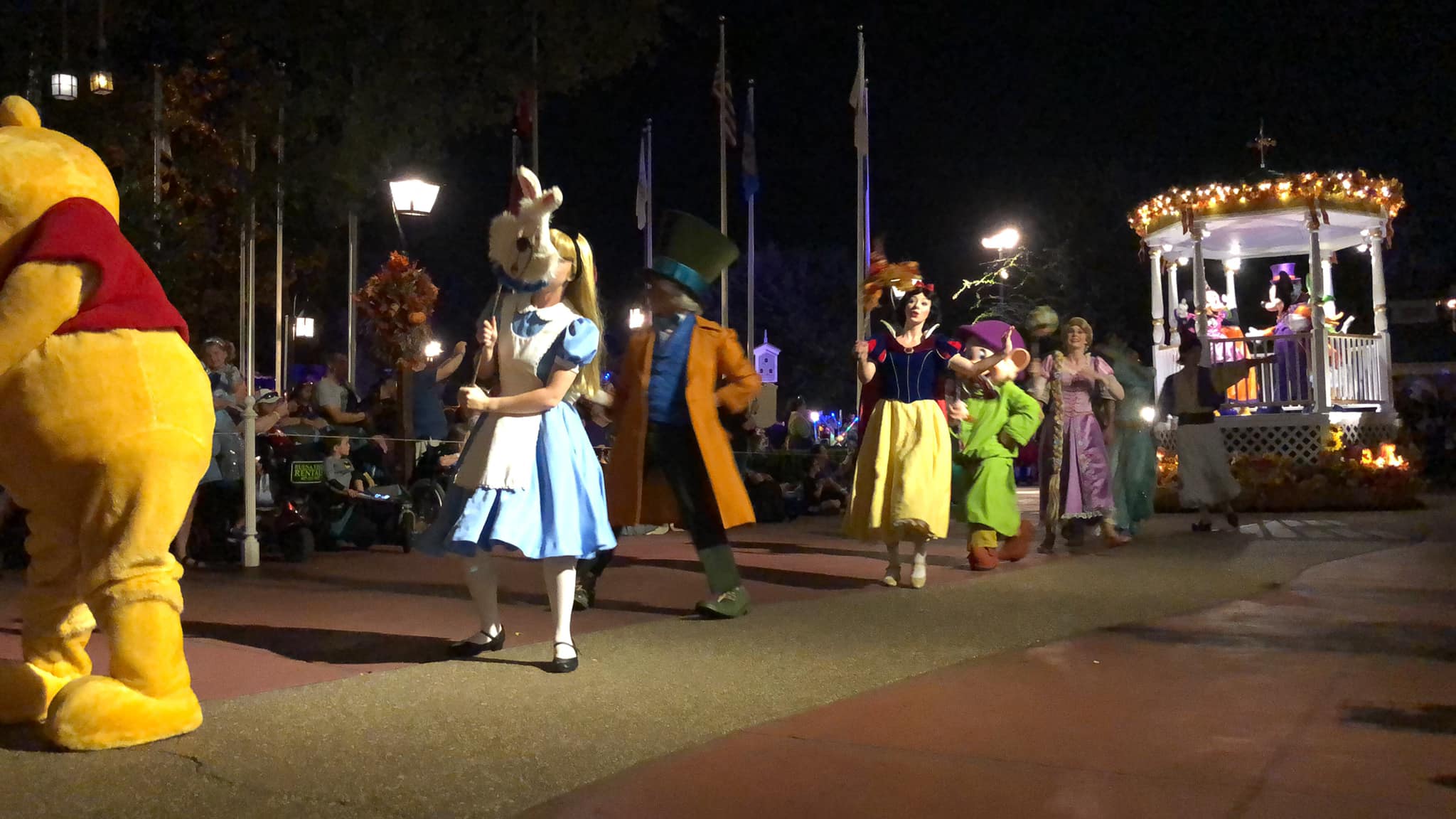 12. Special Character Meet and Greets
During Mickey's Not-So-Scary Halloween party you have the chance to meet characters dressed up in Halloween costumes such as Mickey Mouse, Minnie Mouse, Donald, and Goofy in Storybook Village. You will also find rare appearances like Ariel in her ballgown with Eric, another sought after and hard to find characters like Sally and Jack Skellington, Sully and Mike Wizoski, and the list goes on!
13. Halloween Twist!
You can experience Halloween twist at 4 attractions that make your experience that much more spooky!
Space Mountain: Rocket through this popular attraction in complete darkness to the riffs and chords of a new Halloween-inspired soundtrack.
Pirates of the Caribbean: Set sail for the high seas and discover a crew of live pirates engaged in a whole new adventure doing what pirates do best: search for treasure!
Mad Tea Party: Spin yourself into a frenzy as special lighting and music effects enhance the fur-raising experience!
NEW! Monsters Inc. Laugh Floor: Follow a treat trail from our Human World into the Monster World and interact with a comic cast of monsters eager to learn about this holiday we call Halloween.
Bonus Tips:
I can't end my 13 Things to Know about Mickey's Not-So-Scary Halloween Party without telling you a few of these bonus tips!
If you are planning to catch the first parade. Grab a seat by the main stage in front of the castle. Then you can watch the Hocus Pocus Villians Spectacular, Boo To You Parade, and the fireworks! I knew this going into our visit but in the heat of the moment agreed to a spot for the parade by frontier land! Thankfully we still had a good spot for fireworks!
Extra helpful tips for those who attend with young children. Any time I know we are staying out late I always pack my kids clothes in the car. They get changed in the car and fall asleep on the way home!
I hope that 13 Things to Know about Mickey's Not-So-Scary Halloween Party will help prepare you for a fun-filled night filled with magic and lots of treats!