This is a sponsored post written by me on behalf of Cricut. All opinions are 100% mine.
Learn how you can help use your Cricut to create Foster Care Backpacks for kids in need of basic supplies as they transition to a new home.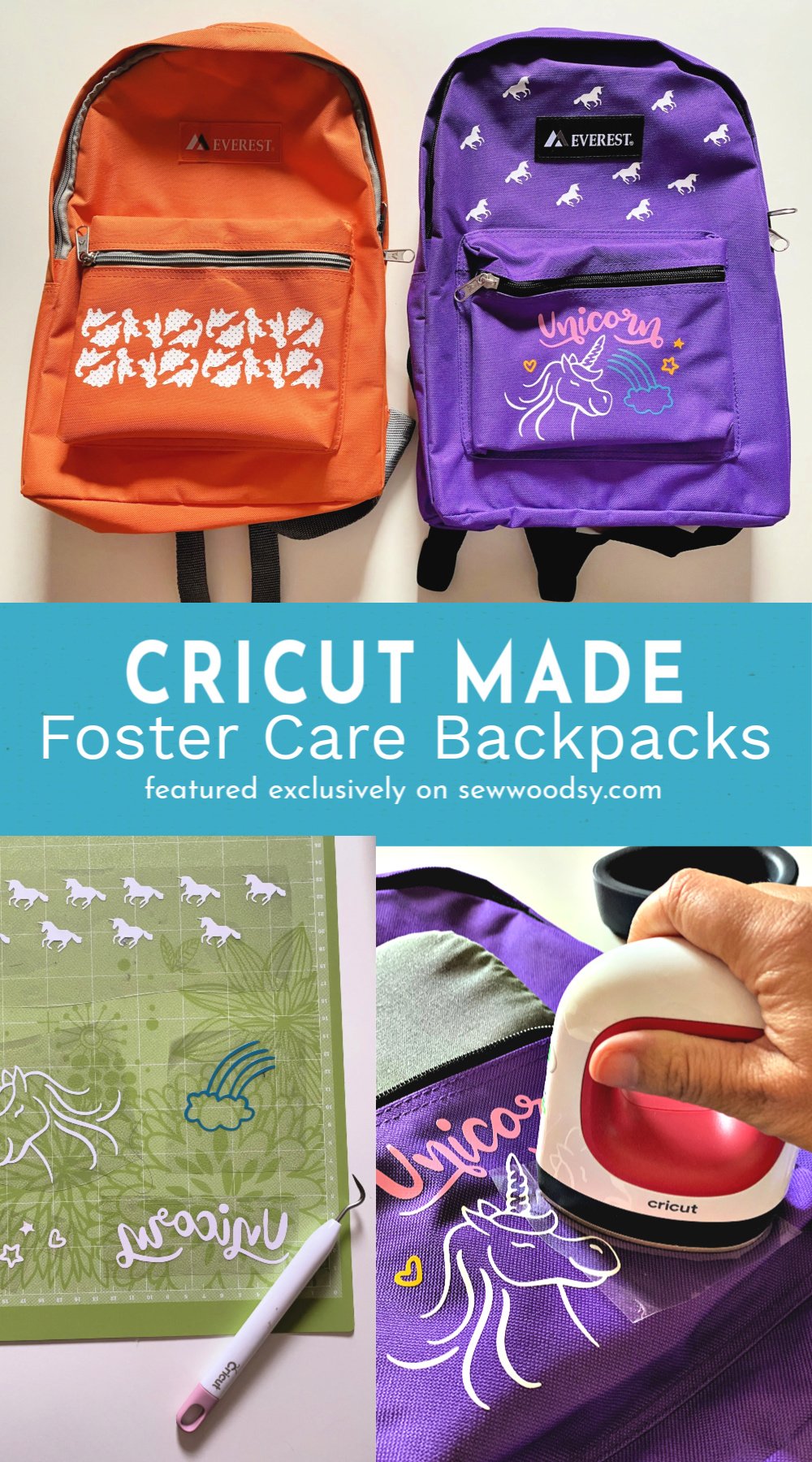 When Cricut reached out to me and asked me if I would like to create two bookbags for Foster children in need I immediately said yes. Having two kids of my own, I can't imagine what these kids go through. I was assigned to make a girl ages 9/10 and a boy ages ⅚. My heart sank a little when I read I received a boy book bag for a child the same age as my own son. So I did what any mom would do and I brainstormed with him on what a little boy his age would like. I'm so excited to share with you my Cricut Foster Care Backpacks.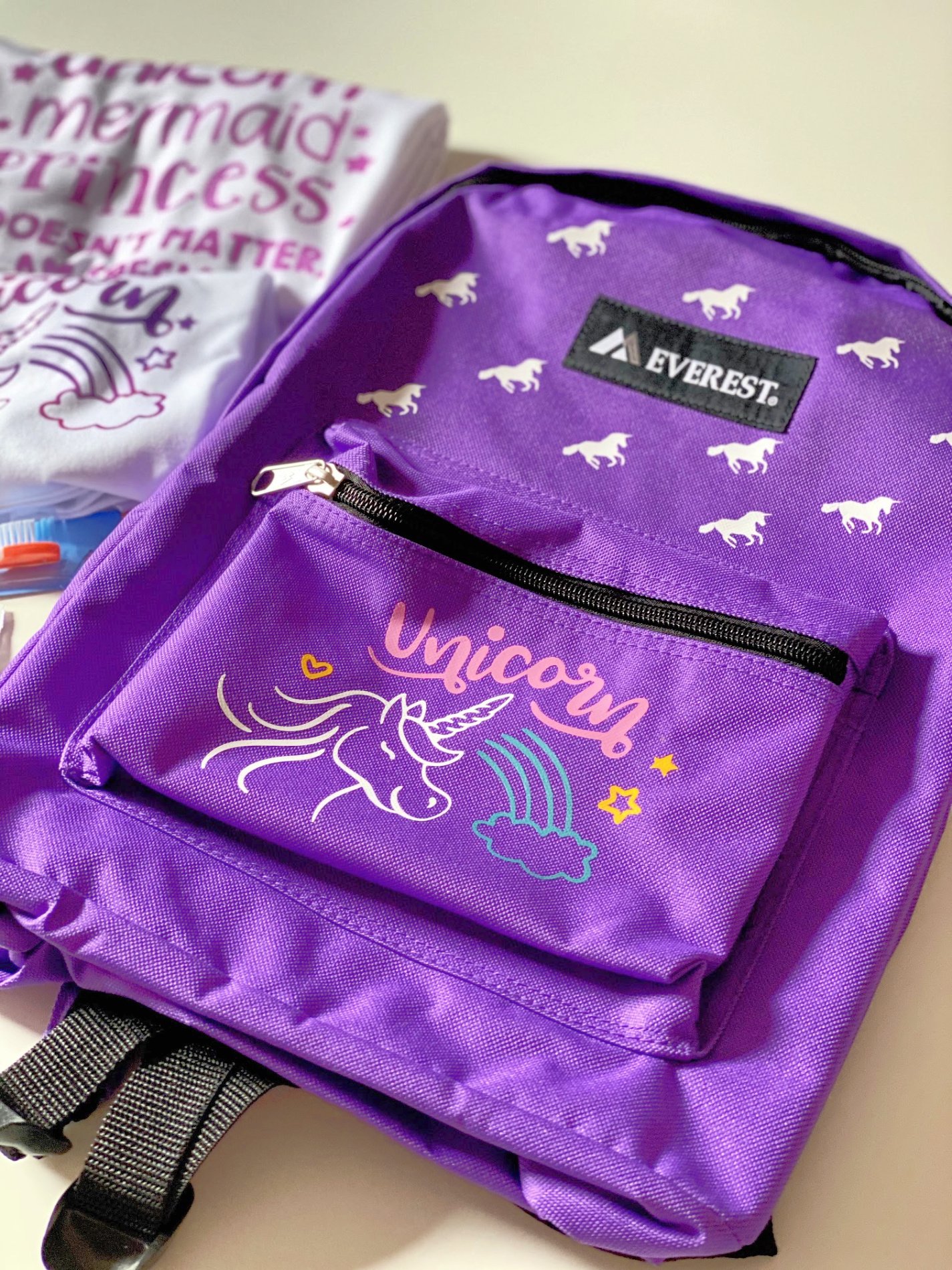 What is The Blue Ribbon Project?
In case you aren't familiar I wanted to share what The Blue Ribbon Project directly serves children who are the victims of child abuse and neglect. There are approximately 440,000 children in Foster Care nationwide. When most children enter Foster Care, it's an emergency situation. Children can be taken from their homes with as little as the clothes on their back. And to add insult to injury, children are given trash bags to carry the few belongings that they may have.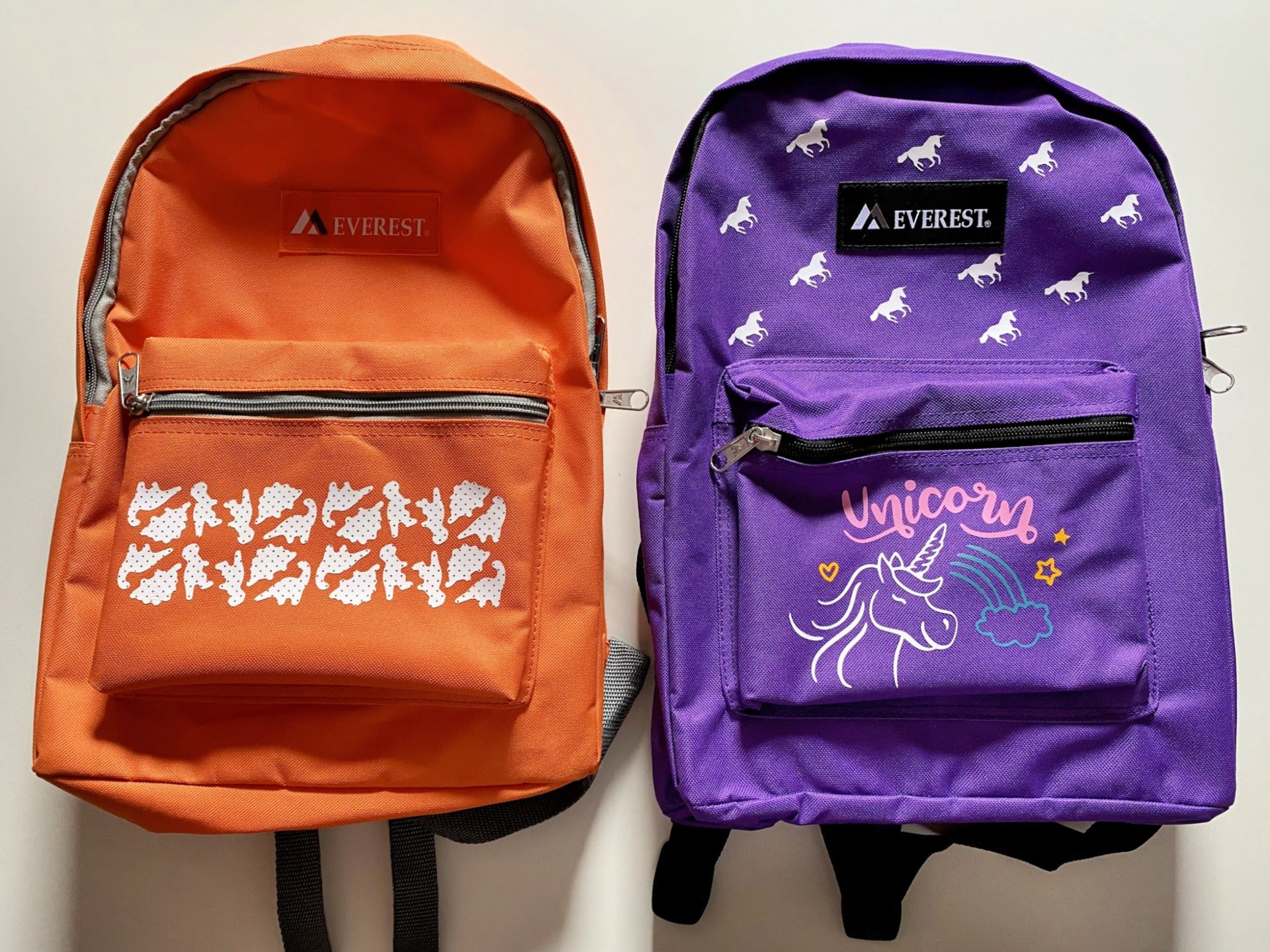 Backpacks of Love: This program supports victims of child abuse and neglect the moment they are being removed from a dangerous environment. Oftentimes, the child is lacking the very basic essentials such as a toothbrush/toothpaste, a change of clothes, etc. The moment a child is removed, The Blue Ribbon Project is notified by Department of Social Services, the Police, or the foster parent receiving the child. A backpack containing those essentials is delivered directly to the child. This gets them through the first few days of care.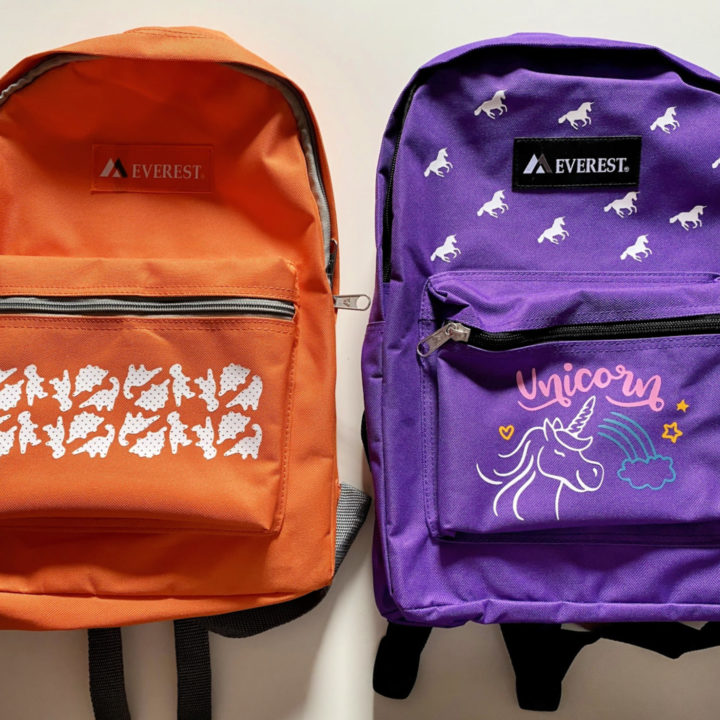 Cricut Backpack Ideas
Additional Time:
30 minutes
Learn how to customize a backpack using the Cricut. I share two options that you can easily make using iron-on vinyl and in under an hours time.
Materials
Cricut StandardGrip Machine Mat
Cricut Iron-On Vinyl
Backpack
Tools
Cricut Design Space™ Unicorn File
Cricut Design Space™ Dinosaur File
Cricut Explore Air 2
Cricut Tools
Cricut EasyPress Mini
Cricut EasyPress 2, 6x9
Cricut EasyPress Mat, 8" x 10"
Instructions
Locate the design in Cricut Design Space.
Place the Iron-On Vinyl on the Cricut StandardGrip Mat. Make sure you place the color side face down on the stick part of the mat.
Mirror image on Cricut Design Space. Then select "cut'.
Weed the negative out of the Iron-On Vinyl.
Heat the EasyPress Mini or EasyPress 2. Place the EasyPress mat inside the backpack. Place the design on the backpack.
Press with the EasyPress of choice. Depending on Iron-On Vinyl whether or not you will do a warm or cool peel.
Recommended Products
As an Amazon Associate and member of other affiliate programs, I earn from qualifying purchases.
How to make Cricut Foster Care Backpacks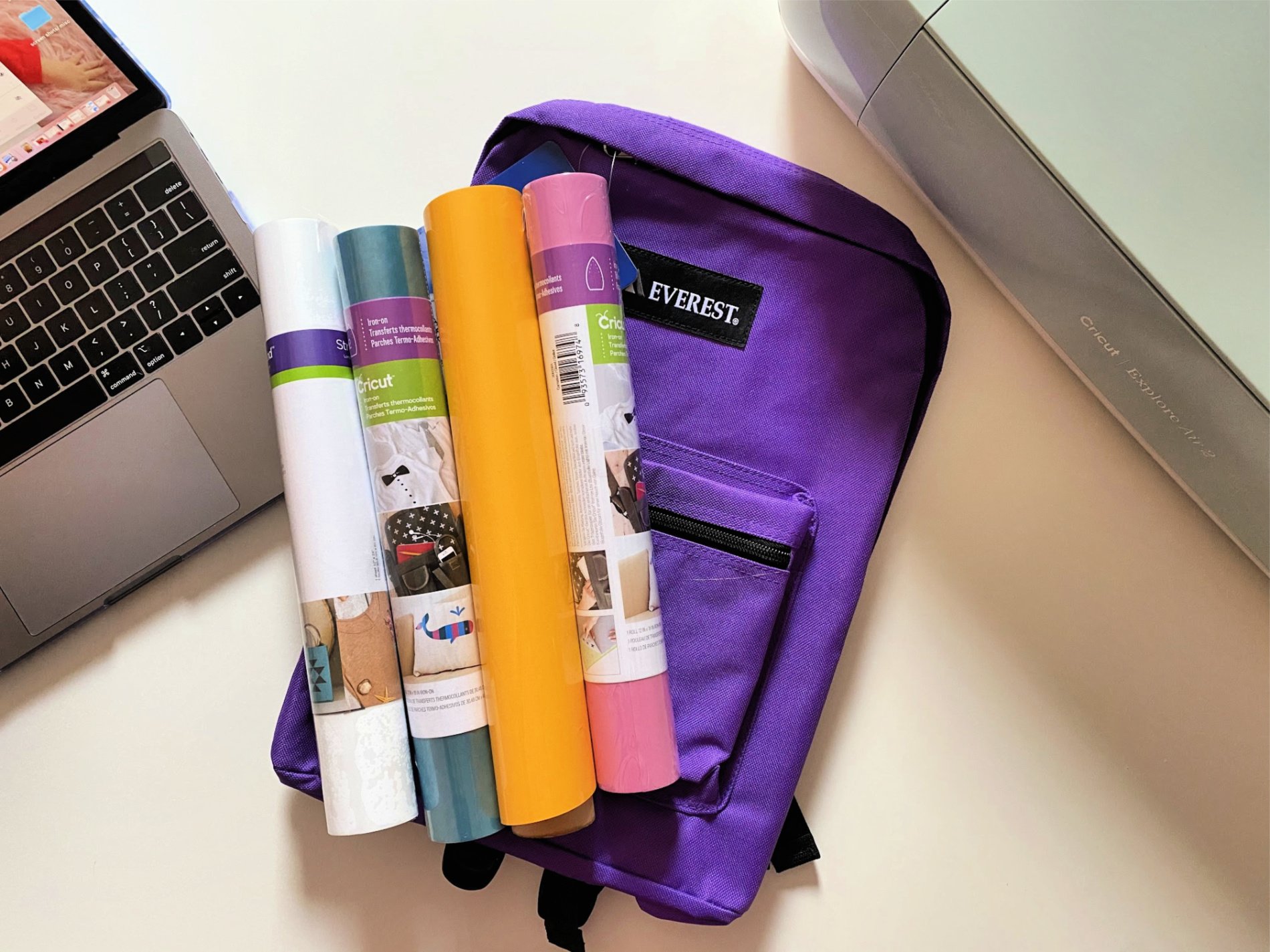 Supplies for Unicorn Backpack
Cricut Mat
Cricut Tools
Cricut EasyPress Mini
Cricut Mat
Backpack
First, open the file in Cricut Design Space™. Adjust size if needed according to the backpack you are creating on. Prior to cutting make sure you mirror image.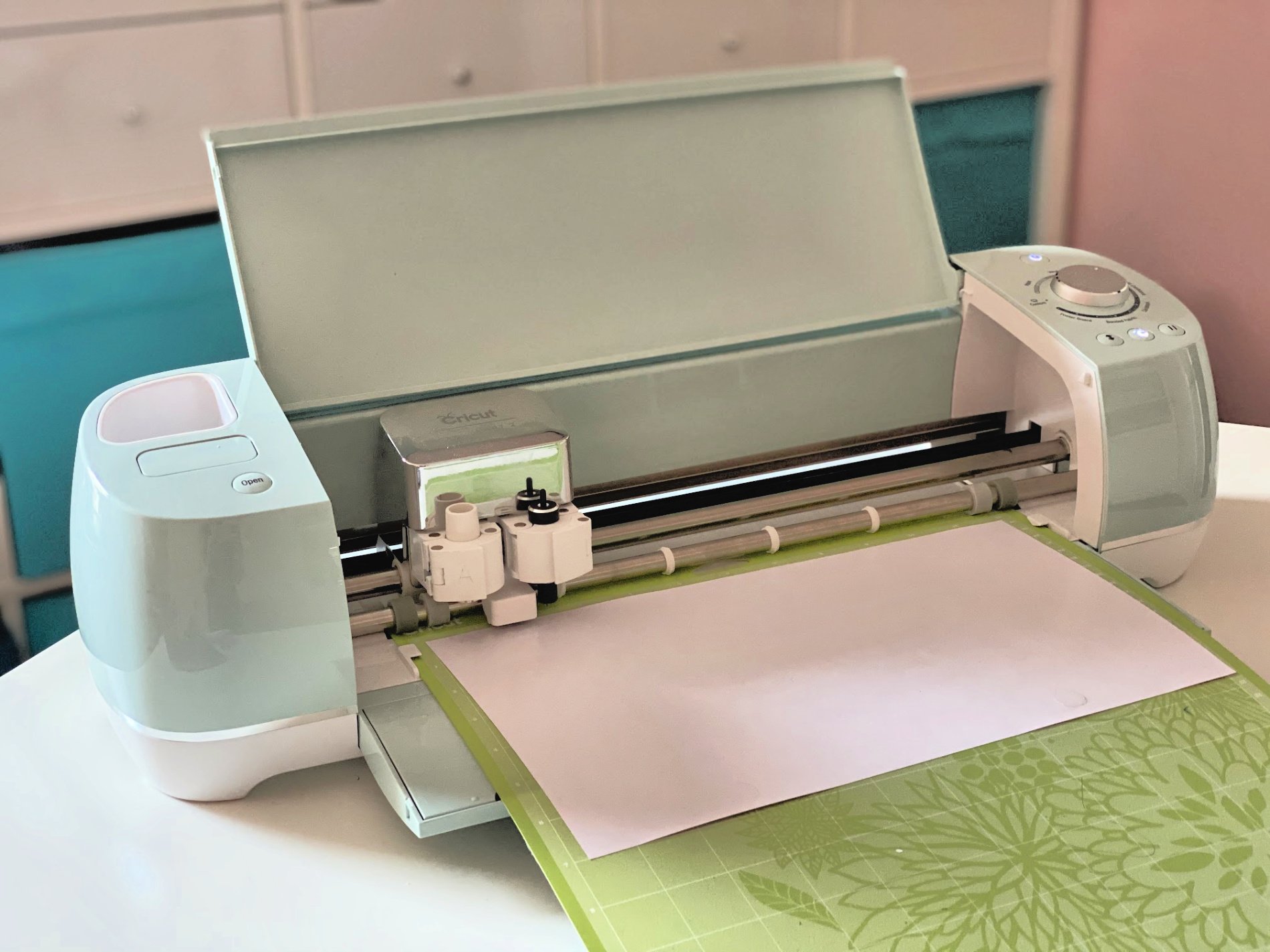 Next, cut the multiple pieces of Iron-On Vinyl.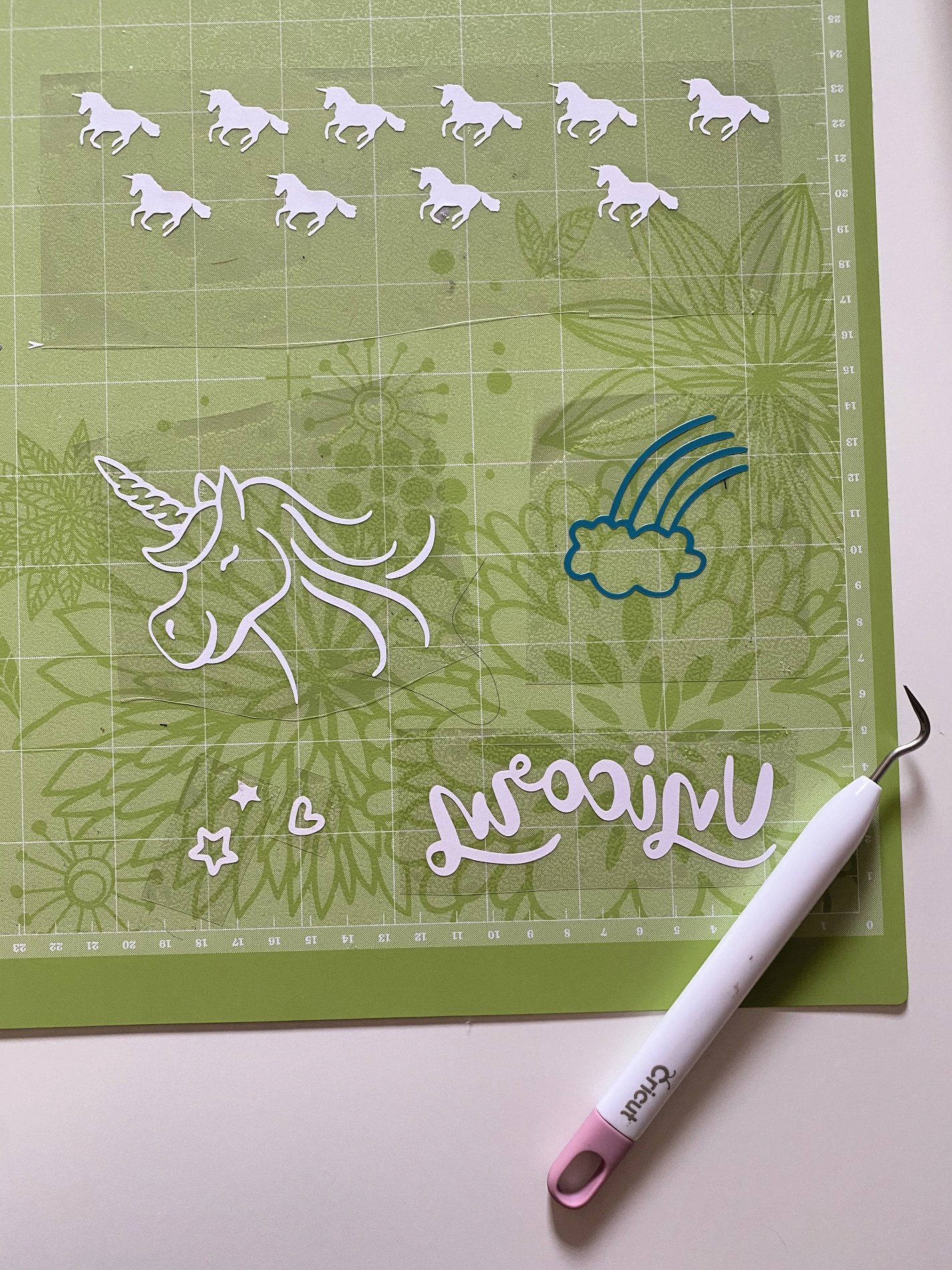 Next, weed the negative from the Iron-on Vinyl sheets.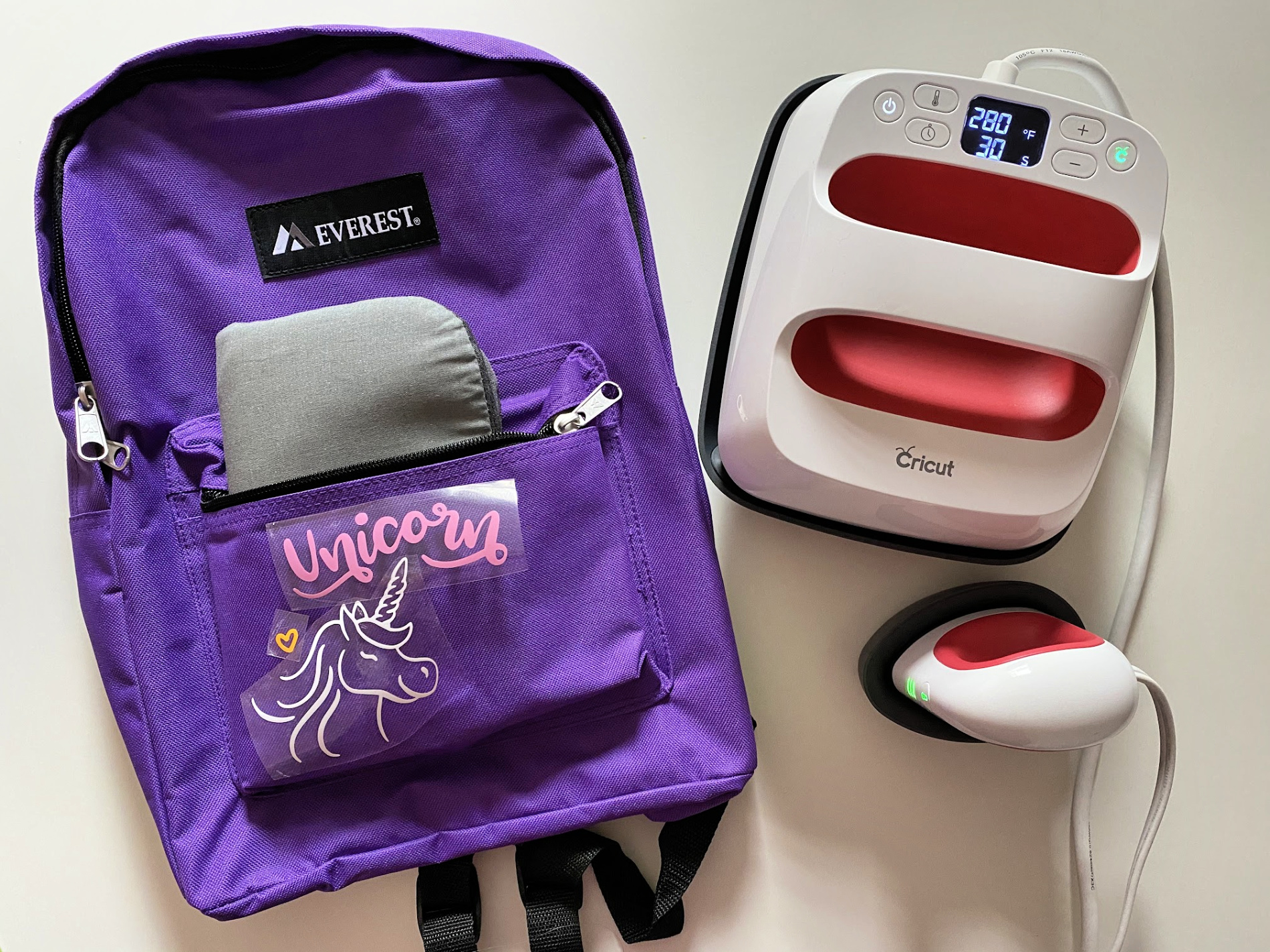 Heat the EasyPress Mini and EasyPress 2.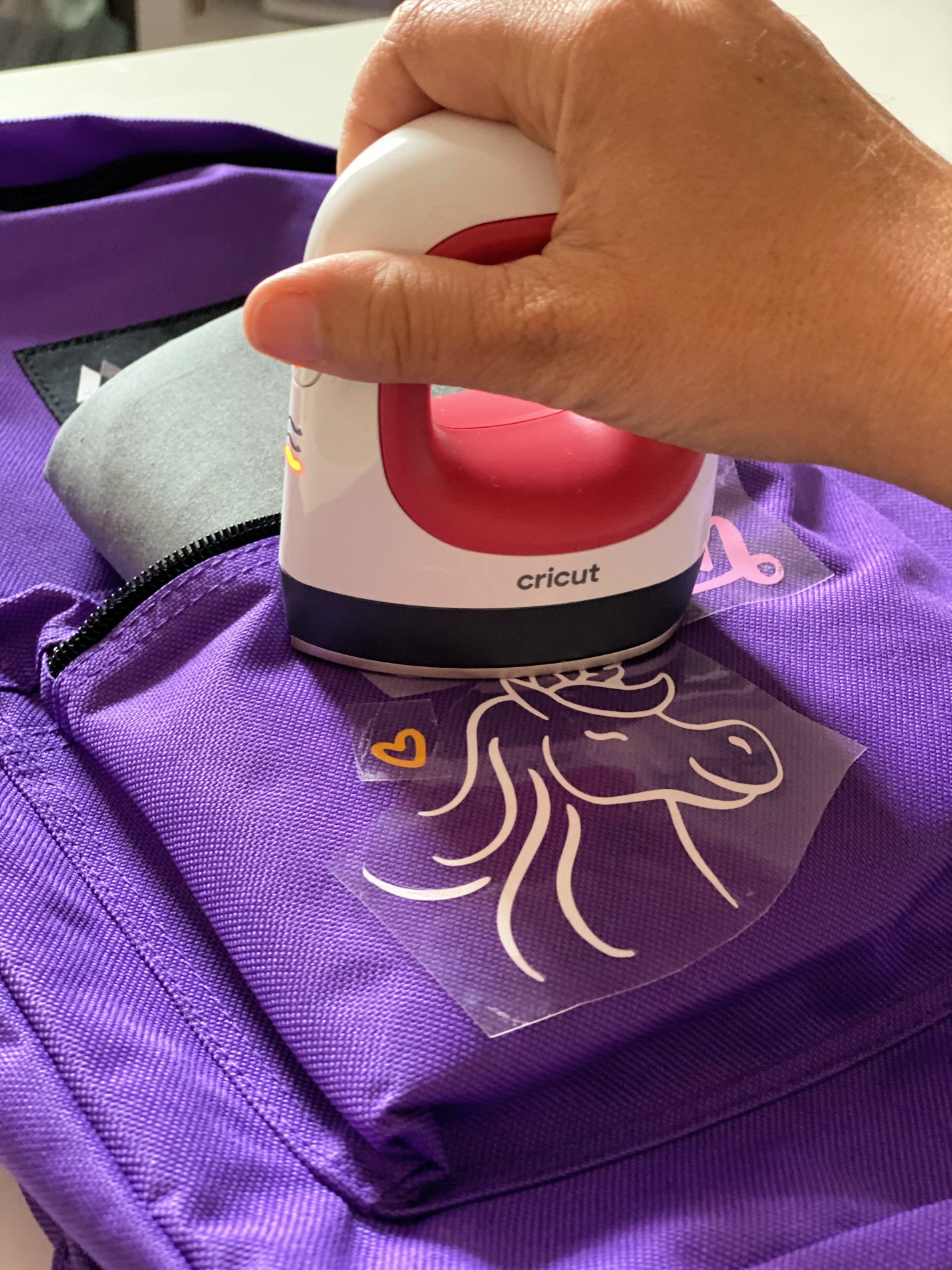 Begin to apply the first 2 layers of Iron-On Vinyl on to the bottom pocket of the backpack.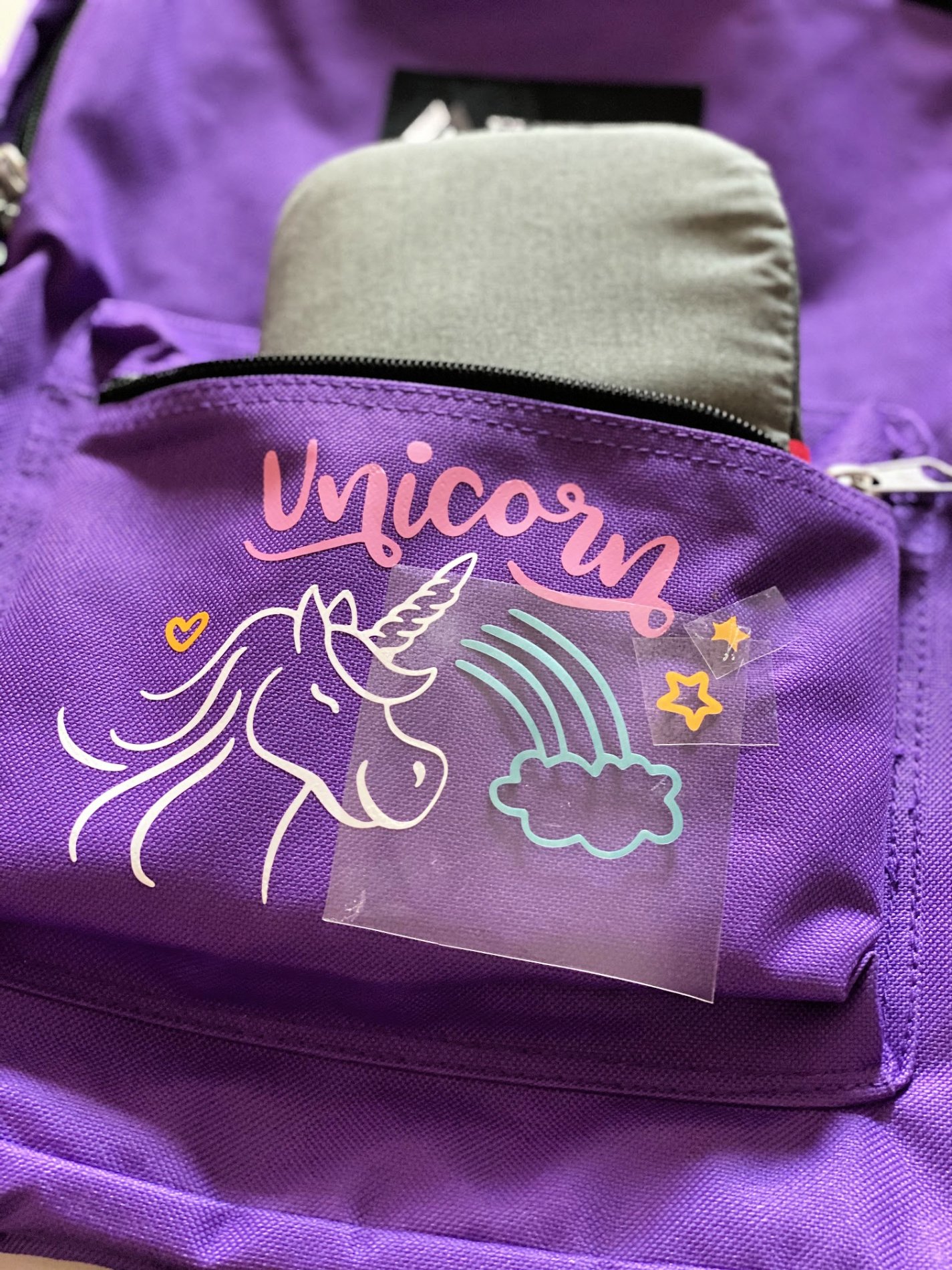 Then, add the second layer making sure to not place the plastic over the actual Iron-On Vinyl.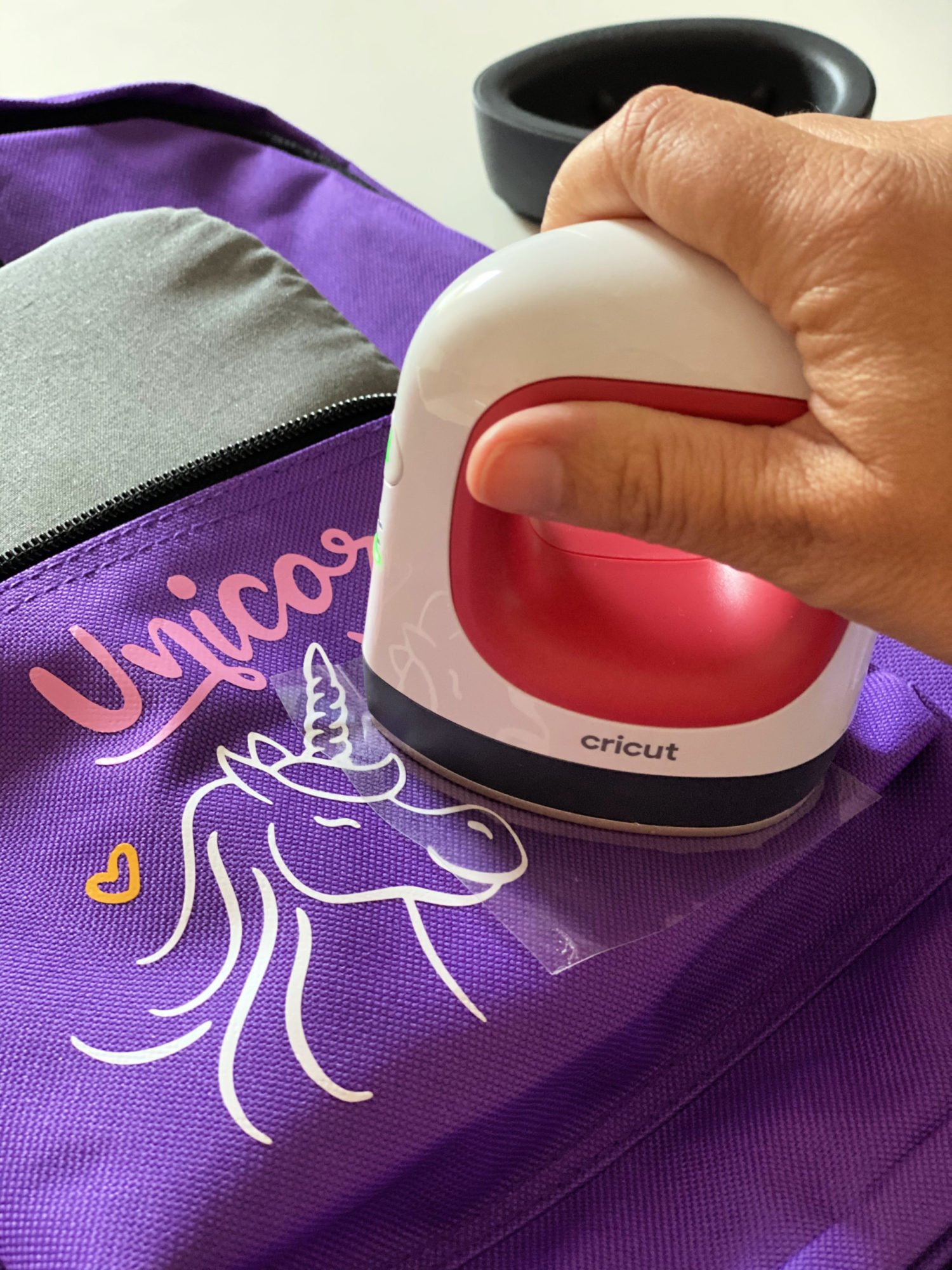 I found it was easier to use the EasyPress Mini for this part then the EasyPress 2, 6×7. Press down the design for a few seconds until the plastic starts to pop up.

Next, place the EasyPress mat inside the book bag and add on the little unicorns on the top of the backpack.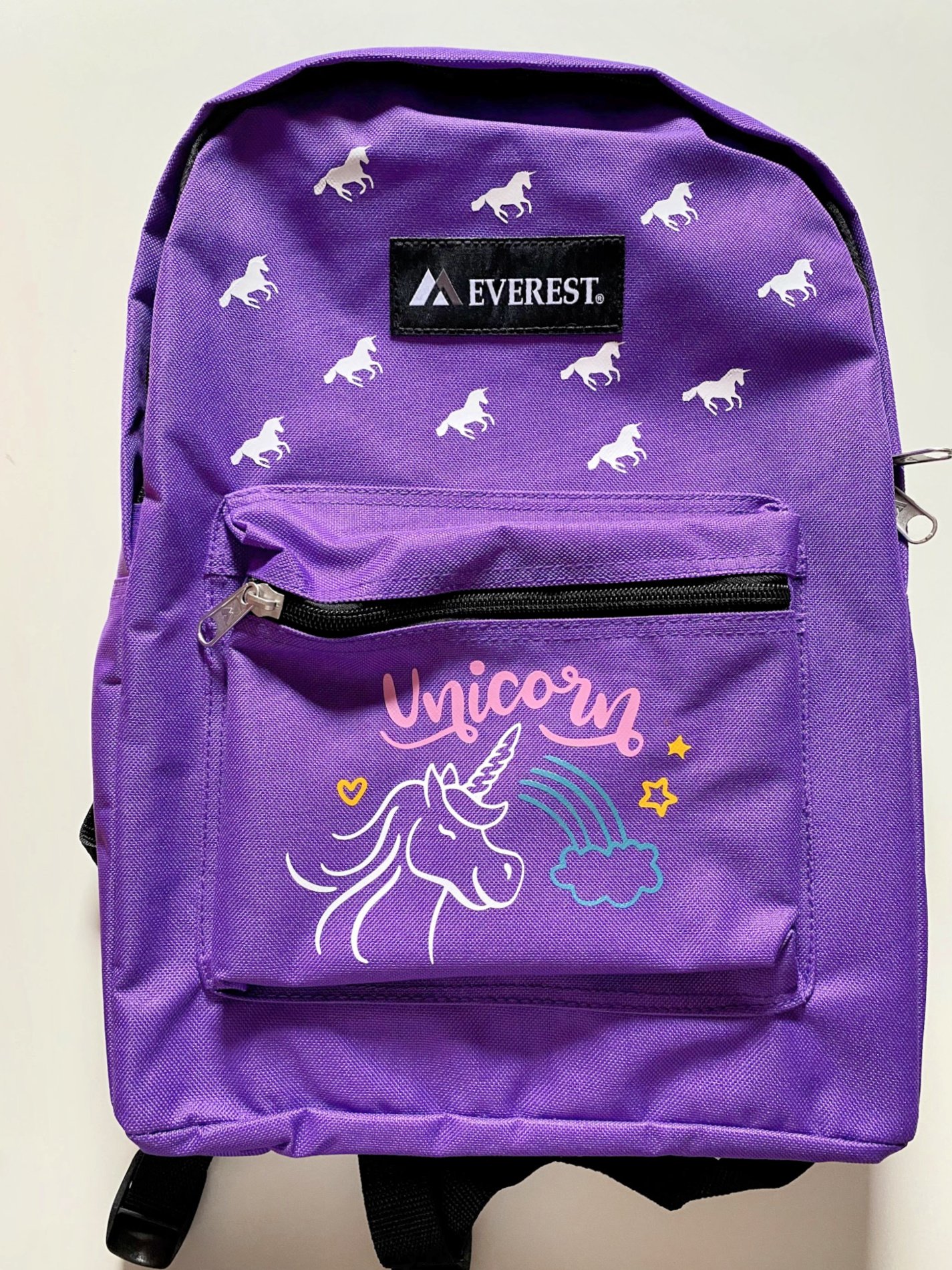 Backpack is all done and ready to be filled.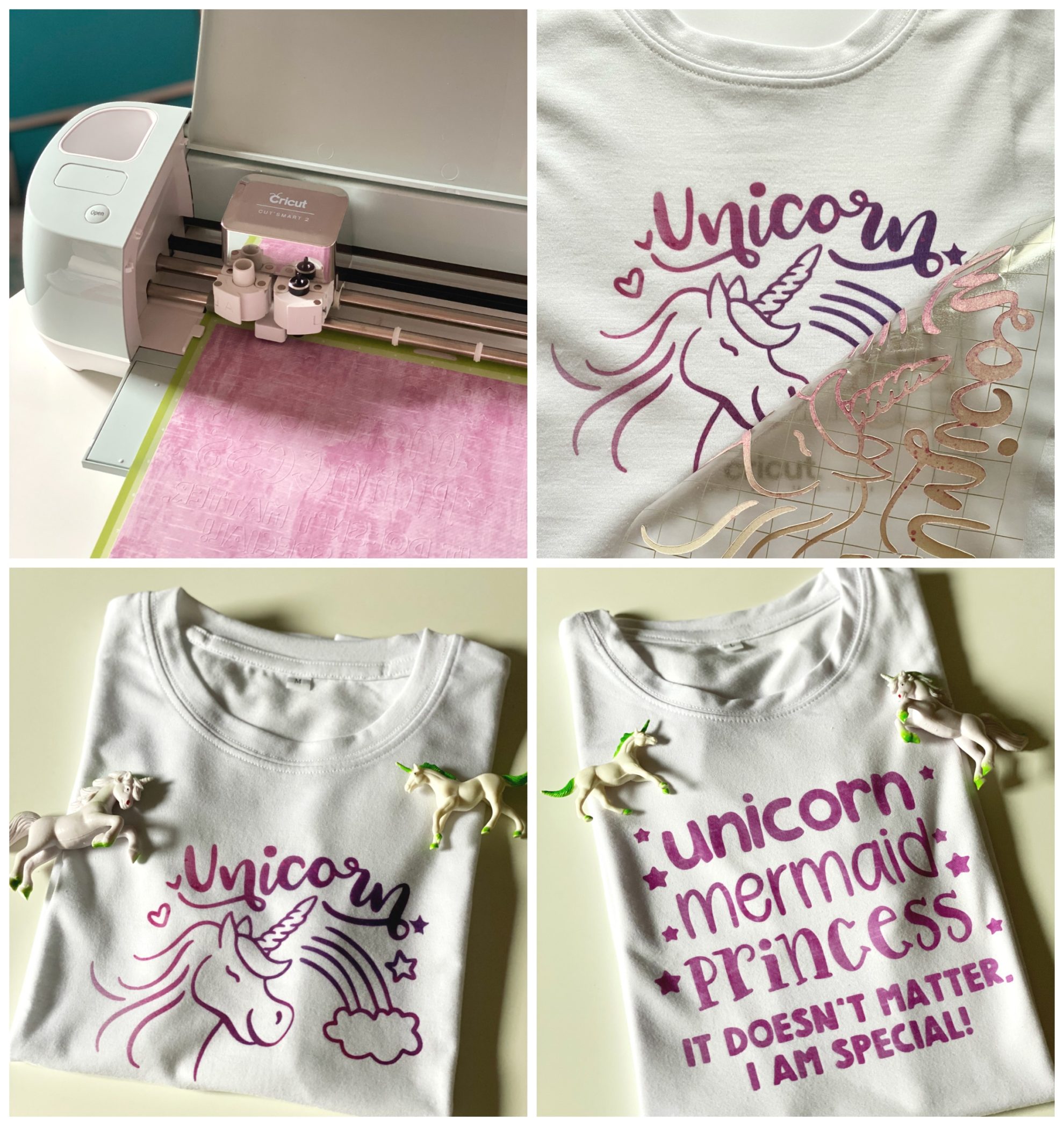 I went a step further and made 2 unicorn shirts using the Infusible Ink™ system. I absolutely love how these shirts turned out. I hope the little girl who receives this backpack will love the shirts (and book bag).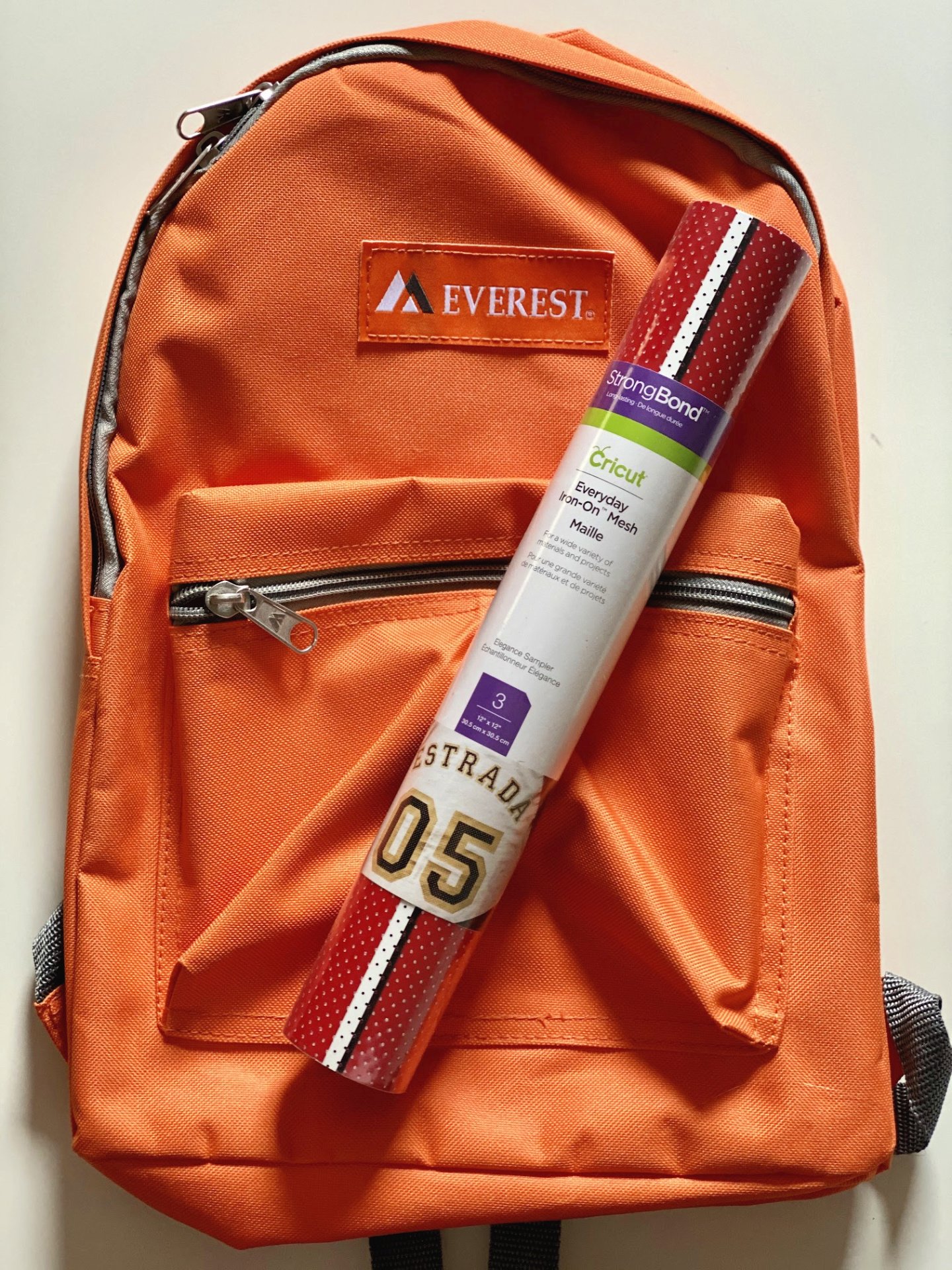 Supplies for Dinosaur Backpack
Cricut Mat
Cricut Tools
Cricut EasyPress Mini
Cricut Mat
Backpack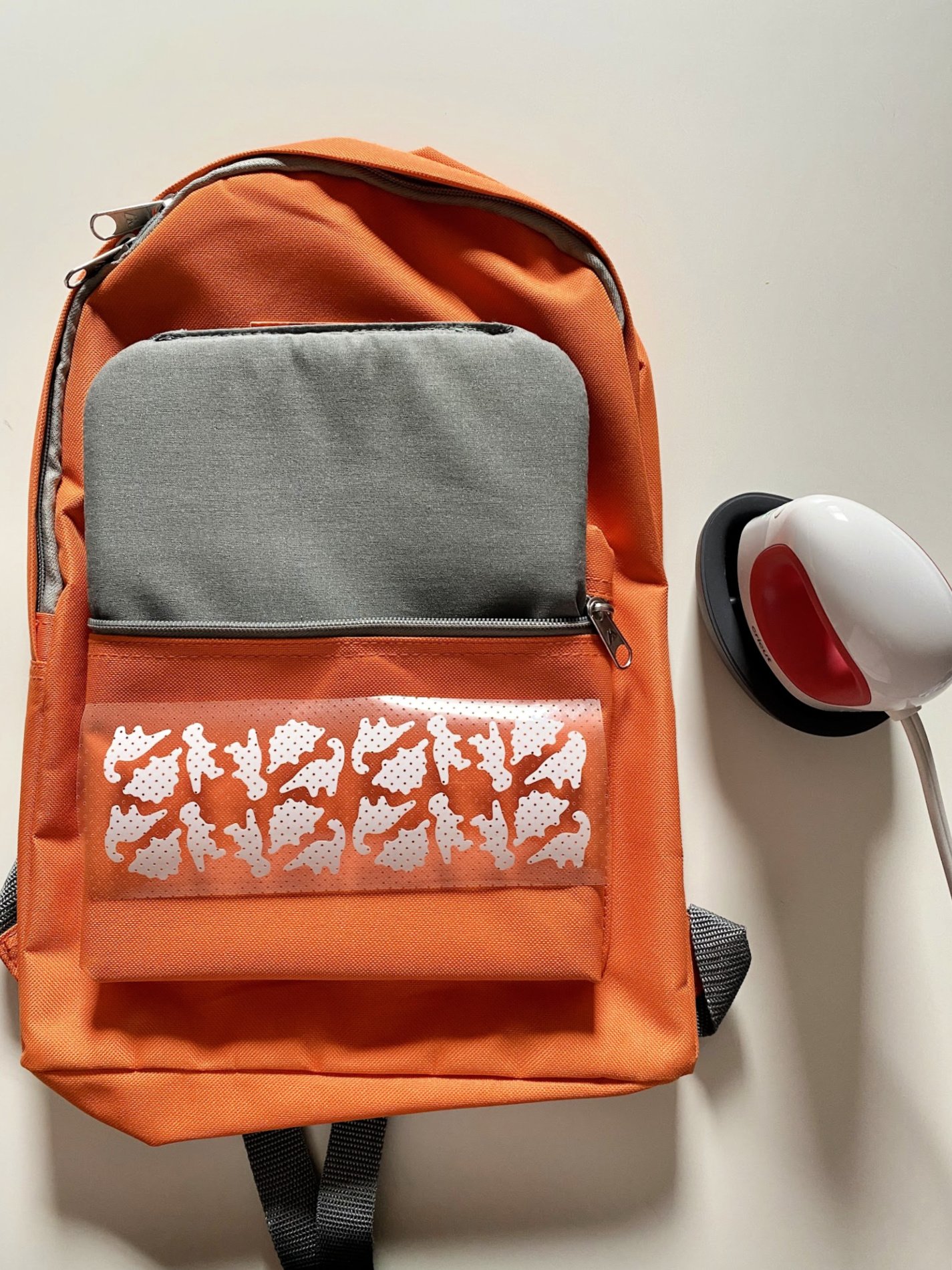 You are going to follow all the same steps you did for the unicorn backpack. But this time only one design to apply to the backpack.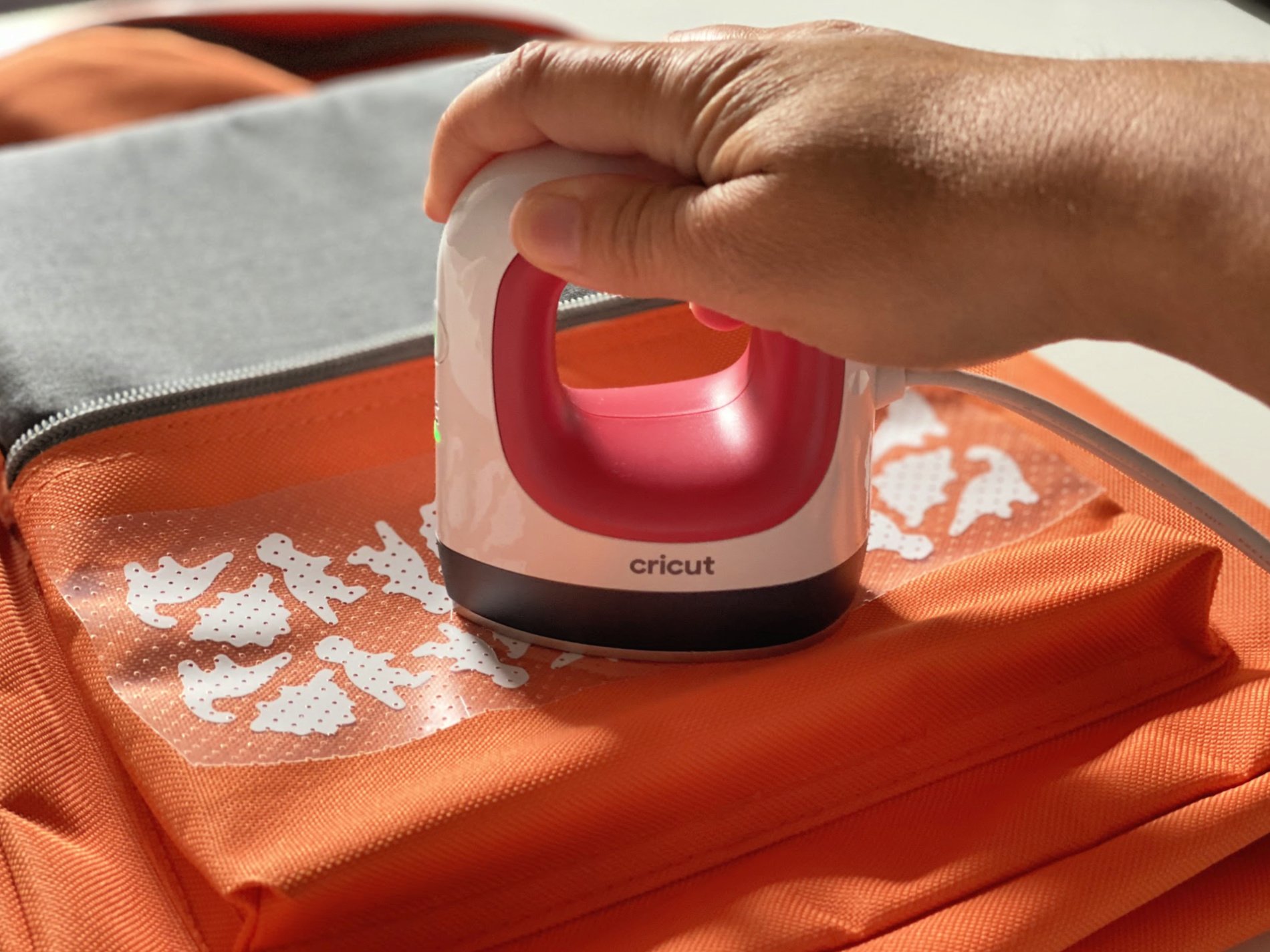 I loved using the Cricut EasyPress Mini to make these backpacks.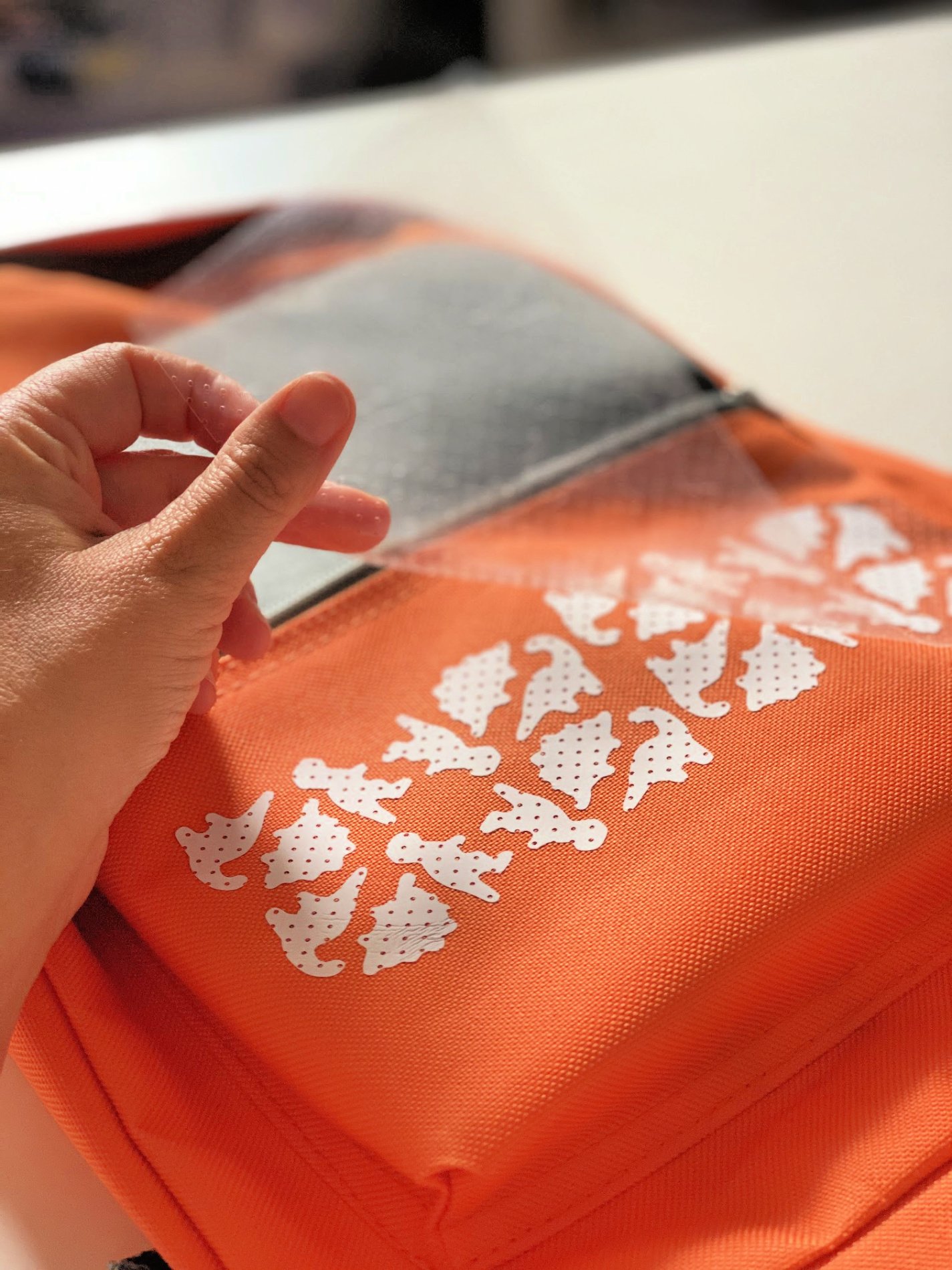 I loved the Mesh Iron-On Vinyl for this book bag. For mesh Iron-on Vinyl you have to do a cool peel. Meaning everything needs to become cool to touch in order to remove. I find that it's much sticker and doesn't remove off as easily as traditional Iron-On Vinyl.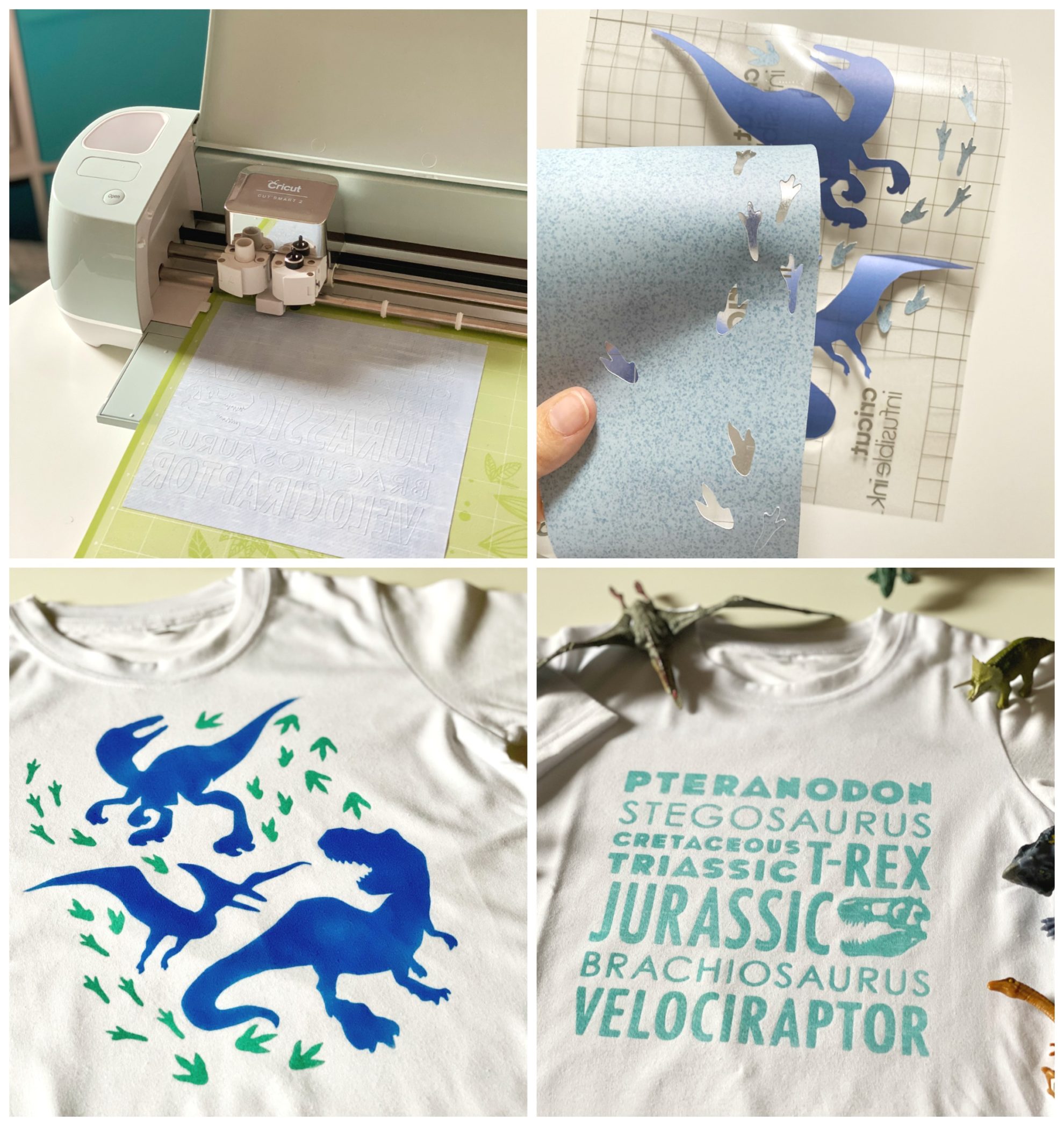 I even made two Infusible Ink™ dinosaur shirts for the little boy who will receive this backpack. My son absolutely loved the shirts and begged me to make him one too!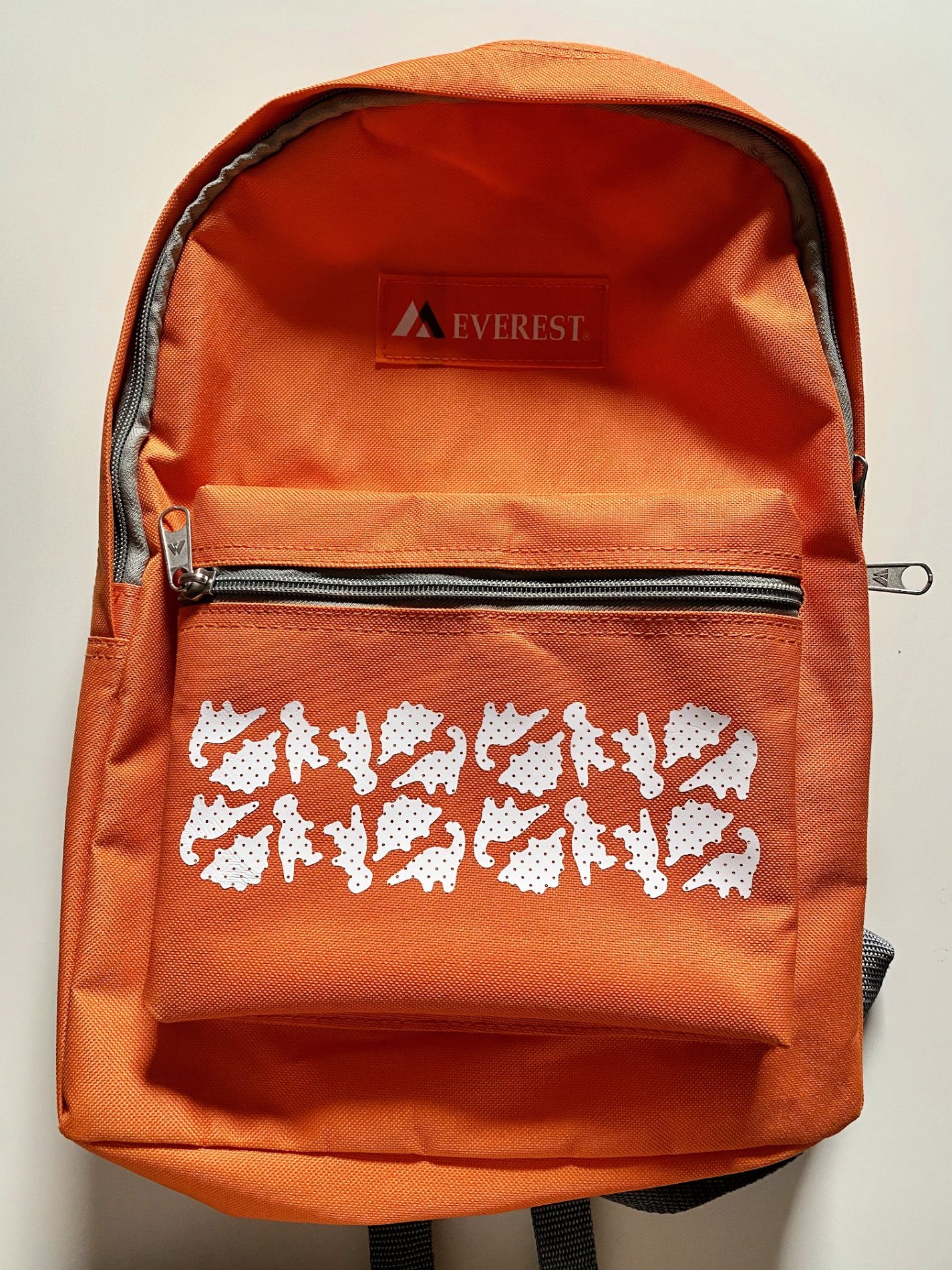 If you want a way to help out head on over to the The Blue Ribbon Project and check out the list of what is needed. The non-profit breaks it down by age and gender.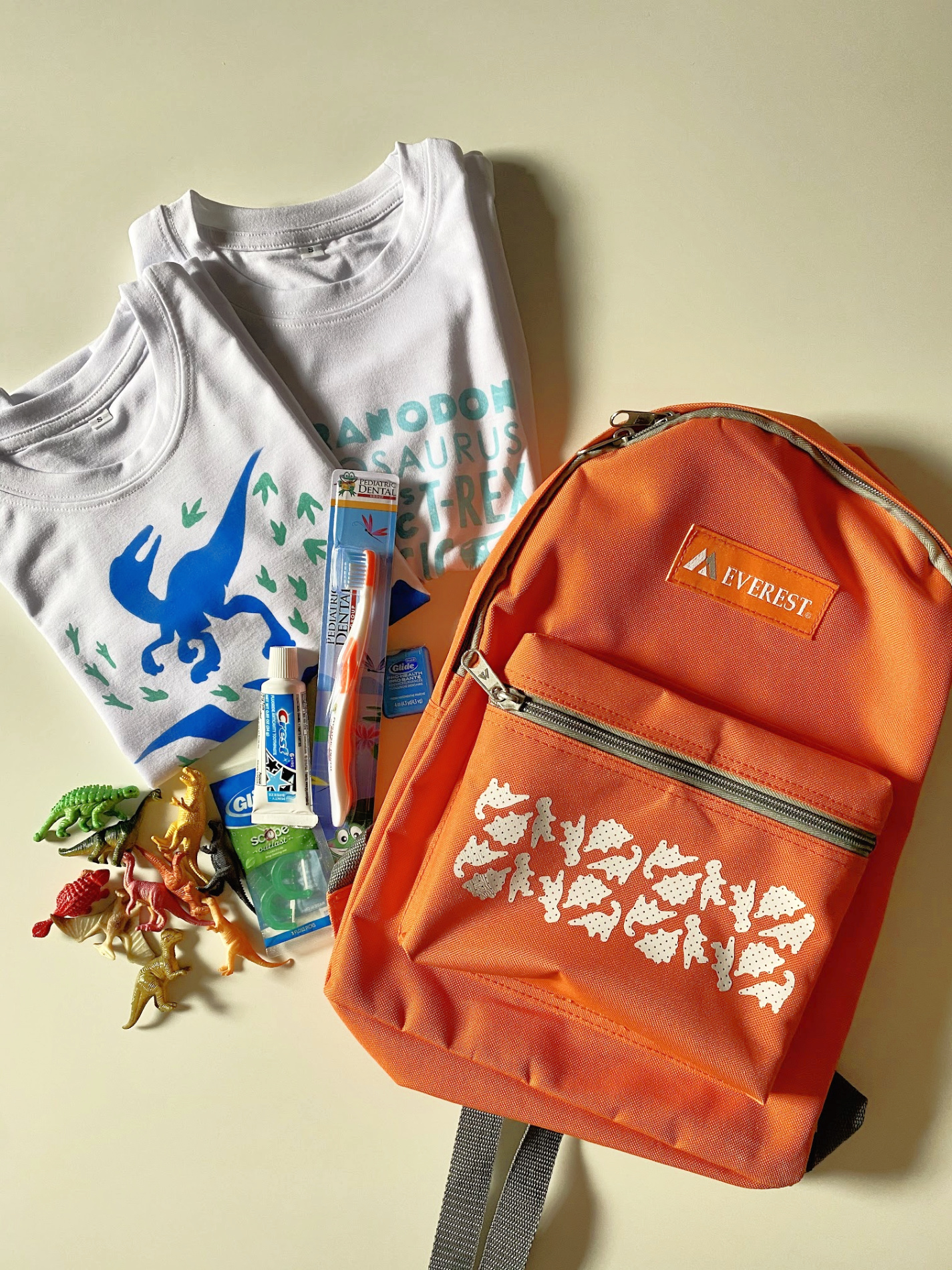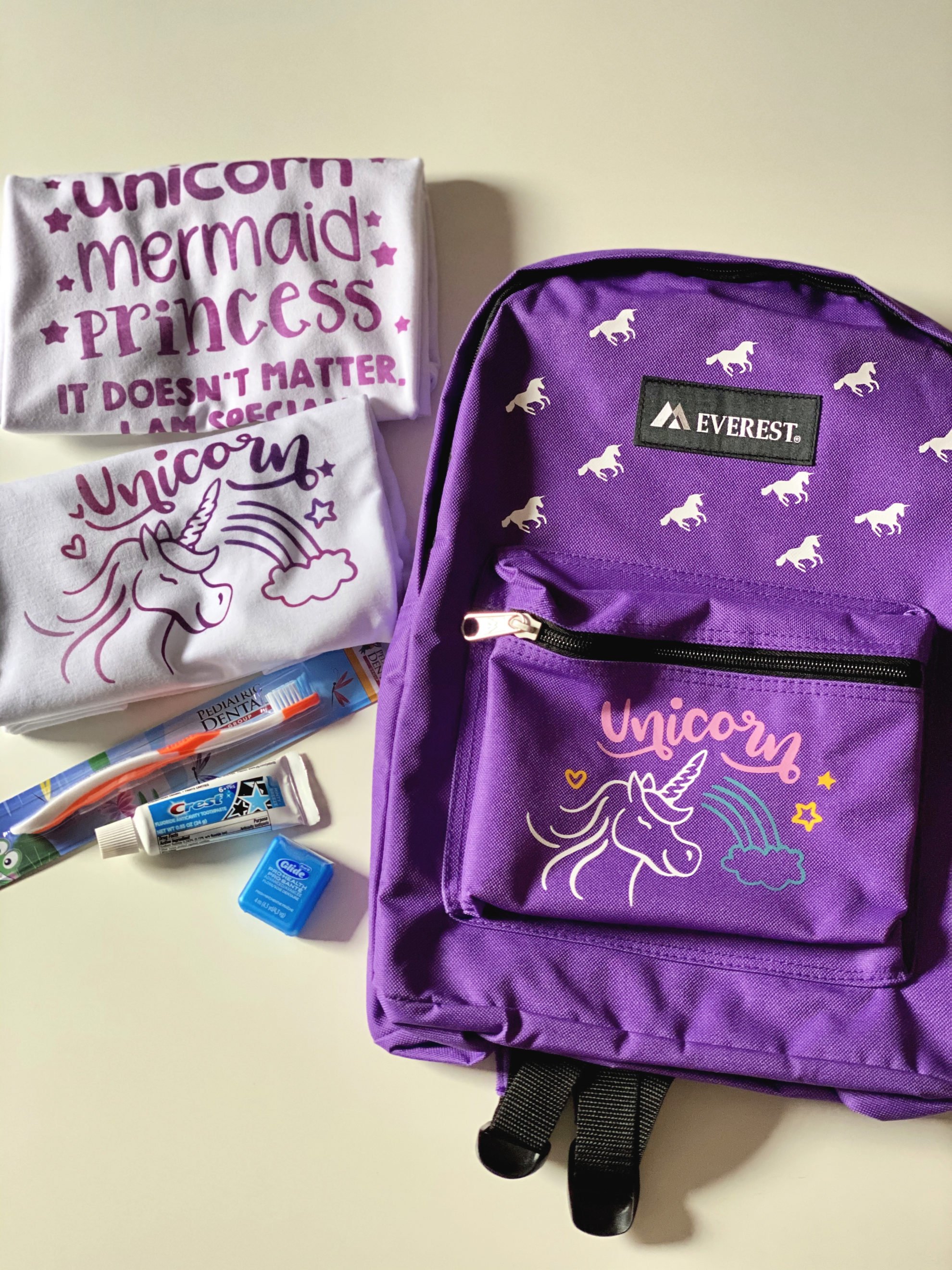 I'll be sending these backpacks out as soon as I can get to the store to grab a few more items to donate for the kids.
Disclaimer: There are affiliate links in this post. That means if you click on a link, and purchase something I will receive a small percentage of the sale at no additional cost to you.