I have a wide-variety of mostly non-candy Kids Easter Basket Ideas for ages 5-10 ranging from $1 up to $20. All these Easter gift ideas are kid and parent approved!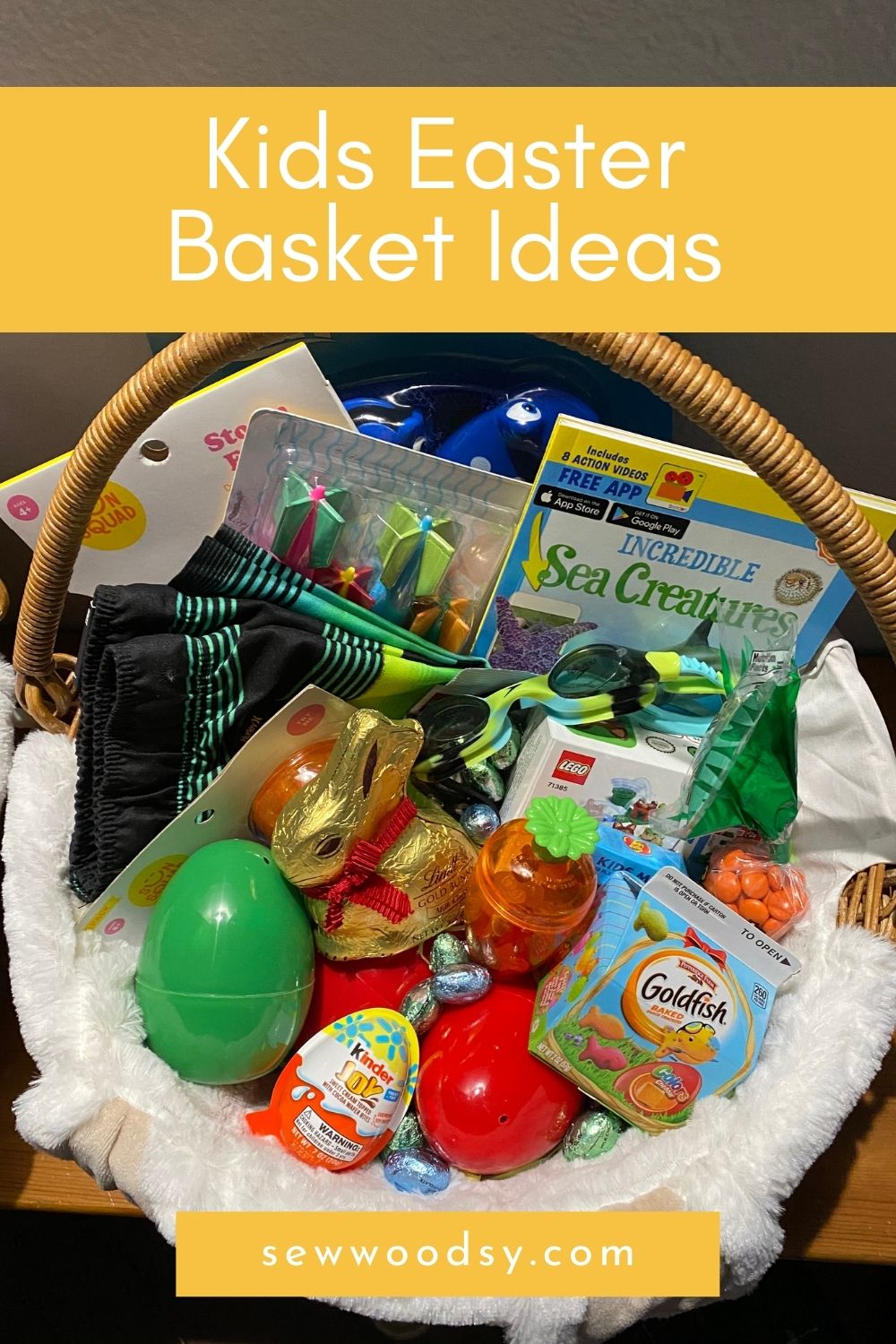 If you are anything like me you do not want to have your kids hyped up on a ton of candy on Easter morning. Instead, our Easter bunny tends to lean heavy on non-candy Easter gift items like toys, games, and books. We try to make sure there is a nice balance and of course they get candy but not insane amounts. These ideas are perfect for kids ages 4/5-10. If you have toddlers make sure you check out my 25 Easter Basket Ideas for Toddlers.
Kids Easter Basket Ideas
Kids Easter Basket Ideas
I have a wide-variety of mostly non-candy Kids Easter Basket Ideas for ages 5-10 ranging from $1 up to $20. All these Easter gift ideas are kid and parent approved!
These sturdy kids crayons feature strong, plastic barrels that
resist cracking and breaking. Plus, the clear body not only protects the core, it also allows you to see how much color is left! Convenience and durability make these art supplies perfect for budding artists!
Four colorful Peeps on a stick. These can be found for only $1-2 at your local grocery store or at Walmart or Target.
Cool Air Rocket- Bring your rocket toy, run to lawn, easy to assemble, blast this rocket, challenge with your playmates together!
The 4-piece WOWmazing Kit contains everything you need to create bubbles that are big, colorful, and fun: a set of giant bubble maker, 2 pouches of WOWmazing Bubble Concentrate, and a Tip & Tricks booklet to help you become a master bubble creator!
This pack of cute animal squishies comes with the bucket, which is very convenient for storage. You can give them the whole bucket or place each squishies in a plastic Easter egg!
Each iconic Kinder JOY egg holds a delicious treat on one side and a fun toy on the other. Two delicious cream layers — one sweet milk-cream flavored and one cocoa flavored — with two crispy, chocolate-covered wafer bites.
Unbox perfect replicas of the brands you know and love, even the barcodes are perfect matches as well!
Easy And Fun To Use, Wikki Stix: Adhere with just Fingertip Pressure To Most Smooth Surfaces. No Glue, No Paste, No
Mess! Easy To Peel Up And Change.
I love to add Annie's Cheddar Bunnies to plastic eggs and Annie's Bunny Grahams to balance out all the sugar.
This gentle introduction to the biblical account of Jesus's final
days on earth, and Resurrection, is perfect for preschoolers. Lush, colorful illustrations of the Last Supper, Jesus carrying his cross, and the angel in the empty tomb are accessible to little readers who are just learning about Easter. At the end of the book, Easter traditions from around the world are introduced, from Ukrainian painted eggs (Pysanky) to the greeting of the Easter sunrise in the British Isles. It's a perfect first book about an important holiday for many, and an
ideal Easter gift."
Colorful bath bombs for kids with jewelry bonus inside,include unicorn headhand,organic essential oil bath bombs makes
bath time fun!
Reese's Easter Eggs is a staple in our baskets. These can be found for much less then on Amazon at your local grocery or big box store.
Throw a disc, catch a ball! Phlat Ball is the unique sports toy that transforms from a flying disc to a fun ball when thrown it's like a Frisbee ball.
Hatchimals are great Easter basket stuffers and Easter gifts for kids! Load the Easter basket with Hatchimals toys and easter eggs filled with CollEGGtibles!
The chocolate Easter bunny is a must! You can find these at any grocery store or big box like Target or Walmart for only a few dollars each!
Non Candy Easter Basket Ideas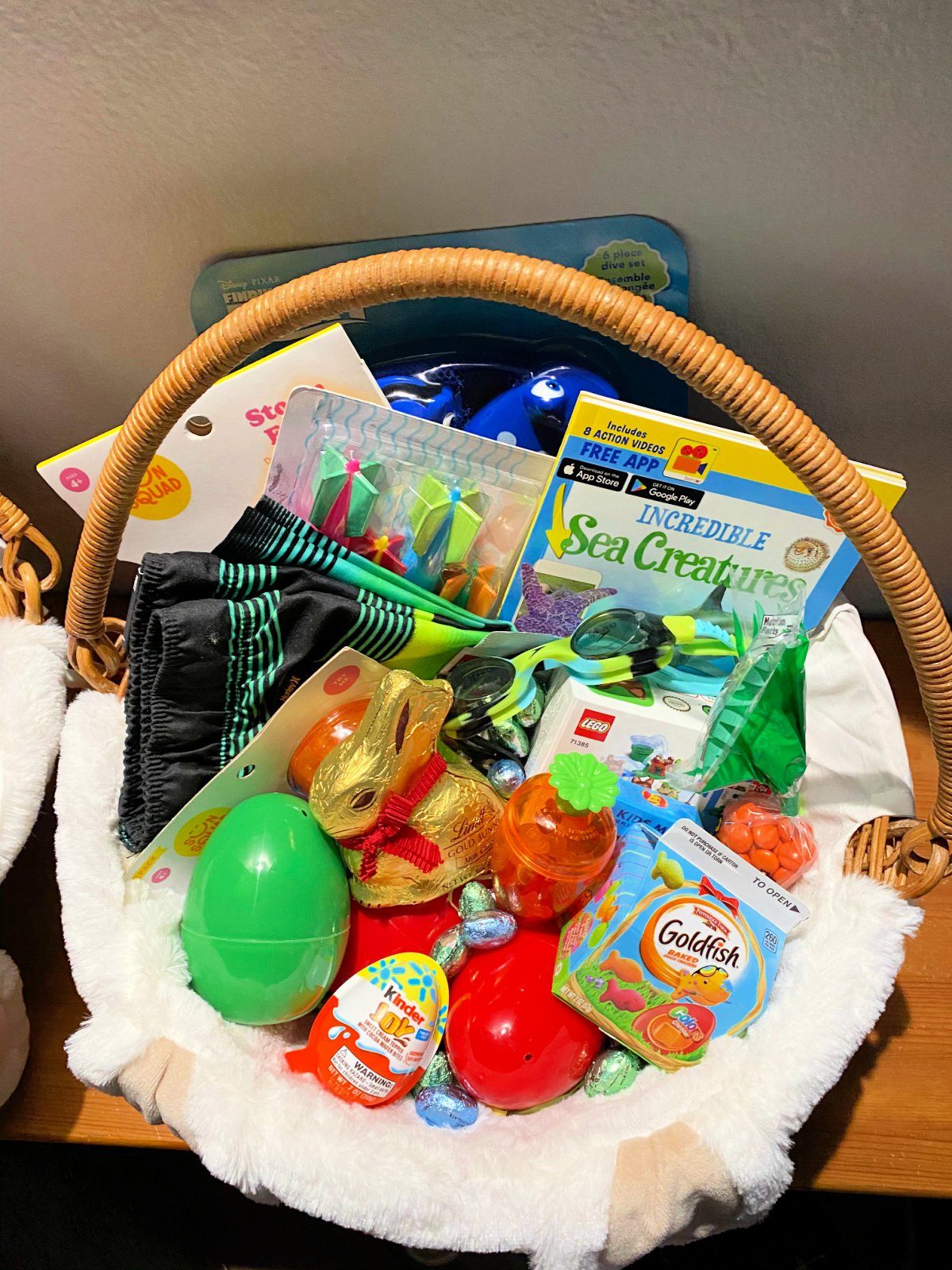 In case you didn't have enough ideas from above here are a few more non candy Easter basket ideas.
Sunglasses
Clothes
Video Games
Puzzles
Coloring Items
Books
Fun Pens/Markers
Umbrella
Shoes
Makeup
Hair Accessories
Stuffed Animals
Swim items like goggles, pool toys, and swimsuit
Toys
LEGOS
Easter Basket Tips & Tricks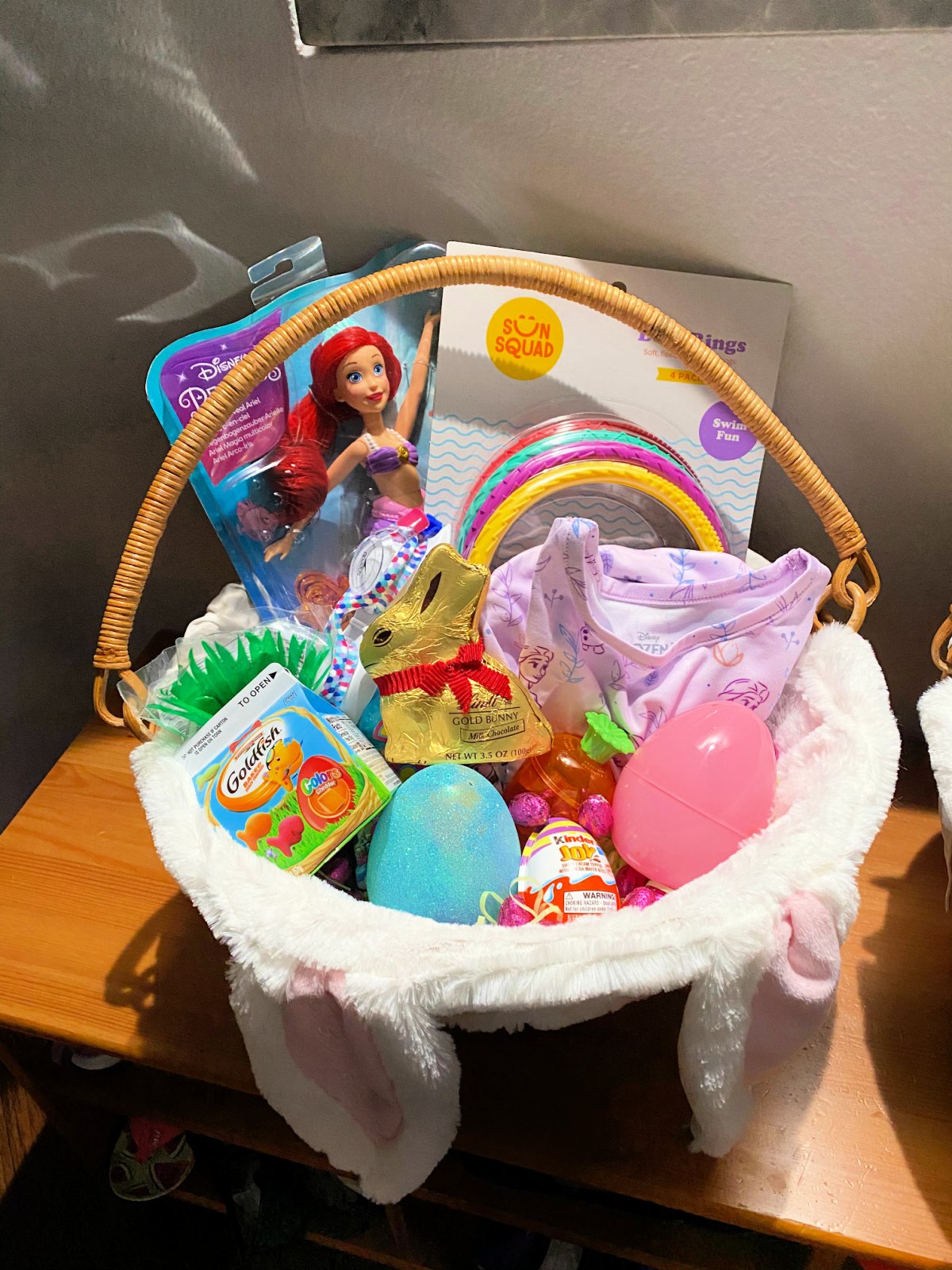 Over the years I've learned a few tips and tricks when assembling Easter baskets.
Filler Eggs – My kids love all things "surprise" so I try to buy jumbo filler eggs to place some candy and/or toys in them.
Test Run – I always do a test run to make sure I have enough and/or everything will fit.
Hide the Baskets – Our Easter bunny hides baskets so it makes it a fun game to try and find their basket.
Buy Early – I try to buy a month prior to Easter that way I'm not rushing last minute and have very little to pick from. Easter always seems to creep up on me.
Pick a theme – Some years I like to pick a theme. Pictured above are last years baskets. I picked a swim theme since we needed new swim toys for the pool! Other years I have picked a theme based on a specific toy or character that the kids liked.
Easter Crafts
Looking for something fun to do with the kids. Check out a few of my favorite Easter crafts.
I hope you found these Kids Easter Basket Ideas helpful. Whether you are looking for something last minute or planning ahead I hope you were inspired from these ideas.
Disclaimer: There are affiliate links in this post. That means if you purchase from a link I make a small percentage at no additional cost to you. Thank you for supporting Sew Woodsy!