Looking to take a family friendly vacation in the heart of South Florida? Look no further to The Diplomat Beach Resort in sunny Hollywood, Florida.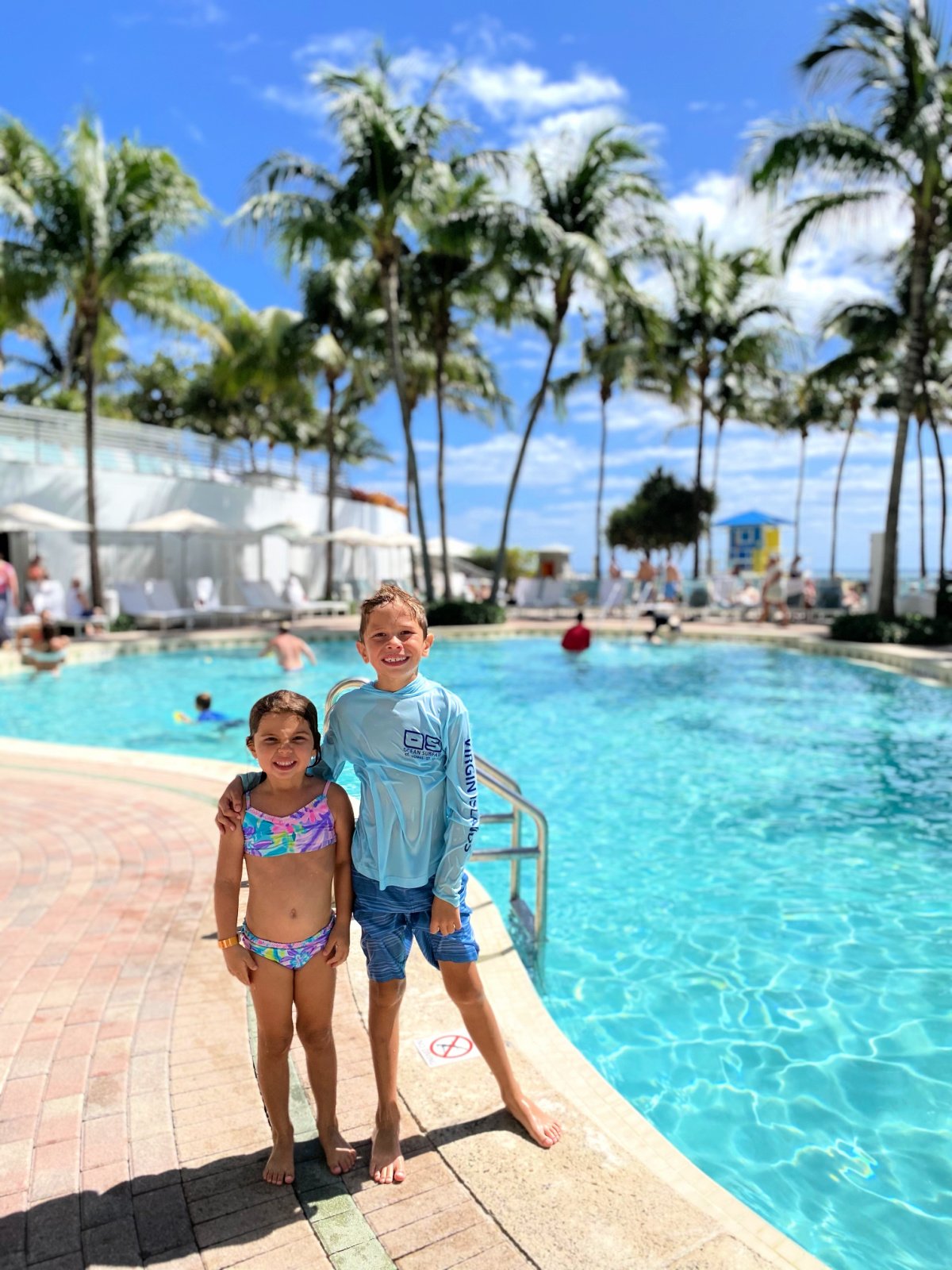 Thank you Diplomat Beach Resort for hosting us for the weekend. As always, all opinions are my own. This post was created based on our April 2022 stay. Some amenities, times, and prices may have changed at the time you are reading this. As always, check the hotel website for up-to-date information.
Every year, I always want to take a quick weekend family getaway to celebrate my Birthday. Most years, it's just a pipe dream and never happens. I love to travel as does the rest of my family, but my son and I probably have the biggest travel bugs of all. When The Diplomat Beach Resort reached out to me, I knew it would make for an ideal long weekend away.
The Diplomat Beach Resort is located in Hollywood, Florida. Hollywood sits between Ft. Lauderdale and Miami and is just a 3.5 hour drive from Orlando. Making this beach resort an ideal location for most since it's easily accessible from Ft. Lauderdale International Airport and Miami International Airport. It also made for an easy family friendly weekend getaway for us.
The Diplomat Beach Resort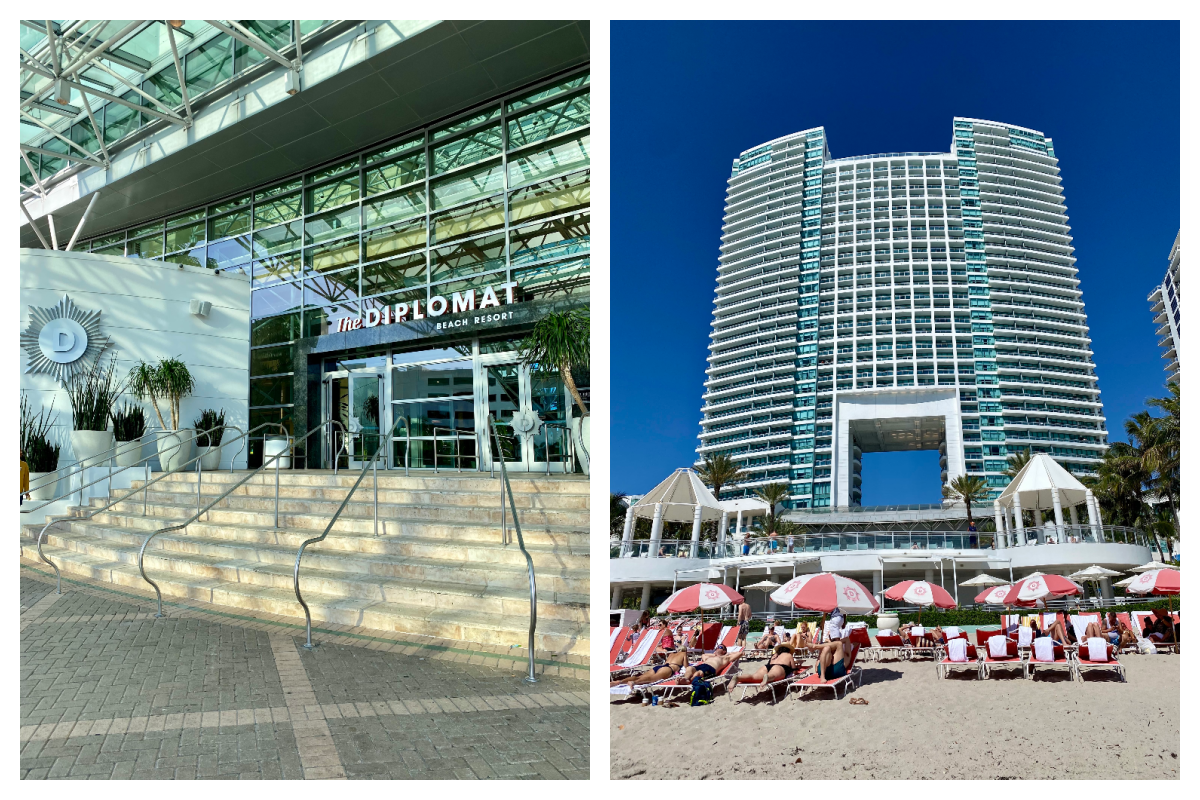 We spent 2 nights and 3 days at The Diplomat Beach Resort (Friday-Sunday). My family and I could have easily spent a week at the resort since their is so much to do. I'm so excited to share with you all that The Diplomat has to offer for families.
The Diplomat was voted one of the top 10 resorts in Florida by Condé Nast Reader's Choice and 4 Diamond rated by AAA. This resort is top notch and offers a variety of daily amenities with an additional $39 daily resort fee. Some amenities include: Four Beach Lounges daily, wifi, fitness center, 1 hour per day bicycle rentals and non-motorized water sports to name a few.
Fun Facts: Since the resort has been open in the 1950's every president has either dined or stayed at The Diplomat Beach Resort.
Hotel Rooms at The Diplomat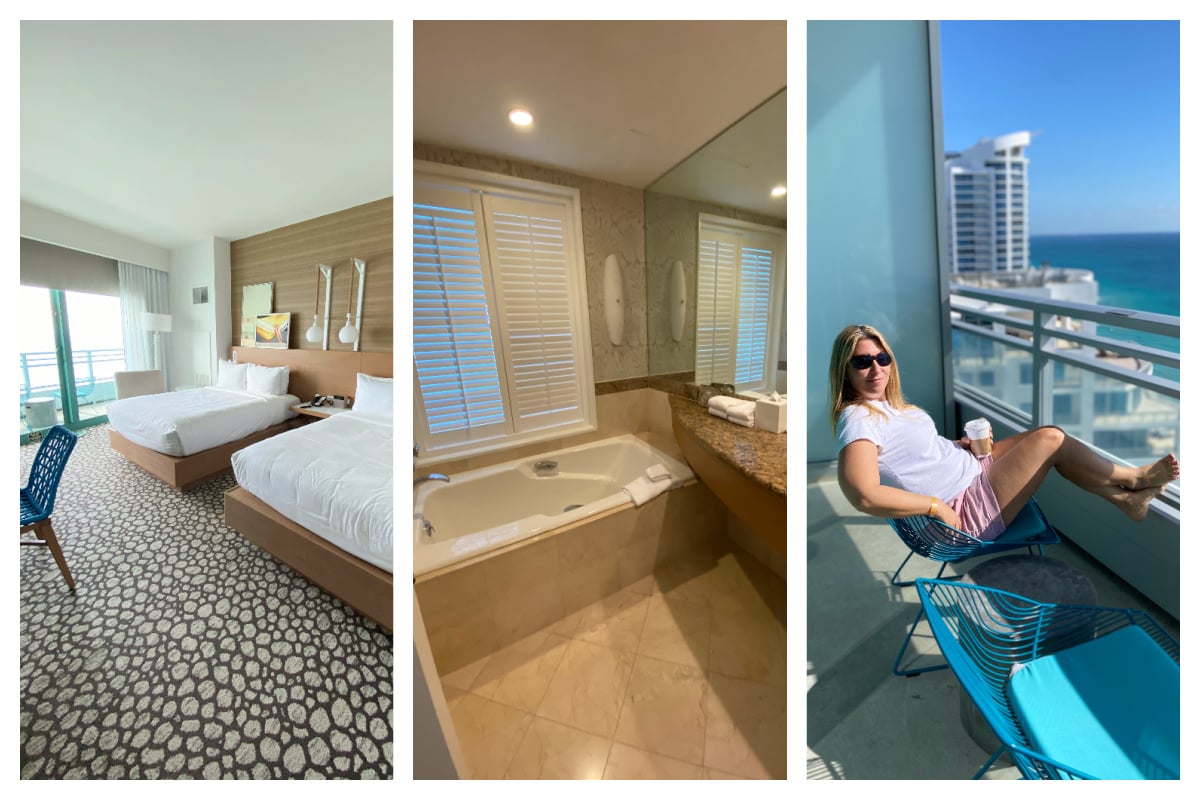 The Diplomat is 36 stories from the surf, and has 1,000 rooms and suites. These rooms range from 381-2,250 square feet. The Diplomat is the 2nd tallest beachfront resort south of Orlando with unobstructed views.
Rooms at The Diplomat all have a view, whether it's beach front (Atlantic Ocean) or Intercostal. We had a double queen room on the 29th floor that overlooked the ocean front. I loved that our room (and every room in the hotel) had a full size bath tub. On our second night we let the kids take a bath in the giant tub. The shutters open so they got to watch a movie while they took a bath. They thought it was the coolest.
Dip + Slide kids Splash Zone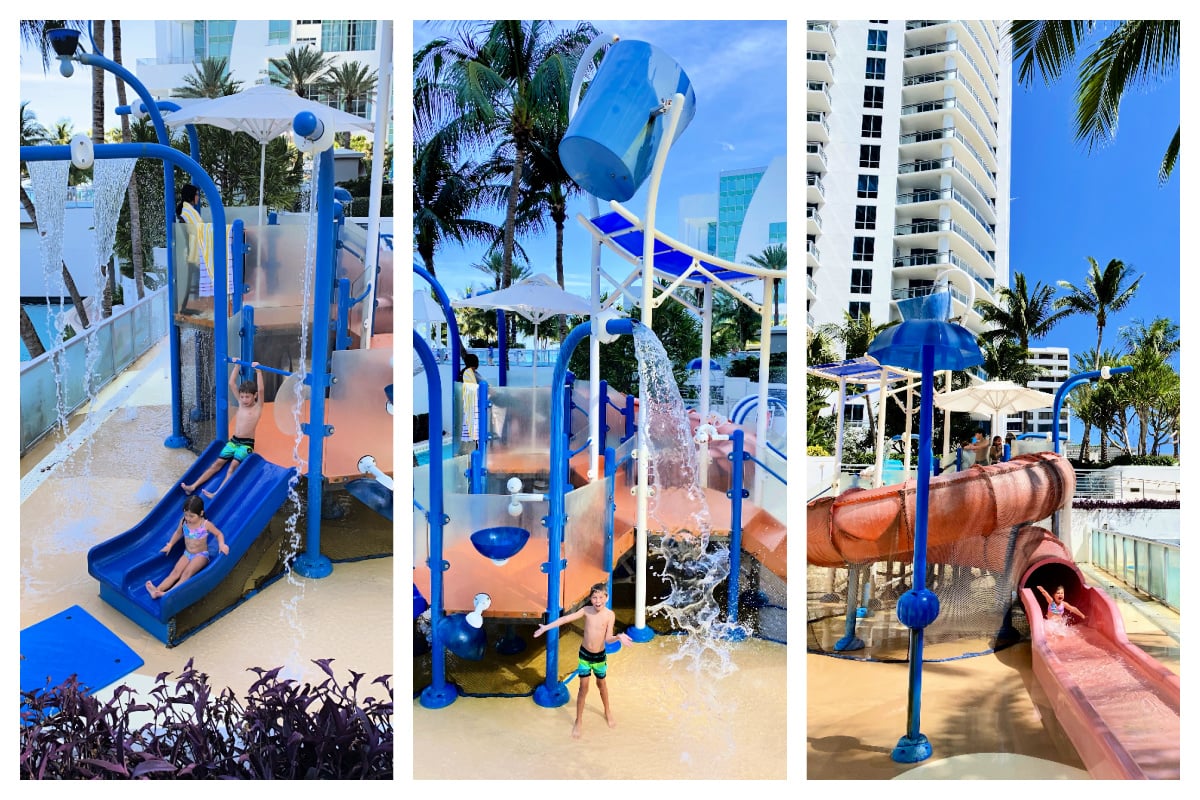 My kids, ages 5 and 8 loved the Oceanfront Dip + Slide, that is perched above the Sparkling Lagoon pool. I loved that their was a lifeguard on duty who controlled the slide. Kids do need to be at least 40″ to ride the slide. Although it's a smaller slide, my 8 year old still had a blast and probably rode it 100+ times each day.
Beachfront Pools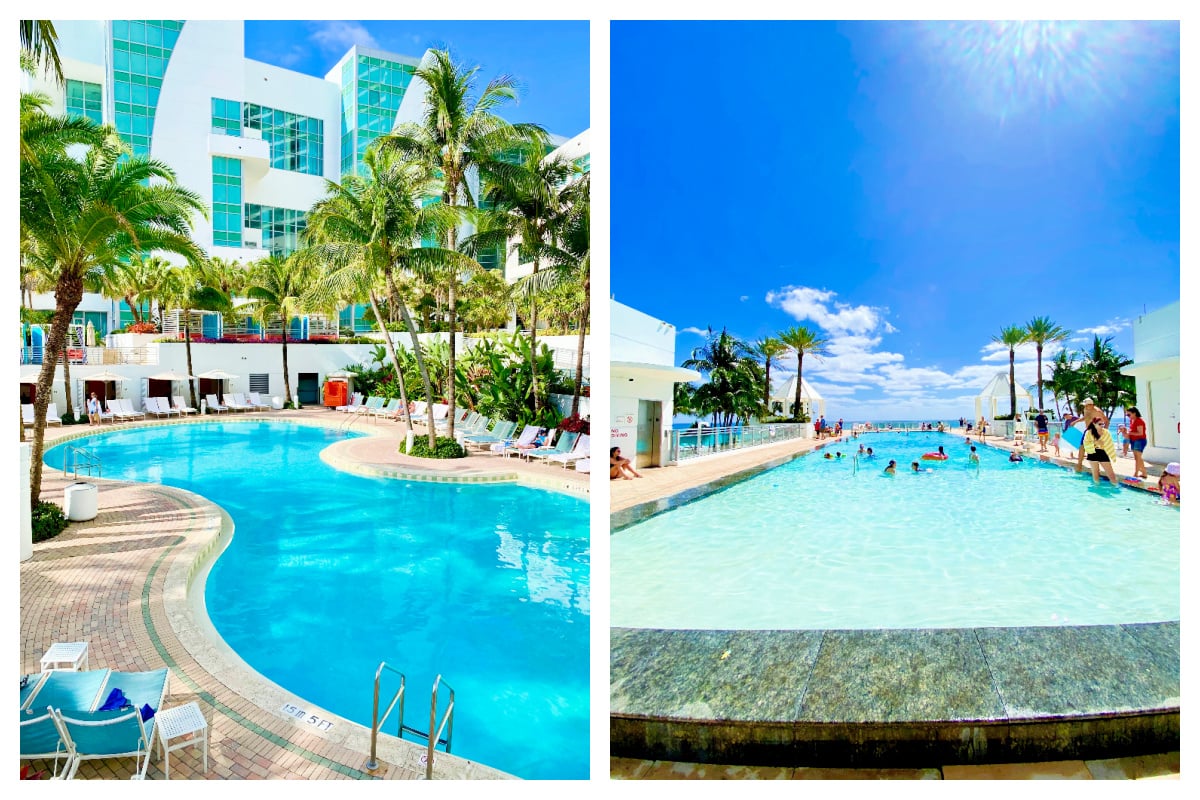 I loved that their were two pools. The top pool is an infinity pool that overlooks the ocean aand features a porthole window bottom (sadly, this was under construction when we stayed and when it's operational it has 2 waterfalls cascading into the 240-foot Sparkling Lagoon pool below). Right after a long day at the beach, rinse off in the fresh water shower then jump into the Sparkling Lagoon pool, surrounded by lush tropical landscaping and sweeping views of the Atlantic ocean.
Poolside Cabanas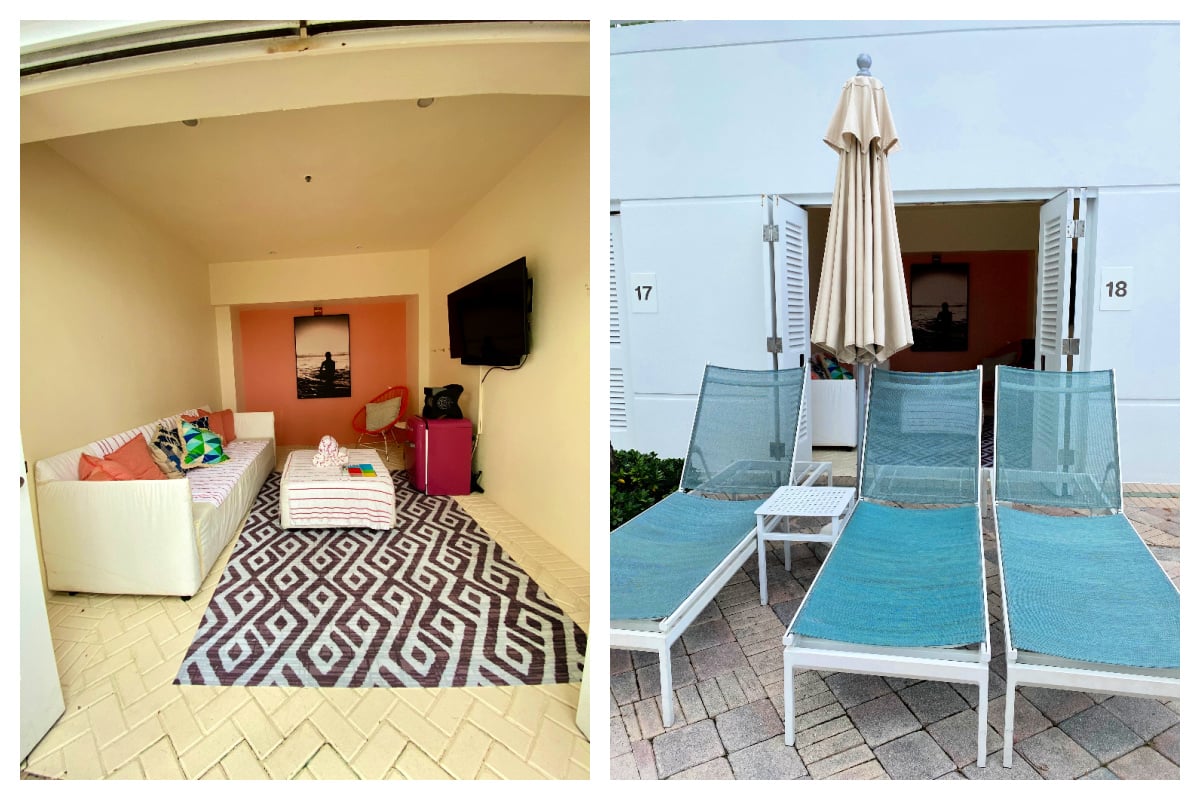 We did not rent a Poolside Cabanas, but I did get to take a peek at one. Trina Turk™ styled the poolside Cabanas, upper-deck Casita, and the Beach Beds. I love that you can relax and enjoy extra poolside amenities, you have dedicated chaises, umbrellas and full service attention — in the sun or under the shade of your own private paradise. In the cabanas you get 50″ Flatscreen HDTV, SMEG® Mini-refrigerator with 4 bottles of water, extra towels, cooling fan, and if you have a baby you can even request a Pak-and-Play or Crib.
Bonus: You can rent a cabana even if you are not a guest for the day depending on the availability.
Beach Activities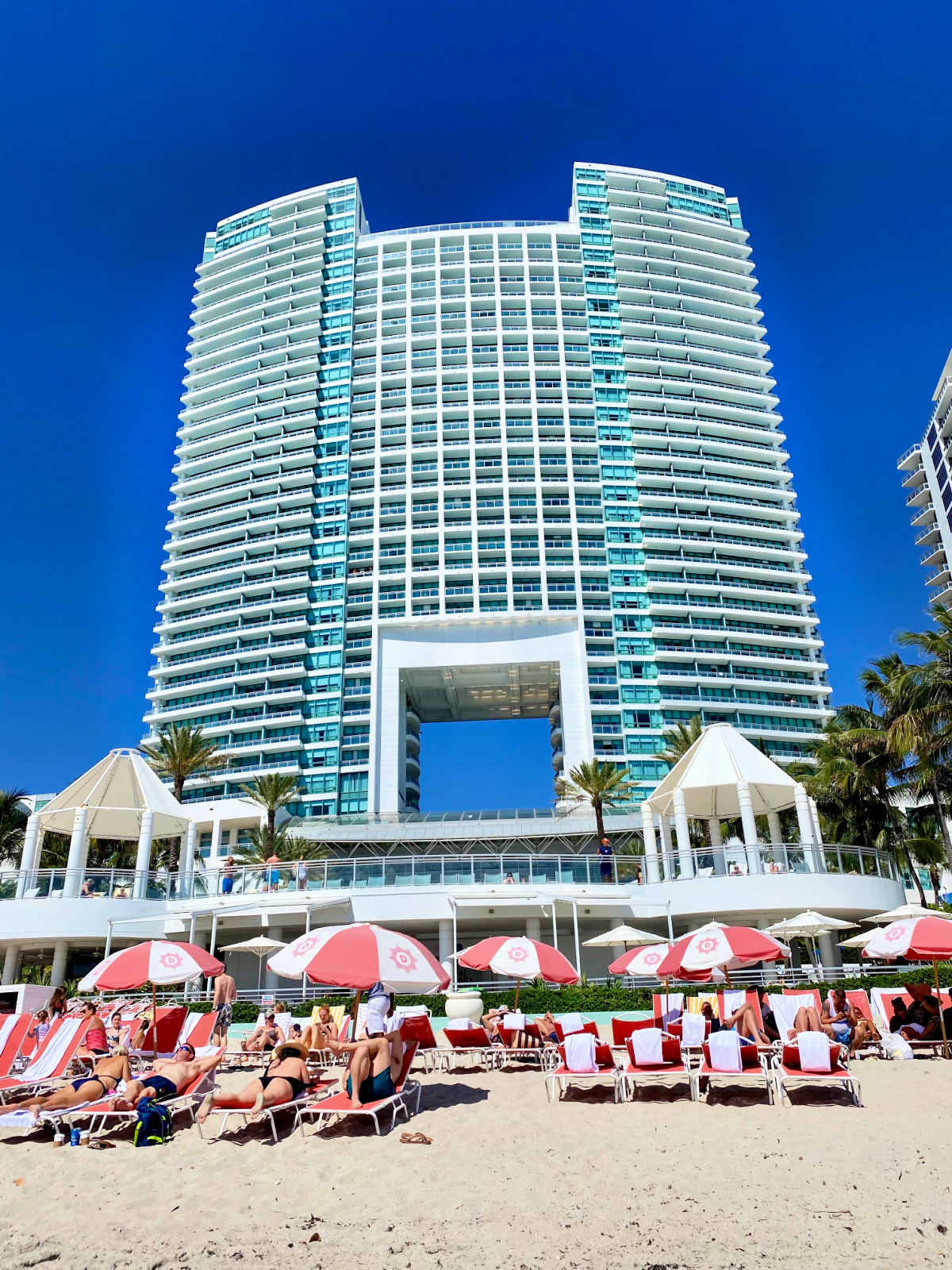 Chaise lounge chairs are complimentary and fees apply for umbrella and daybed rentals. We rented an umbrella each day because we need some shade from the hot Florida sun. Here are other beach activities that are complimentary for guests. Most activities are available from 10AM – 5PM although the kayak and paddle boards closed a little earlier. If the seas are rough they will not allow you to take out either. So keep that in mind. Sadly, both days we were there they were not permitting the non-motorized activities.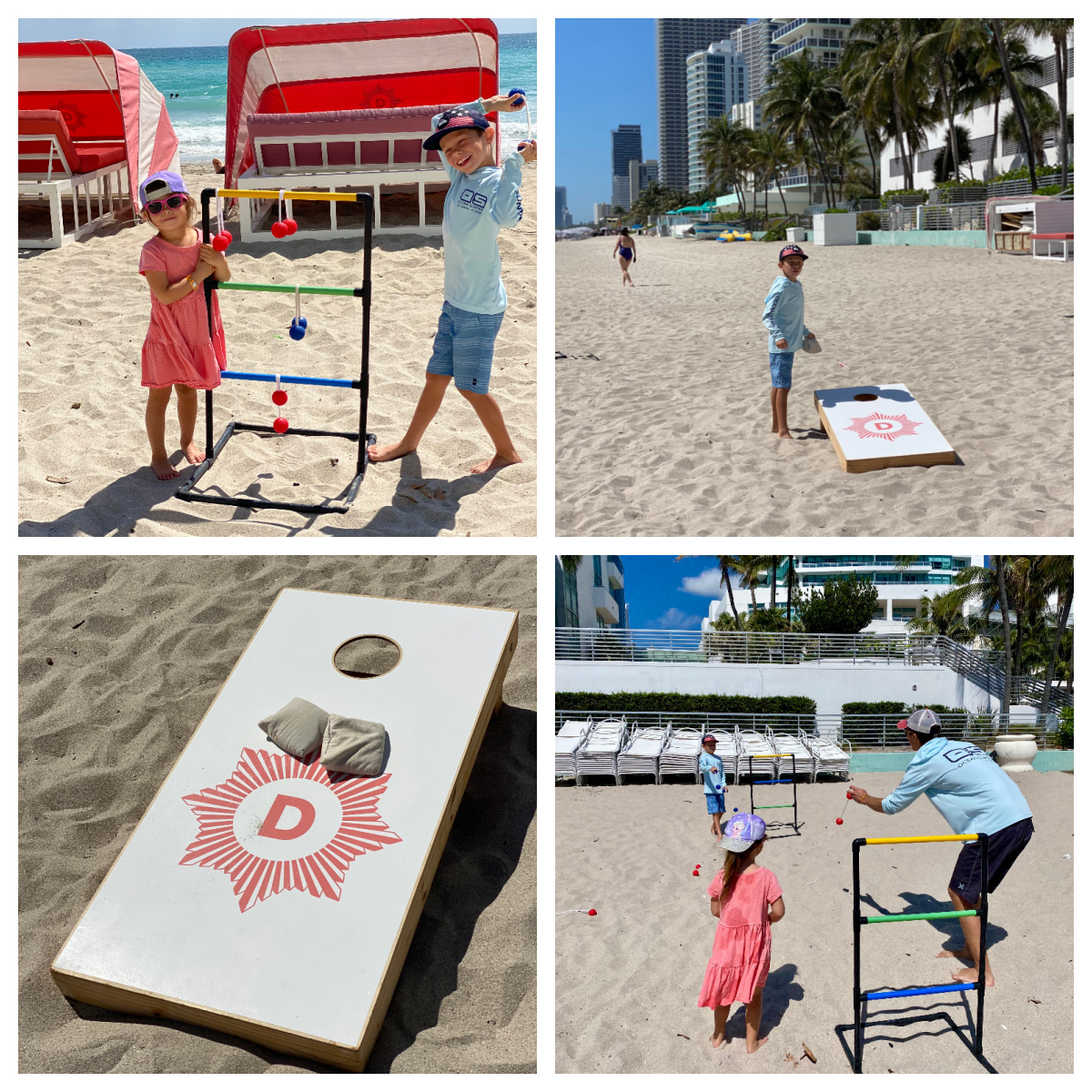 Beach Side Games – My kids loved playing Bean Bag Toss and ladder golf on the beach.
Kid's Toy Area – This was such a nice addition and allowed us to not have to pack beach toys. A perk if you are flying in and don't want to buy beach toys.
Kayak Rentals – 1 hour free per day for resort guests.
Paddle Board Rentals – 1 hour free per day for resort guests.
Banana Boat Rides & Jetski Rentals and Tours – This is an additional fee and needs to be booked online or Call (954) 602-8690
Waterfront Activities are first-come, first-serve and are dependent on weather plus ocean conditions. Complimentary waterfront activities including Kayak and Paddle Board usage do not require an online reservation. For all paid waterfront rentals, reservations are recommended.
Diplomat Restaurants
Since The Diplomat has recently reopened after the start of the COVID-19 pandemic all of the restaurants were not open yet. But we did get to try the following restaurants in Diplomat Hotel.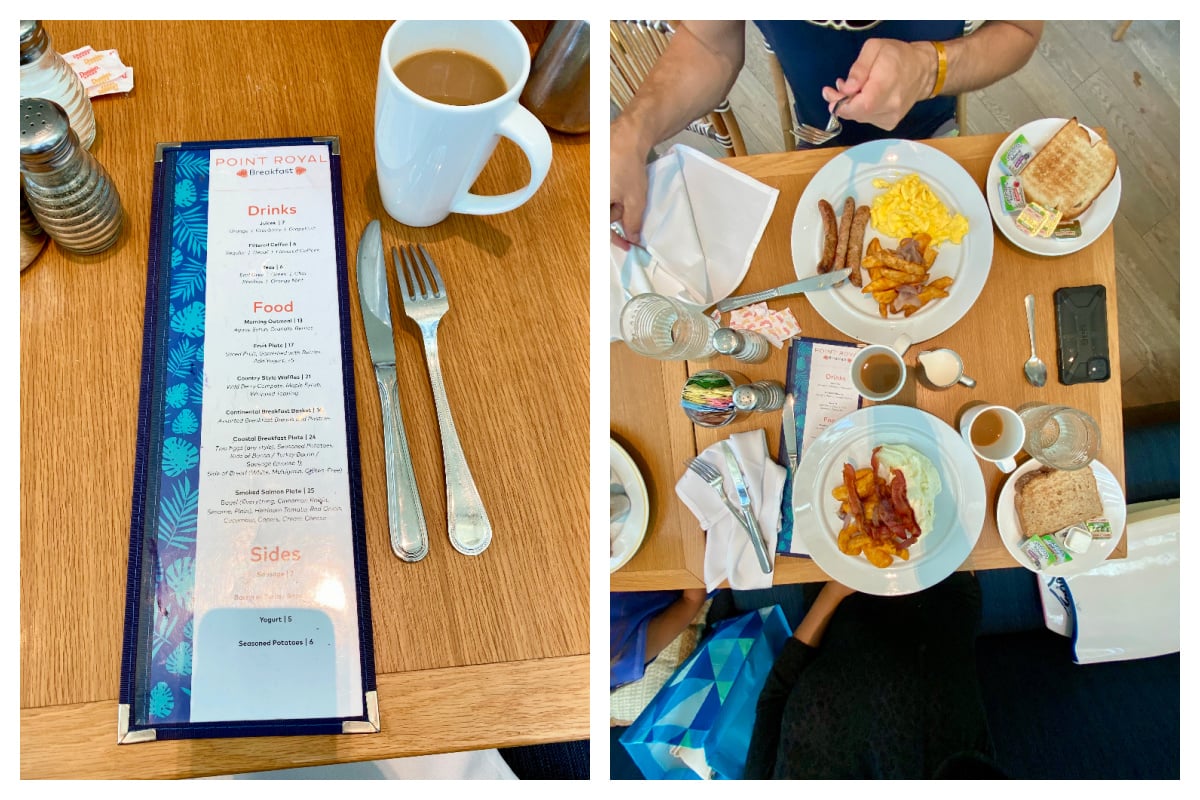 Point Royal – This restaurant serves typical American breakfast such as oatmeal, pastries, smoked salmon, fruit plates, waffles, and two egg breakfast plates. They also have a limited kids menu similiar to the adult menu, but smaller portions.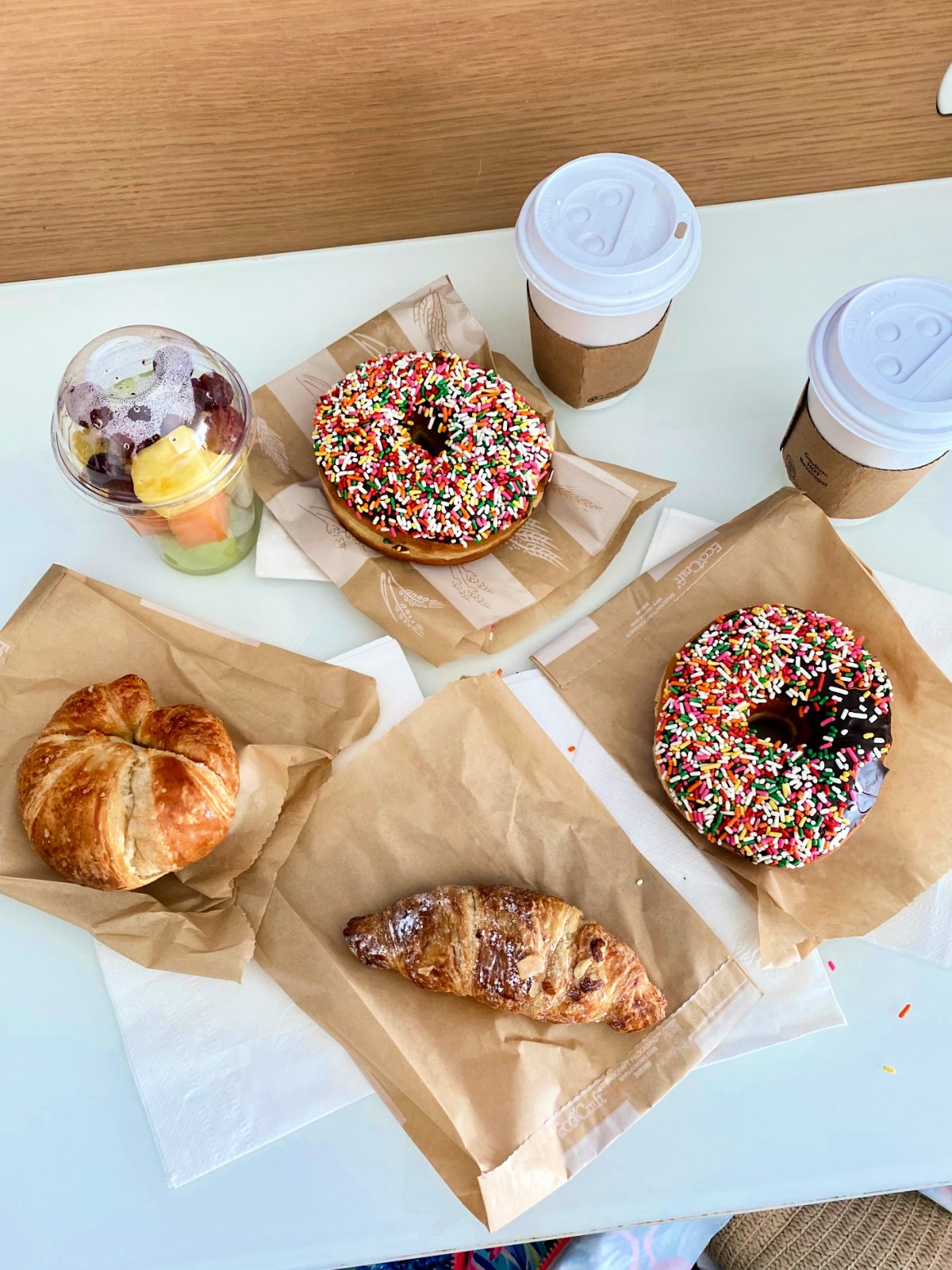 Counter Point – Counter Point has some of the most amazing freshly baked pastries that rival any gourmet bakery. From donuts the size of a child's head to house made chocolate croissants you are sure to find something sweet to enjoy for breakfast. I put in an online order and by the time I made it down to the shop my order was ready. They also have an impressive amount of specialty espresso drinks, coffee (including cold brew), and tea as well as grab and go sandwiches throughout the day. If you are looking to enjoy breakfast in your room this is the closest thing to it since their is no room service currently available. They are open daily from 6:30AM – 5PM (hours may vary).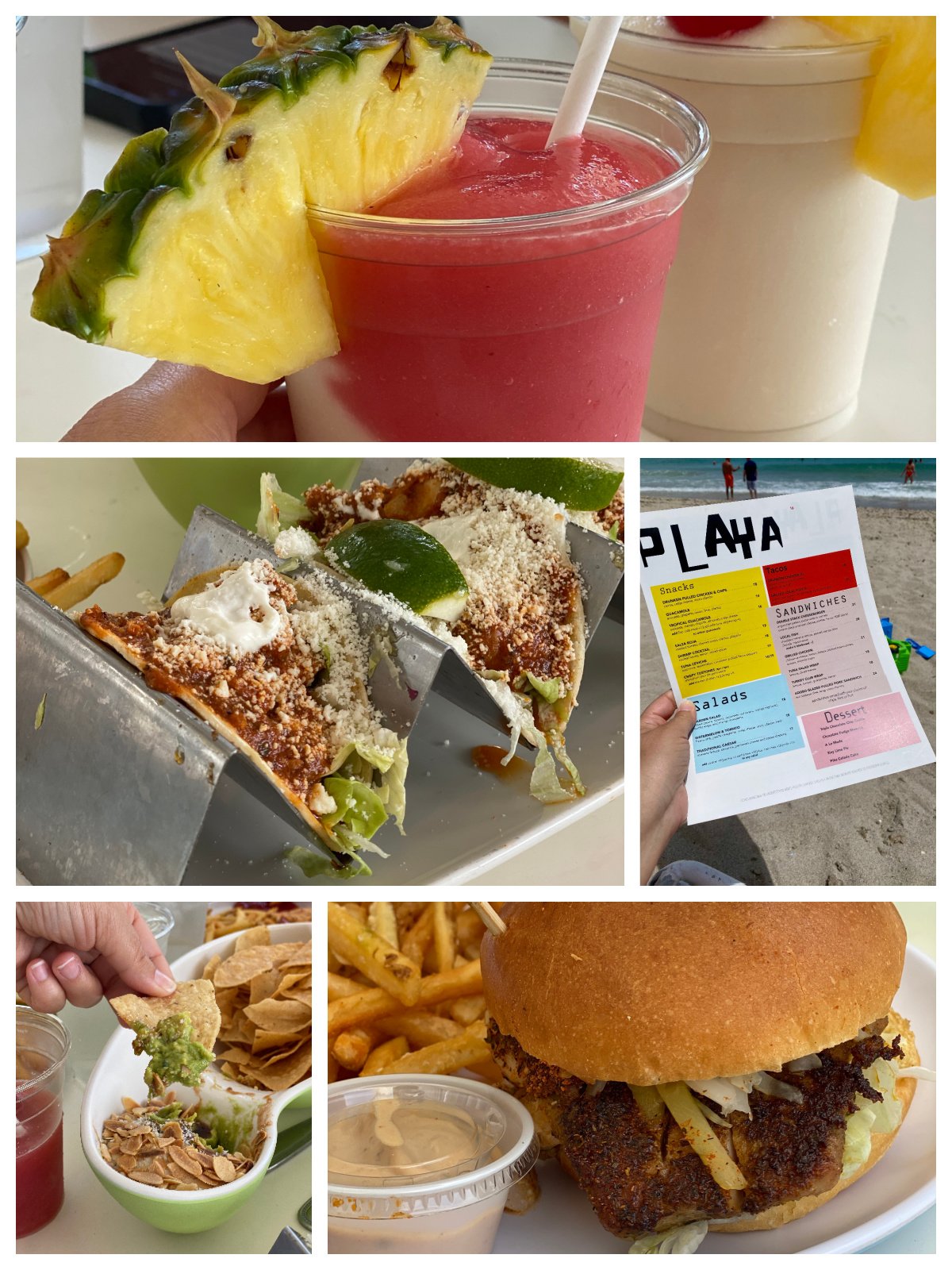 Playa – This is the beachfront restaurant that offers beach dining and serves lunch and dinner. Think a mix of sandwiches, fresh fish, and tacos. Our favorites included the tropical guacamole, blackened fish sandwich, and drunken chicken tacos. They recently added a kids menu that has typical kid friendly foods like burgers, hot dog, chicken tenders, and more! The french fries were delicious–I may have stole a few from my kids plates!
Diplomat Prime Steakhouse – This is a 4 diamond as my kids called it "fancy" steakhouse. Executive Chef Rashaad Abdool has set the standard for seafood and steakhouse fine-dining at The Diplomat. We were hesitant to take our kids, but really wanted a nice meal to celebrate my birthday. I was relieved to see other kids in the restaurant, after all this is a family friendly restaurant.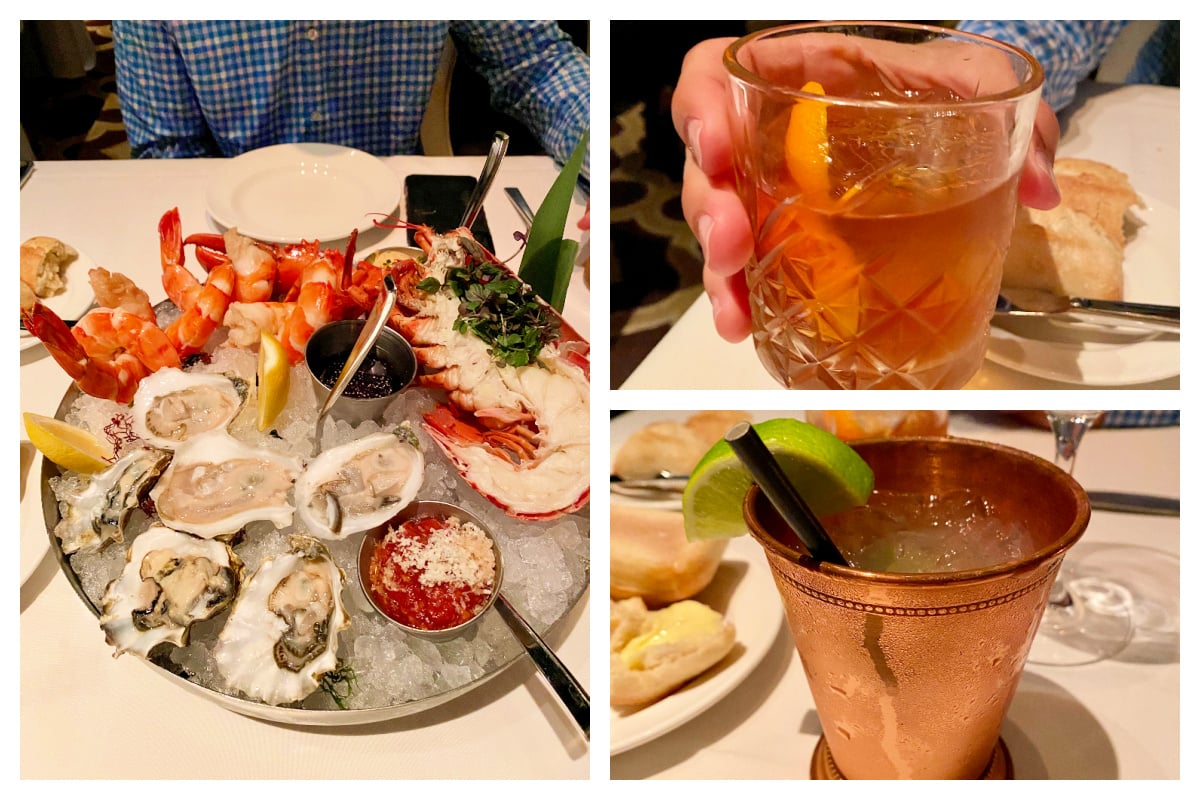 We enjoyed a shellfish tower to start with and then shared a 28oz 45 Day Prime Dry Aged Porterhouse (which was PLENTY for the four of us), whipped potatoes, and lobster mac and cheese. We were all so full, and sadly did not get to have any dessert. I heard the New York Cheesecake is to die for.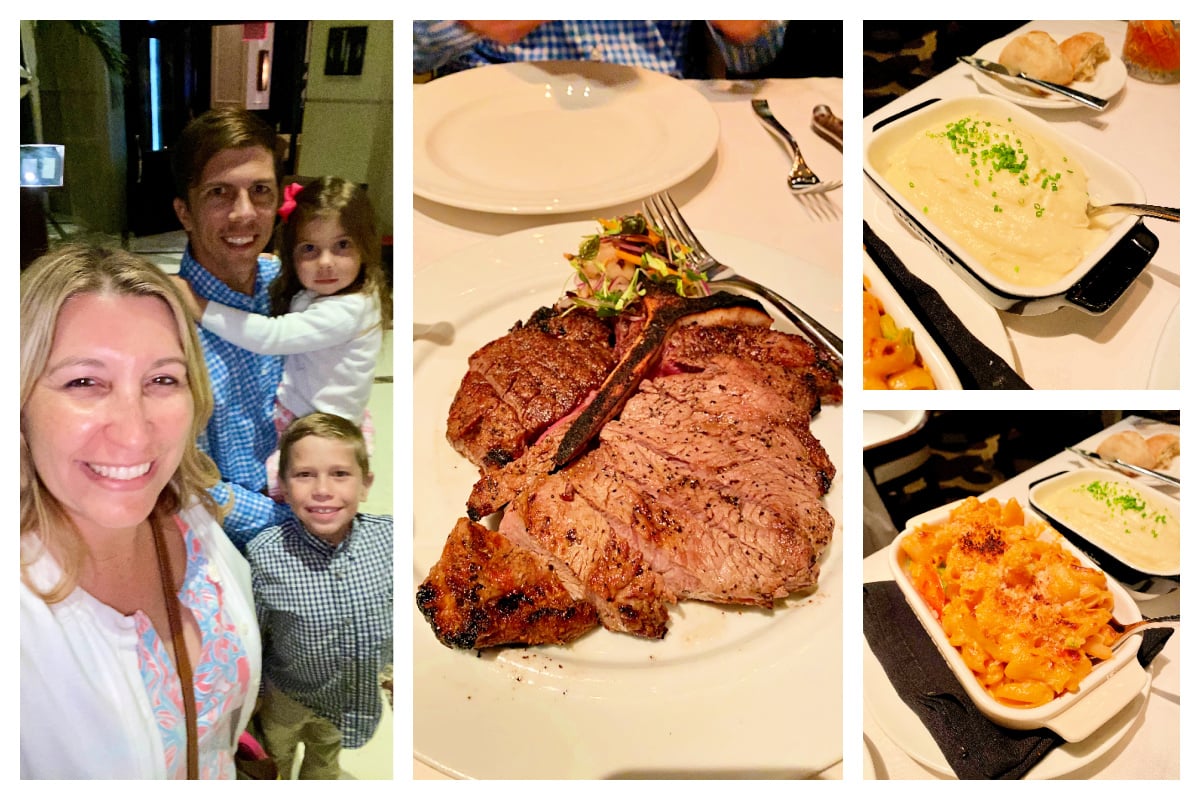 There is not a kids menu; however, they can accommodate by making macaroni and cheese or buttered pasta. My kids love steak, so we choose to share a large steak plus sides. Obviously, if you or someone in your party has a large appetite you may need to order additional entrees. But for our family of 4 we had plenty of food and even some leftovers to take back to the room.
Totally worth a splurge meal and a fun experience for the kids to get dressed up, and see what it's like to eat at a "fancy" adult style restaurant. If you want to dine at Diplomat Prime Steakhouse I recommend making a reservation. You can do so by contacting the restaurant (954) 602-8540 OR by booking on Open Table.
FAQS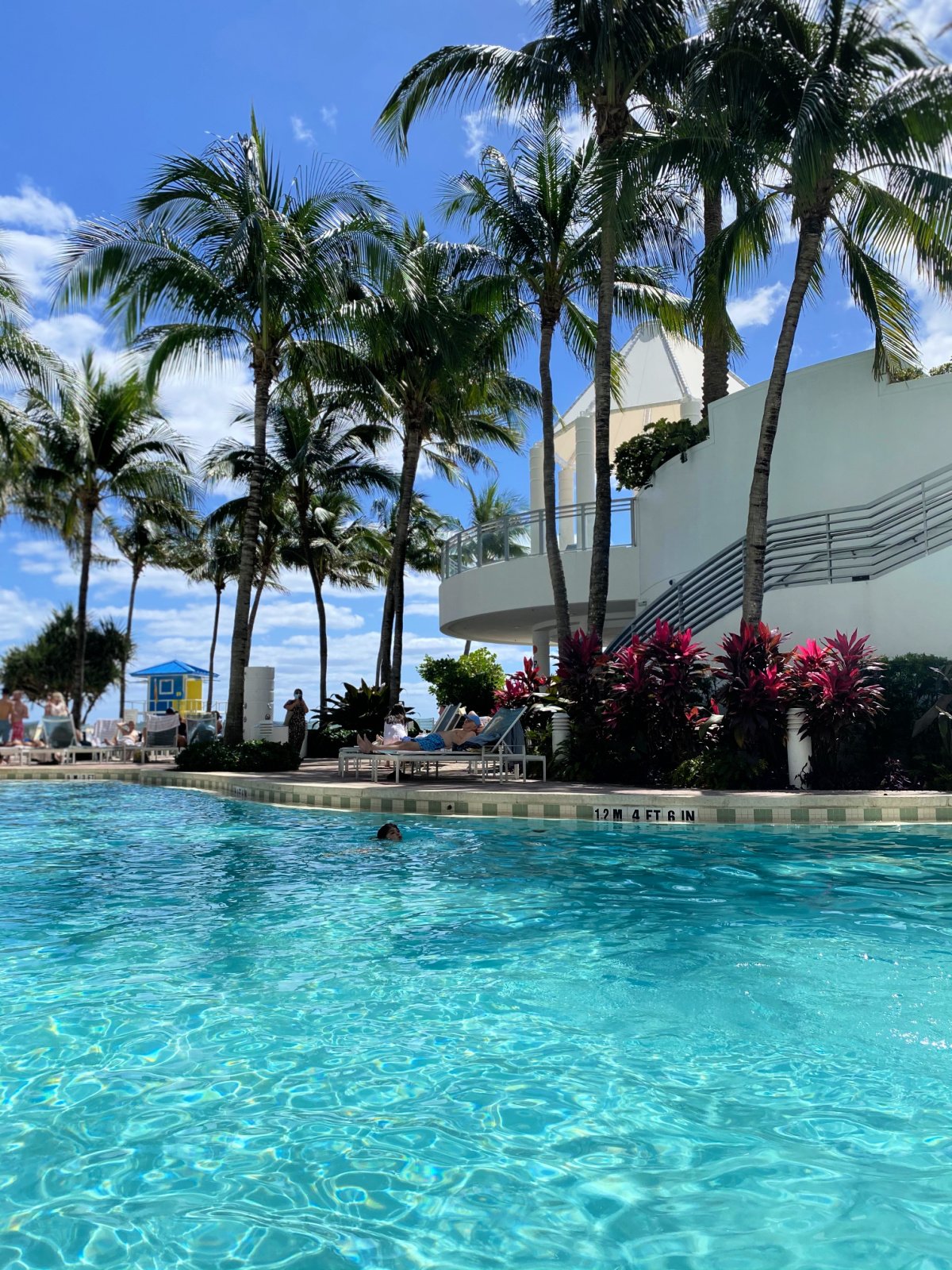 Is The Diplomat kid friendly?
Yes, The Diplomat Beach Resort in Hollywood, Florida is very kid friendly. Their are multiple pools, a splash park, and activities to be found on the beach for kids. Most restaurants have kids menus too.
Is The Diplomat Hotel all inclusive?
The Diplomat Beach Resort is not an all inclusive hotel. When you pay the resort fee it will give you some additional amenities like beach chairs, non motorized sports if weather permits, and internet. You will need to purchase food, drinks, and other activities for an additional fee.
Is The Diplomat Beach Resort closed?
No, the Diplomat Beach Resort is no longer closed. It was forced to shut down in the spring of 2020 for 14 months during the pandemic since gathering of large groups was prohibited. But they are currently reopen and reopening more and more amenities as time goes on.
What airport is closest to The Diplomat Beach Resort?
The closest airport to The Diplomat Beach Resort is Fort Lauderdale/Hollywood International Airport. It is only 7.8 miles from the resort.
Is The Diplomat Beach Resort part of the Hilton?
Yes, The Diplomat is considered part of the Curio Collection by Hilton. This means if you are part of the Hilton Honors rewards programs you can get points for your stay.
What is the time of check-in and check-out?
The current check-in / check-out times for The Diplomat are as follows:
Check-In Time: 4:00 p.m. / Checkout Time: 11:00 a.m.
Resort Offers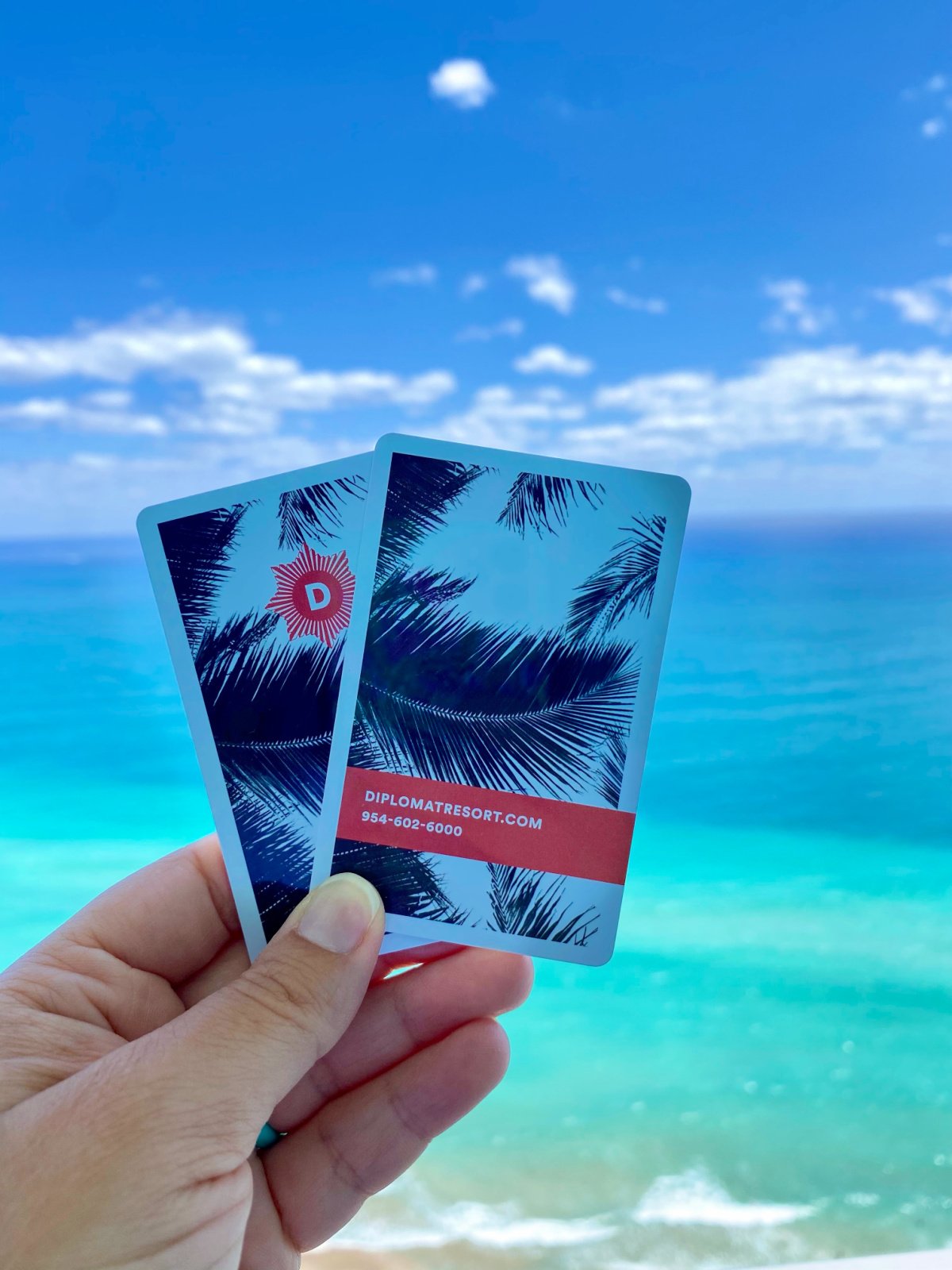 Here are a few of the deals and discounts currently going on at The Diplomat Beach Resort. Make sure to double check the website for all resort offers.
Florida & Georgia residents save up to 15% on stays this Summer and Fall. Enjoy an ocean view room upgrade* all within the comforts of The Diplomat Beach Resort.
Member of AAA/CAA? The resort offers a Family Fun Package. Enjoy a special discount plus free breakfast.
Receive double the Hilton Honors Points each night of your stay.
The Diplomat Beach Resort Hollywood, Curio Collection by Hilton
3555 S Ocean Dr, Hollywood, FL 33019
Phone: (954) 602-6000
Florida Travel
Still looking for more Florida travel ideas? Check out some of our other stays around Florida.
Looking for a fun weekend getaway or maybe a family vacation? If you are considering taking a trip to South Florida with your family make sure you check out The Diplomat Beach Resort. I hope that I've been able to answer all your questions and then some about The Diplomat Beach Resort Hollywood! If you still have more questions please feel free to ask in the comments below.