Check out our adorable Frozen Family Costume based off the ultra popular Disney movie! Learn how you can create the same family costume!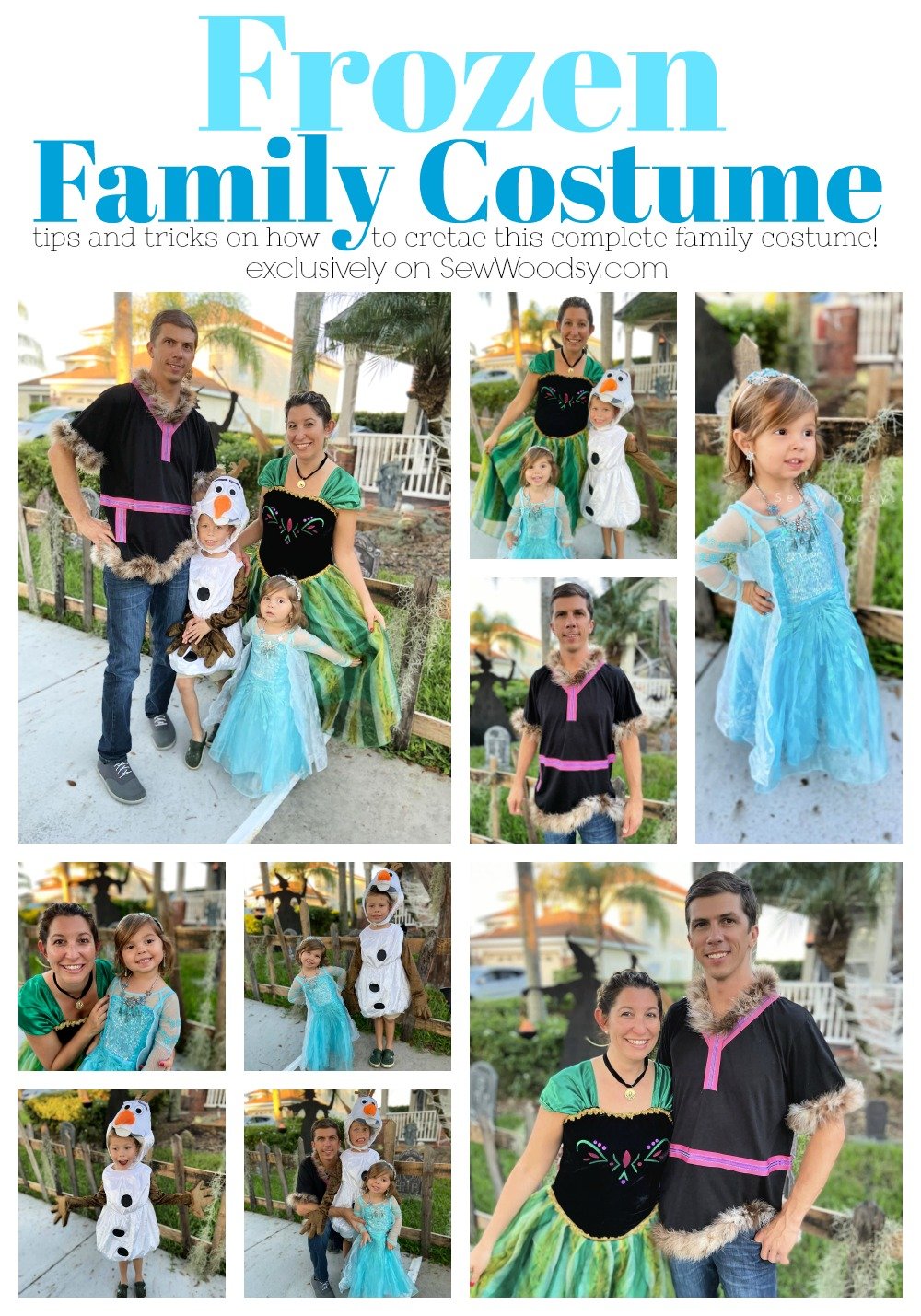 Happy Halloween!
I just had to share our 2019 Frozen Family Costume with our readers and the rest of the Frozen obsessed world. Before kids, I loved doing couples costumes. Once we had kids I was excited to start doing family costumes! It's definitely getting a little more difficult for everyone to agree on something since our kids are getting older. Our 2 year old (who like most) is Frozen obsessed. She was adamant on Frozen, so I figured we would run with it once she told me she would be Elsa and I would be Anna.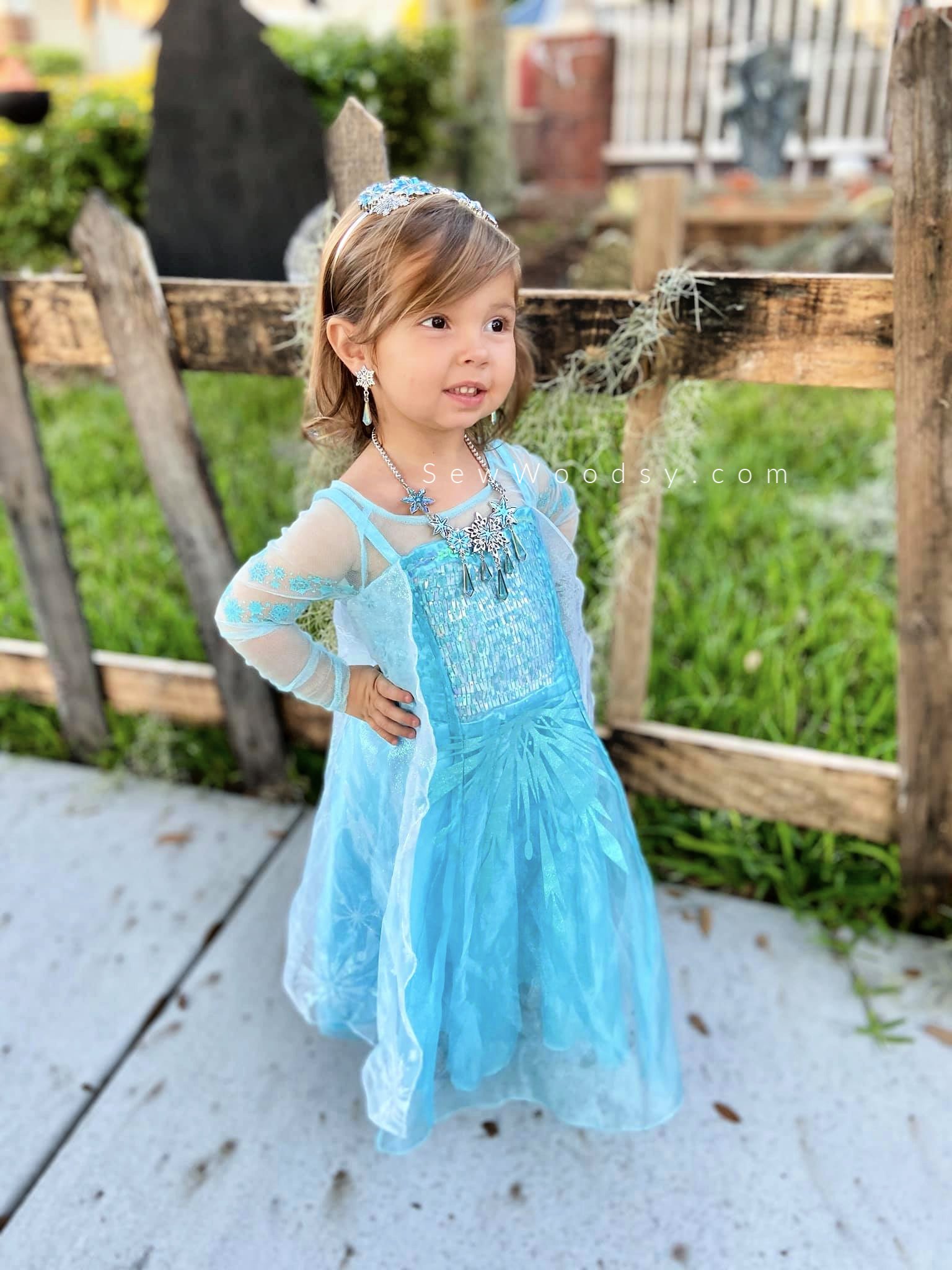 Elsa Toddler Costume
We purchased the Elsa costume from The Disney Store as well as the jewelry accessories. She was over the moon and absolutely loved her clip on earrings! They definitely completed the costume. The crown was a little heavy but she wore it because Elsa had to have a crown!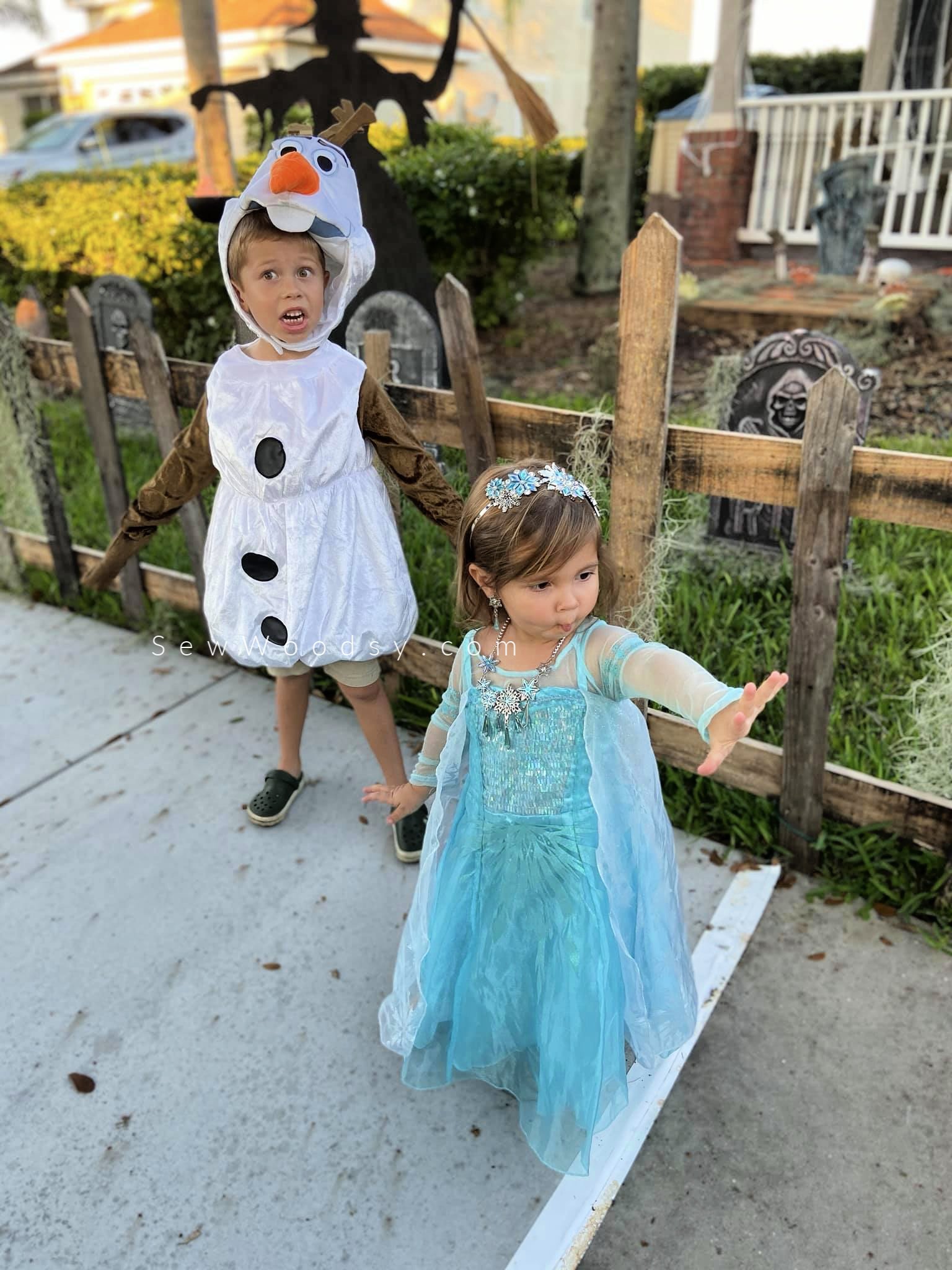 Elsa loved to "throw" ice and kick and stomp.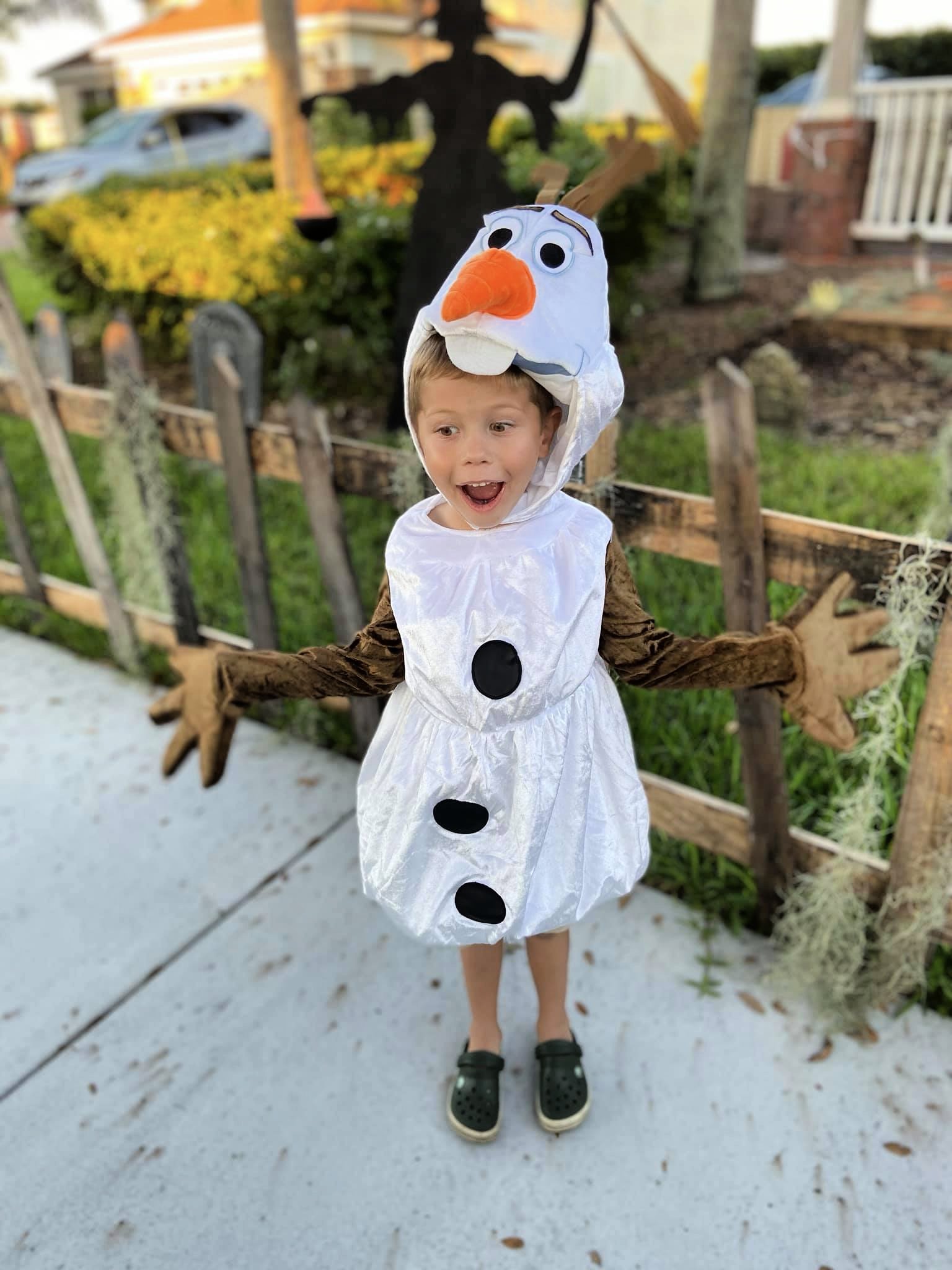 Olaf Kids Costume
We had to bribe my 5 year old with the reward of getting to wear the costume he REALLY wanted to wear on Halloween. So he happily obliged without a fight. He made the cutest Olaf and I'm so happy I got some photos of him.
Extra win was that this Olaf costume was decided last minute. We originally wanted to make him Marshmallow the snow monster. Aka Olaf's brother. But we ran out of time. So we opted to buy him an Olaf costume. This happened to be a "first generation" Olaf and was on super clearance at Party City for only $15!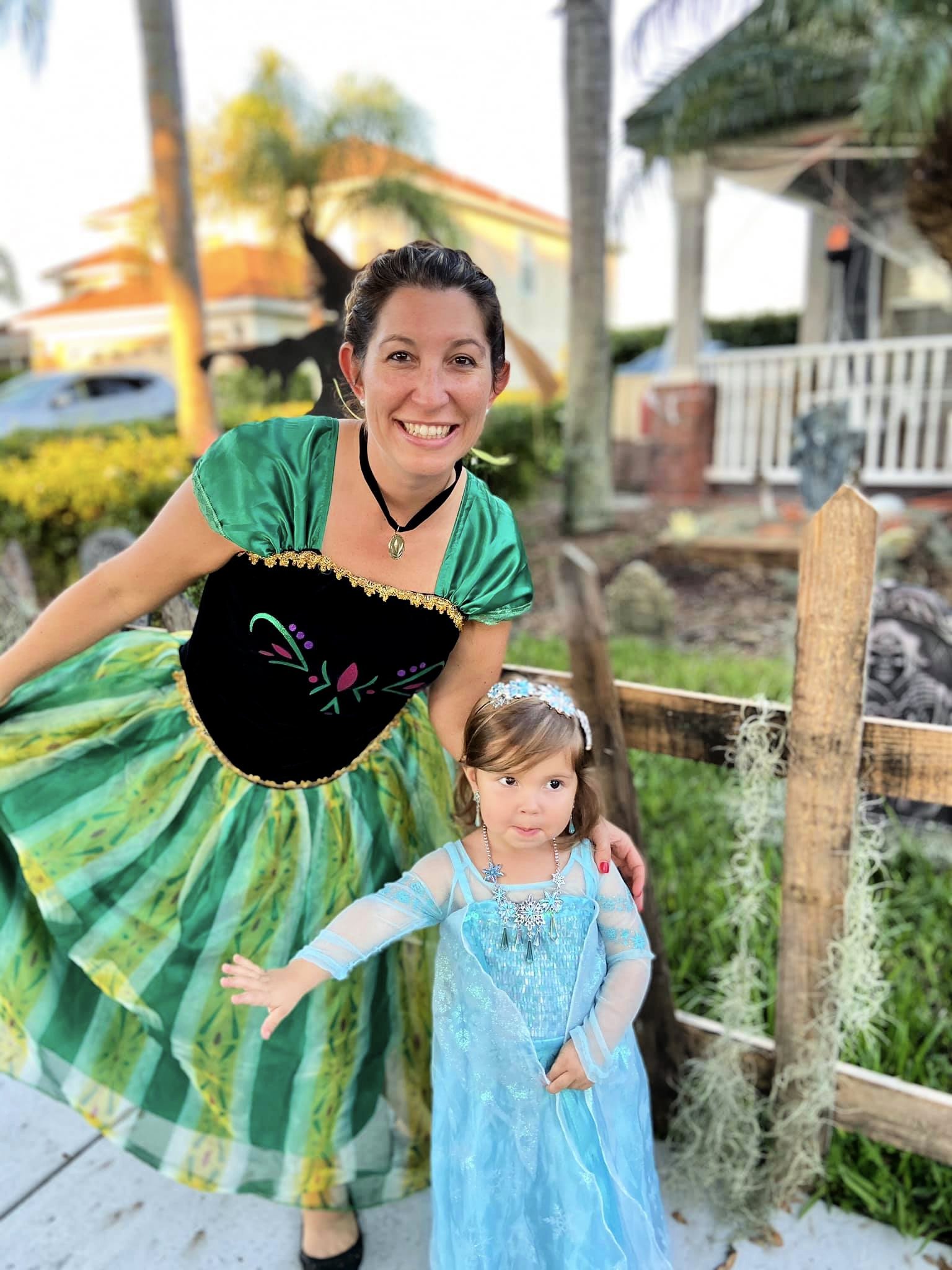 Anna Adult Costume
You can't have Elsa without Anna. My 2 year old dubbed me Anna and I ran with it. What adult women doesn't want to be a princess? I bought my Anna dress which came with a necklace on Amazon.
Since my hair is shorter I couldn't rock the signature braids. I also didn't want to wear a wig. So I went with the Anna Coronation Hair. Lots of tutorials online. I happened to have green ribbon leftover from our Peter Pan Family Costume so that's what I used. Plus a lot of bobby pins!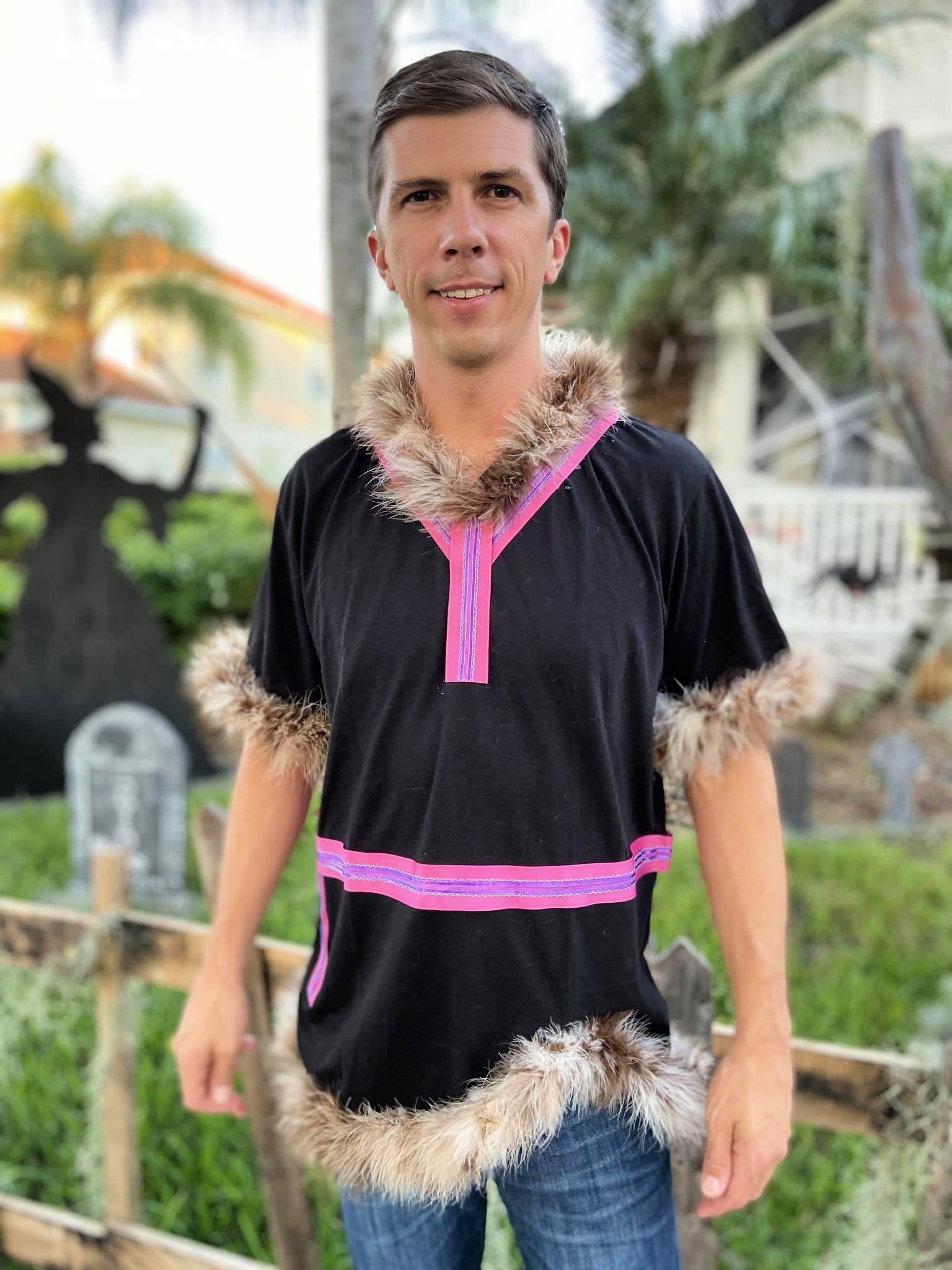 Disney's Frozen Kristoff Costume
I made my husband's Kristoff shirt. Since we live in Florida (and it was like 90 degree's on Halloween) he didn't wear the rest of the accessories. But if it were cooler out he would have worn a hat, gloves, and long sleeve shirt. Everyone knew exactly who he was!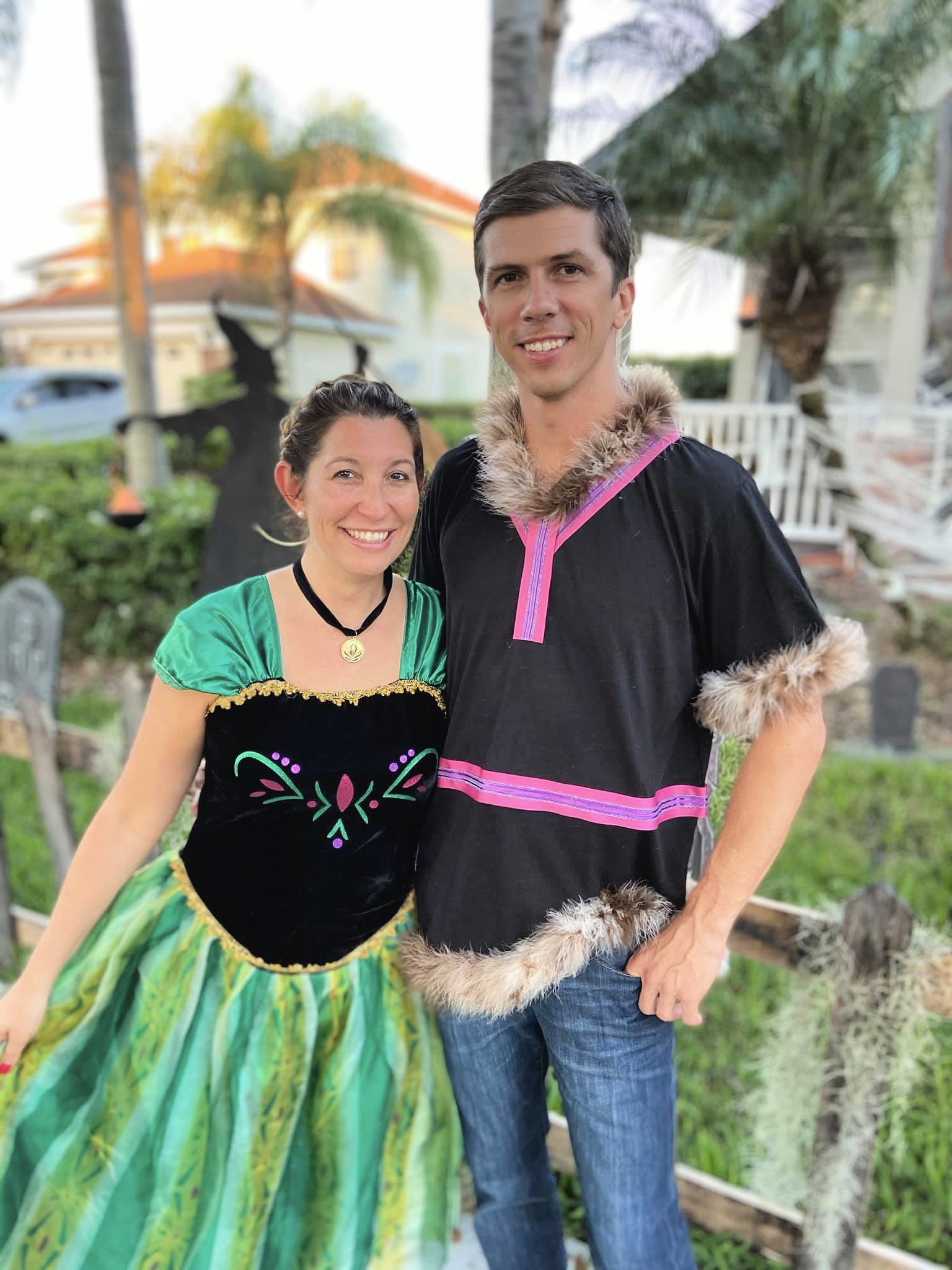 Anna and Kristoff Couples Costumes
If you don't have kids or maybe just want your own adult couples costume you can always go for the Anna & Kristoff Couples costume!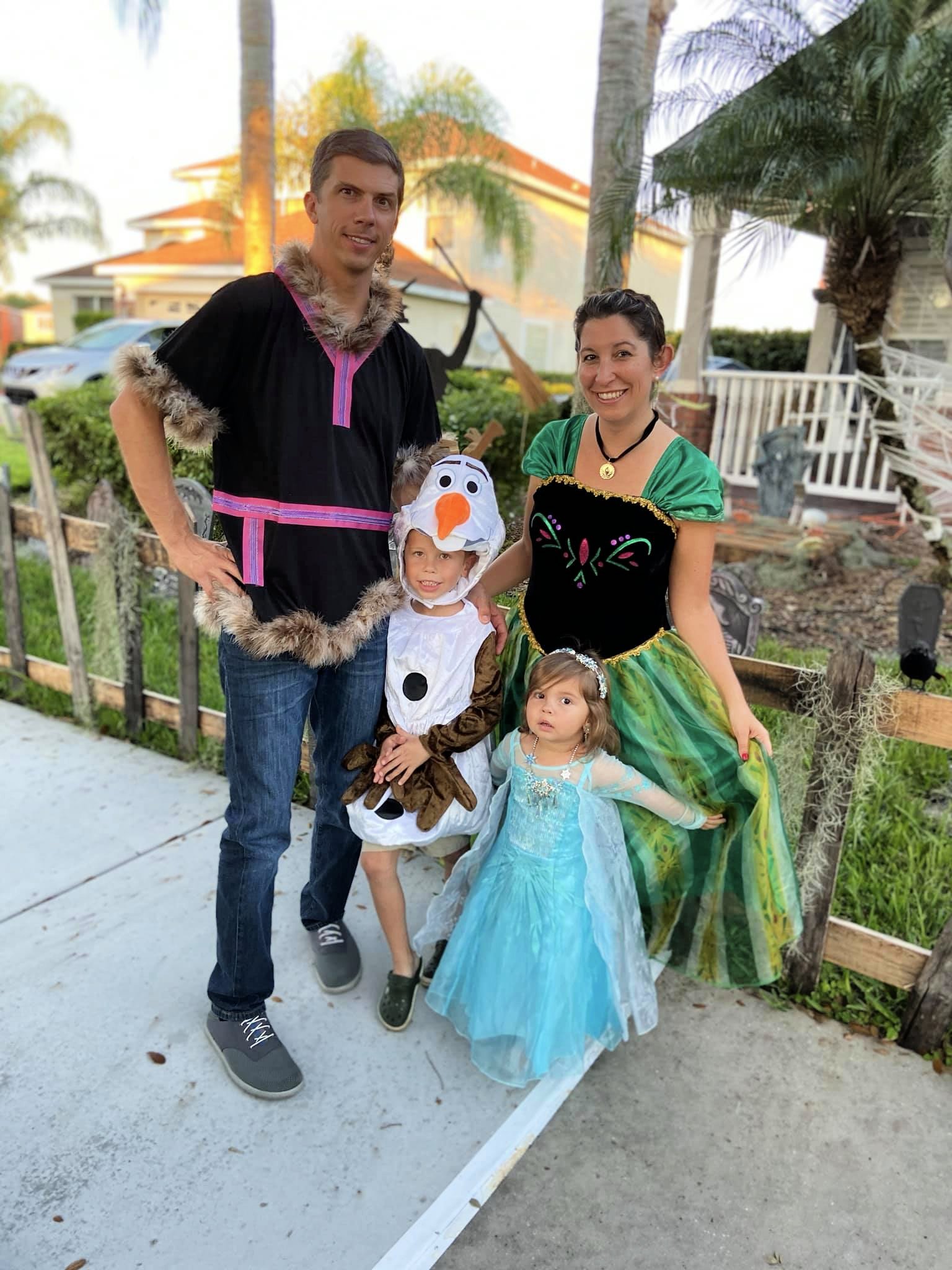 Frozen Family Character Ideas
Whether your looking to do recreate your very own Frozen family costume, Frozen kids costumes or even a Frozen couples costumes. Their are a lot of options to dress up from the movie Frozen!
Here is a list of characters you can choose from:
Elsa
Anna
Kristoff
Sven
Olaf
Marshmallow
Snogies
Trolls
Hans
Duke of Weselton
Oaken
Hope you enjoyed our Halloween costume as much as we did!