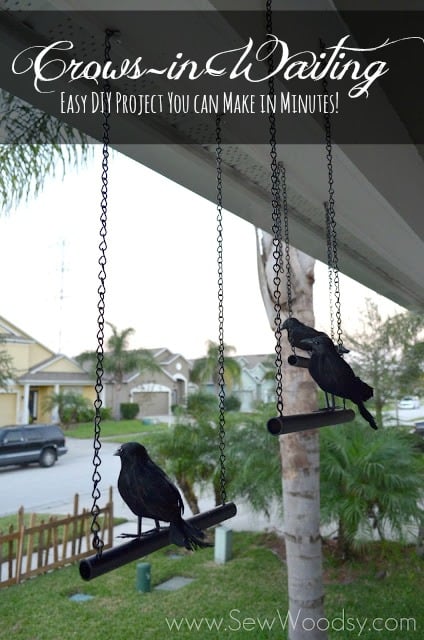 We made these crows-in-waiting back in 2012 after getting back from our Europe trip. I totally forgot to share these last year (I blame that on the severe pregnancy brain I was experiencing), and when I was going through my draft post a few weeks ago I realized I had this awesome Halloween project waiting in the wings for the world to see!
When I first saw the Ravens-in-Waiting project in the Halloween edition of Martha Stewart I knew I needed to make the project. However, using paper packing tubes and foam core was not going to cut it with our humid weather in Florida. I needed to step-it-up with a more durable version. I utilized basic materials that we already owned: pvc pipe, black matte spray paint, and crows from the Dollar Store. All together this project cost me less than $10 (but I had a majority of the materials) and took me about two hours from start to finish.
Supplies:
¼-inch thick PVC Pipe
PVC Pipe Cutters
Rust-oleum Black Matte Spray Paint
Rust-oleum Comfort Grip
Drill
5/64 Drill Bit
12 feet of Black Chain
Chain Cutters
1/16 Drill Bit
3 Dollar Store Crows
First I measured the pvc.
Then, using PVC pipe cutters I cut the PVC. It was really easy to cut–I promise!
Then I gave the PVC a few coats of black Rustoleum spray paint.
What they looked like once they were done on one side.

Once they dried I flipped over the PVC and sprayed the other side as well as sprayed the hooks.
Once everything is dry, drill pilot holes into the PVC. Make sure you get a good grip on the PVC so it doesn't "run away" on you.
This is what it will look like once its done.
Then, just screw in the hooks!

Take bolt cutters and clip the black chain to the size you need. No exact sizes here it all depends on the needs of your space. I did do three different lengths because I wanted them staggered in length.
Jon used needle nose pliers to bend the hook around the chain so that it was secure.
Lastly, drill a pilot hole in the middle or on the side of the PVC.
You'll want to do this to secure your crows to the PVC. Two small pilot holes to run the wire through the PVC that's on the bottom of the crows feet.
It will look just like this…
This is what they looked like once they were done.
Jon hung them from the ceiling of our front porch.
This is what they looked like from the back of our porch.
I'm in love with how they turned out!!! We've used them for the past two years and plan to use them again this year. I love making knock-off Halloween projects for super inexpensive!