We are sharing all of our tips and tricks from our recent visit to SeaWorld Orlando Halloween Spooktacular 2019.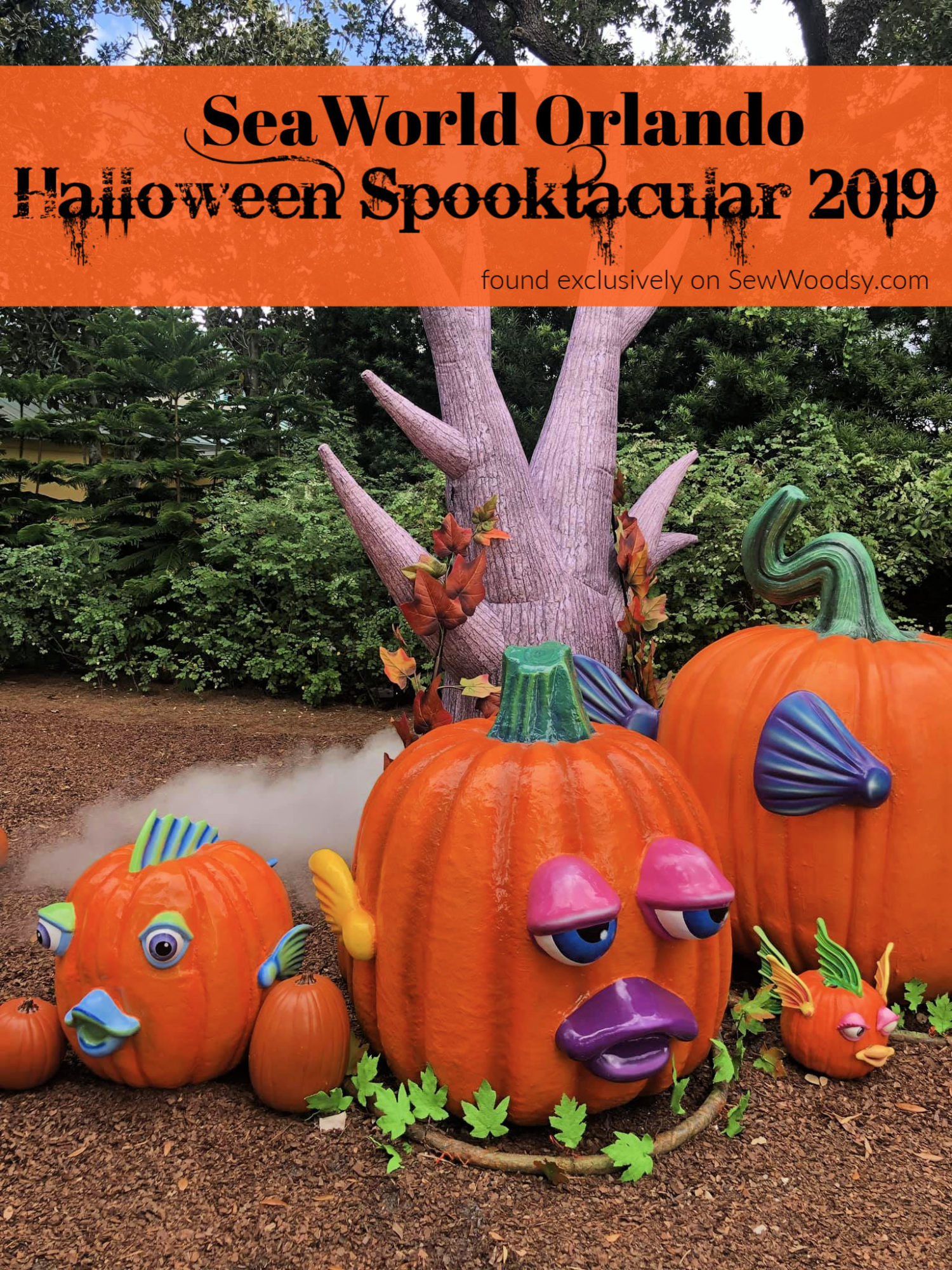 Last weekend, we visited SeaWorld Orlando to attend the Halloween Spooktacular event. This is our second year having annual passes and our first year going. Since our schedule in October is already booked this was our only chance we would have to go.
We met up with friends so we went a little later then we normally would visit. We didn't get to the park until almost 2pm! It was a mad house. We had to park across the street and walk far to get to the park entrance. I don't know if it's this busy every weekend, or if the fact that it was the last weekend of the "bring a friend free" promo. Maybe a combo of that plus Halloween festivities and everyone thought it would be great to go to the park. I'm sharing everything you need to know about SeaWorld Orlando Halloween Spooktacular 2019.
SeaWorld Orlando Halloween Spooktacular 2019 – Candy Station Map
The candy stations are not throughout the park. Instead they start by Seafire Grill against the water and wrap around the pond and ends between Mango Joe's and Wild Artic (just before you enter Sesame Street land).
Candy Stations
SeaWorld does not provide trick or treat bags. I was under the assumption that they did like Disney. Instead you can pay $2 for a small reusable bag. We opted to not buy a bag, and just place the candy in the basket of our stroller.
Look out for the candy corn signs that indicates it's a treat station. It's nice because each station has a different type of candy. They clearly label it so you know exactly what you are getting! They only give 2-3 pieces of candy at each station. A much big difference of the hand fulls of candy you receive at Mickey's Not So Scary Halloween party. Most stations only give candy to kids and not adults. If your an adult and ask they will give you 2-3 pieces as well (but you have to ask)! They have a few allergy friendly treat stations available! Just look for the teal signs! They also do not have ANY peanut products. So for those suffering from extreme peanut allergies you won't need to worry as much.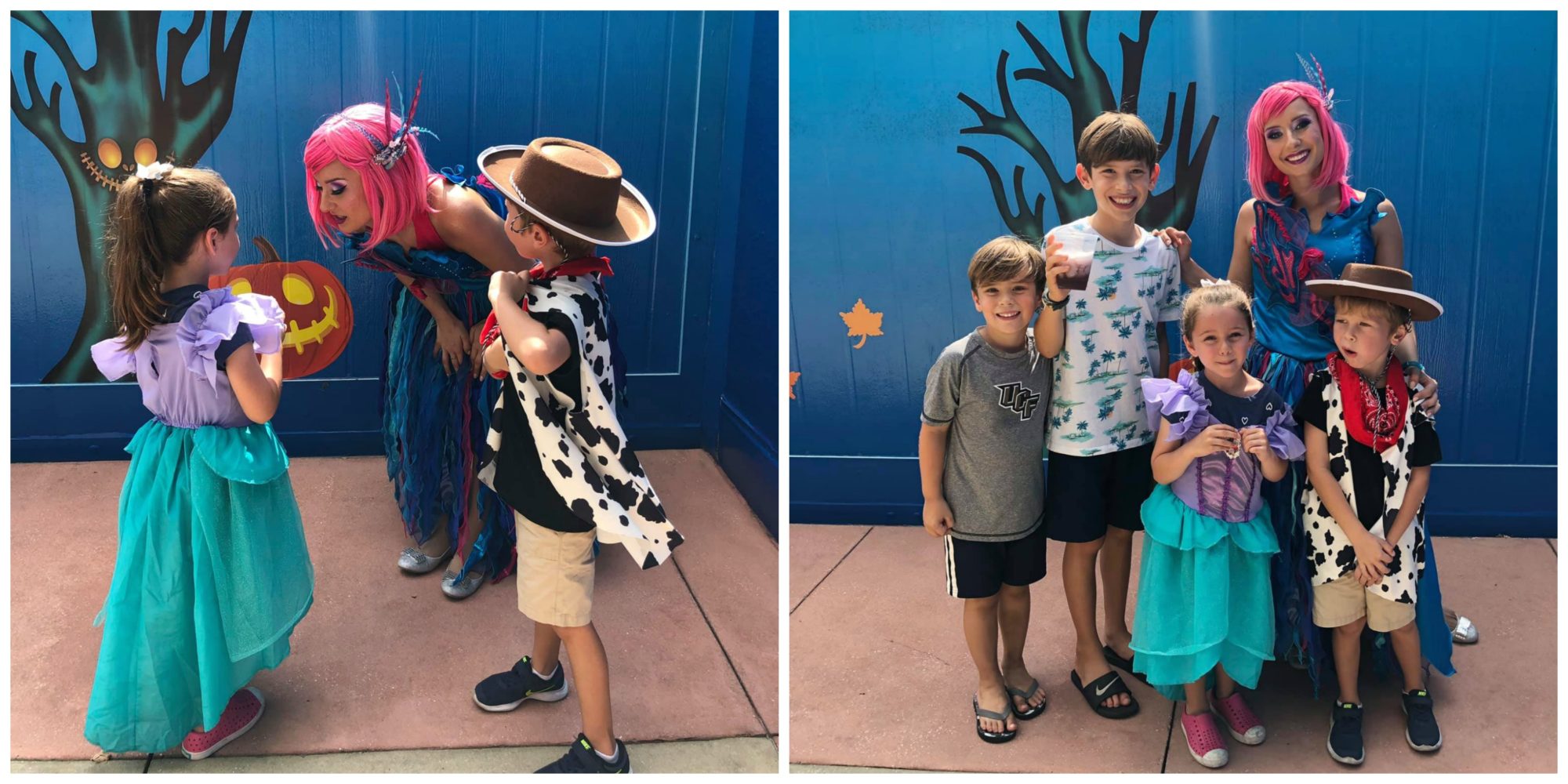 Sea Life Characters
Sea Life Character meet and greets and picture opportunities. Some of the lines were a little longer then we wanted to wait in. but we did catch this sea life character. They have characters through out the Halloween path.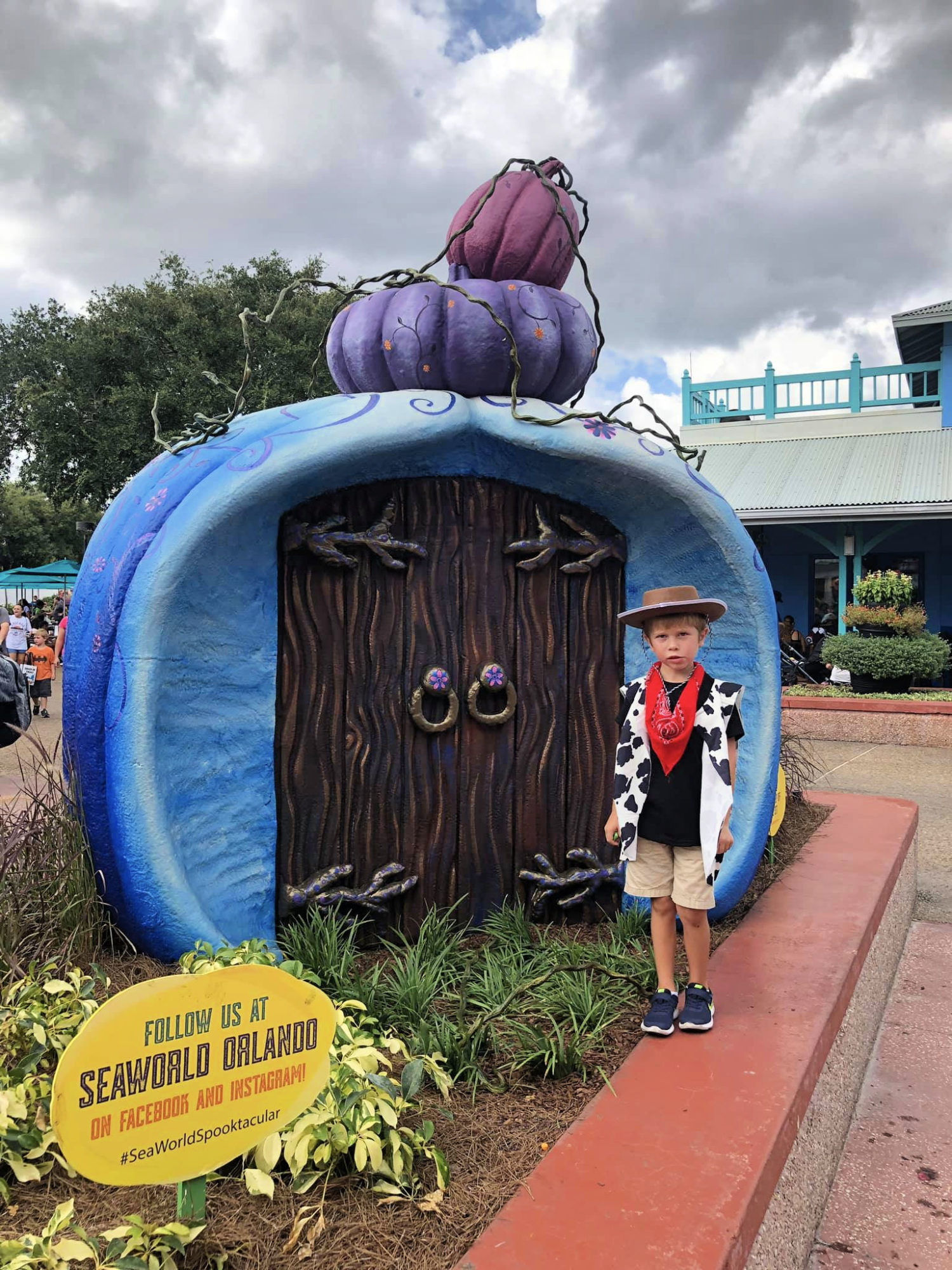 Costumes Optional!
Costumes are definitely optional! Another stark difference of Mickey's Not So Scary. Very few adults were wearing costumes! I definitely saw about 75% of the kids wearing costumes, but it's not required. If your looking for a few easy costumes you can do this cowboy look that my 5 year old through together by himself. Or you could make this no-sew dino costume, DIY Infant Strawberry Costume, or even the DIY Scrabble Costume.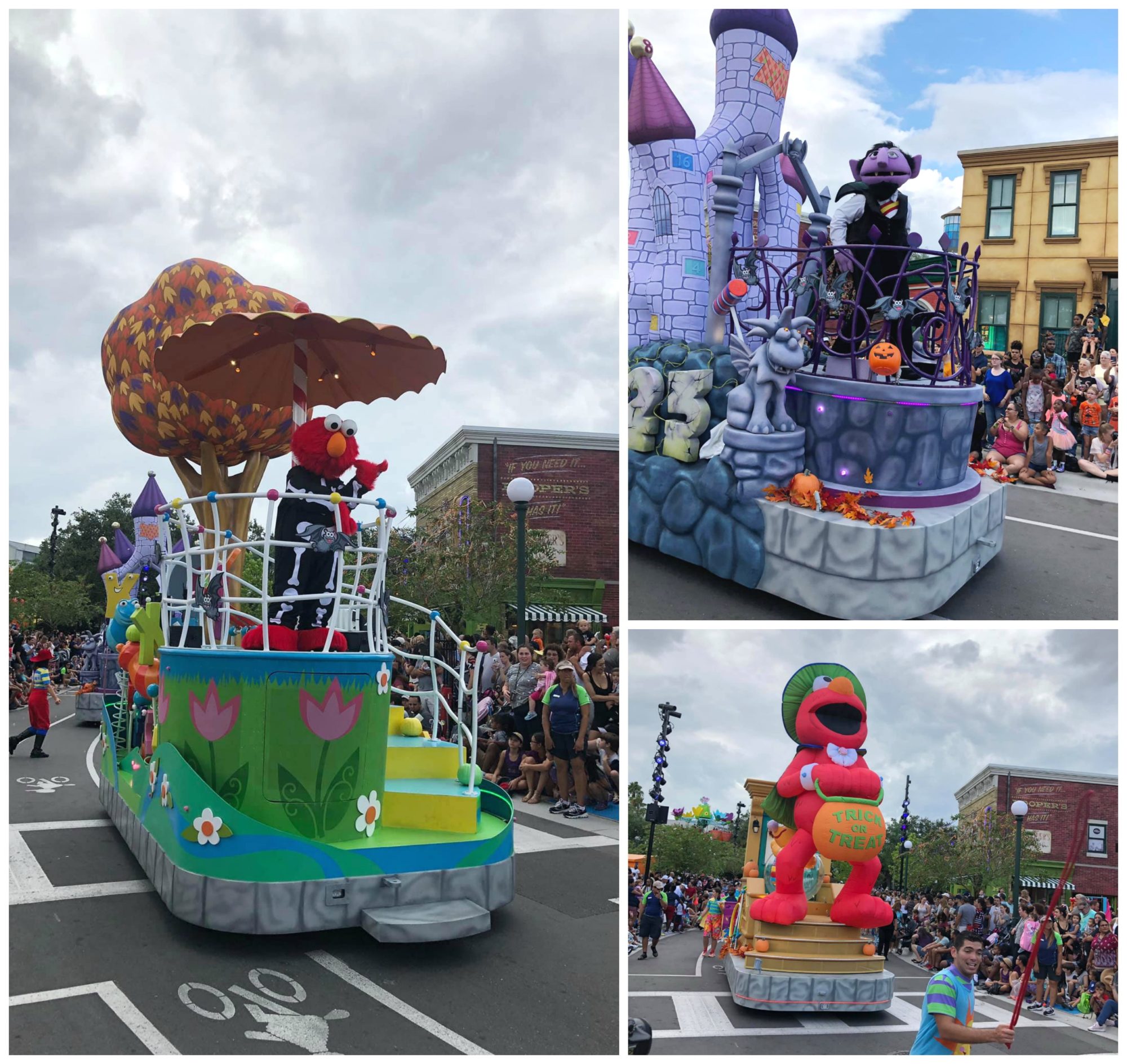 Sesame Street Halloween Parade
Make sure you hit the Sesame Street Halloween Parade. If you have little ones you must go to this parade. It's all centered around Halloween and full of all their favorite Sesame Street characters. Check the app for show times!
Pet's Ahoy Halloween Show
We didn't get to see the Pet's Ahoy Halloween show, but I've heard they have a special Halloween show. "Side-splitting show with surprise twists, and a cast of unlikely characters that will have the whole family laughing from beginning to end."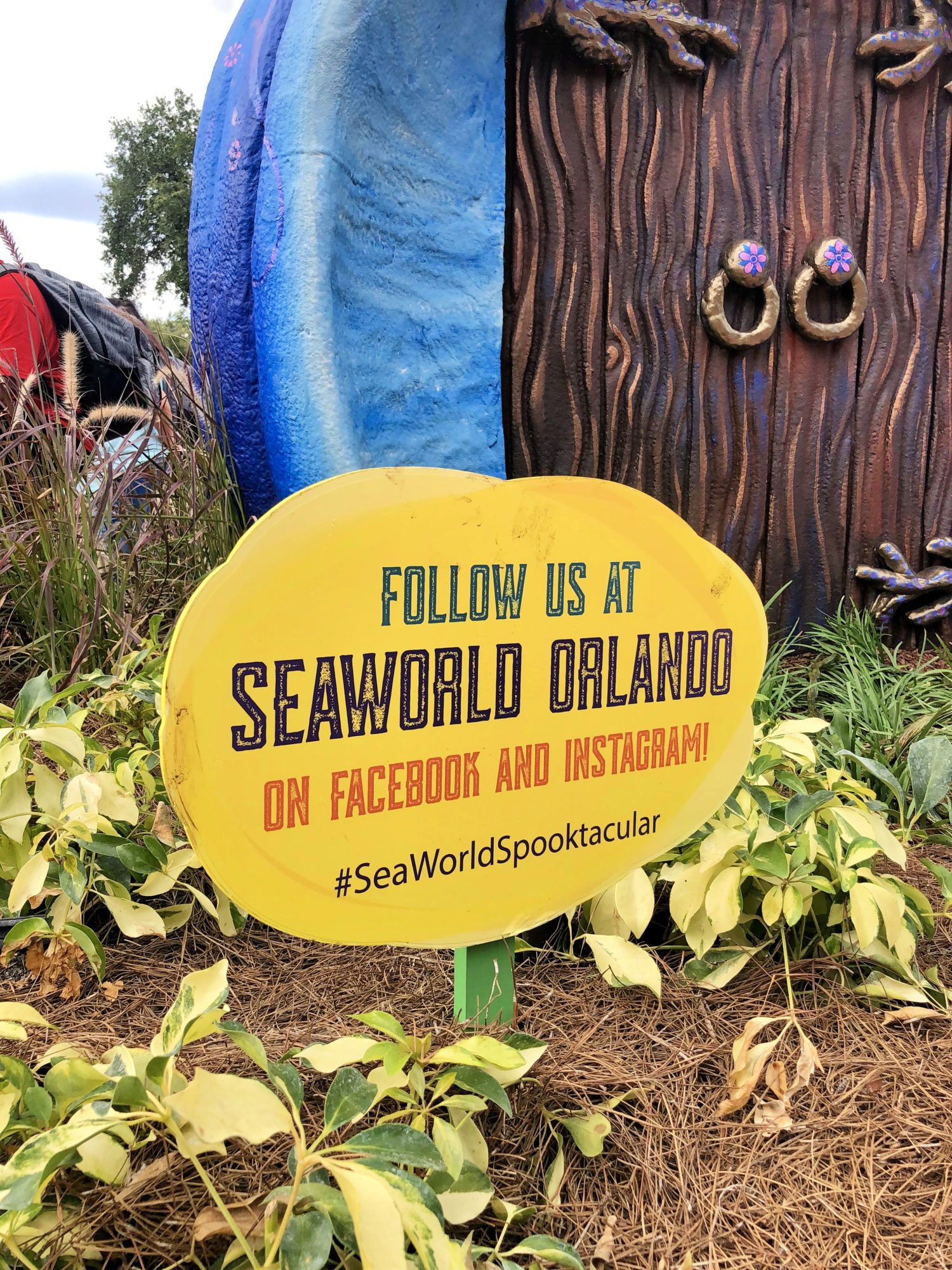 Despite the crazy lines and how crowded the park was we still had a great time. Remember, you are going for the Halloween festivities. So if you can't do a bunch of rides that's okay! This Halloween Spooktacular family-friendly event at SeaWorld runs Weekends through October 27 and is included in park admission.
SeaWorld Orlando is located at 7007 Sea World Drive, Orlando, Florida 32821 visit SeaWorld.com for hours of operation, ticket prices, and more.