We are sharing all of our tips and tricks to SeaWorld Orlando Halloween Spooktacular and have included current COVID-19 protocols. This is Orlando's ONLY family friend amusement park Halloween event for 2020.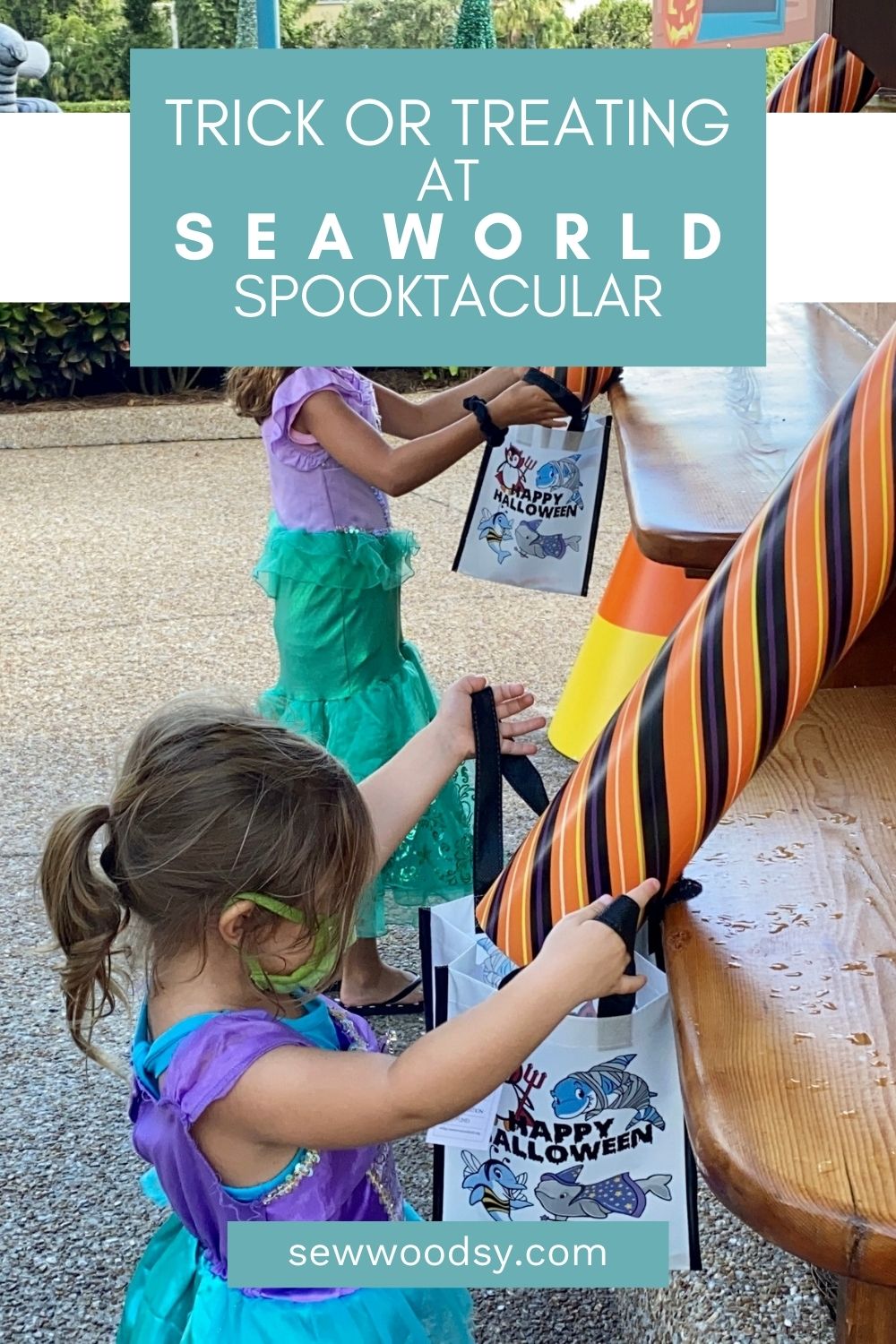 This was our second year attending SeaWorld Orlando Halloween Spooktacular event. It's become a new Halloween tradition for my family. If you are local or even live within driving distance or maybe want some fun it's worth hopping on a plane to come visit.
In this post you'll find the following information that breaks down SeaWorld Spooktacular.
What is Halloween Spooktacular®?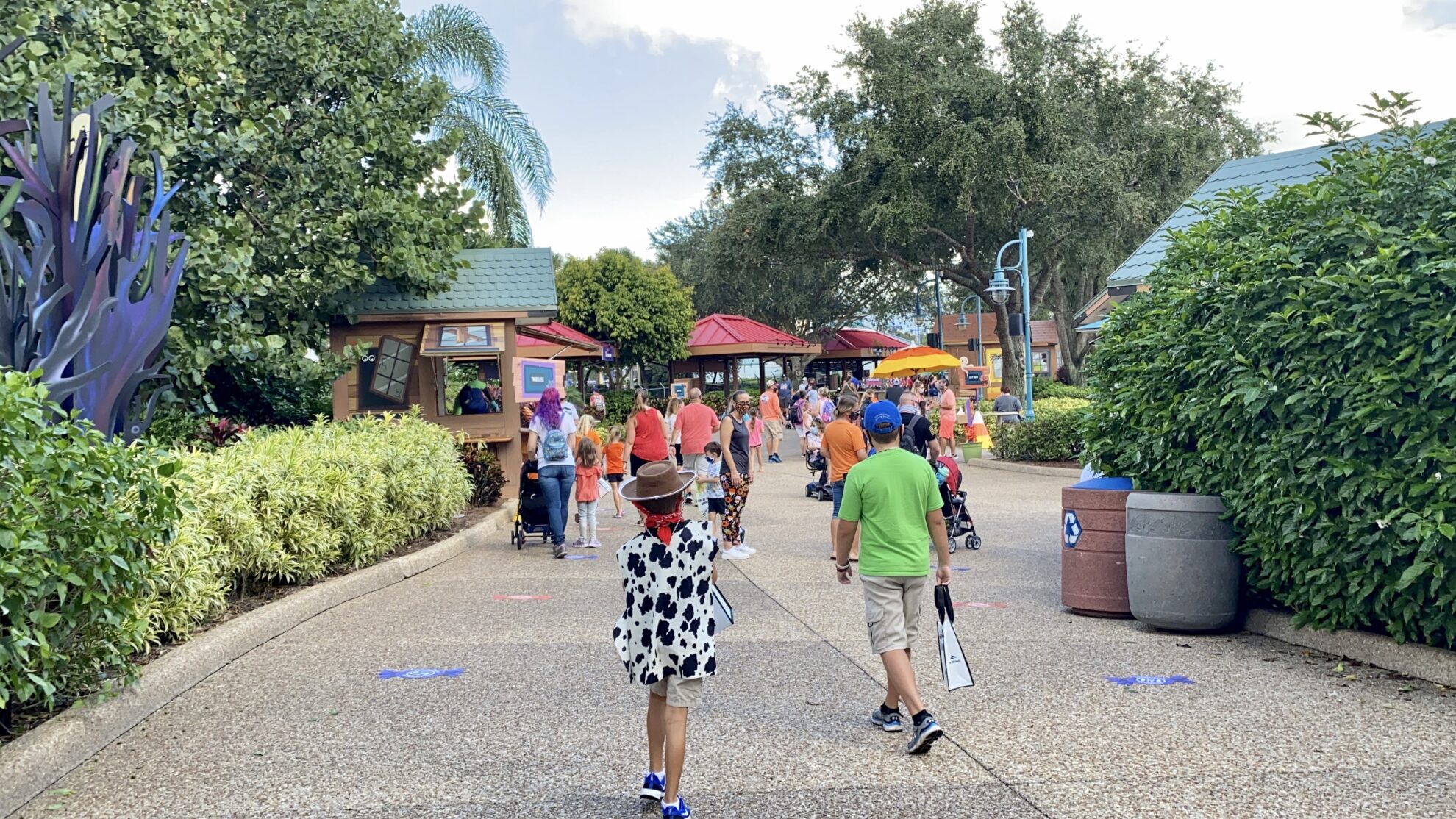 It's an ocean of Halloween fun for the whole family at SeaWorld Orlando's Halloween Spooktacular! During this modified daytime event, guests can safely explore our slightly spooky trick-or-treat trail and meet silly Halloween characters with physical distancing protocols in place, and much more during this safe, family-friendly event. SeaWorld's Halloween Spooktacular will return starting September 19 through November 1 and is included in park admission.

SeaWorld Orlando
Updated COVID-19 Protocols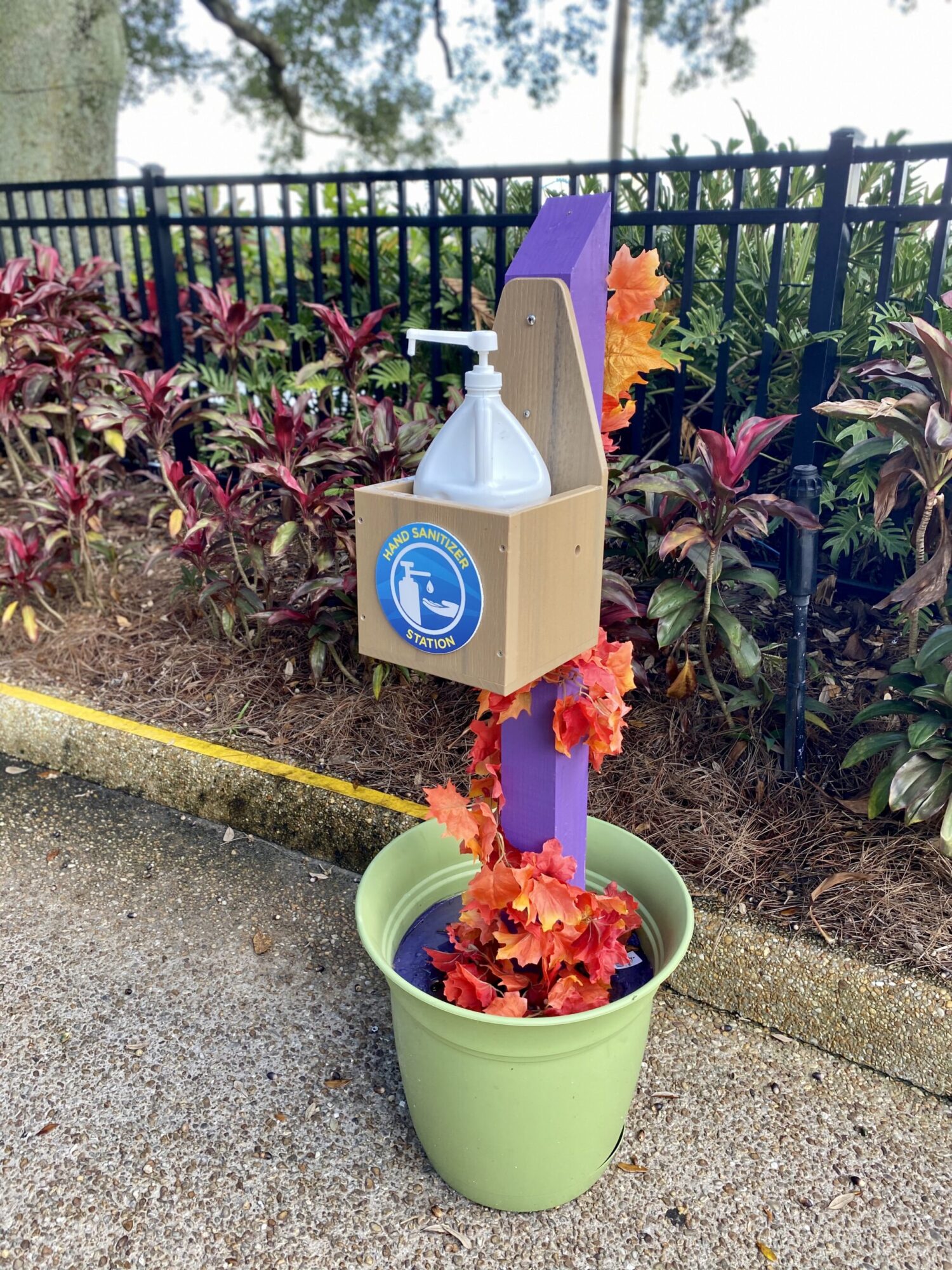 Employee & Guest Temperature Screening – When guests and employees arrive on-property, they must undergo and pass temperature screening using the CDC temperature recommendation of 100.4 degrees Fahrenheit. You simply walk through and are never once approached or touched with a thermometer! It's pretty cool, fast, and efficient!
Face Coverings – Employees and guests 2 years of age and older must wear face coverings while in the park. Guests are not required to wear them while eating and drinking, or in designated relaxation areas of the park.
Physical Distancing – To promote proper physical distancing throughout the parks, you will find signage and markings throughout the park (including on the ground) to identify appropriate, six-foot physical distancing. SeaWorld is encouraging contactless payments and plexi-glass has been installed in high-traffic or close-contact areas to maintain a physical barrier.

Rides & Attractions – Queue lines for all rides have markings for physical distancing and modified seating will be implemented to maintain physical distancing. Hand sanitizer is available at the entrance and exit of all rides and will increase the frequency of cleaning and sanitizing.
Parades and Meet-and-Greets – Depending on the ability to ensure physical distancing for guests and employees, certain components of parades and meet-and-greets, such as those involving guest interactions, character interactions and photo opportunities will be modified or removed.

Cleaning & Sanitation – To protect the health and safety of guests and employees, SeaWorld has significantly increase both the frequency of cleaning for all key areas of the parks (including employee spaces) and the number of hand sanitization stations across each park, especially in high-contact areas.
SeaWorld Orlando Halloween Spooktacular 2020 – Candy Station Map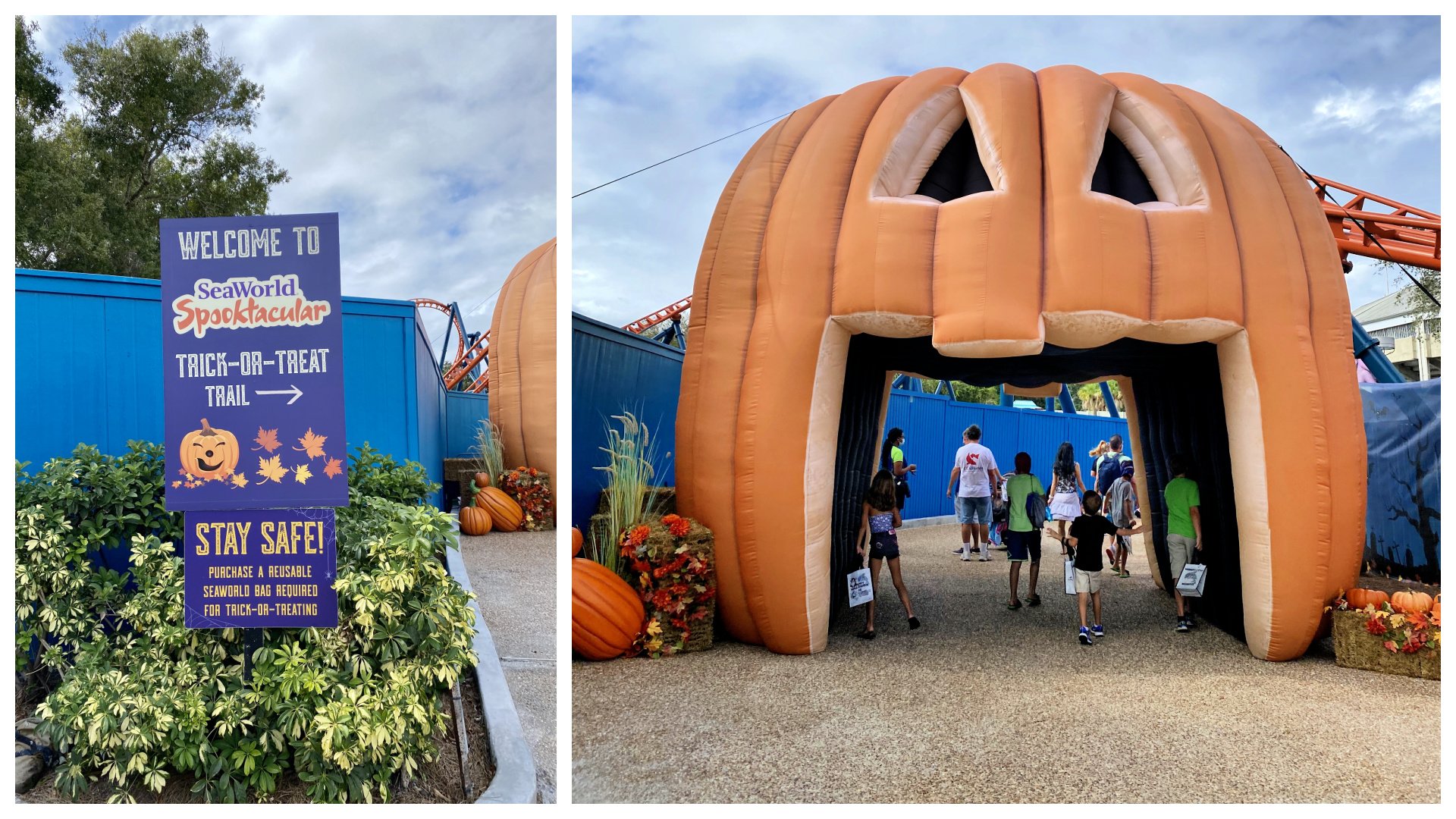 You can only enter the Trick Or Treat Stations and activities at the beginning of where Mango Joe's is. This is a one way trail although the way they have the stations set up once inside you are weaving in and out of people.
At the entry point you'll find a cart where you must purchase a Trick-Or-Treat bag in order to participate this year. This is a change from past years. The candy stations start toward the end of the stadium and are scattered throughout the waterfront.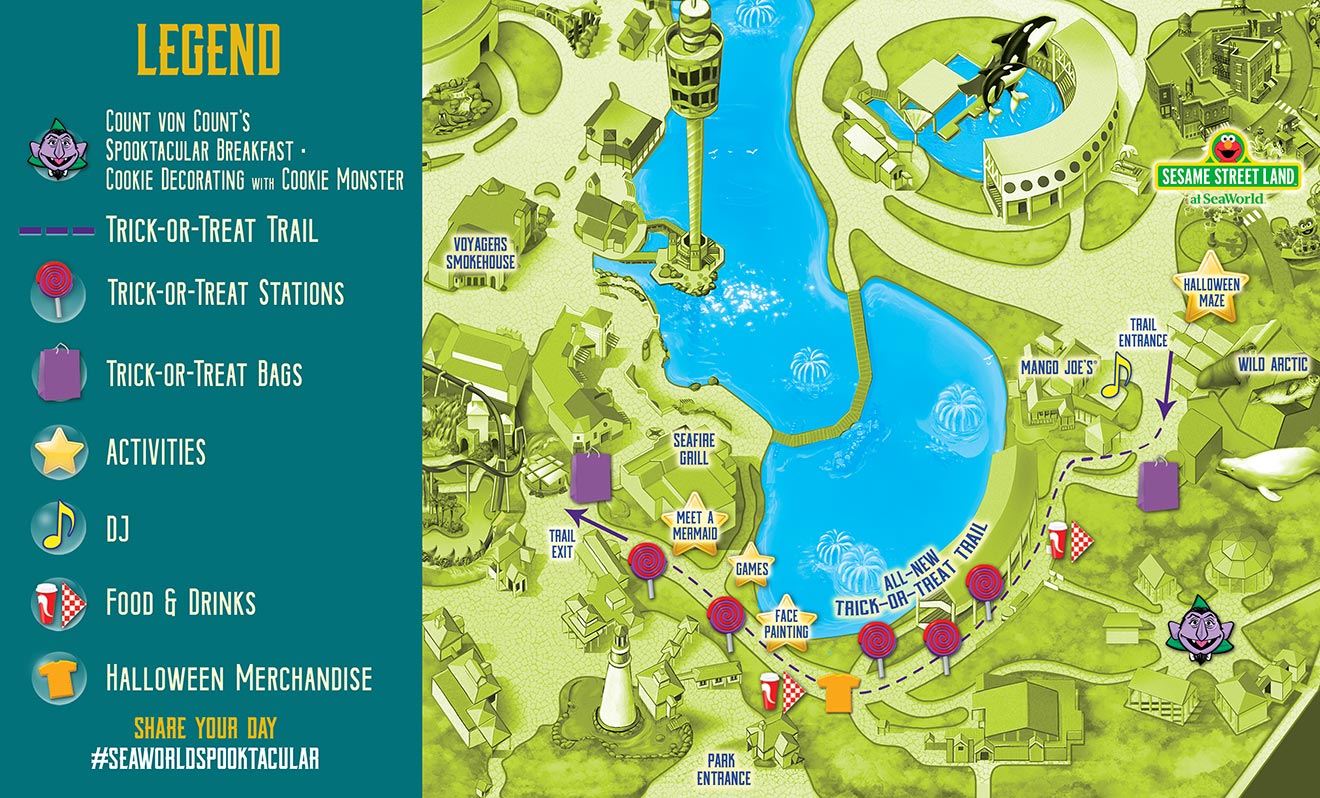 This is what the 2020 map looks like for this year. You'll see the key to where everything is!
Candy Stations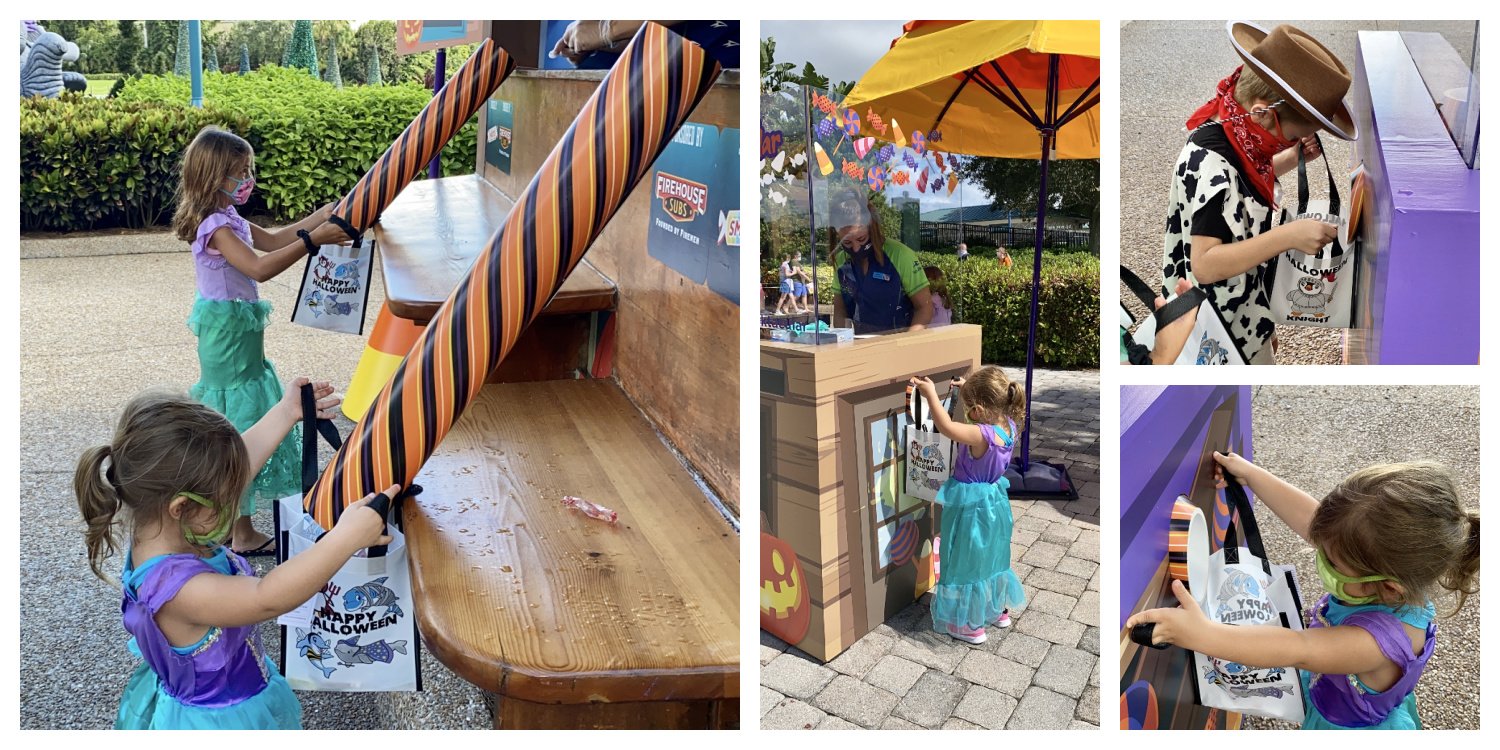 As mentioned above you must purchase Trick-Or-Treat bags in order to participate this year. Bags are $3 each. Anyone can purchase them and you can buy as many as you want. We had bags for adults and children so we all participated.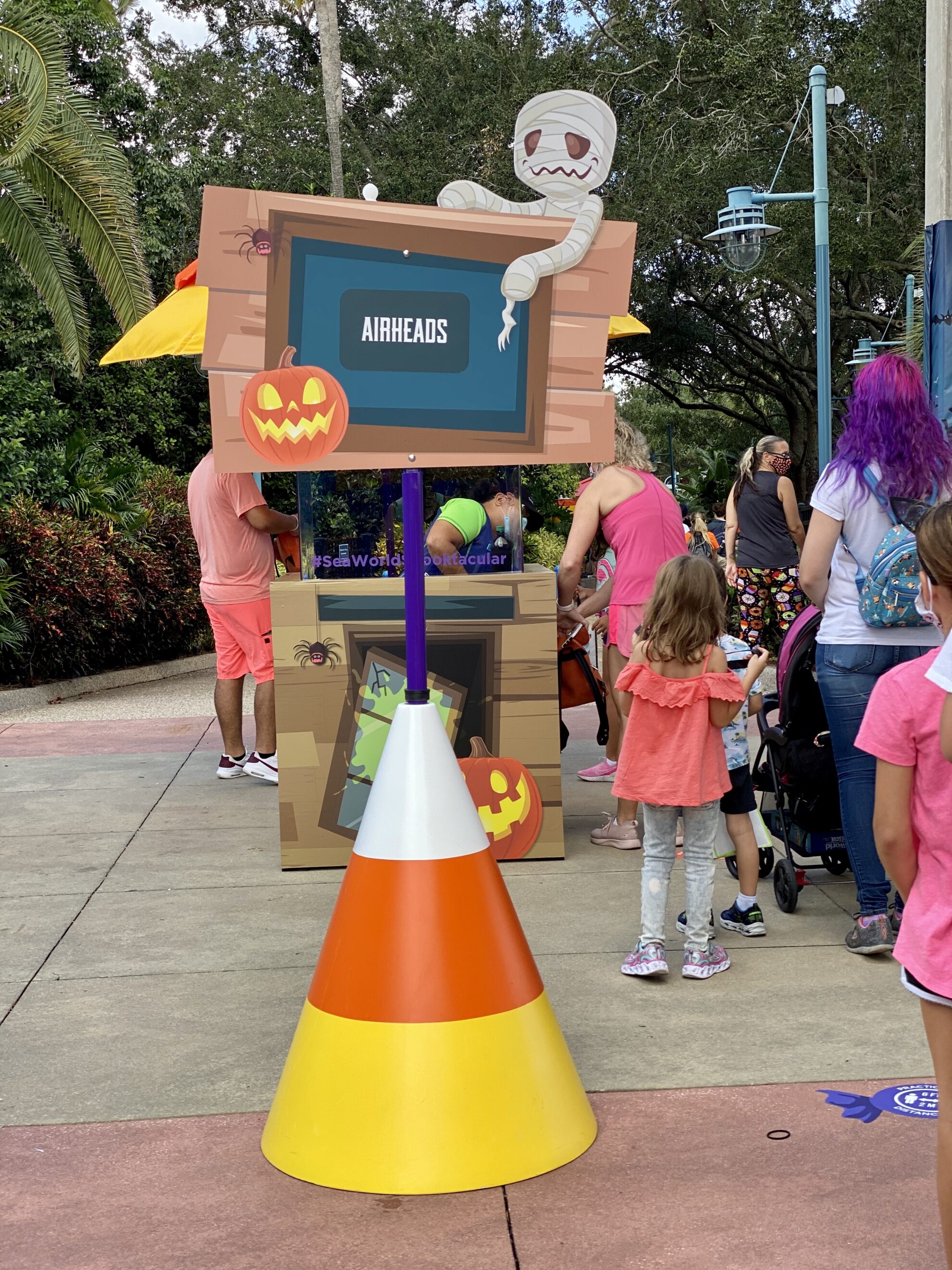 Look out for the candy corn signs that indicates it's a treat station. It's nice because each station has a different type of candy. They clearly label it so you know exactly what you are getting! Each stations gives 2-3 pieces of candy at each station.
This year we did not see any allergy friendly treat stations available! Last year they had it very well labeled and all you had to do was look for the teal signs. They also gave Peanut M&M's this year where last year it was completely peanut free.
Sea Life Characters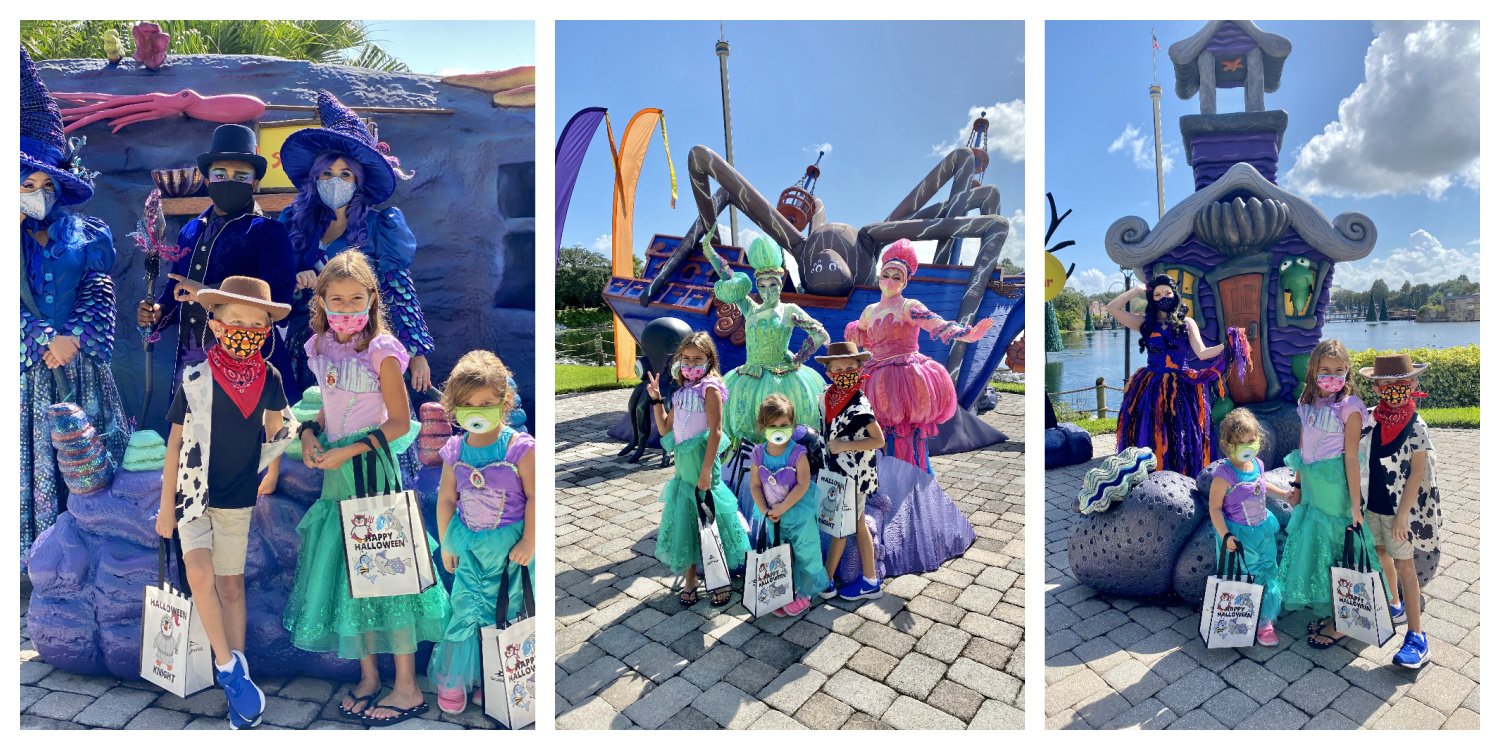 Sea Life Character meet and greets and picture opportunities. Most lines were only 2-3 families deep. They have characters through out the Halloween path.
Costumes Optional!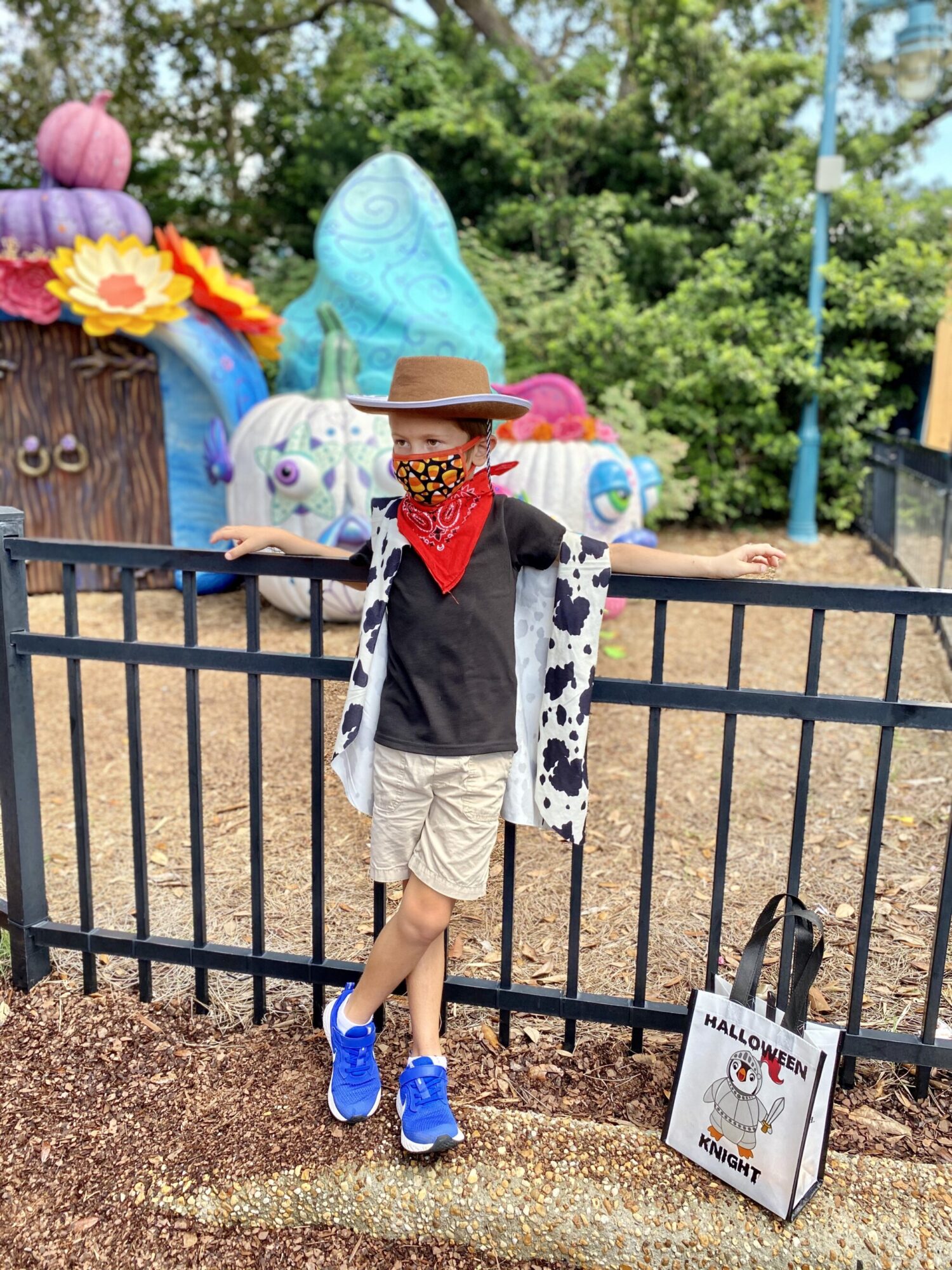 Costumes are definitely optional! Another stark difference of Mickey's Not So Scary. Very few adults were wearing costumes! I definitely saw about 75% of the kids wearing costumes, but it's not required.
If your looking for a few easy costumes you can do this cowboy look that my 5 year old through together by himself. Or you could make this no-sew dino costume, DIY Infant Strawberry Costume, DIY Dwarfs shirts, Family Pirate T-shirt Costumes or even the DIY Scrabble Costume.
Count Von Count's Spooktacular Breakfast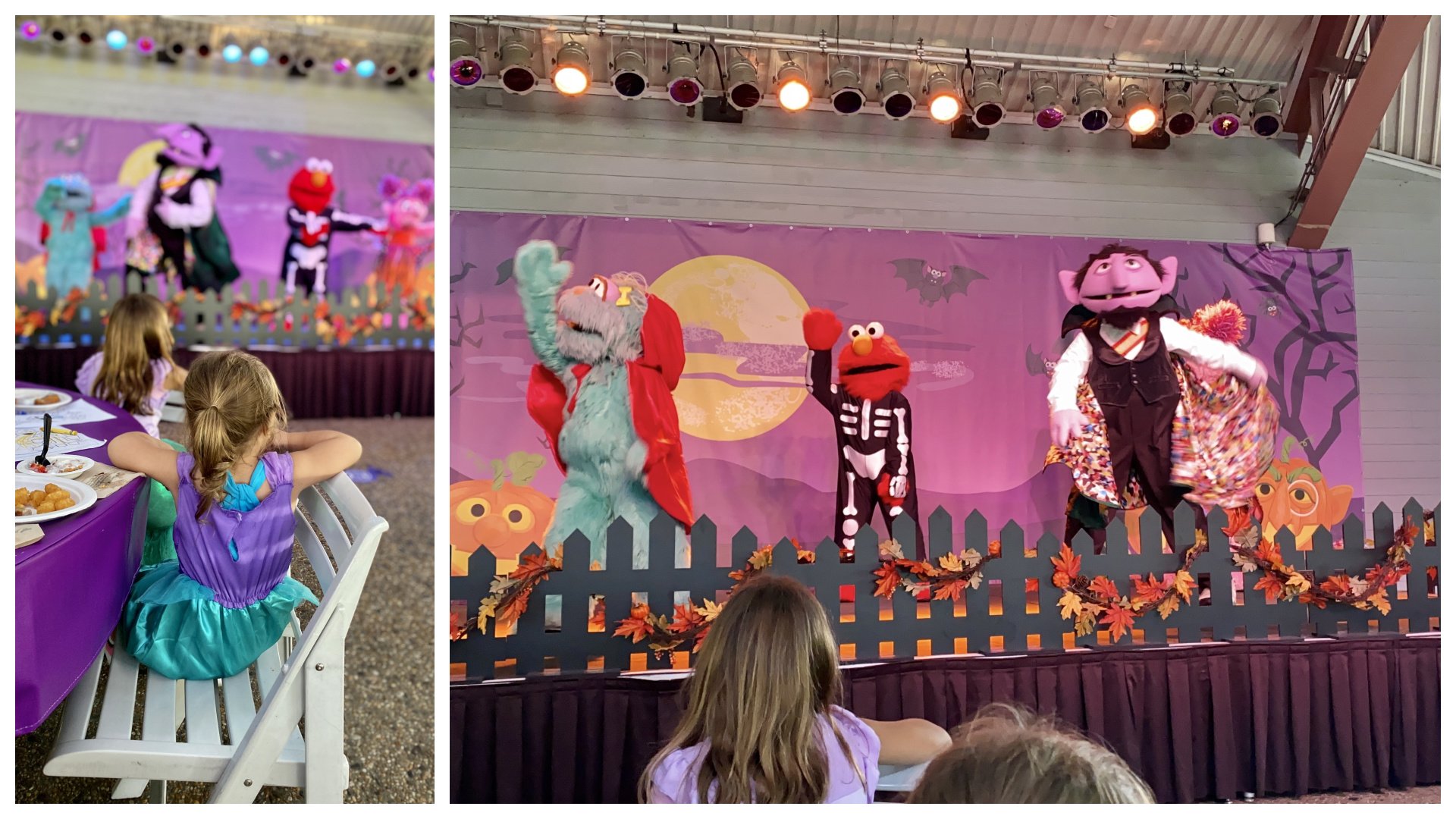 My family and our friends who came with us had the chance to enjoy Count Von Count's Spooktacular Breakfast. This is a character breakfast that features Count Von Count, Elmo, Abbey, Rosalita, and Oscar the Grouch.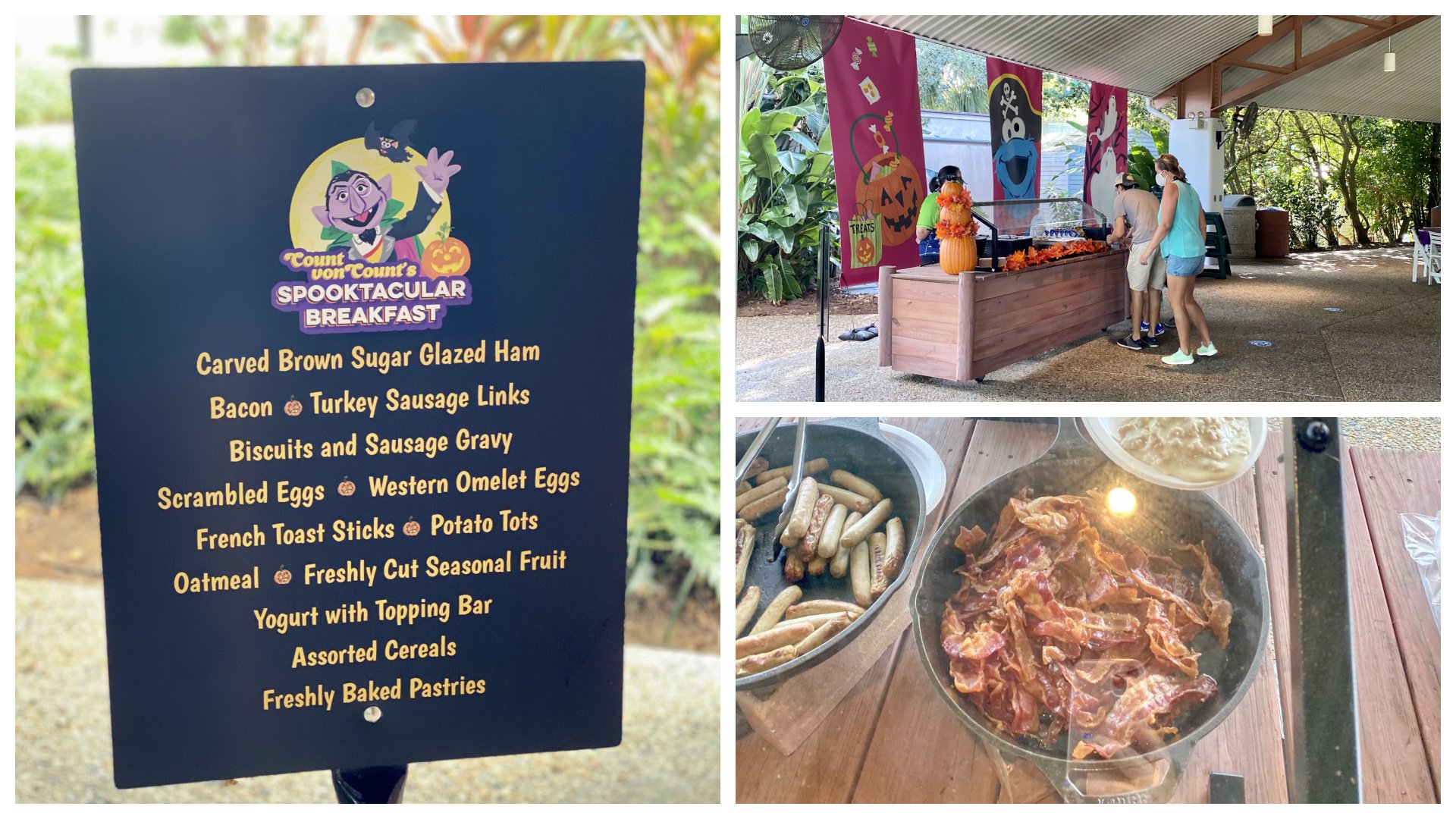 The breakfast is located outside under a large pavilion. The tables were nice and spaced out. They had two lines on each side of the pavilion. Cereal, fruit, yogurt, and oatmeal are offered on one cart. The other cart had biscuits, sausage gravy, tater tots, eggs, bacon, sausage, and ham.
Servers offer the choice of apple or orange juice, milk, water, coffee, and tea. You can go up to the buffet as much as you would like.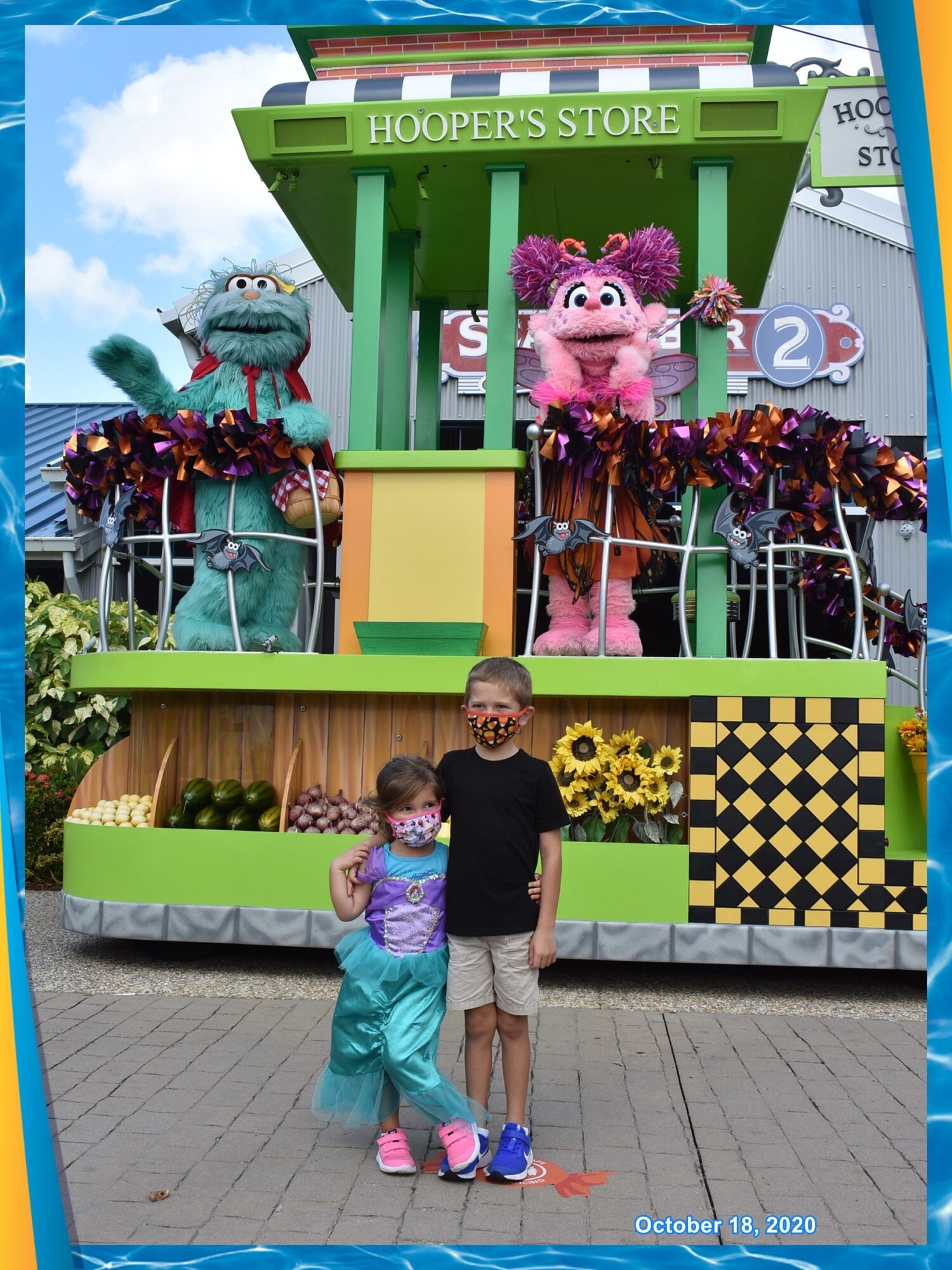 The characters perform two songs during the breakfast, then head to their floats where you can take additional photos with them from a distance. This fun filled character breakfast starts at $9 for kids and $19 for adults, reservations can be made online, at the Information Counter or by calling (407) 545-5550.
Updates for 2020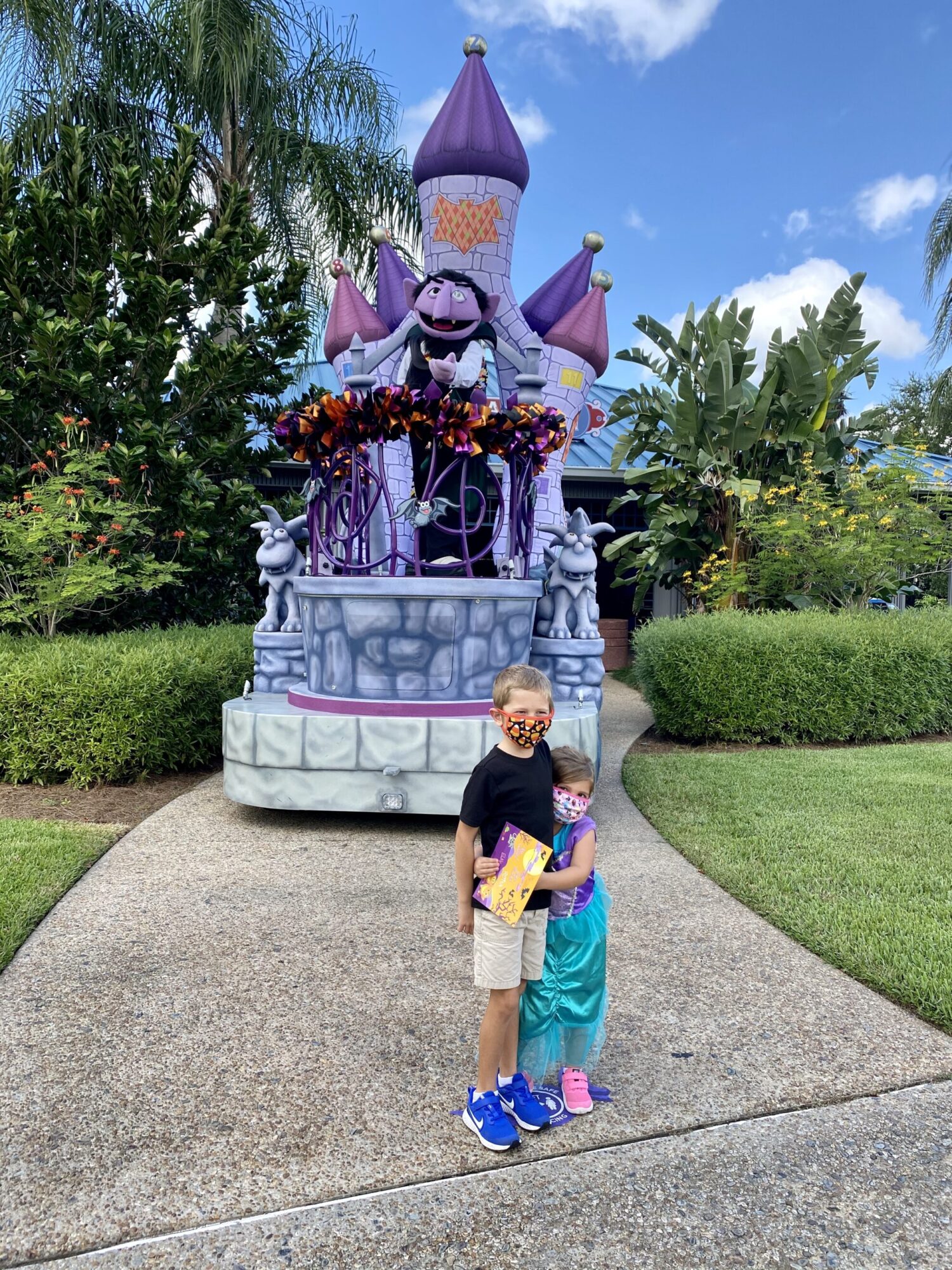 Things that are missing from Spooktacular in 2020. The Sesame Street Halloween Parade is not running this year. However, they do have a float with Count Von Count on it that randomly comes out for a song and pictures.
Another missing show this year is the Pet's Ahoy Halloween show.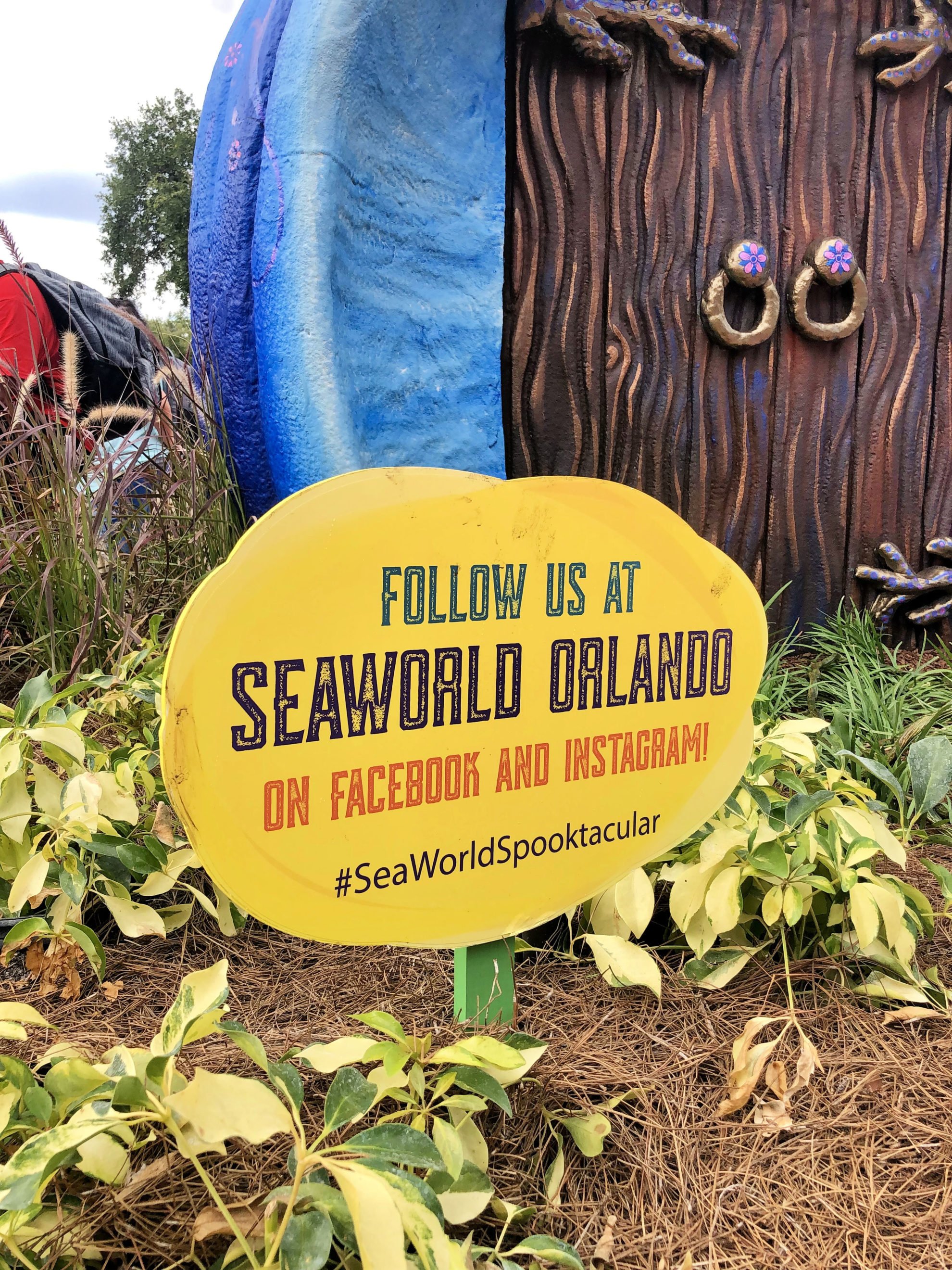 Halloween Spooktacular definitely has people out and excited to have some normalization in the safest way possible. Lines are much longer then I have seen on say a Friday evening when the park is practically empty. But then again, Disney's Not-So-Scary Halloween is not running this year and this is the only Halloween themed amusement park activity open right now.
Remember, you are going for the Halloween festivities. So if you can't do a bunch of rides that's okay! This Halloween Spooktacular family-friendly event at SeaWorld runs Saturday and Sundays through November 1, 2020 and Friday, October 30th. Spooktacular is included in park admission.
SeaWorld Orlando is located at 7007 Sea World Drive, Orlando, Florida 32821 visit SeaWorld.com for hours of operation, ticket prices, and more.
Originally published October 1, 2019 // Updated October 23, 2020 with new COVID protocols and pictures.
Disclaimer: There are affiliate links in this post. That means if you purchase from a link I make a small percentage at no additional cost to you. Thank you for supporting Sew Woodsy!