Learn now to make these affordable DIY Halloween Trophies in about an hours time. These severed limbs are perfect for your next Halloween costume party.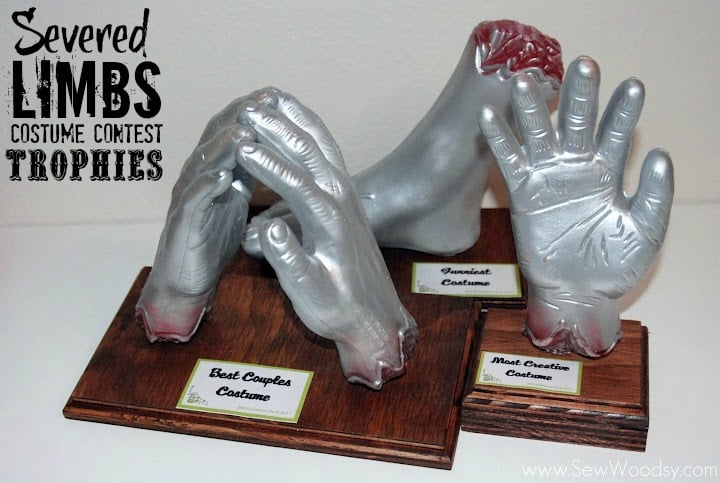 I'm so excited to post my first (of many) Halloween DIY projects for the season! Today, I'm going to share with you a quick, easy, and inexpensive way to reward your party goers with memorable trophies. We made these trophies last year for our Mad Scientist Halloween Party on what I like to call the 11th hour. We always work on projects up until just an hour or so before our parties. I took the final photos of the trophies in the craft room before I brought them out to aware to our fellow creative friends.
Each year we have a costume contest and giveaway prizes. In past years, we've purchased $5 and $10 gift cards to a local ice cream place or burger joint. $5 goes to Funniest Costume & Most Creative Costumes and the $10 gift card goes to Best Couple. Last year, in hopes to save a little money we made these funny and commemorative trophies to hand out. I think everyone LOVED how creative the trophies were.
Table of contents
Supplies
Scrap Wood
Table Saw
Router
Minwax Stain, Mahogany
3 Severed Hands (Dollar Store)
1 Severed Foot (Dollar Store)
Silver Metallic RustOleum Spray Paint
Drop Cloth
Drill
1 Long Dowel
All-Purpose Adhesive
Label for Award
How to Make Halloween Trophies
First up, lay the drop cloth outside and place your severed hands and foot on the drop cloth. Take note, you might startle your neighbors with various limbs on a drop cloth!
I decided to keep the blood portions of the limbs exposed. Gives a more "natural" look.
Once you've cut, routed, and stained the piece of scrap wood (not pictured) it's time to drill the holes and attach the severed hand (and other limbs) on to the wood plaque. You'll also want to cut down the wood dowel to be just long enough to stabilize the inside of the hand and about a half in to go inside the wood plaque (not pictured).
Next up, using your drill, carefully begin to drill a hole in the bottom of the severed limb. You will need to drill a hole to the size of your dowel.
Once you've made a hole in the severed hand, place the dowel in the hand.
Then, drill the same size hole into the piece of wood (not pictured). You'll have your severed hand with dowel in it and your drilled piece of wood.
Place the severed hand (dowel) into the piece of drilled wood.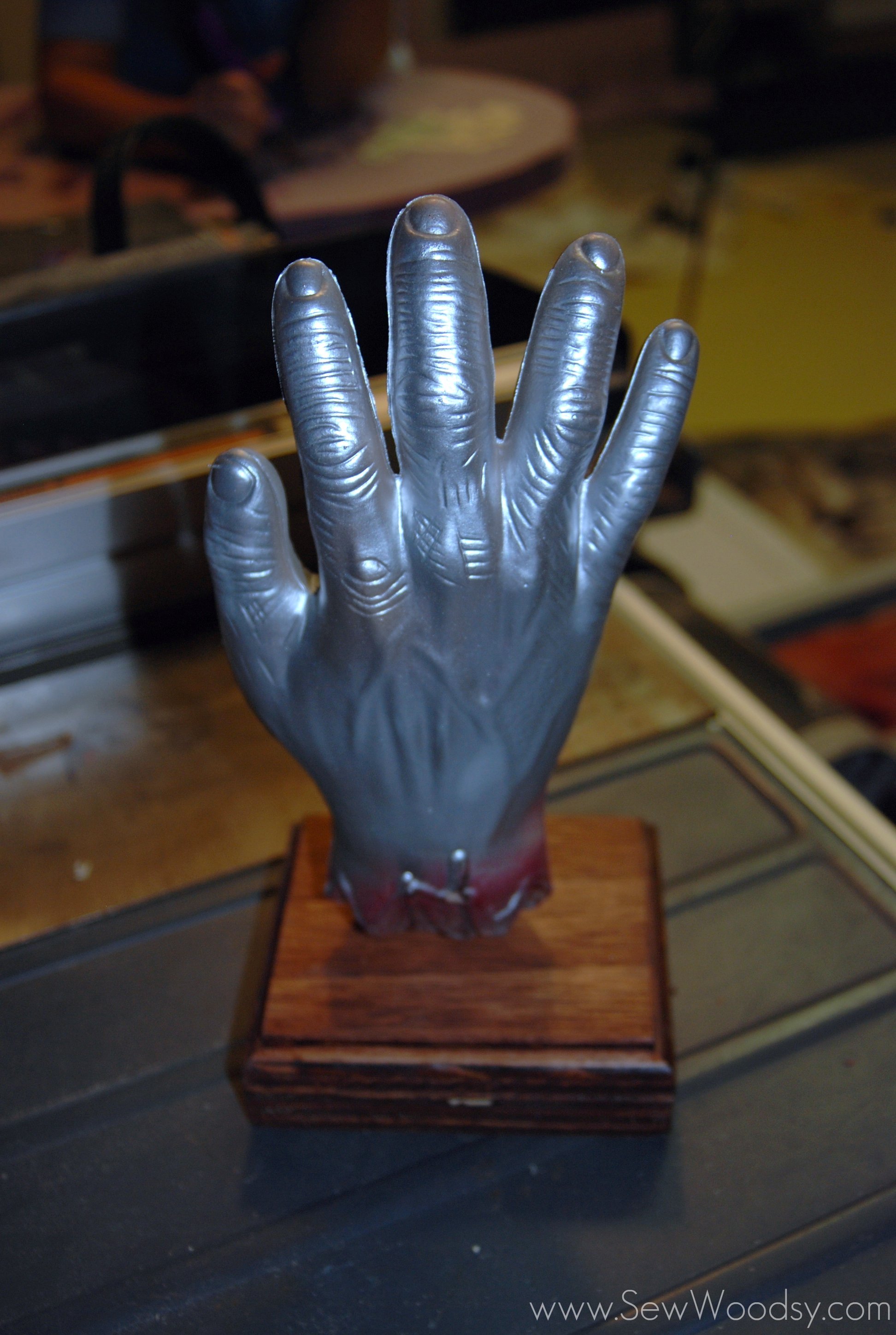 The trophy is almost complete. Using Microsoft Word I created a print out that I adhered to each of the trophies. I adhered it with hot glue. (Trophy print out not pictured).
Tips and Tricks
Spray Painting – I decided to keep the blood portions of the limbs exposed. Gives a more "natural" look. To do this ensure you don't spray paint over the blood.
Wood Dowel – Cutting the dowel down will depend on the thickness of the scrap wood "plaque" and the size of the plastic severed limb.
Couples Costume Trophy – For the best couples costume trophy we drilled two holes in the wood, leaned the hands together and then placed a little all-purpose glue near the finger tips to secure the hands.
Funniest Costume Trophy – For the funniest costume trophy we drilled one hole in the heal of the foot and kept the dowel long enough inside the ankle of the foot so that the foot could balance. We also placed a little all-purpose glue on the ball of the foot to secure it.
FAQs
Where can I find scrap wood for the trophy bases?
You can often find scrap wood at local hardware stores, lumberyards, or even repurpose old furniture or wooden pallets for this purpose.
What safety precautions should I take when working with power tools and spray paint?
Always wear appropriate safety gear, such as safety glasses and a mask. Work in a well-ventilated area, and follow the manufacturer's safety instructions for the tools and paints you're using.
Can I customize the trophies with different Halloween-themed elements?
Absolutely! You can get creative and add various Halloween decorations like skulls, spiders, bats, or other spooky items to fit your theme.
How can I make my Halloween trophies stand out in a costume contest?
Consider unique and eye-catching designs, vibrant spray paint colors, and attention to detail in your decorations. Adding LED lights or sound effects can also make your trophies memorable.
Costumes Contest Categories
Although we only made three costume contest categories for our party; best couples costume, funniest costume, and most creative costume. The sky is the limit as to other
Best Overall Costume: This category judges costumes based on creativity, craftsmanship, and how well they capture the spirit of Halloween.
Scariest Costume: This category rewards the most terrifying and spine-chilling costumes, often associated with horror themes.
Funniest Costume: Participants in this category aim to elicit laughter and amusement with their costumes, often featuring humorous or whimsical elements.
Most Creative Costume: Creativity shines in this category, where contestants showcase their innovative and imaginative costume designs.
Best Group Costume: Groups of people wearing coordinated or themed costumes compete in this category for the best collective costume presentation.
Most Authentic Costume: This category emphasizes historical accuracy or faithful replication of a character or era.
Best Couple's Costume: Couples dress up in matching or complementary costumes, and judges evaluate their chemistry and creativity.
Best Homemade Costume: Contestants who've crafted their costumes from scratch, like your DIY Halloween trophies, can participate in this category.
Best Kid's Costume: Geared toward children, this category recognizes the most adorable, imaginative, or well-crafted kids' costumes.
Best Pet Costume: Furry friends get in on the action here, as owners dress up their pets in creative and often adorable costumes.
Homemade Halloween Costumes
Here are a few of my favorite homemade costumes you can make for your next Halloween party.
I hope that if you are planning to host a Halloween party this year that you will make your own homemade costume trophies and that these tips and tricks help you!
If you make these Halloween Trophies, I would be honored and love for you to take the time to leave a star rating and comment! I spend hours developing and testing these projects, and always love to hear feedback and user experience!
Don't forget to FOLLOW ME on Facebook, Pinterest, and Instagram, and subscribe to my email list!